7 Best Shampoo Bars For Curly Hair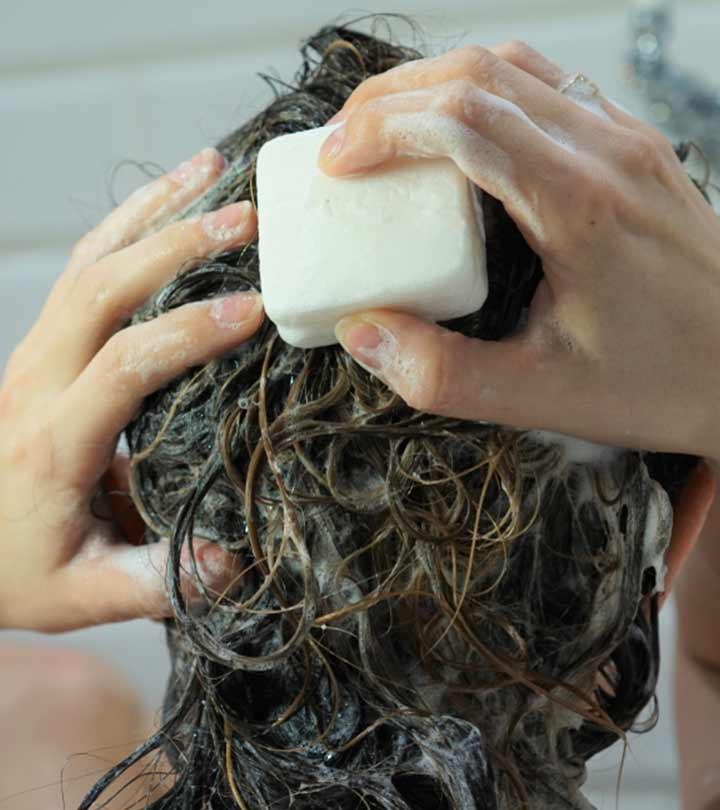 Just when you thought there could not be more varieties of hair care and bath products, you were wrong because shampoo bars are here! Perfect for your luscious coils, the best shampoo bars for curly hair will not only cleanse your scalp but will also do justice to your strands by offering much-needed volume and nourishment. They are also infused with mild and gentle natural ingredients that cleanse profoundly and remove residue for bouncy, thick curls. If you can't wait to grab one, check our list of the 7 best ones below!
7 Best Shampoo Bars For Curly Hair
The J·R·LIGGETT'S All-Natural Shampoo Bar contains a mix of virgin coconut and argan oils that revive dull, dry, and damaged hair and restore its luster by smoothening and strengthening it. The main ingredient, coconut oil, has high-fat content that helps in locking in the moisture, and its antibacterial and antifungal properties protect the hair. Argan oil, found in Morocco, breathes new life into your hair.
This shampoo bar also contains olive oil that is loaded with antioxidants to help fight hair loss and improve blood circulation to the scalp. Castor oil and vitamin E accelerate hair growth and moisturize the hair. This 3.5 oz shampoo bar is free of sulfates, detergents, or chemicals.
Key Ingredients: Coconut oil, Argan oil, Olive oil, Castor oil, and Vitamin E
Pros
Lathers well
Long-lasting
Sulfate-free
Chemical-free
Value for money
Cons
The SheaMoisture Coconut & Hibiscus Rhassoul Clay Shampoo Bar works great on thick, curly hair and clears impurities while gently cleansing your locks. It is enriched with coconut and hibiscus that leave the hair bouncy and promote hair growth by providing deep nourishment. Rhassoul clay boosts minerals (magnesium and silica) and moisture in the hair by exfoliating the strands and removing all the buildup. This 4.5 oz shampoo bar for curly hair contains no sulfates, parabens, or chemicals and is made using Fair Trade Shea Butter.
Key Ingredients: Coconut, Hibiscus, Rhassoul clay, and Shea butter
Pros
Good fragrance
Quick, easy lather
Paraben-free
Sulfate-free
Long-lasting
Value for money
Cons
May dry out the hair
May leave a residue
The Chagrin Valley Soap & Salve Company Butter Bar Shampoo is made with organic oils, shea butter, and coconut milk and is perfect for occasional usage on very dry and curly hair. Organic cocoa, mango, and virgin shea butter act as moisturizers and softeners and reduce flaking, protecting the scalp from itching or drying up. They provide rich nourishment to the hair shaft with a blissful cocoa scent.
The organic babassu oil acts as a hydrating agent, making the hair shiny and smooth. The coconut milk in the shampoo bar rejuvenates the hair, tames frizz, and deeply conditions the hair, leaving it smooth and manageable. This 0.35 oz conditioning bar is free of sulfates, silicones, and parabens and is available in a lot of variants.
Key ingredients: Organic cocoa butter, Organic mango butter, organic virgin shea butter, organic babassu oil, and coconut milk
Pros
Highly nourishing
Anti-frizz
Paraben-free
Sulfate-free
Silicone-free
Cons
The Cush Mango Babassu Shampoo Bar is made of an exotic mix of fair-trade oils that helps to moisturize curly hair. It conditions and cleanses the hair and gently opens up the cuticles so that the hair shaft can absorb enough moisture.
Babassu oil is great for treating dry, flaky scalp. It strengthens the hair by improving its volume and elasticity. The Bangladesh mango butter deeply conditions and hydrates your hair. The high moisture content helps in eliminating frizz as well. The rosemary and peppermint oils lend the bar its aroma, soothe the scalp, and protect it from irritation. This 3.5 oz shampoo bar has highly effective detangling ingredients and works well for low porosity hair.
Key Ingredients: Babassu oil, Bangladesh mango butter, Rosemary, and Peppermint oil
Pros
Amazing scent
Chemical-free
Lathers well
Cons
Dissolves quickly
May cause allergic reactions
The BeNat All-Natural Lavender Shampoo Bar for curly hair is 100% handmade with all-natural ingredients that nourish and rejuvenate your hair from the roots to the scalp. Lavender is a great soothing agent that works for all hair types.
This shampoo bar is made of all biodegradable ingredients like shea butter that adds moisture to the hair; clay that hydrates as well as removes toxins; aloe vera that strengthens and repairs the hair; and honey that locks in moisture, restoring its luster and shine. This product is free of sulfates, parabens, and silicones and can last up to 8 weeks or 50+ washes, depending on the length of the hair.
Pros
Amazing scent
Suits all types of hair
Eco-friendly
Paraben-free
Sulfate-free
Silicone-free
Cons
The Hila All Natural Soaps Coconut Milk and Geranium Shampoo Bar contains all-natural ingredients, is handmade, vegan, and scented with essential oils. It contains coconut milk, made using coconut flakes, that conditions and smoothens the hair. The cold-pressed geranium oil lends a pleasant scent. This 4.5 oz shampoo bar is ideal for dry, curly, and damaged hair.
Key Ingredients: Coconut milk and Cold-pressed geranium oil
Pros
Pleasant aroma
Handmade
Vegan
Cons
May cause allergic reactions
The Beauty and the Bees Real Beer Tasmanian Shampoo Bar is handmade and enriched with Tasmanian beer that rejuvenates the hair, leaving it voluminous and bouncy. The Tasmanian ringwood hops are from a local park and lend a strong fragrance to the shampoo bar. They are also known to have antiseptic benefits.
The essential oils of nutmeg, cinnamon, and ginger help restore the health of the hair, promote blood circulation, make the hair stronger, and promote hair growth. These oils also impart a gingery, spicy scent to the bar. This shampoo bar is best for people with dandruff problems, oily scalp, or fine or thin hair.
Key Ingredients: Tasmanian beer, Tasmanian ringwood hops, and Essential oils of nutmeg, cinnamon, and ginger
Pros
Aromatic
Lathers well
Long-lasting
Paraben-free
Sulfate-free
Silicone-free
Cons
Now that you have seen the 8 best shampoo bars for curly hair, let us understand how to choose the one.
How To Choose Your Shampoo Bar 
The main aspect to look for in all shampoo bars for curly hair is ingredients.
If you want your hair to be frizz-free and manageable, opt for bars having nut butters, essential/cold-pressed oils, beeswax, glycerin, or seaweed. All these ingredients lock in moisture and make your hair silky smooth and mess-free.
For damaged hair, opt for bars with coconut milk, cocoa butter, vitamin E, and shea butter that help in hydrating and rejuvenating the dry and brittle strands.
If you like your hair to be squeaky clean, opt for bars having citrus, cinnamon, herbs, or sea salt.
For itchy scalp, look for rosemary and lavender oils, honey, rose, or chamomile, which work well in calming itching and pain.
Why Trust StyleCraze?
The author, Shiboli Chakraborti, has a keen interest in hair care and a passion for researching and reviewing haircare products and emerging trends. After extensively researching various products and reading many reviews on trusted platforms, she has compiled this list of the best shampoo bars for curly hair. These recommended products are made with mild and gentle natural ingredients,and help cleanse the scalp thoroughly.
Recommended Articles