5 Best Shampoo Bars Of 2023 For Dandruff
Cleanse out dandruff thoroughly and prevent its recurrence using these best-reviewed bars.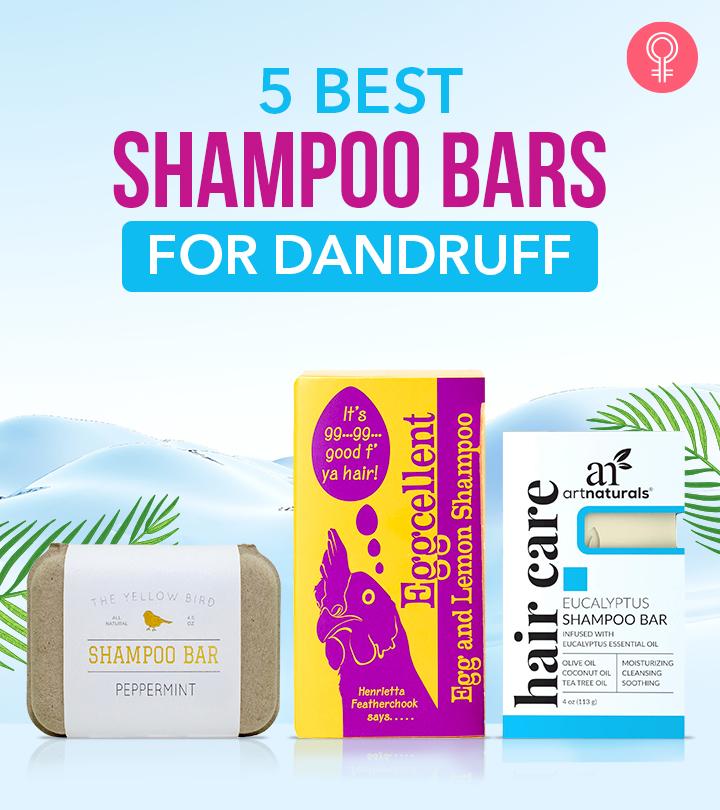 Looking for the best shampoo bar for dandruff? Well, we have it all. Shampoo bars are made with organic and chemical-free ingredients that ensure your hair gets pampered the natural way. Here is a list of 5 shampoo bars that eliminate dandruff. All the products are selected after meticulous analysis of their formulations and the reviews that they have received on various e-commerce platforms.
5 Best Shampoo Bars Of 2023 For Dandruff
The EthiqueHeali Kiwi Shampoo Bar For Dandruff is rich in natural oils and kiwi fruit extract. The bar is also powered with vitamins and nutrients that fight hair loss, treat dandruff, and stimulate hair growth. Coconut oil makes hair thicker and volumized. Neem oil is an antioxidant, and oatmeal boosts scalp health. The calendula and manuka oils in the bar reduce dandruff and soothe the scalp.
This shampoo bar hydrates hair and keeps it from drying out. It is 100% pH-balanced, soap-free, and color-safe. It has no harsh chemicals and is biodegradable, sustainable and helps maintain hair health. This anti-dandruff bar has a long-lasting fragrance. It is vegan, plastic-free, and not tested on animals. If you want to know more about this product, check out this video on YouTube featuring a tester's experience of using it.
Key Ingredients: Kiwi fruit oil, coconut oil, neem oil, oatmeal, and karanja oil
Pros
Palm oil-free
Vegan
Cruelty-free
Soap-free
Color-safe
pH-balanced
Cons
Price at the time of publication: $15.99
The Falls River Soap Company Shampoo Bar contains coconut oil, tea tree oil, canola oil, castor oil, patchouli oil, jojoba oil, eucalyptus oil, extra virgin olive oil, palm oil, lavender oil, and rosemary mint oil. These nourishing ingredients fight dandruff, reduce hair loss, and even promote hair growth. The soothing shampoo bar also reduces dry flakes and itchiness.
It moisturizes and volumizes fine hair without the need for a conditioner. This bar provides restorative care to the damaged hair and causes no build-up. This detoxifying formula is free of parabens, phthalates, gluten, and sulfates. It also is vegan.
Key Ingredients: Jojoba oil, tea tree oil
Pros
Moisturizing formula
Reduces flakes
Phthalate-free
Paraben-free
Sulfate-free
Gluten-free
Vegan
Cons
Price at the time of publication: $7.95
The Yellow Bird Peppermint Shampoo Bar is devoid of detergents that strip the natural hair oils. This bar is an effective alternative to dandruff shampoo. It is made of sea salt and kaolin clay that is naturally exfoliating and clears hair and scalp build-up. The bar is rich in vitamin E that hydrates hair. It fights hair frizz and protects it from breakage. It is free of sulfates, parabens, silicones, and synthetic fragrances and dyes. It also is vegan and cruelty-free. The bar is packaged without plastic. It has a pleasing fragrance. Go ahead and check out this YouTuber's video to explore a reviewer's experience of using this product.
Key Ingredients: Peppermint essential oil, sea salt, and kaolin clay
Pros
Paraben-free
Sulfate-free
Silicone-free
No Synthetic Fragrances
No Synthetic Dyes
GMO-free
Cruelty-free
Vegan
Hydrates hair
Pleasant fragrance
Cons
Can leave hair feeling greasy
Price at the time of publication: $10.0
The Beauty and the BeesEggcellent Egg & Lemon Shampoo Bar is enriched with the high nutritional values of egg yolk. Egg yolks are natural moisturizers that hydrate hair. They smoothen and soften dry hair while retaining its sheen and volume. The vitamins A and E in egg yolks strengthen hair follicles and control hair loss.
This nourishing shampoo bar also helps reduce split ends and prevents hair breakage. Essential oils of lemon myrtle and lemon in this bar have antiseptic properties that provide restorative care to repair the dry scalp and treat dandruff. This antifungal bar is especially recommended for fine hair. It lathers well and leaves hair shiny and clean. It has a pleasant fragrance of lemon. It is free of parabens, sulfates, and silicones. It is cruelty-free as well.
Key Ingredients: Eggs, leather wood beeswax, lemon/lemon myrtle essential oils
Pros
Hydrating formula
Paraben-free
Sulfate-free
Silicone-free
Cruelty-free
Pleasant fragrance
Cons
Price at the time of publication: $11.95
The ArtNaturals Shampoo Bar Trio is a set of three different flavored shampoos. It contains natural ingredients that are suitable for sensitive scalp. The first bar contains eucalyptus oil that has proven efficacy in boosting hair growth and relieving dry, itchy scalp. The second bar contains lavender oil that soothes the scalp and protects it from inflammation. The third shampoo bar contains orange oil that takes care of an oily scalp. This refreshing scalp care trio is formulated to treat hair fall and dandruff.
The bars also contain palm oil, coconut oil, and olive oil for nourishment and deep-cleansing. They are free of sulfates, parabens, and gluten. They are also vegan and are not tested on animals. They have an aromatic and relaxing fragrance.
Key Ingredients: Oils of eucalyptus, lavender, orange, olive, and coconut
Pros
Vegan
Gluten-free
Cruelty-free
Sulfate-free
Paraben-free
Non-GMO
Cons
Price at the time of publication: $7.98
If you want to help conserve our environment, switch to shampoo bars. Shampoo bars are solid shampoos usually made from a blend of raw or plant-based ingredients. They are gentler on your hair as they require fewer preservatives than regular shampoos. They also eliminate the chance of spills and mess in the bags, so they are travel-friendly. Read on to learn how to choose the best shampoo bars for dandruff.
How To Choose The Best Shampoo Bar For Dandruff?
Plant-Derived Sulfates: Most shampoo bars are sulfate-free, but it is important to check for sulfates on the ingredient list. Even if you see sulfates mentioned, remember that not all are harmful. The plant-derived sulfates will not dry your hair.
Fragrance-Free: Avoid bars that list synthetic fragrances in their ingredients. This could be a cover-up term for various ingredients that could harm your hair and cause dandruff flare-ups. If you see fragrances on the list, avoid buying them.
pH-Value: Our hair is slightly acidic, so use shampoo bars with a pH value ranging between 5 to 6.5. Any shampoo bars with a higher pH level may damage your cuticles and break strands.
Must-Have Ingredients: Choose a shampoo bar fortified with active ingredients that help fight against flakes and manage dandruff. Nourishing ingredients like calendula, jojoba oil, tea tree oil, and manuka oils help reduce dandruff and soothe the scalp. They even help with hair loss. Sea salt and kaolin clay naturally exfoliate and clear the hair and scalp of build-up. Essential oils of lemon myrtle and lemon have antiseptic properties that heal dry scalps. Eucalyptus oil accentuates hair growth along with relieving dry, itchy scalps.
Avoid Soap-Based Bars: To keep your hair safe from unpleasant dryness, it is best to avoid soap-based bars. While not harmful, ingredients such as sodium palmitate, saponified vegetable oils, sodium cocoate, or sodium hydroxide might cause dull strands and leave residues. They can also cause dandruff and itchiness to aggravate.
Ingredients To Avoid: Avoid shampoo bars containing parabens, phthalates, gluten, sulfates, silicones, synthetic dyes, and GMOs. They strip the natural oils off your hair and cause hair fall.
Why Trust StyleCraze?
The author of this article, Shiboli Chakraborti, is a certified skin care coach and well-versed in hair care. For this article, she spent hours researching the customer feedback and reading product specifications before curating the list of the best shampoo bars to get rid of dandruff. The products recommended in this article are mostly chemical-free, reduce hair breakage, hydrate the scalp, and prevent itchiness and dryness.
Frequently Asked Questions
Are anti-dandruff shampoo bars good for dandruff?
Yes, they are. A shampoo bar is technically a shampoo but in solid form. Anti-dandruff shampoo bars are usually organic and better for dandruff treatment.
Should you wash your hair more often if you have dandruff?
You should wash your hair at least three times a week with an anti-dandruff shampoo if you have dandruff. Not washing hair often may facilitate oil and dead skin build-up, aggravating dandruff.
Why does my hair feel greasy after using a shampoo bar?
Certain shampoo barstakea while to adjust to your scalp. They also balance the scalp oils in this transition period, making your hair feel greasy.
Should you scratch at your dandruff before washing your hair?
No, you must never scratch at your dandruff. Doing so only causes further irritation to your scalp. Scratching may also cut the scalp skin and cause a burning sensation.
Do you need a conditioner with a shampoo bar?
If your shampoo bar contains a conditioner, you do not need one separately. If not, you may use a conditioner after a shampoo bar to seal the moisture and keep your hair hydrated.
What is the best treatment for dandruff?
Products containing zinc, selenium, tea-tree oil, and aloe vera can effectively eliminate dandruff.
Can you get rid of dandruff permanently?
No, you cannot get rid of dandruff permanently. However, you can control it with home remedies, treatments, and hair care products specially designed for dandruff.
Does anti-dandruff bar shampoo help with hair growth?
No. Anti-dandruff bar shampoos do not directly impact the growth of your hair. However, it can help improve the condition of your scalp, stimulating hair growth.
Recommended Articles