5 Best Anti-Dandruff Creams Of 2023 To Get Rid Of Flaking
Banish all dandruff out of your scalp and hair with these amazingly gentle creams.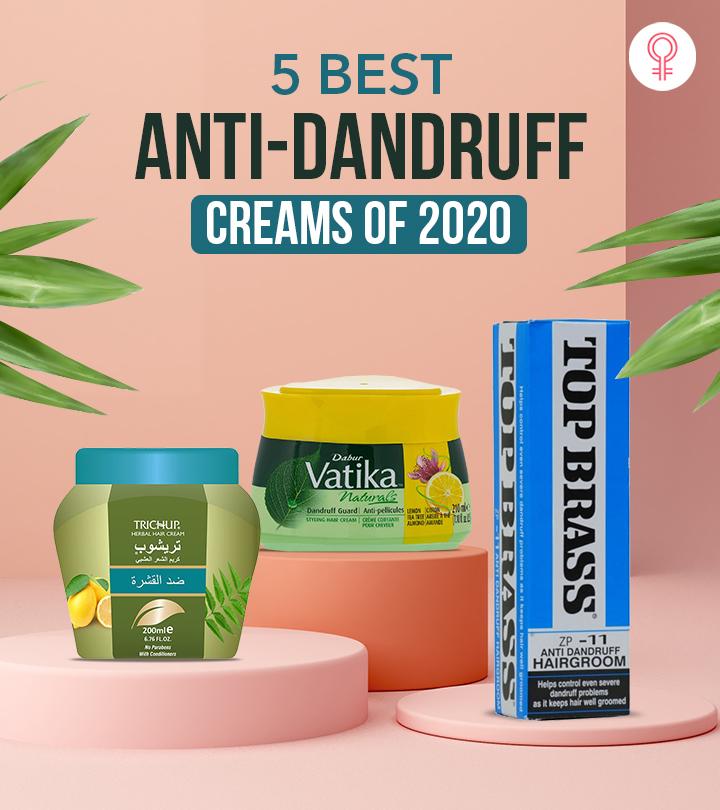 If you are done using anti-dandruff shampoos, conditioners, etc., and still can't get rid of the flaking and itching, then you must get your hands on the best anti-dandruff cream. Dandruff occurs due to dry scalp, not washing hair enough, yeast infection, or reaction to various products. When you have tried all remedies, and it doesn't seem to work out, anti-dandruff creams can save your day and make you feel confident to go out in the crowd smiling.
Anti-dandruff creams contain the right amount of oil and moisture that nourish your scalp and maintain the pH balance, preventing the root cause of dandruff. Find the 5 best anti-dandruff creams in this article that will give you dandruff-free hair. Scroll down to have a look!
5 Best Anti-Dandruff Creams
The Top Brass ZP-11 Anti Dandruff HairGroom is a highly effective formula that eliminates dandruff and excess oil from the scalp and improves hair texture. It enhances the tensile strength of the hair and moisturizes and soothes dry scalp. This anti-dandruff cream contains beeswax, lanolin wax, propylene glycol, and minerals that moisturize your scalp and hair. It has a pleasant odor and travel-friendly packaging.
Pros
Non-greasy
Pleasant smell
Suitable for all hair types
Value for money
Cons
Price at the time of publication: $34.1
The Dabur Vatika Naturals Dandruff Guard Hair Styling Cream contains lemon and tea tree oil that eliminate dandruff and excess oil and almond that softens and moisturizes the hair. This cream removes dandruff and dead skin on your scalp without causing any damage to your hair. The scientifically developed anti-pellicules make this product suitable for sensitive scalps.
Pros
Makes the hair soft
Suitable for sensitive scalp
Suitable for all hair types
Cons
Can be applied only on wet hair
Price at the time of publication: $10.74
The Trichup Herbal Hair Cream contains neem oil, rosemary oil, tea tree oil, and lemon peel oil that address the causes of dandruff. Neem oil has antifungal and antibacterial properties that fight dandruff and soothe itching. Tea tree oil has antifungal properties that treat dandruff, while lemon oil has astringent effects and absorbs excess oil from the scalp. Rosemary oil has anti-inflammatory and antioxidant properties that stimulate blood circulation in the scalp and promote hair growth. The non-greasy formula keeps the hair shiny and healthy. It is suitable for the entire family and all hair types.
Pros
Imparts shine
Non-greasy
Suitable for all hair types
Ideal for everyday use
Cons
Price at the time of publication: $31.72
The Himalaya Herbals Anti-Dandruff Hair Cream contains rosemary, coriander, and tea tree oil that disinfect, strengthen, and tone the scalp and eliminates the infection-causing germs. It also contains holy basil and sesame that soothe the scalp. This anti-dandruff cream has a base of natural cream and oils that deeply moisturize, penetrate, and revitalize the scalp and eliminate dandruff. It provides long-lasting moisture to the hair and scalp and is gentle and safe for daily use. If you want to know more about the benefits of this product, check out this quick review on YouTube.
Pros
Has a cooling effect
Gentle
Safe for daily use
Cons
Slightly unpleasant odor
Not recommended for oily hair
This anti-dandruff cream contains natural pearl protein and comes with dual care properties that not only control dandruff but also help with firm hair styling. It firmly holds the hair to create long-lasting hairstyles without making it look greasy. This cream acts as a catalyst in speeding up hair growth and nourishes the hair strands.
Pros
Non-sticky
Stimulates hair growth
Protects the hair from UV rays
Cons
No consistent results across different hair types.
Price at the time of publication: $26.0
Dandruff is a common nuisance in the world of hair care and many people struggle to find solutions for it. This is where anti-dandruff creams come in. But with so many creams available in the market, it might be puzzling to find the right one. In the segment below, we have detailed the factors that you should consider when investing in an anti-dandruff cream. Check it out.
What To Consider When Buying An Anti-Dandruff Cream
Ingredients To Look For: You can go for a cream with hydrocortisone if you have psoriasis, eczema, or other autoimmune skin conditions. Terbinafine works well for fungal infections. However, these creams may not always be available over the counter. Instead, you can look for botanical ingredients like aloe vera, cider vinegar, neem, rosemary, tea tree, and lemon oil that have anti-bacterial & anti-fungal properties that fight dandruff and eliminate itching.
Ingredients To Avoid: Always read the product label to determine the ingredient the dandruff cream contains. Silicones, sulfates, phthalates, alcohol, and paraben are the harsh chemicals you should avoid in your dandruff cream. They can further irritate the scalp and aggravate the issue.
pH balance: The hair needs a certain pH balance to function well. For dandruff and an itchy scalp, use a hair care product that balances the pH between 6-7. This will make your scalp healthy.
Texture & Consistency: Opt for anti-dandruff cream that is lightweight and does not weigh down your hair. It should be non-sticky and non-greasy so that it does not attract dirt to the roots. Go for a dermatologically tested and hypoallergenic cream if you have a sensitive scalp.
Fragrance: Dandruff can make your hair stinky. So, you will need a formula that can cancel out the malodor and give your hair a fresh smell. But then again, artificial fragrances can irritate your already sensitized scalp. So, your best bet will be to look for naturally fragrant ingredients in the formula.
You can easily use anti-dandruff creams to get rid of unnecessary breakage, dandruff, and infections in your hair and scalp. These anti-dandruff creams can nourish the scalp and balance out your scalp's pH level. If you have a dry scalp, these creams can help in soothing the same. While purchasing the right anti-dandruff creams, it is better to avoid the ones that contain harmful additives and toxins. You should choose creams that are made of natural ingredients to keep your tresses safe from chemicals.
Why Trust StyleCraze?
The author, Shiboli Chakraborti, is a hair care enthusiast and has personally tried a wide range of anti-dandruff products, including shampoos and creams. To curate this listicle, she has also scrolled through hundreds of reviews on anti-dandruff creams and shortlisted a few products that can be banked on. These products offer desired results and are suitable for all hair types.
Frequently Asked Questions
Does hair cream cause dandruff?
No. Hair creams help eliminate and prevent dandruff.
Is hair cream harmful?
If used as specified, hair creams are not harmful.
Is Himalaya Anti-Dandruff Cream good?
Yes. The Himalaya Anti-Dandruff Cream offers long-lasting effects and is cost-effective.
Is dandruff a fungus?
No. However, a fungus called Malassezia triggers dandruff.
Why do I have so much dandruff?
You have dandruff because you have a dry scalp, oily hair, and scalp, fungal infections, or indulge in the improper use of hair care products.
What is dandruff a sign of?
Dandruff is a sign of the skin of the scalp wearing itself out, turning oily and red. It signals bacterial or fungal infection in the scalp.
Is dandruff a dead cell?
Yes, dandruff flakes are dead cells that fall off the scalp.
 Can dandruff affect your face?
Yes, a condition called seborrheic dermatitis can cause itching and flaking on the face.
Recommended Articles:
The following two tabs change content below.