5 Best Anti-Dandruff Creams Of 2021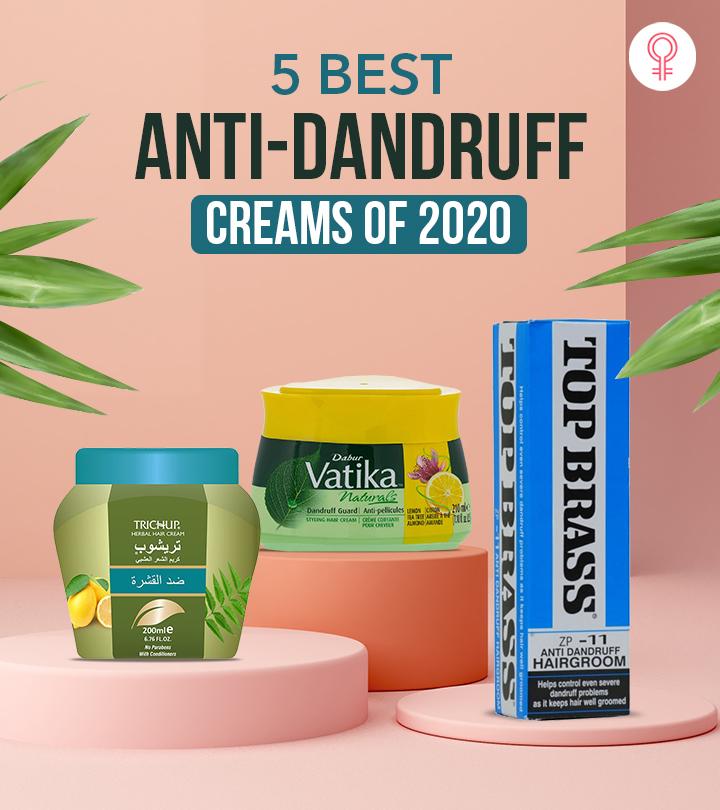 Dandruff is a condition that primarily affects the scalp and results in flaking and itching. It can occur due to a dry scalp, not washing your hair enough, yeast infection, or reaction to hair products. Sometimes, despite all the care and using anti-dandruff shampoos, dandruff persists. In such a situation, one not only feels irritated but also may develop social or self-esteem problems. Well, keep your worries at bay as anti-dandruff creams are here to save the day.
These creams are formulated to provide the right amount of oil and moisture to the scalp to maintain the pH balance, thus diminishing the possibility of dandruff. This article lists the best 5 anti-dandruff creams that can help eliminate dandruff for good. Scroll down to check them out!
5 Best Anti-Dandruff Creams
The Top Brass ZP-11 Anti Dandruff HairGroom is a highly effective formula that eliminates dandruff and excess oil from the scalp and improves hair texture. It enhances the tensile strength of the hair and moisturizes and soothes dry scalp. This anti-dandruff cream contains beeswax, lanolin wax, propylene glycol, and minerals that moisturize your scalp and hair. It has a pleasant odor and travel-friendly packaging.
Pros
Non-greasy
Pleasant smell
Suitable for all hair types
Value for money
Cons
The Dabur Vatika Naturals Dandruff Guard Hair Styling Cream contains lemon and tea tree oil that eliminate dandruff and excess oil and almond that softens and moisturizes the hair. This cream removes dandruff and dead skin on your scalp without causing any damage to your hair. The scientifically developed anti-pellicules make this product suitable for sensitive scalps.
Pros
Makes the hair soft
Suitable for sensitive scalp
Suitable for all hair types
Cons
Can be applied only on wet hair
The Trichup Herbal Hair Cream contains neem oil, rosemary oil, tea tree oil, and lemon peel oil that address the causes of dandruff. Neem oil has antifungal and antibacterial properties that fight dandruff and soothe itching. Tea tree oil has antifungal properties that treat dandruff, while lemon oil has astringent effects and absorbs excess oil from the scalp. Rosemary oil has anti-inflammatory and antioxidant properties that stimulate blood circulation in the scalp and promote hair growth. The non-greasy formula keeps the hair shiny and healthy. It is suitable for the entire family and all hair types.
Pros
Imparts shine
Non-greasy
Suitable for all hair types
Ideal for everyday use
Cons
The Himalaya Herbals Anti-Dandruff Hair Cream contains rosemary, coriander, and tea tree oil that disinfect, strengthen, and tone the scalp and eliminates the infection-causing germs. It also contains holy basil and sesame that soothe the scalp. This anti-dandruff cream has a base of natural cream and oils that deeply moisturize, penetrate, and revitalize the scalp and eliminate dandruff. It provides long-lasting moisture to the hair and scalp and is gentle and safe for daily use.
Pros
Has a cooling effect
Gentle
Safe for daily use
Cons
Slightly unpleasant odor
Not recommended for oily hair
This anti-dandruff cream contains natural pearl protein and comes with dual care properties that not only control dandruff but also help with firm hair styling. It firmly holds the hair to create long-lasting hairstyles without making it look greasy. This cream acts as a catalyst in speeding up hair growth and nourishes the hair strands.
Pros
Non-sticky
Stimulates hair growth
Protects the hair from UV rays
Cons
No consistent results across different hair types.
The creams listed above help you get rid of dandruff, its causes, and the related problems. No more embarrassment! Pick any of them and say hello to a flake-free scalp.
Frequently Asked Questions
Does hair cream cause dandruff?
No. Hair creams help eliminate and prevent dandruff.
Is hair cream harmful?
If used as specified, hair creams are not harmful.
Is Himalaya Anti-Dandruff Cream good?
Yes. The Himalaya Anti-Dandruff Cream offers long-lasting effects and is cost-effective.
Is dandruff a fungus?
No. However, a fungus called Malassezia triggers dandruff.
Why do I have so much dandruff?
You have dandruff because you have a dry scalp, oily hair, and scalp, fungal infections, or indulge in the improper use of hair care products.
What is dandruff a sign of?
Dandruff is a sign of the skin of the scalp wearing itself out, turning oily and red. It signals bacterial or fungal infection in the scalp.
Is dandruff a dead cell?
Yes, dandruff flakes are dead cells that fall off the scalp.
 Can dandruff affect your face?
Yes, a condition called seborrheic dermatitis can cause itching and flaking on the face.
Recommended Articles