11 Best Waterproof BB Creams For Covering Dark Spots And Redness
Hide your blemishes and achieve a flawless base with just one swipe of these formulas.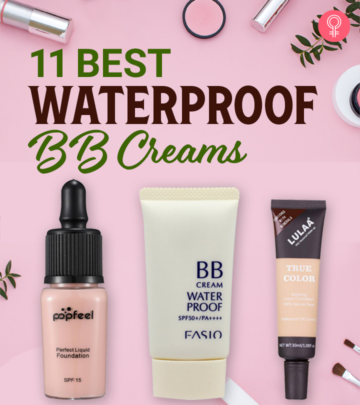 If you don't like heavy foundations but have skin imperfections such as acne scars to hide, you must try the best waterproof bb creams. BB Cream, otherwise known as blemish balm, doubles as a moisturizer and a foundation. It doesn't work just as a concealer or feels heavy like a foundation. Instead, it is a breathable formula that feels lightweight while giving great coverage and a natural finish. Therefore, BB creams make a great alternative to heavy foundations. It is versatile and can be used on an everyday basis. We have listed the 11 best waterproof BB creams for you. Take a look!
11 Best Waterproof BB Creams
The Ofanyia BB Cream is a whitening BB cream that doubles as a concealer. It provides a great base for makeup. The BB cream effectively brightens and moisturizes the skin while offering a natural finish. It also makes the complexion more youthful. The BB cream is effective in covering dark spots and redness. It smoothens the uneven skin tone to give a natural and glowing appearance. The cream is refreshing and comfortable to wear throughout the day, even if you have dehydrated skin.
Pros
Covers dark spots and redness
Comfortable
Promotes skin elasticity
Cons
None
Jane Iredale Glow Time Full Coverage Mineral BB Cream is formulated with natural ingredients and can be used as a foundation and concealer. Depending on the shade, this BB cream comes with SPF 25 or SPF 17, thereby protecting the skin from sun rays. The cream blends well on the skin, brightens the skin, reduces the pores, conceals blemishes, and minimizes the fine lines and wrinkles. You can also check the reviewer's experience in this YouTube video for a complete idea about the product.
Pros
Hypoallergenic
Dermatologist-tested
Pore-minimizing formula
Water-resistant
Cruelty-free
Vegan
Cons
The HuiKai Air Cushion BB Cream is a great product that provides perfect coverage and hydration. It offers excellent spreadability and is easy to use. The cream is fast-absorbing and long-lasting on the skin. The product includes a mushroom sponge applicator that makes the application of the cream convenient. The BB cream gives a dewy finish. So, it's time to take your poolside makeup to the next level with this amazing BB cream.
Pros
Long-lasting
Easy to use
Blemish-concealing formula
Mushroom sponge applicator
Cons
None
The KoseFasio BB Cream is an all-in-one BB cream with a natural finish. It can be used as a BB cream, sunscreen, and concealer. The product contains SPF 50+ which is ideal for protection from sun damage. The cream is also waterproof and sebum-proof.
Pros
Long-lasting
Buildable coverage
Sebum-proof
Protects from sun damage
Cons
None

The Inspired Capital BB Cream is a lightweight and super blendable BB cream with medium coverage. The cream gives a matte flawless effect. It is formulated with silk liquid that diffuses imperfections and nourishes the skin. This matte finish BB cream also contains SPF that provides protection from sun damage. The cream lasts for 12 hours and offers exceptional results.
Pros
Lightweight
Natural-looking coverage
Blendable
Long-lasting
Protects from sun damage
Cons
None
The Highpot BB Cream is a hydrating and whitening BB cream. The cream has a lightweight and comfortable texture. The cream helps to blur imperfections on your skin and has a non-greasy formula. The cream is moisturizing and contains SPF that protects the skin from UV rays.
Pros
Lightweight
Gives flawless complexion
Non-greasy
Protects from sun damage
Cons
None
The Images BB Natural Refreshing Cream is a great product that removes the signs of tiredness and moisturizes the skin. It has a long-lasting effect and brightens your skin. The cream can also be used as a concealer. It has a lightweight texture and conceals pores effectively.
Pros
Cons
None

The Mushrooms Head Air Cushion BB Cream is a hydrating BB cream that balances your sebum levels. This waterproof makeup product also conceals acne scars and signs of aging, including fine lines and wrinkles. The cream has a lightweight texture and is breathable. This humidity-proof BB cream moisturizes the skin while making it look smooth. The cream comes with a small sponge applicator and is easy to use. The waterproof and sweat-proof formula has also received multiple positive reviews on Amazon for its decent color payoff.
Pros
Long-lasting
Lightweight
Balances sebum levels
Sweat-proof
Breathable
Small sponge applicator
Cons
None
MDSolarSciences Mineral Beauty Balm BB Cream provides sheer coverage and reduces the risk of photo-aging. Caffeine and Niacinamide infused in the cream helps to reduce the redness and discoloration, thereby making the skin look brighter. This expertly crafted mineral BB cream is water-resistant for up to 80 minutes and suitable for acne-prone skin. If you want to know more about the results, take a look at the tester's experience featured in this YouTube video.
Pros
Reef-safe
Oil-free
Gluten-free
Fragrance-free
Paraben-free
Vegan
Kids-safe
Cons
The TeenTop BB Cream comes with ideal color pigment to hide dark circles and skin redness. It instantly brightens up dull skin. The cream has an anti-aging effect and reduces the appearance of fine lines and blemishes. The tried-and-tested cream has a lightweight texture that is comfortable to wear all day. It lasts up to 24 hours and helps control oil. It also gives a poreless, glowy finish.
Pros
Long-lasting
Lightweight
Comfortable for all-day wear
Helps control oil
Cons
None
The Pudaier BB Cream is great for everyday use. The cream is suitable for all skin types and has a lightweight texture. It is comfortable to be worn all day. It effectively conceals dark circles and provides full coverage to the skin. The cream also conceals signs of aging, including fine lines and wrinkles.
Pros
Lightweight
Enhances blemish coverage
Long-lasting
Suitable for all skin types
Cons
None
*The prices provided in this article are based on the latest available information. However, they may vary due to changes in pricing by the seller and/or promotional offers.
Waterproof BB creams have become an essential makeup tool. However, with the variety of options available, anyone can get confused as to which is the best fit for them. Therefore, here is a buying guide that lists factors you should consider while choosing the best waterproof BB cream for covering dark spots and redness.
Things To Consider While Choosing BB Creams
You should consider your skin type before purchasing a BB cream. The BB cream that makes your friend look flawless might not necessarily work the same way on you because of different skin types.
Choose BB creams with a hydrating and moisturizing formula with a dewy finish if you have dry skin. On the other hand, if you have oily skin or combination skin, choose BB creams with an oil-balancing formula that offers a matte finish. Finally, you can use moisturizing BB creams for a glowing look if you have normal skin. For sensitive or acne-prone skin types, opt for dermatologist-tested or expert-recommended products for statement-making results without irritation.
It is essential to choose the right shade of BB cream for a more natural and appealing look and cover your dark spots. If you want a natural look and want BB cream for daily use, then you should go for shades closest to your skin complexion. Your neck and face color may vary if you choose a shade different from your skin's tone, which could make you look weird. Therefore, make sure to pick the right shade.
Make sure you have looked at the SPF properties before buying a BB cream. If you spend a lot of time in the sun, choose BB creams with high levels of sun protection to protect you from damaging UV rays and early aging. For best results, choose a BB cream with a high SPF between SPF 15 and SPF 30.
Age is one of the important factors to consider when choosing the best BB cream. If you are in your 40s, you must choose BB creams that have anti-aging properties and offer a higher level of coverage on mature skin. On the other hand, if you are in your 20s or 30s, choose the BB creams that offer a dewy finish and glow for a younger look and cover the appearance of wrinkles from your skin.
Ensure that your waterproof BB cream has enough coverage to cover your dark spots and redness. If you opt for a BB cream with sheer coverage, it may not fully conceal the blemishes.
Why Trust Stylecraze?
Baishali Bhattacharya, the author, is certified in makeup techniques and stays up to date with emerging products and trends that boost your look and confidence. She has researched and compiled this list of the best waterproof BB creams that are perfect replacements for the foundation. These BB creams are lightweight and offer great coverage. They also contain moisturizing ingredients that keep your skin nourished and glowing.
Frequently Asked Questions
Can I mix BB cream with sunscreen?
No. Do not mix BB cream with sunscreen to prevent reducing the potency of the SPF. Instead, apply them separately or pick a BB cream that already features SPF.
Can I apply BB cream with my fingers?
Yes. Use your fingers to blend the BB cream into the skin to achieve maximum coverage.
How long does BB cream last?
The effect of a BB cream lasts for six to eight hours.
How can I remove BB cream from my face?
• Pour a few drops of micellar water or baby oil on a cotton pad.
• Press the pad gently on the face.
• Gently remove the BB cream with swiping motions
How do you remove waterproof BB cream?
Use makeup cleansers designed for waterproof makeup to remove water-resistant BB cream.
How does BB cream work?
BB cream moisturizes the skin, hides dark spots, and tones your skin evenly. Some formulas also protect your skin from harsh UV rays. In addition, a high-quality BB cream reverses the signs of aging.
Recommended Articles