The 11 Best BB Creams For Dry Skin, According To Reviews (2022)
Use a hydrating product with buildable coverage for glowing and smooth, glass-like skin.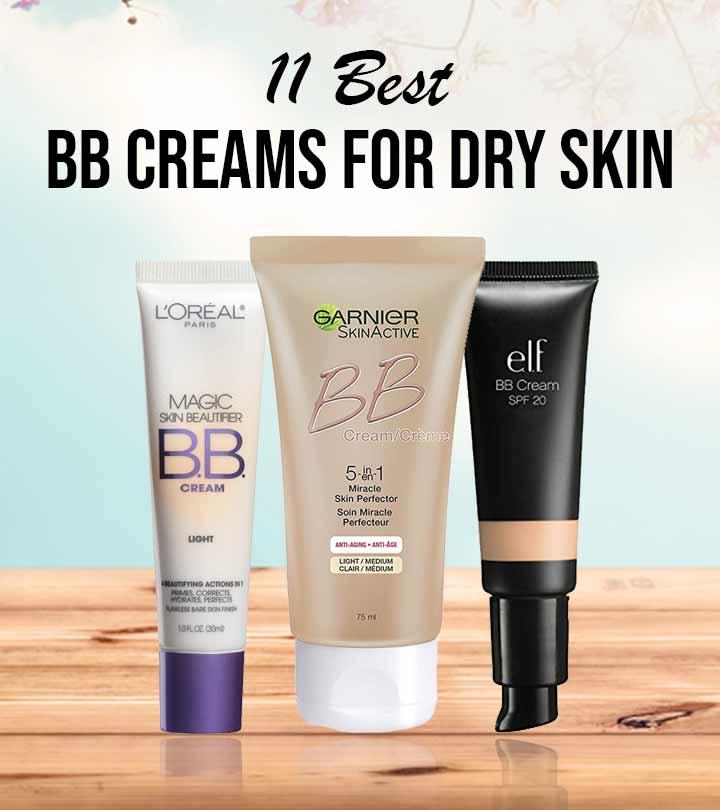 Dull and dehydrated skin can give you a real hard time. That is why the best BB creams for dry skin serve as a blessing. Now let's get real, why use a hundred products when one can do the trick? The blemish balm or beauty balm (whichever you prefer) offers moisturization and conceals the dark spots and wrinkles on your skin. Therefore, BB creams offer you the best of both worlds.
Our list consists of 11 BB creams that have received the best reviews and ratings from the customers. So, swipe up to take a look!
What Is A BB Cream Meant For? 
A BB cream is a Korean skin care product that is now popular across the world. The cream offers a plethora of benefits – moisturizing, sun protection, anti-aging, and skin brightening – and works as a makeup base and provides coverage.
A BB cream is formulated with antioxidants that protect the skin from oxidative damage and free radicals. It improves skin elasticity, appearance, and tone.
It could be your go-to product that blends beauty and skin care into one. It saves space, money, and time. Check out the list of 11 top BB creams below.
11 Best BB Creams For Dry Skin
This 8-in-1 Dream Fresh BB cream from Maybelline is a perfect formula to brighten your skin. It blends easily and imparts a smooth, dewy look. It brightens, hydrates, smoothes, and protects your skin and has broad spectrum SPF 30. It also blurs out all the blemishes and open pores. It is lightweight, oil-free, and non-comedogenic.
Pros
Lightweight
Available in 5 different shades to suit different skin tones
Hydrates the skin
Oil-free formula
Blurs imperfections
Brightens the skin
Cons
Not suitable for sensitive and oily skin
Provides low to medium coverage
Less quantity
This versatile BB cream offers natural-looking coverage with a flawless finish. It contains an exclusive Asian herb extracts complex that moisturizes the skin, and covers blemishes and pores. The blend of antioxidants, chamomile, and artemisia slows down aging and reduces fine lines and wrinkles. This tinted moisturizer cream contains sugar maple that gives you a vibrant and gorgeous look.
Pros
No harsh chemicals
Available in 8 different shades
Provides broad spectrum SPF 30
Suitable for daily use
Natural and vegan
Suitable for all skin types, including sensitive skin
Long-lasting hydration
Oil-free
Hypoallergenic
Paraben-free
Cons
Light coverage
Expensive for the quantity
This BB cream acts as a concealer with a moisturizer that conceals while it heals. This hydrating formula glides on smoothly and gives a matte satin finish. It offers sheer to medium weightless coverage. This tinted moisturizer contains mica, zinc, hydroxatone, and magnesium that not only add natural SPF but also offer anti-aging benefits. It also fades away fine lines and reduces wrinkles, scars, acne, and under-eye circles. The natural mineral blend offers protection from the harsh sun and helps fade sunburns. This flawless tinted moisturizer gives you a natural and radiant glow and a sheer, micro-fine finish that lets your skin breathe.
Pros
Available in 6 different shades
Lightweight
Not creamy
Suitable for sensitive skin
Satin matte finish stays throughout the day
No preservatives or harsh chemicals
Cruelty-free
Hypoallergenic
Fragrance-free
Alcohol-free
Talc-free
Cons
Ditch your cakey and heavy foundation and go for this 4-in-1 multitasking hydrator blend. It is enriched with mineral pigments and nutrient-rich white grape, aloe, and pomegranate juice for a radiant, gorgeous look. The power of antioxidants from apples, grapes, and aloe slows down aging. The broad spectrum of SPF 30 protects the skin from sun damage. The blend of coconut, jojoba, and sunflower oils is rich in vitamin E and antioxidants. It offers emollient, softening, and moisturizing properties.
Pros
Reef-safe
Moisturizes skin
Cruelty-free
Available in 4 different shades
Organic formula
Cons
Provides light coverage
Thick consistency
This 5-in-1 formula with a blend of vitamin C, retinol, and hyaluronic acid brightens and moisturizes your skin. The Miracle Skin Perfector from Garnier is specially designed to combat the signs of aging to give instant skin-perfecting benefits. Its formula reduces the appearance of wrinkles, firms skin, evens out skin tone, and deeply hydrates and protects your skin against the sun.
Pros
Lightweight
Instant tone correction
Long-lasting
Non-comedogenic
Non-drying
Matte finish
Cons
Limited shades
Low coverage
This 9-in-1 BB cream falls somewhere between a super-hydrating moisturizer and a lightweight foundation. It contains noni extracts that offer clinically proven benefits, like an even skin tone, firm skin, and a visibly reduced appearance of fine lines and wrinkles. This BB cream comes in three mineral-rich shades and is a must-try for dull, aging skin.
Pros
Lightweight
9% of natural ingredients
SPF 15
Long-lasting
Cons
Limited shades
Strong smell
May cause breakouts on oily and sensitive skin
This ultra-nourishing BB cream is infused with 100% pure argan oil. It is also known as 'liquid gold' that fixes the skin tone, brightens complexion, and improves skin texture and elasticity. This lightweight extra nourishing cream gives a youthful glow. The broad spectrum SPF 30 protects the skin from sun damage.
Pros
Lightweight
Ultra nourishing
Gives full coverage
Cons
Limited shades
Strong smell
The Revlon PhotoReady BB Cream is a multi-benefit product that works as an impressive combination of primer, moisturizer, concealer, foundation, and sunscreen. It keeps the skin hydrated while smoothing out any uneven lines and scars. It conceals blemishes perfectly and offers protection against sun damage with its broad spectrum SPF 30.
Pros
Lightweight
Good coverage sun protection
Available in 3 different shades
Gives instant glow
Cons
Little coverage
Limited shades for different skin complexions
Does not blend well
This 4-in-1 extra-nourishing flawless magic BB cream delivers hydration and luster. This primer works best to correct skin tone and boosts the skin's natural regeneration process. The beautifying beads encapsulated with antioxidants and vitamins C and E make your skin smooth and flawless.
Pros
Lightweight
Enriched with vitamins
Cons
Not available in different shades
Thick consistency
This brilliant formula from e.l.f. offers weightless, protective coverage that stays put all day long. It blends easily, giving you a clean and flawless complexion with SPF 20 protection. If your skin is dry, you can rely on this BB cream to keep it supple and hydrated. It is infused with aloe, jojoba, cucumber, and vitamin E that improve your skin's health and appearance. The natural formula helps minimize fine lines and provides natural, seamless coverage.
Pros
Available in 6 different shades
Lightweight
Long-lasting
Value for money
Cons
Strong smell
May irritate sensitive skin.
The Miracle Skin Perfector from Garnier is specially designed to combat the signs of aging. Its formula reduces the appearance of wrinkles, firms skin, evens out skin tone, and deeply hydrates and protects your skin against the sun.
Pros
Lightweight
Corrects skin tone
Cons
Not available in different shades
Low to moderate coverage
Thick consistency
Smells strong
These are the BB creams especially meant for those with dry skin. However, there are other types of BB creams meant to treat specific issues. We will explore them in brief in the following section.
Types Of BB Cream 
BB creams are of different types – based on the texture (fluidity or creamy), finish (dewy, luminous, matte), sun protection factor (up to SPF 50+++), the type of functions it serves (moisturizing, firming, nourishing, wrinkle-free), and the skin type (oily, dull, dry).
BB cream has certain benefits as well.
Benefits Of BB Cream
BB cream is an all-in-one product that not only saves your time but also offers other benefits.
It helps with makeup and skin treatment.
It moisturizes, hydrates, and nourishes skin.
The antioxidant formula helps reduce wrinkles and fine lines. It provides protection from oxidative damage from free radicals.
The natural formula in BB creams imparts glow, rejuvenates the skin, and maintains the naturals oil in the skin without drying it out.
It helps blur dark spots and pigmentation and corrects uneven skin tone.
The SPF formula protects skin from sun damage.
A BB cream is a way of availing multiple benefits with just one single product.
Choose the right one for dry skin. The following buying guide should help.
How To Choose The Right BB Cream For Dry Skin
Check For Moisturizing Agents: Check if the BB cream has hyaluronic acid and glycerin. Both these ingredients help treat dry skin and moisturize it.
Check For Natural Ingredients: Check the ingredients for coconut oil, jojoba oil, beeswax, cocoa butter, and shea butter. All these natural ingredients are beneficial in locking in skin hydration. 
Why Trust StyleCraze?
Choosing the best BB cream for your skin can be a tough job. Our author Oyendrila Kanjilal, a certified skin care coach, has carefully checked the reviews and ratings from various customers online to share this well-curated list of the best BB creams with you. Her article ensures high-quality products while keeping your safety in mind. These BB creams not only blur out blemishes and open pores but also blend easily.
Frequently Asked Questions
Which cream is better for dry skin – BB or CC?
The difference between BB and CC creams lies in their texture and coverage intensity. BB creams are beauty balms that correct blemishes, whereas CC creams are color correctors with light coverage. A BB cream has hydrating properties and is heavy in texture hence they are suitable for dry skin. A CC cream gives a matte finish and is light in texture, and hence, is suitable for people with acne-prone skin.
Is it okay to apply BB cream every day on dry skin?
Yes, you can use BB creams daily as they contain hydrating properties and are slightly tinted. They help boost skin elasticity and provide seamless coverage with a dewy finish that's perfect for dry skin.
How long does BB cream last on the face?
BB creams are long-lasting and can last up to 10 hours. However, choose a formula specific to your skin type to get the best results.
What comes first – BB cream or sunscreen – on dry skin?
Start with a moisturizer, followed by sunscreen, and then a BB cream.
Should you apply BB cream with your fingers?
Balmy BB creams must be applied with fingers. The heat of your skin melts the BB creams and makes it easier to blend them into the skin. You can also use a sponge or brush to blend it smoothly into the skin.
Recommended Articles