5 Best Korean BB Creams For Dry Skin + Buying Guide – 2023
Cover your blemishes with revitalizing natural ingredients that hydrate and refresh the skin.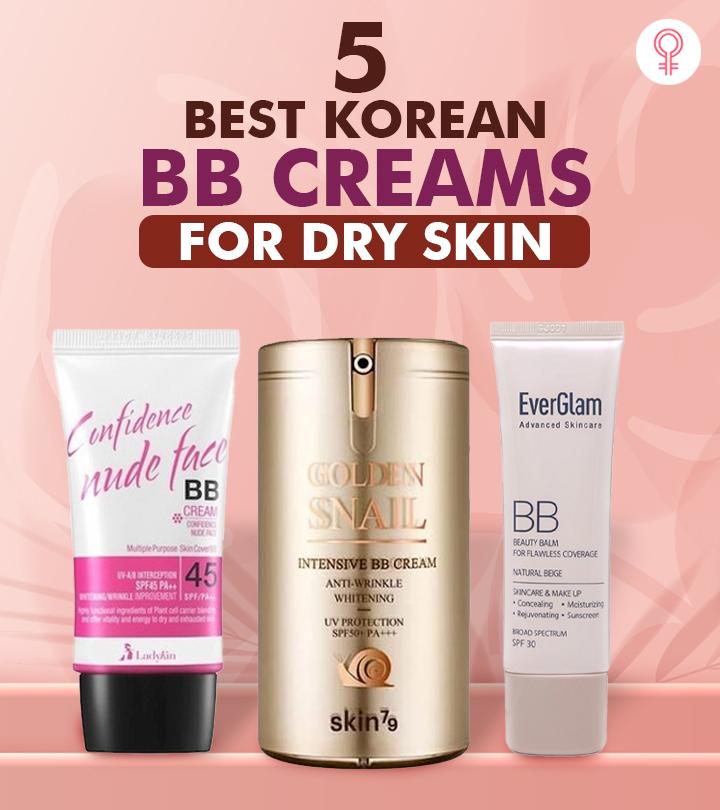 Korean skin care products are the biggest craze to hit the beauty industry! A staple in the Korean skin care world is BB creams, specially formulated for dry skin. Here we check out some of the best Korean BB creams for dry skin and what makes them so popular.
BB, or beauty balm, creams cover your blemishes and evens out the skin tone. Some BB creams even offer additional skin care benefits like sun protection and skin rejuvenation. Korean BB creams are made with deep moisturizing agents that keep the skin hydrated and prevent it from drying out and becoming flaky or dull. Scroll down and check out the pros and cons of 5 stunning BB creams from Korea!
5 Best Korean BB Creams For Dry Skin
The SKIN 79 Golden Snail Intensive BB Cream is a perfect alternative for the heavy base foundations. This is one of the best Korean BB creams for dry skin, which soothes your skin and makes it look healthy and supple.
It is formulated with 45% snail secretion filtrate, which deeply moisturizes, rejuvenates, and regenerates skin cells. The BB cream also contains red ginseng extract that brightens and tones the skin. Other ingredients like swallow nest extracts restore skin elasticity and reduce the visible signs of aging. This BB cream offers broad-spectrum sun protection with SPF 50+ and PA+++ to protect your skin from harmful UV rays. It is available in multiple shades – Pink Beige, Yellow Beige, Natural Beige, Light Beige, and Dark beige – to suit various skin tones.
Pros
Has SPF 50
Spreads easily
Cons
Price at the time of publication: $30
The TROIAREUKE Aesthetic BB Cream H+ Formula offers buildable coverage and a smooth finish that conceals dark spots and pigmentation. It leaves your skin feeling thoroughly nourished, moisturized, and supple. This cream does not clog pores. Instead, it helps in even toning the skin, covering blemishes, redness, and other imperfections.
The Korean BB cream for dry skin is formulated with Sepicontrol A5, which controls excess sebum, removes dead skin cells, and improves the skin's defenses. The CentellaAsiatica in the formula helps diminish acne scars and blemishes, at the same time chia replenishes and restores damaged skin cells, and chameleon plant extract acts as a soothing and calming agent for dry skin. This Korean BB cream works great as a tinted sunscreen with a broad spectrum of SPF 40 PA ++ to protect your skin from harmful UVA and UVB rays. It also works seamlessly as an anti-wrinkle and anti-aging solution.
Pros
Lightweight
Buildable coverage
Has SPF 40 ++
Reduces the appearance of fine lines and wrinkles
Hypoallergenic
Cons
Does not conceal dark circles well.
Less quantity for the price.
Price at the time of publication: $38.0
The Klairs Illuminating Supple BlemishCreamcontains natural aloe vera extract helps moisturize and nourish the dry patches on your skin. It offers long-lasting and breathable coverage and focuses on concealing your skin's imperfections like redness, pores, acne scars, and blemishes without leaving a white cast or a gray tint. This Korean BB cream for dry skin has broad-spectrum SPF 40, PA++ that protects your skin from environmental damages. The hypoallergenic formula is safe for sensitive, dry, and acne-prone skin types and helps maintain your natural glow and radiance. To get a better understanding of the product, you can check out this video on YouTube.
Pros
Lightweight
Long-lasting
No clumping
Blends well
Has SPF 40
Value for money
Cons
Price at the time of publication: $30
This BB Cream from Ladykin helps maintain your naturally radiant complexion by concealing the skin's imperfections. It works seamlessly to protect the skin from constant, everyday exposure to UVA and UVB rays by blocking them out entirely and adding vitality to dry and damaged skin. It also has skin lightening and anti-wrinkle properties.
The main active ingredients that are used to formulate this Korean BB cream are arbutin, adenosine, bamboo leaf extract, red rose extract, and ginseng callus culture extract.
The arbutin in the cream lightens the skin tone and keeps it clear and glossy. Adenosine helps improve wrinkles and fine lines by boosting your skin with moisture for a healthy and supple texture. This Korean BB cream for dry, mature skin gives you a naturally radiant and dewy finish. It is also available in multiple shades, such as Pink Beige, Yellow Beige, and Shimmer Pearl Beige.
Pros
Lightweight
Non-sticky
Plant cell-based ingredients
Has SPF 45
Cons
Not long-lasting
Feels greasy
Price at the time of publication: $11.99
If you are looking for a product that offers heavy-duty coverage with amazing skincare benefits, the EverGlam BB Cream is your best pick. This is the best Korean BB cream for dry and combination skin types with broad-spectrum SPF 30. It makes your skin look refreshed, supple, and radiant in a few seconds. This BB cream can also be used as a concealer to cover blemishes, dark spots, and skin pigmentation for a flawless look.
It is formulated with algae, betaine, and purslane extracts to nourish, hydrate, and protect the skin. While the algae and purslane extracts soothe and lift the skin and reduce the appearance of aging signs, betaine hydrates the skin. This Korean BB cream blends into your skin flawlessly to minimize pores, fine lines, and wrinkles for a well-defined look that lasts all day long.
Pros
Sweat-resistant
Water-resistant
Non-sticky
Good fragrance
Long-lasting
Paraben-free
Cruelty-free
Cons
Slightly thick consistency
Limited shades
Price at the time of publication: $28.0
Why Trust Stylecraze
The author of this article, Shiboli Chakraborti, is a certified skin care coach and loves reviewing new and innovative skin care products for her readers. She curated this list of the best Korean BB creams for dry skin after researching various products in this category and sifting hundreds of user testimonials on trusted online forums. The shortlisted BB creams are formulated with nourishing and moisturizing ingredients, giving your skin a glass finish.
Frequently Asked Questions
Is BB cream popular in Korea?
Yes, BB creams are a staple in Korean beauty. Korean beauty is all about hydration and BB creams are skincare-infused formulations that conceal and cover blemishes. They are hydrating and some may have SPF as well. Koreans are all about minimal beauty products and this product does it all.
Do Koreans use BB cream or CC cream?
Koreans are huge fans of BB creams. These beauty balms create the perfect natural glow for everyday wear.
Which company BB cream is the best for dry skin in Korea?
Klairs, LadykinConfidence, EverGlam, Skin79, and Troiareuke are some of the best Korean brands that make BB creams for dry skin.
Can we use BB cream daily?
Yes, because of their lightweight, hydrating, and sheer coverage, you can use BB creams daily.
Which one is the best for dry skin – BB or CC cream?
Both BB and CC creams are perfect for a natural makeup look as they offer sheer coverage. However, Korean BB creams are more suitable for dry skin since they are hydrating and nourishing on the skin.
Can I mix BB cream with foundation?
Yes, if you want to add more coverage and glam up your look, you can add a tiny bit of foundation to your BB cream.
Recommended Articles