10 Best BB Creams For Combination Skin
Smoothen, moisturize, and radiate skin with these BB creams made for combination skin.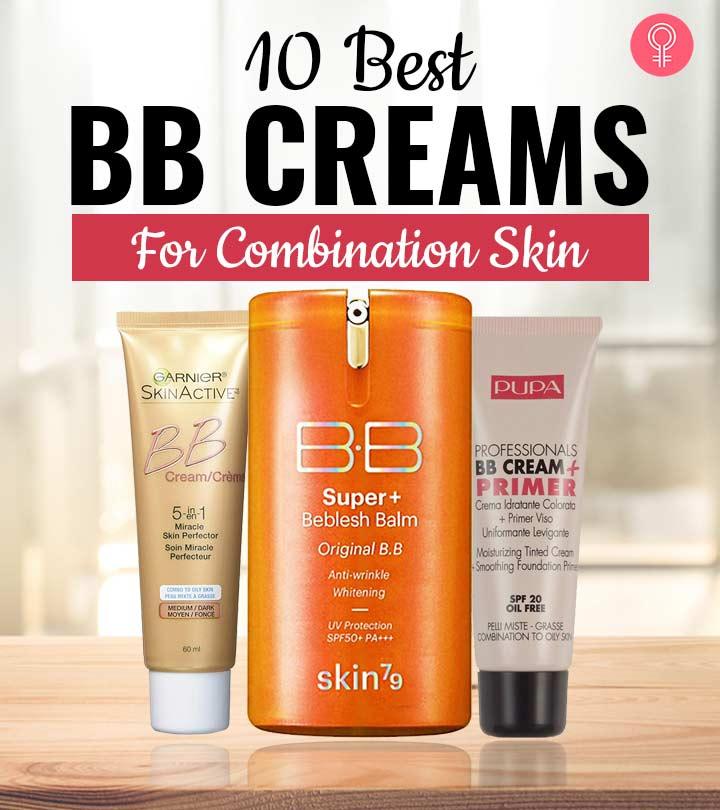 Combination skin needs special attention due to its issues with both dryness and greasiness. Investing in the best BB creams for combination skin will make sure to balance both factors evenly. These creams make sure that your skin maintains a minimum level of hydration and also prevent the glands from producing excess oil. We have made the search easy for you by listing the best BB creams for combination skin below. Check them out!
10 Best BB Creams For Combination Skin
The Purlisse Perfect Glow BB Cream offers natural-looking coverage with a flawless finish. It can be used alone to even skin tone and cover blemishes or under a foundation for long-lasting coverage. It contains chamomile that soothes the skin, artemisia that prevents aging, and sugar maple that gives the skin a natural glow. It has SPF 30 to protect the skin from the sun rays. It also acts as a moisturizer. This BB cream leaves your skin feeling smooth and radiant with a matte finish. It improves skin texture along with hydrating it. Its antioxidant properties reduce fine lines and wrinkles. It comes in different shades to match your skin tone. The cream does not contain harsh chemicals like parabens, petrochemicals, propylene glycol, and phthalates. It is FDA-approved, hypoallergenic, and works well for rosacea. This BB cream is vegan-friendly and cruelty-free. Check out this YouTuber's review of this product.
Pros
Smoothes the skin
Contains SPF 30
Moisturizes the skin
Covers blemishes
Non-greasy
Dewy finish
Paraben-free
Phthalate-free
Petrochemical-free
Hypoallergenic
Cons
Price at the time of publication: $36.0
The Garnier Skinactive BB Cream is specially made for oily to combination skin types. It provides five skin-perfecting benefits. It controls shine, minimizes pores, evens skin tone, hydrates the skin, and protects against sunburn. The BB cream is infused with antioxidants and tinted mineral pigments to blend into the skin easily. It contains mineral perline, wildberry, tinted mineral pigments, and SPF 15. Wildberry is enriched with antioxidants and protects the skin. This BB cream also moisturizes the skin and improves skin elasticity. It also provides instant coverage and makes the skin look healthier. It is oil-free.
Pros
Lightweight
Oil control formula
Controls shine
Minimizes pores
Matte finish
Evens skin tone
Cons
Oxidizes
Does not cover imperfections.
Price at the time of publication: $39.99
The Skin79 Super+ Beblesh Balm is a triple function cream that reduces wrinkles, whitens the skin, and provides sun protection with SPF 50. It contains a vitamin complex blend that makes skin healthy. Along with the vitamin complex, it also contains aloe vera, which hydrates and restores the skin. The BB cream fixes uneven skin tones and is suitable for people with fair skin and warmer undertones. It lifts the skin and improves skin elasticity. It also prevents aging and leaves the skin with a bright and vibrant glow. It provides long-lasting coverage and can be used under makeup.
Pros
Provides good coverage
Lightweight
Has SPF 50
Makes the skin tone even
Provides elasticity to sagging skin
Cons
Might not suit pale skin with yellow undertones.
Does not conceal pimple marks.
Price at the time of publication: $24.6
The Covergirl CG Smoothers BB Cream is an instant skin enhancer that pampers the skin and imparts a natural glow to it. It also keeps skin hydrated all day long and provides long-lasting sheer coverage. It contains SPF 21 to provide sun protection. It improves skin elasticity, leaving it supple and soft. It conceals spots and blemishes on the skin and evens out the skin tone. It is available in three shades from light to deep skin tones.
Pros
Moisturizes the skin
Lightweight
Blends effortlessly
Evens skin tone
Imparts a natural-looking radiance
Smoothes the skin
Non-greasy
Cons
The tint may be too light for some skin tones.
May not cover dark spots and blemishes.
Price at the time of publication: $6.97
The Maybelline New York Dream Fresh BB Cream is a water-gel formula that contains zero oil and no heavy ingredients. It protects the skin from the sun, blurs imperfections, and leaves the skin feeling fresh with a natural dewy glow. The water gel-formula keeps the skin hydrated and brightens it, while the SPF 30 protects the skin from harmful UV radiation. The cream is non-comedogenic. It evens out the skin tone and also smoothes and softens the skin. It is available in five shades: Light, Light/Medium, Medium, Medium/Deep, and Deep. You can also check this video out for a brief review of the product.
Pros
Oil-free
Gentle
Hydrates the skin
Has SPF 30
Covers blemishes
Imparts a natural glow
Smooth application
Lightweight
Cons
May cause skin irritation.
Packaging issues
Price at the time of publication: $7.22
The Garnier Pure Active BBCream is an all-in-one skin care product. It covers imperfections like spots, blemishes, and redness. It evens out the skin tone and gives a matte finish. It moisturizes the skin, leaving it hydrated and replenished. It contains 2% salicylic acid, mineral pigments, and SPF 15 to nourish and protect the skin. It is suited for combination skin and skin prone to blemishes and other imperfections. Its lightweight texture is easily absorbed and melts into the skin, providing natural coverage. It allows the skin to breathe. This cream is non-comedogenic and dermatologically tested. The cream fights and covers all blemishes.
Pros
Lightweight
Blends easily
Eliminates and covers blackheads
Contains salicylic acid
Non-comedogenic
Cons
Can make the skin greasy.
Price at the time of publication: $11.99
The Troiareuke Aesthetic BB Cream A+ Formula is a Korean lightweight balm suitable for oily, combination, acne-prone, and sensitive skin types. It has SPF30 PA+++ that protects the skin from sun damage by providing a broad spectrum cover against UVA/UVB rays. It covers imperfections, blemishes, and redness without clogging pores to reveal a radiant skin tone. It also absorbs excess sebum and goes well as a foundation, giving a buildable coverage and a smooth finish.
Pros
Covers blemishes and redness
Lightweight
Buildable
Hypoallergenic
Enhances sebum absorption
Suitable for combination, oily, acne-prone, and sensitive skin types
Cons
Coverage might be too light
Price at the time of publication: $38
The Pupa Professionals BBCream + Primer acts as a tinted moisturizer, smoothing primer, and sunblock. The cream contains SPF 20 for protection against UV radiation. The oil-free BB cream is made specifically for combination and oily skin types. It moisturizes the skin and makes it luminous. This BB cream makes the skin look smooth and even and covers blemishes and discoloration. The formula is made to pamper the skin and make it healthy. It gives a no-shine matte finish as it contains porous silica spheres. The cream has sebum-absorbing qualities to remove shine. It minimizes open pores and enhances the complexion. It is non-comedogenic and paraben-free.
Pros
Leaves the skin with a matte finish
Absorbs oil
Boosts skin radiance
Hydrates the skin
Conceals pores and blemishes
Non-comedogenic
Paraben-free
Cons
May cause breakouts in a few people.
Price at the time of publication: $25.0
The Lifecell BB Cream acts as a tinted moisturizer. It also contains SPF 50, so it acts as a sunblock and protects the skin from UV radiation. This BB cream provides hydration to the skin all day long. It smoothes skin and makes it velvety and also diminishes the appearance of pores, fine lines, and uneven skin tone. It contains green tea extract that helps reduce and alleviate redness. This cream hydrates, primes, protects, and smoothes the skin and leaves it with a natural healthy glow.
Pros
Covers imperfections
Has SPF 50
Leaves the skin with a natural glow
Skin priming formula
Lightweight cream
Makes the skin smooth
Acts as a tinted moisturizer
Cons
May be a bit dark for very fair and porcelain skin tones.
Price at the time of publication: $49.0
The La Roche Posay Effaclar BB Blur visibly blurs the appearance of pores and covers blemishes like redness and spots. It has a lightweight texture that absorbs oils easily and allows the skin to breathe. It leaves the skin with a matte finish. The cream contains mineral sunscreen SPF 20 for protection against sun rays. This all-day BB cream uses a makeup formula that contains cutting-edge smoothing mattifier airlicium that absorbs 150 times its weight in oil and shine. It helps in concealing blemishes, makes the skin smooth, and keeps the matte finish lasting all day long. The cream also contains perlite to absorb humidity and sweat. It contains titanium dioxide mineral that acts as a sunscreen filter and provides daily UV protection. You can get this cream in two shades: Fair/Light and Light/Medium. The cream doesn't contain any oils, parabens, or artificial fragrances. It is also non-comedogenic.
Pros
Absorbs excess oil
Hydrates the skin
Provides flawless finish
Makes the skin look younger
Paraben-free
Oil-free
No-artificial fragrance
Non-comedogenic
Cons
May settle into pores and wrinkles.
May cause breakouts.
Price at the time of publication: $29.99
BB creams effectively hydrate combination skin and remove excess oil. With many options available, it is hard to choose the right BB cream. Use this guide to pick the right BB cream for combination skin.
What To Consider When Buying BB Creams For Combination Skin – Buying Guide
Preferences: Make sure you get the best BB cream for combination skin. You can use it as a moisturizer and make sure that the oilier parts of your skin are not getting greasy. The BB cream should also balance the water consistency in your skin and hydrate the drier parts of the skin.
Ingredients: BB cream that does not contain silicone and mineral oil is a good choice for combination skin. Quality creams contain hyaluronic acid, glycerin, panthenol, and ceramides. They are best for nourishing your skin and suitable for sensitive skin.
Skin Tone: If you are choosing tinted BB creams, make sure to pick one that suits your natural skin tone. Comparing its shade to your face and neck helps you lock down the right one.
Review: By reading customer reviews, you can get a better idea of what BB cream to choose. You can get a rundown on various products. Such research helps you understand which BB cream is a good choice for your skin type. It helps you choose a BB cream that is effective when it comes to hydrating your skin while removing excess oil.
Why Trust StyleCraze?
The author, Oyendrila Kanjilal, is a certified skin care coach and loves reviewing makeup and skin care products for her readers. She compiled this list of the top BB creams for combination skin after conducting extensive research and reviewing numerous online reviews. BB cream concealer fine lines, minimizes pores, and hydrates and nourishes the skin. In addition, they will deal with greasiness and dryness to maintain a beautiful, healthy complexion.
Frequently Asked Questions
How to pick BB creams for combination skin?
Find products that don't cause breakouts or irritation. The products should also absorb oily easily. Opt for oil-free creams. While BB creams offer coverage, opt for ones that aren't heavy on the skin.
Is BB cream better than CC cream?
While BB creams are more hydrating, CC creams have greater coverage and also provide anti-aging benefits other than the usual functions of complexion control. So, while CC creams are better suited for oily, acne-prone skin types for their matte finish, BB creams are great for dry skin types.
Can I use BB cream instead of foundation for combination skin?
Yes, a BB cream can be used instead of a foundation but the coverage will not be as good as a full coverage foundation.
Do I need a primer if I use BB cream on combination skin?
No, a primer is not required when applying BB cream on combination skin. However, a Mattifying primer used sparingly in the more oily parts of your skin may help balance the overall finish when dealing with combination skin types.
Is it OK to use BB cream every day?
Yes, you can use a BB cream every day but ensure it has a skin-friendly, non-comedogenic formula.
Can I just wear BB cream alone?
Yes, a BB cream alone is enough as it offers the right amount of hydration and light coverage for regular wear.
Recommended Articles