11 Best Non-Comedogenic BB Creams For Flawless Skin
Say hi to oil-free, smooth skin with the right skincare essentials in your vanity.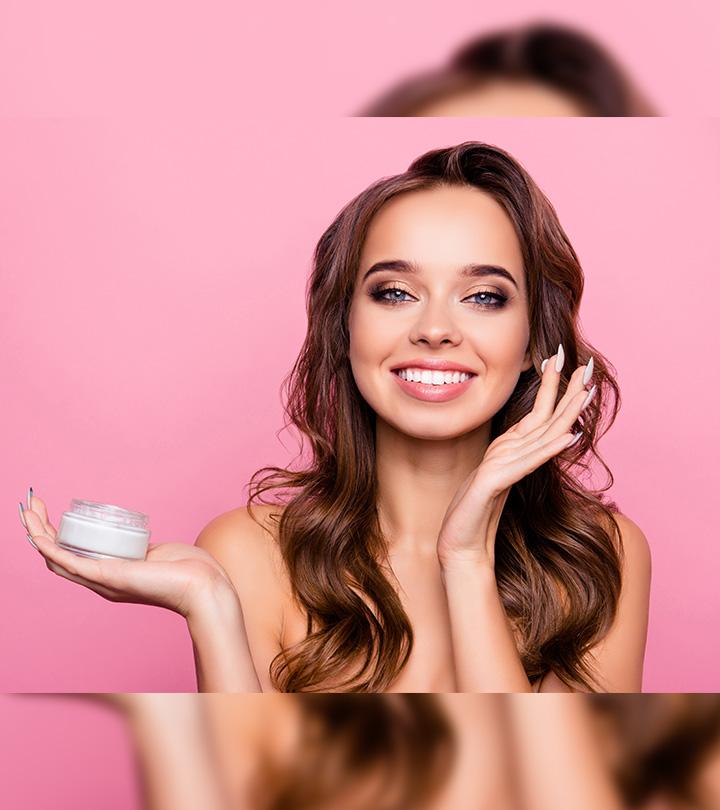 Are you looking for the best non-comedogenic BB creams? We have just what you need. The need for BB creams comes in when your skin gets dull and dry, even after attention and care. Blemish balms are a mix between foundations and moisturizing ingredients, and they make sure your skin gets nourishment while gently concealing the uneven skin tone and blemishes. Also, they protect your skin from harmful UV rays and help you better absorb the other skin care products.
No one likes applying a hundred products to appear natural! Unfortunately, while BB creams have been a popular choice for a long time, they might also clog pores and lead to breakouts. One way to make sure you get the benefits without making your skin get acne is to invest in non-comedogenic creams. Choosing a BB cream with hyaluronic acid, salicylic acid, and antioxidants will make sure your skin does not lose its radiance in the process of skin brightening. Here are the top 11 BB creams specially designed to make your skin glow without losing its natural shine.
11 Best Non-Comedogenic BB Creams To Transform Your Skin
This oil-free, non-comedogenic BB cream will ensure your skin is shine-free and gorgeous. It has a water-based formula that glides and blends effortlessly into the skin, hiding blemishes and offering you a clean and natural look. The non-comedogenic formula ensures that your pores do not get clogged, preventing breakouts and allowing your skin to breathe. So next time you want to look for a natural look with a glow, reach out for this BB cream that never looks cakey. If you want to know more about the results, take a look at this review on YouTube.
Pros
Lightweight
Matte finish
Oil-free formula
Designed for oily skin
Available in 6 shades
Cons
May not be best suited for dry skin
Price at the time of publication: $7.28
Are you looking for a BB cream that conceals your imperfections and clears acne? Well, breathe a sigh of relief as your prayers have been heard! This non-comedogenic BB cream for acne-prone skin offers full coverage and blurs blemishes. Powered with salicylic acid, this formula reduces acne and blackheads while removing dead skin cells and keeping pores clear. This hydrating formula moisturizes and nourishes your skin, making it a gentle enough option for everyday use.
Pros
Lightweight
Oil-free formula
Delivers a matte finish
Minimizes size of pores
Available in 5 different shades
Ideal for acne-prone and oily skin
Reduces appearance of redness
Cons
Price at the time of publication: $6.68
The Garnier Skin Active BB Cream is a multi-purpose product that works as a moisturizer, foundation, and sunscreen. It is a non-comedogenic cream that nourishes, protects, and evens out your skin. It is infused with powerful ingredients like mineral perline and wild berry, which help reduce the appearance of fine lines and wrinkles and protect your skin from environmental damage and premature aging. In addition, its natural tinted mineral pigments provide flawless coverage. The formula also blends seamlessly into the skin, giving you a flawless and even tone.
Pros
Lightweight
Non-greasy
Quick absorbing
SPF 15
Best suitable for oily and combination skin
Cons
Price at the time of publication: $39.99
This lightweight, non-comedogenic BB cream is an excellent alternative to foundation and gives you flawless skin within seconds. Made with aloe vera and camomile extracts, it moisturizes your skin deeply and calms skin prone to inflammation. It covers dark blemishes, evens skin tone, and hydrates your skin intensely for a long time. The self-adjusting pigments blend with the skin to reflect your natural complexion and hold your makeup all day. Powered with antioxidants, this Marcelle BB Cream Golden Glow delivers a healthy glow with a hint of illumination.
Pros
No parabens
Fragrance-free
Hypoallergenic
Oil-free formula
Improves skin texture
Promotes skin regeneration
Cons
Price at the time of publication: $29.95
The PUPA Professionals Tinted Moisturizing Cream acts as a BB cream and a primer. It hydrates, nourishes, and smooths your skin. It is formulated with porous silica spheres, which provide a healthy-looking matte finish. It keeps your skin fresh and radiant all day and prevents it from looking greasy. It is lightweight, quick-absorbing, easy to blend, and has SPF 20 sun protection, making it perfect for everyday wear. With this non-comedogenic cream, you can skip multiple steps in your makeup routine while having a flawless, natural-looking complexion that lasts all day.
Pros
Lightweight
Easy to blend
Matt finish
Sun protection
Buildable coverage
Can be used as a base for makeup
Cons
Price at the time of publication: $25.0
Powered with argan oil, which is also known as "liquid gold", this acne-fighting BB cream from Physicians Formula minimizes flaws and imperfections without turning your skin greasy. It improves your skin's elasticity, tone, brightness, and texture. It is a multifunctional blend of moisturizer, foundation, SPF protection, and oil treatment, all in one. This light, ultra-luxe cream vanishes blemishes and transforms your skin to look clean and clear.
Pros
Pleasant scent
Hypoallergenic
Offers supple skin
Enhances your glow
Smoothens appearance of fine lines
Cons
May not be best suited for sensitive skin
Price at the time of publication: $1040.0
The Organic Rosilliance BB Cream from COOLA is a sheer, barely-there cream that reinforces your skin's natural warmth for a radiant, makeup-free look. The BB Cream is enriched with SPF 30, which protects your skin from UV rays. The formula offers full coverage. The water-based BB cream is infused with antioxidizing pale, damas, and white & apothecary rose stem cells. which fight against free radicals whilst mineral actives and iron oxide assist guard your skin for a fresh, sparkling look.
Pros
Lightweight
SPF 30
Suitable for dry skin
Cruelty-free
Hawaii reef compliant
Antioxidant-rich
Available in 3 shades
Sweet rose fragrance
Dermatologically tested
Cons
None
Price at the time of publication: $52
The Waxhead Tinted Sunscreen is a BB cream with SPF for everyday wear. The pink-beige undertone of the product is suitable for lighter skin tones. The tinted sunscreen is infused with licensed natural ingredients like olive oil, jojoba oil, vegetable glycerine, shea butter, coconut vegetable wax, and nutrition E. The product provides real UVA-UVB-UVC Bluelight safety. Additionally, it also nourishes the skin.
Pros
SPF 31
Biodegradable
25% Nano zinc oxide
Toxin-free
Fragrance-free
Petrochemical-free
Reef-safe
Cruelty-free
Gluten-free
Certified organic ingredients
Cons
Might be greasy for oily skin
Price at the time of publication: $29.99
Powered with ginkgo water, a blend of 50 organic extracts, and a peptide complex, this non-comedogenic tinted bb cream moisturizes and nourishes your skin deeply. It offers complete skin coverage and leaves you with a healthier and smoother skin surface. Rich in antioxidants, the arbutin and licorice root extract brightens your skin and provides a soothing effect. Titanium dioxide and zinc oxide with SPF 25 protect your skin from the harmful radiation of the sun.
Pros
Hypoallergenic
Prevents wrinkles
12 hours long-lasting wear
No parabens, mineral oil, alcohol, triclosan, and benzophenone
Cons
Price at the time of publication: $19.88
The Physicians Formula Super BB Cream's ultra-blendable and lightweight formula provides flawless yet natural-looking coverage that feels effortless on your skin. It has added SPF protection to protect your skin from the sun's harmful rays. The infusion of willow bark extract and shea butter nourishes the skin, making it soft and smooth to the touch. From priming to concealing and even filling and moisturizing, this multipurpose BB cream is everything you will need while doing your makeup. You can easily perfect that no-makeup look with this BB cream.
Pros
Hypoallergenic
Paraben-free
Gluten-free
Fragrance-free
Non-comedogenic
Dermatologist approved
Cons
Slightly greasy on reapplication
Limited shades
Price at the time of publication: $13.99
With a powerful blend of hyaluronic acid and natural ingredients such as olive oil, apricot kernel oil, and rosemary leaf extract, this non-comedogenic BB cream is one of the best ones in the market to get that flawless glow. The marula in the formula is rich in antioxidants that keep your skin supple, soft, and moisturized. Hyaluronic acid improves complexion by reducing blemishes and hydrating your skin intensely. If this wasn't all, it softens your skin and eliminates early signs of skin aging.
Pros
Vegan
Cruelty-free
Ideal for acne-prone skin
Blurs freckles and pores
No silicones and parabens
Cons
Fragrance may be a bit too strong for some
Price at the time of publication: $27.49
A good BB cream gives life to your skin in an instance. It makes dull and dry skin radiate a  natural glow. Here are some of the most important factors to consider before buying the right BB cream to ensure flawless skin.
Things To Consider Before Buying The Best Non-Comedogenic Bb Creams
Facial creams work differently on different skin types. For people with dry skin, it is advised to go for BB creams with more moisturizing power to avoid patchy makeup. For oily skin, non-comedogenic, matte finish BB creams are most suitable. Some people have sensitive skin and must choose gentle, lightweight formulas that get absorbed easily.
Choose the shade that goes well with your natural skin tone.  To get the right shade, swipe the cream on your jawline and compare the shade difference between your neck and face. Pat it gently to camouflage it perfectly.
When purchasing the right BB cream, age is an important criterion of selection. If you have fine lines and wrinkles on the facial skin or are above 45 years, look for the BB creams with anti-aging properties. They provide higher coverage and also improve skin texture. For younger skin, opt for products that keep the skin glowing and have a dewy finish.  Check carefully and ensure that your BB cream has advanced SPF properties for skin protection. It must shield the skin from the impact of harmful UV radiation. In addition, your BB cream should last for at least 12 hours with good results.
Harsh chemicals often damage the skin cells and even cause premature aging. Get a BB cream that is free from paraben, alcohol, mineral oil, and other chemicals. Make sure that the BB creams you buy don't cause any skin rashes and allergies. Avoid creams with synthetic fragrances that might cause irritation, dryness, and breakouts.Always do a patch test and for extra-sensitive skin types, use dermatologist-approved or tested products.
Now that you are caught up on the 11 best non-comedogenic BB creams, here is a look at how to buy the best one for yourself.
How To Select Non-Comedogenic BB Creams?
There is no magical one-suits-all non-comedogenic BB cream for everyone. You must identify your skin type and pick one that works for you best. If you have oily skin, you can choose between Covergirl Clean Matte BB Cream Foundation, Maybelline New York Dream BB Pure Cream, and La Roche-Posay Effaclar BB Blur. They enhance your skin tone without adding to the existing greasy texture. If you have combination skin, it is advisable to go for Garnier Skin Active BB Cream Pure Active. It is best for those with dry skin to opt for deeply moisturizing and hydrating formulas such as BEAUTIFIC Nude Perfector Hydra BB Cream and Maybelline New York Dream BB Pure.
Irrespective of which BB cream you end up picking, make sure that you check the ingredient list and stay away from the ones that contain parabens and other harsh chemicals. These toxins can cause severe irreversible damage to your skin. The Missha Signature BB Cream and Marcelle BB Cream Golden Glow are both suitable options.
Today almost every BB cream comes with ingredients that offer you protection from the harmful rays of the sun. Hence, it is wise to pick one that offers SPF, such as La Roche-Posay Effaclar BB Blur, Physicians Formula Argan Wear BB Cream, and Physicians Formula Super BB Cream.
Now that you are caught up with the parameters to pick the best non-comedogenic BB creams, let's take a look at how they can help with acne
Advantages Of Non-Comedogenic BB Creams For Treating Acne-Prone Skin

Non-comedogenic BB creams are truly a jack of all trades, as they pack so many benefits in a single formula. It is especially helpful in treating acne-prone skin as it does not clog pores or create skin irritation like the regular BB creams in the market.
Ingredients that prevent and control acne
You should use non-comedogenic BB creams containing salicylic acid that will exfoliate your skin, fading blemishes and treating acne. It also controls the sebum secretion and thus offers you a clean and clear look. The ones with retinol and aloe vera portions will encourage new cell regeneration and provide smoother skin.
All skin types, be it dry, oily, combination, sensitive or acne-prone skin, needs regular moisturization. A good BB cream will hydrate your skin intensely and leave you with supple, soft skin.
An ideal BB cream will offer you a range of coverage, depending on your liking, from light, moderate to full coverage. It only takes a small drop of a good BB cream to sufficiently hide acne, scars, and redness without irritating your skin.
You may not be able to cure acne using a BB lotion, but you can pick one that helps fight skin conditions with the right combination of ingredients. A BB cream formula that is rich in antioxidants and SPF protection will brighten your skin and prevent damage caused by free radicals.
Why Trust StyleCraze?
The author, Kirtana Divakar, is a skin care aficionado. She is an ardent lover of flawless skin and loves experimenting with different skin care products. She has gone through the brand websites to understand the products in detail and considered user reviews to compile the list of the best non-comedogenic BB creams. These products can flawlessly conceal uneven skin tone and blemishes.
Frequently Asked Questions
Is BB cream okay for acne?
Yes, BB creams that are non-comedogenic and oil-free are okay to use if you have acne.
Can BB creams cause pimples?
If BB creams are heavy, contain oil and other comedogenic ingredients, they may cause pimples. Hence, it is recommended to opt for light, non-comedogenic, oil-free BB cream.
How can you tell if a product is non-comedogenic?
Most products will have 'non-comedogenic' mentioned on the packaging. You may also find a standardized rating scale between 0-5 points. Ideally, any product that has a rating between 0-2 is safe and labeled non-comedogenic.
Is BB cream better for acne-prone skin?
No, BB creams are better suited for dry skin types while CC creams work excellently on oily, acne-prone skin.
Is it OK to use BB cream everyday?
Yes, it is ok to use a BB cream every day, but make sure it is non-comedogenic and contains SPF to protect your skin.
Can I sleep with BB cream on?
No, you should not sleep with BB cream on your face. This may cause your skin to breakout and become greasy. It also makes the dirt and impurities of the day settle into your skin.
Recommended Articles