15 Best Face Wipes To Cleanse Dirt And Sweat – 2023
Rejuvenate your skin and eliminate dirt with disposable and affordable face cleaners.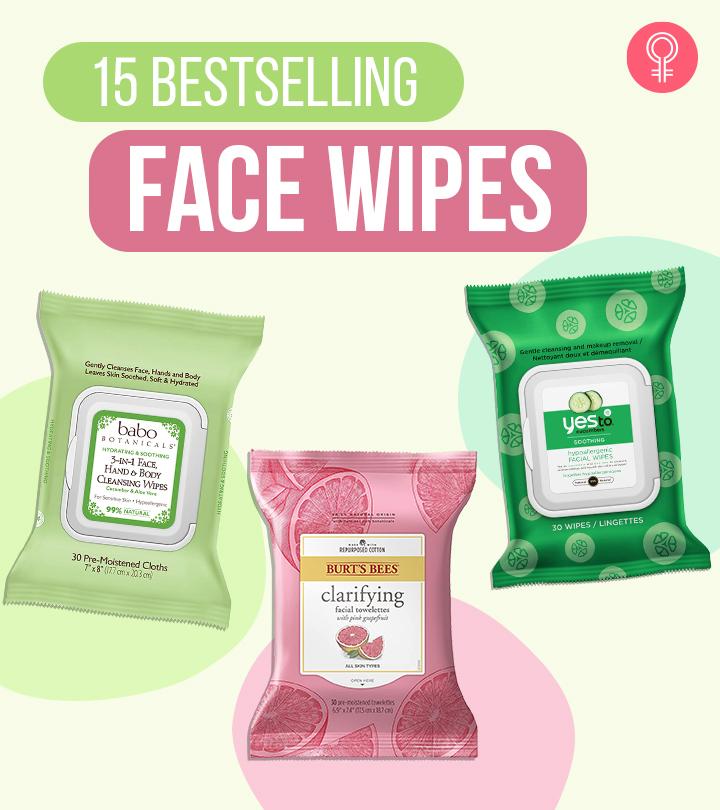 We get you. Sometimes there isn't enough time for a thorough facial cleansing! That's when the best facial wipes come in handy. These disposable and hygienic products allow you to wipe off makeup and sweat on the go. They eliminate smudges and dirt to provide your skin an instant rejuvenation. Facial wipes are designed for specific skin types to cater to all concerns. Also, they are infused with natural ingredients that do not irritate sensitive skin. Want to add these wipes to your vanity? You have landed on the right page. Swipe up for the deets!
15 Bestselling Face Wipes
The face wipes from Yes To Cucumbers are packed with 95% natural superfoods that refresh and rejuvenate the skin. They help cleanse dirt and sweat and remove makeup while providing nourishment to the skin. These biodegradable wipes are made with compostable natural fiber and are suitable for normal to slightly sensitive skin types. The aloe vera, green tea, and cucumber infused wipes also remove eye makeup without the need for rubbing or rinsing. If you want to know more about the benefits of this product, check out this quick review on YouTube.
Pros
Oil-free
Non-comedogenic
Hypoallergenic
Biodegradable
SLS-free
Paraben-free
Cruelty-free
Cons
May not suit very sensitive skin.
Price at the time of publication: $12.59
These towelettes from Burt's Bees are suitable for normal to oily skin types. They are soft, gentle, and clear out oil, makeup, and dirt that clog the pores. The pink grapefruit seed oil infused in these wipes provides deep cleansing and leaves the skin feeling refreshed. These towelettes are made of 60% repurposed cotton and nutrient-rich botanicals. They are silky-soft on the skin and free of parabens, SLS, phthalates, and other harmful chemicals. Here's an honest review of the product.
Pros
Natural ingredients
Suitable for acne-prone skin
Paraben-free
Phthalate-free
Petrolatum-free
SLS-free
Dermatologist approved
Cons
None
Price at the time of publication: $17.97
The Simple Cleansing Facial Wipes are gentle and remove excess oil, makeup, and dirt from the face. They are infused with vitamins B5 and E that soothe and soften the skin. The soft fibers of these wipes easily remove waterproof eyeliner and mascara without the need for harsh rubbing. They leave no residue and do not contain any dyes, chemicals, alcohol, or artificial fragrances. These wipes come in an on-the-go aqua-lock pack that keeps them fresh and moist.
Pros
Non-comedogenic
Hypoallergenic
Ophthalmologist-tested
Artificial dyes-free
Alcohol-free
Artificial perfume-free
Chemical-free
Cons
None
Price at the time of publication: $17.04
The African Black Soap Clarifying Facial Wipes from SheaMoisture are best suited for oily and acne-prone skin types. They remove dirt and makeup without drying out the skin. The formula contains tea tree oil that fights acne and calendula oil that has antibacterial and anti-inflammatory properties to soothe and calm the skin. The biodegradable wipes can be used around the eyes as well and keep the face feeling refreshed.
Pros
Paraben-free
Phthalate-free
Mineral oil-free
Sulfate-free
No animal testing
Cons
None
These cleansing wipes by Pacifica are infused with coconut water and aloe vera to gently cleanse and tone the skin while removing dirt, makeup, and oil. They are suitable for all skin types. These wipes also contain papaya extract that has anti-aging properties and calendula oil that has antibacterial, antifungal, and anti-inflammatory properties to take care of the overall skin health. The one-step cleansing wipes soothe the skin and give a refreshed and clean feeling.
Pros
Gentle
Pleasant scent
Paraben-free
Phthalate-free
Petroleum-free
Mineral oil-free
100% vegan
Cruelty-free
Cons
Price at the time of publication: $5.99
The Ursa Major Essential Face Wipes cleanse, exfoliate, and hydrate the facial skin. They are individually wrapped and made from breathable bamboo fiber that is gentle and soft on the skin. The wipes are infused with aloe vera to hydrate the skin, birch sap to tone it, and willow bark extracts to condition and brighten the face. They remove dirt and oil and leave the skin clean and refreshed. The biodegradable wipes suit all skin types and have an invigorating scent of orange, fir, and lavender.
Pros
Pleasant scent
Biodegradable
Paraben-free
Petrochemical-free
Sulfate-free
Glycol-free
Silicone-free
PEG-free
Cruelty-free
Vegan
Cons
Price at the time of publication: $26
The Belei facial wipes are suitable for normal to dry skin types. The pre-moistened cleansing wipes are infused with essential oils, such as jojoba, avocado, and olive, and have a velvety feel. Jojoba oil has antibacterial and anti-inflammatory properties that soothe the skin, while avocado and olive oils moisturize dry skin. These hypoallergenic wipes gently remove dirt, impurities, and makeup and are made from natural ingredients that leave the skin feeling soft and refreshed.
Pros
Hypoallergenic
Alcohol-free
Cruelty-free
Fragrance-free
Sulfate-free
Paraben-free
Phthalate-free
Cons
These cooling field towels are formulated especially for field missions, 12-hour shifts, and boxing matches. They are a perfect way to cleanse yourself and cool down without a shower. The face and body wipes are infused with menthol, jojoba, and aloe vera that cool, nourish, and hydrate your skin. They get rid of sweat, dirt, and body odor and are perfect to carry in gym bags, rucksacks, and on camping trips.
Pros
Large
Alcohol-free
Paraben-free
Sulfate-free
Cruelty-free
Cons
None
Price at the time of publication: $32.99
These facial wipes from Body Shop are infused with organic, purifying tea tree oil and offer on-the-go cleansing of the skin. They help remove makeup, excess oil, and impurities from the skin without any need for rinsing. These gentle face wipes are suitable for blemish-prone skin and leave it feeling instantly refreshed, rejuvenated, and clean.
Pros
Suitable for acne-prone skin
Gluten-free
Paraben-free
Vegan
Cons
The Rawganic Facial Wipes are made of 100% organic cotton. They are natural, sustainable, and certified by COSMOS. These facial wipes are formulated with aloe vera that moisturizes the skin and pomegranate that nourishes and hydrates it. These ingredients tone and soothe the skin and reduce inflammation. These face wipes are gentle enough for regular use and remove dirt, oil, and makeup, including waterproof mascara, easily to give the face a clean and refreshed look. The formula provides water-free cleansing and is ideal for flights, traveling, and sports.
Pros
Organic
Fragrance-free
Dermatologist-tested
Biodegradable
Cruelty-free
Vegan
Cons
Price at the time of publication: $23.99
The Nivea Gentle Cleansing Wipes are infused with vitamin E and almond oil. Vitamin E softens the skin, while almond oil moisturizes it. These wipes gently cleanse the face and effectively remove waterproof makeup and mascara.
Pros
Suitable for dry skin
Soft
Gentle
Moisturizing
Cons
None
Price at the time of publication: $10.05
The 3-in-1 hydrating and soothing formula of these cleansing wipes contains cucumber and aloe vera that leave the skin feeling silky smooth, soft, and hydrated. These wipes are non-drying and cleanse without the need to rinse after use. They are formulated for delicate and sensitive skin and are great for babies and adults. The wipes are 99% natural, hypoallergenic, and do not strip the skin of its natural oils. They contain plant-based ingredients and are great to use after yoga, workout sessions, sun exposure, or to remove makeup.
Pros
Suitable for sensitive skin
Hypoallergenic
Plant-based ingredients
Gluten-free
Dairy-free
Soy-free
Nut-free
SLS-free
Sulfate-free
Paraben-free
Phthalate-free
Vegan
Alcohol-free
Chlorine-free
Cruelty-free
Cons
Price at the time of publication: $8.49
The Zea facial wipes are infused with rosehip essential oil, which is packed with antioxidants and vitamins. They nurture and moisturize the skin, leaving it feeling soft and radiant. The cleansing wipes remove dirt, oil, makeup, and other impurities from the face and give it a renewed, refreshed feel. The paraben- and alcohol-free wipes are gentle, especially around the eyes. They come in convenient sachets and are easy to carry for travel purposes.
Pros
Pleasant fragrance
No residue
Alcohol-free
Paraben-free
Cons
These wipes from Beauty Concepts are infused with grapefruit and vitamin C that nourish and hydrate the skin. The ingredients also fight signs of aging and act as the skin's protective barrier against infections. The wipes are moist and thick and effectively remove stubborn dirt, oil, and makeup to give you refreshed and toned skin. You do not need to scrub or harshly rub your face; these wipes do the job in one clean swift sweep. The cruelty-free wipes detoxify the delicate facial skin and offer hydration, leaving your face soft, glowing, and clean.
Pros
Hydrating formula
Lightly scented
Cruelty-free
Non-irritating
Cons
These face wipes from Clean & Clear have a pleasant tropical smell that transports you to the beach. They are super soft and help in getting rid of dirt, oil, makeup from your skin without leaving any residue. The travel-friendly packaging ensures they fit in your bag or purse easily.
Pros
Pleasant scent
No residue
Gluten-free
Oil-free
Paraben-free
Sulfate-free
Soy-free
Vegan
Synthetic color-free
Cruelty-free
Cons
None
Price at the time of publication: $8.78
Face wipes are best for cleansing your face on the go. However, facial cleansing wipes do more than cleanse your skin or remove makeup. They help nourish the skin, instantly feeling fresh and rejuvenated after usage. Check out the buying guide to choose the best face wipes to cleanse dirt and sweat.
How To Choose The Best Face Wipes To Cleanse Dirt And Sweat
Make sure to choose a face wipe according to your skin type and needs. For instance, those with oily skin should go for a wipe infused with salicylic acid, tea tree oil, and gentle cleansers to eliminate all the impurities and acne-causing bacteria. For dry skin, use moisturizing cleansing wipes with nourishing oils, which hydrate your skin. If you have sensitive skin, opt for gentle facial cleansing wipes with soothing ingredients which do not irritate your skin.
There are many types of cleansing wipes for your face; choose the best one that suits your purpose. For instance, if you want to use cleansing wipes for makeup removal solely, opt for those that can effectively remove waterproof and heavy makeup while being gentle on your skin. If you use a cleansing wipe in the gym, look for one that has a natural fragrance to eliminate the foul smell of sweat.
Ensure that the cleansing wipes are made with environment and skin-friendly materials like cotton, or bamboo cotton, that do not cause any irritation and are soft on your skin.
In general, you should avoid heavy-duty oils in cleansing wipes as they may clog your pores. Look for non-comedogenic wipes. Avoid harsh cleansers and other harmful chemicals such as sulfates, parabens, phthalates, mineral oil, artificial perfume, artificial dye, and petrolatum. Always opt for hypoallergenic and dermatologist-tested cleansing wipes.
Why Trust Stylecraze?
A certified skincare coach and ardent product reviewer, Shiboli Chakraborti has compiled and reviewed the list of the best face wipes for our readers to ensure that they get to pick nothing but the best. These recommended disposable facial wipes are infused with natural ingredients and are perfect for eliminating smudges and dirt to provide your skin an instant rejuvenation.
Frequently Asked Questions
Should I wash my face after using facial wipes?
Most wipes state that no rinsing is required after use. However, if you have the provision to wash your face after using a wipe, it is advisable to do so as the wipes may not entirely cleanse your face.
How many times in a day, should you use a face wipe?
According to experts, twice a day is good enough.
How do you use facial wipes?
Rub the face wipe in a circular motion all over your face. Do not use too much pressure; do it gently and use multiple wipes if you need to.
What are face wipes made of?
Facial wipes are usually made of cotton, rayon fibers, wood pulp, etc. They are usually infused with potent ingredients that nourish your skin on top of cleansing it.
Are cleansing wipes good for the face?
Yes, cleansing wipes are good for the face given that you use them occasionally when you don't have access to a sink. However, they are not an alternative for your regular face wash.
Can you recycle face wipes?
Face wipes made of cotton or wood pulp are recyclable. If you want to go for environment friendly wipes then go for reusable ones or cotton pads.
Recommended Articles