10 Best Hand Sanitizer Wipes – Top Picks For 2020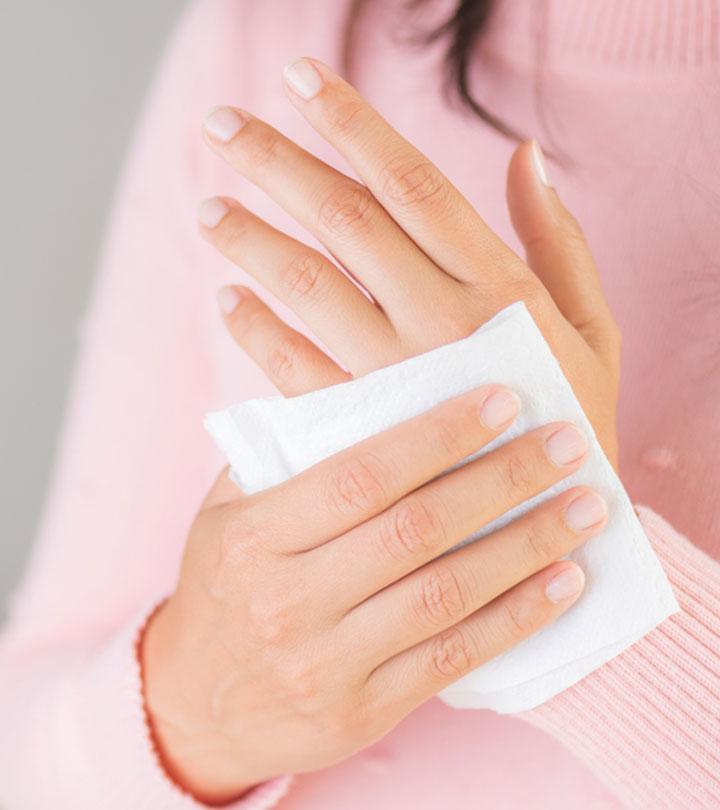 The World Health Organization (WHO) has declared that washing hands regularly is a basic protective measure against deadly illness-causing diseases (1). Cleaning your hands thoroughly with an alcohol-based soap kills any microorganisms on your hands.
The novel coronavirus is spreading from person to person rapidly. Frequently touched surfaces like tables, doorknobs, light switches, countertops, handles, desks, phones, keyboards, toilets, faucets, and sinks harbor millions of microbes that can spread easily. To prevent getting affected, the Centers for Disease Control and Prevention (CDC) has advised the public to wash their hands often with soap and water for at least 20 seconds (2). If soap and water are not readily available, use a sanitizer with at least 60% alcohol content.
However, with the growing demand for hand sanitizers, the majority of them are out of stock. In such cases, you can always use hand sanitizer wipes as they provide the same level of hygiene and safety. One big advantage of using hand sanitizer wipes is that you can use them anytime and anywhere – at school, at work, in the car, on the metro, and so on. So, we have curated a list of the 10 best hand sanitizer wipes available on the market right now. Take a look.
10 Best Hand Sanitizers Wipes
PURELL Advanced Hand Sanitizer Wipes Flow Pack is a trusted product used in hospitals. It claims to kill 99.99% of the most common germs that may cause illness. They are durable, moisturizing, and light. They sanitize and wipe away the dirt on your hands. This effective formula is free from strong fumes and leaves your hands feeling fresh and clean.
PURELL wipes are tested by dermatologists and safe for all skin types. They are also travel-friendly. They are the most convenient and safe way to clean your and your family's hands.
Pros
Made of cotton
Free from harmful chemicals
Very gentle on hands
6" x 7" wipes
Made in the USA
Suitable for all ages
Resealable packaging
Cons
None
Similar Products
Want to stay away from accidental germ contact? Get your hands on Germ-X Antibacterial Sanitizer Wipes. These wipes are perfect for cleaning your dirty hands at work, home, or school. They are effective in eliminating 99.99% of germs and bacteria in less than 15 seconds. The package is small and lightweight, making it perfect for travel.
The non-drying formula of these wipes is gentle on the hands. The quilted spun lace fabric is durable and ultra-soft. It does not scratch or dry out your skin.
Pros
Strong antibacterial formula
Kills germs quickly
Feels light and non-sticky on hands
Leaves hands feeling fresh and clean
Mild fragrance
Cons
None
Similar Products
If you prefer naturally scented hand sanitizing wipes, CleanWell Botanical Hand Sanitizing Wipes are the best choice for you. They are strong enough to kill even the toughest germs. They are free from toxic additives and chemicals. They contain moisturizing aloe vera gel that is suitable for all skin types.
The formula is packed with potent botanicals like aloe vera gel, orange peel essential oil, resin, citronella oil, litsea oil, and thyme oil. These ingredients possess antibacterial and antimicrobial properties that leave your hands clean and germ-free.
Pros
Does not dry out your hands
Moisturizes your skin
Does not sting cuts
Gentle on sensitive skin
Cruelty-free
Cons
None
Similar Products
Keep your hands clean and fresh with the luxurious EO Lavender Hand Sanitizer Wipes. They contain 62% alcohol and are 99.9% effective against most common germs. They exude a soothing lavender fragrance that calms your senses and relaxes you instantly. The fabric is made of sustainable and biodegradable bamboo cloth. Vegetable glycerin and an organic herbal blend of chamomile and calendula are added to replenish moisture and rejuvenate your skin.
Pros
Effective disinfectant
Gentle formula
Contains natural oils
Refreshing fragrance
Softens your skin
Cons
Limited to one purchase per customer due to high demand
Similar Products
Form + Function Hand Sanitizing Wipes are very effective in killing disease-causing germs. They are gentle on the hands and help moisturize the skin. They are convenient to carry and easy to use anytime, anywhere.
Pros
Kill germs in 15 seconds
Soft and non-abrasive fabric
Fresh fragrance
Travel-friendly
Cons
Extremely thin fabric
Similar Products
Care4 Hand Sanitizing Wipes are formulated to sanitize your hands when you are on the go. They are made with 70% ethyl alcohol and help kill 99.99% of the common and potentially harmful bacteria. Their aloe and vitamin E-infused formula is gentle on the skin. This product is perfect for dry and sensitive skin.
Pros
Moisturizing formula
Kills germs in seconds
Non-drying formula
Lab-tested
Made in the USA
Cons
Strong fragrance
Germ No More Hand Sanitizing Wipes are extremely moisturizing. They leave your hands feeling clean and soft. The active ingredient in them – benzalkonium chloride – effectively kills germs in seconds. The formula contains vitamin E and aloe vera that hydrate your skin naturally for hours without leaving behind a soapy residue.
Pros
FDA-approved
Fresh herbal fragrance
Suitable for sensitive skin
Contains nourishing botanicals
Travel-friendly
Cons
None
Durisan Hand Sanitizing Wipes are made using a proprietary binding technology with organic compounds and conditioning properties that help sanitize and moisturize your hands. The highlight of this product is that it offers active protection for up to 24 hours. Its water-based, non-irritating formula actively kills 99.9% of illness-causing germs, including the human coronavirus. It is also tested to kill N1H1, MRSA, common cold, strep, and E coli.
Pros
Effective formula
Non-drying
Non-toxic formula
Fragrance-free
Made in the USA
Cons
Availability issues
Diamond Wipes Instant Hand Sanitizer Wipes have an alcohol-based formula that claims to kill 99% of germs. They remove dirt and grime while leaving a refreshing and light scent on your skin. The formula contains vitamin E and aloe vera that help moisturize and soften dry and cracked skin. The breathable fabric cleans your hands thoroughly without leaving behind a sticky residue.
Pros
Pleasant fragrance
Compact and travel-friendly packaging
Contains 62% alcohol
Cons
The size of the wipes has been reduced
SCRUBS Hand Sanitizer Wipes are formulated with a highly effective skin sanitizing formula. They are gentle and non-abrasive on the skin. They dissolve the contaminated biofilm and kill, absorb, and eliminate 99.9% of the illness-causing germs and bacteria on your skin. They help reduce the risk of infection, allergic reactions, and the common cold. The product claims to kill a spectrum of germs and bacteria like MRSA, Pseudomonas aeruginosa, and Escherichia coli in 10 seconds.
Pros
Perfect replacement for soap and water
Prevents cross-contamination
Suitable for sensitive skin
Does not leave any residue
Cons
Availability issues
Washing and sanitizing your hands regularly can help you keep all sorts of infections at bay. It is the best way to prevent coronavirus from entering your body. Therefore, use some of these hand sanitizing wipes and stay safe!
Recommended Articles