10 Best Hand Sanitizer Wipes For Every Skin Type – 2023
Clear out all germs from your wands without leaving them dried out and rough.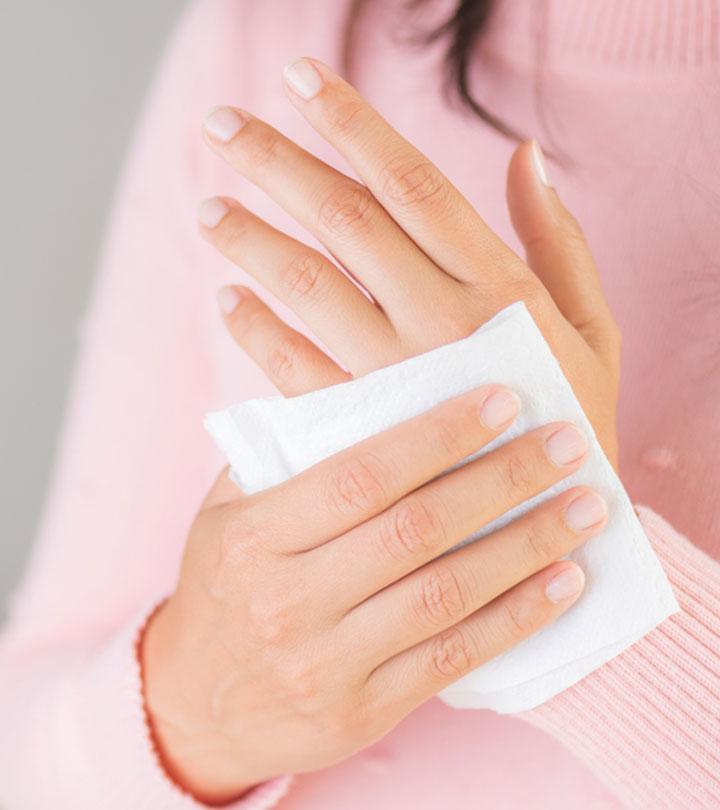 Hand sanitizer and wipes have to be the two most essential and highest-selling products on the market since the pandemic started. Washing hands thoroughly was a highly-advocated practice by many organizations, including The World Health Organization, to protect ourselves from fatal and life-threatening diseases (1). Washing with soap, as well as carrying the best hand sanitizer wipes, is still recommended.
The fact that viruses like Covid 19 were transmitted merely from person to person through the slightest touch, proximity, and even food can be worrisome. Simple objects like phones, keys, wallets, etc., can be easily affected and cause widespread death. The Centers for Disease Control and Prevention had released many statements, which included appealing to the masses to spend a minimum of 20 seconds while rinsing their hands properly with soap if soaps are not readily available, purchase and carry a sanitizer that contains an alcohol content of 60% (2).
So after everybody began to hoard, there was an apparent shortage and selling out of this product. Therefore, hand sanitizer wipes are the latest development equally beneficial and safe to use anytime and anywhere. The hygiene is guaranteed, plus it is very portable and easy to use. We have compiled a complete list of the best ones making the rounds nowadays.
10 Best Hand Sanitizers Wipes
Pros
Gentle
Hypoallergenic
Easy to use
Dermatologist-tested
Non-drying
Travel-friendly
Alcohol-free
Paraben-free
Sulfate-free
Phthalate-free
Cons
None
Price at the time of publication: $8.99
Price at the time of publication: $10.99
Pros
Hypoallergenic
Easy-to-use
Paraben-free
Travel-friendly
Cons
Price at the time of publication: $18.87
Hands are great transmitters of airborne diseases. Sanitizing your hand is necessary, especially before you eat or touch your face. Germ-Away Antibacterial Sanitizing Wipes are formulated to kill 99.9% of germs. They are effective in moisturizing the skin and are lemon-scented.  These wipes are tough for dirt & bacteria and gentle to keep skin soft and healthy.
Pros
Suitable for daily use
Travel-friendly
Fragrance
Non-alcohol based
Cons
The sachets may not be very easy to open.
Price at the time of publication: $23.95
Pros
75% alcohol
Easy-to-use pack
Long shelf life
Fragrance-free
Multipurpose usage
Not soapy
Non-greasy
Cons
Price at the time of publication: $25.99
Pros
Gentle
Plant-based
Dye-free
Paraben-free
Triclosan-free
Phthalate-free
Cons
Price at the time of publication: $7.84
Pros
Hypoallergenic
Safe for kids
Soft
Durable
Antiseptic
Phenoxyethanol-free
Paraben-free
Cruelty-free
Cons
None
Price at the time of publication: $56.99
Pros
Individually packed
Large size
No sticky residue
Waterproof seals
Travel-friendly
Paraben-free
Phthalate-free
Gluten-free
Sulfate-free
Triclosan-free
Benzalkonium chloride-free
Cons
Price at the time of publication: $32.99
Pros
Rubber latex-free
Easy to open
Safe to use before drinking and eating
Value for money
Cons
Price at the time of publication: $14.31
Pros
Portable
Durable
Paraben-free
Synthetic fragrances-free
Phenoxyethanol-free
No chlorine processing
Cons
Expensive
Unpleasant fragrance
Price at the time of publication: $13.89
Pros
Suitable for daily use
Travel-friendly
Tropical fragrance
Multipurpose usage
Not soapy
Non-greasy
Leaves no residue
Cons
None
Price at the time of publication: $84
Keeping your hands safe and free of harmful microbes is necessary, especially since we have been through such a life-threatening pandemic. Thus, hand sanitizer wipes are a must-have. Seeing so many brands on online shopping sites, you can get confused. Therefore, keep the following things in mind when buying the wipes to gain the best results and stay safe.
Things To Look For In Hand Sanitizer Wipes
Material: Look for soft and smooth fabric like cotton, fleece, or biodegradable bamboo cloth. They are non-abrasive and gentle on your skin.
Ingredients To Look For: Look for cleansing agents like ethyl alcohol or benzalkonium chloride that kills harmful bacteria in seconds. Next, pick wipes infused with moisturising ingredients like vitamin E and aloe vera. Ingredients like chamomile and calendula offer soothing benefits while nourishing your hands.
Alcohol-Concentration: Look for the percentage of alcohol in the hand sanitizer wipes. Most hand sanitizers contain between 60% and 95% alcohol. However, some hand sanitizers may have as little as 40% alcohol. Choose wipes containing 70% isopropyl alcohol to gain the most disinfecting benefits.
Fragrance: Choose wipes that are non-scented if you have sensitive skin. The fragrances can irritate your skin and cause rashes. If you like your hands smelling nice, opt for wipes infused with refreshing lavender or lemon fragrance that have soothing properties.
Size:Look for wipes that are wide enough to cover your hands easily. They must be a minimum of 10 cm long and 15 cm wide.
Packaging: Look for wipes sold in compact but convenient packaging. Those with the open-close lid facility are ideal for travelling and are the most hygienic. They are easy to take out as well.
Dermatologist-Tested: Pick wipes that are allergy tested and recommended by dermatologists. They are free of common toxins and safe for your skin's health in the long run.
Why Trust StyleCraze?
We have compiled this list of the best hand sanitizer wipes to help you keep your hands clean and germ-free when you don't have access to soap and water. Sanitizer wipes come in handy, especially while traveling. That is why we conducted thorough research and checked online reviews and feedback to shortlist the best-rated products for the list.
Frequently Asked Questions
Can you use hand sanitizer to make wipes?
Yes, a minimum of 60% alcohol-strength hand sanitizer is necessary to make the wipes.
Are disinfecting wipes safe for the skin?
No. Although not entirely safe for the skin, disinfecting wipes do not cause too much damage. However, watch out for any irritation or visible rashes and skin alteration.
What can I use instead of alcohol wipes?
You may use skin cleansing products or makeup removers instead of alcohol wipes.
Is there a natural hand sanitizer?
Yes. Hydrogen peroxide (bleach), witch hazel, vinegar, tea tree oil, and hot water are some natural hand sanitizers.
Should I wash hands after using sanitizer?
No. Avoid rinsing your hands or washing them with soap and water after using a sanitizer.
DIY Hand Sanitizer: How To Make Your Own Sanitizer At Home