10 Best Smelling Body Oils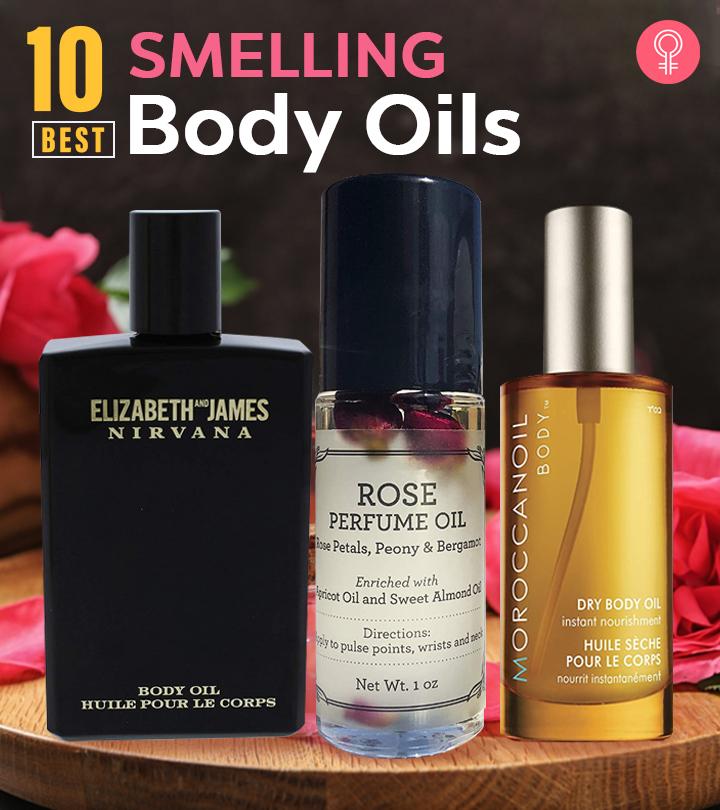 If body lotions are not fulfilling the moisture needs of your skin, try a body oil. Body oils lock the natural moisture of your skin and make it healthy. A good quality body oil will dissolve dead skin for a freshly-buffed glow. And if your body oil has a pleasant scent, there's nothing like it – it is an added luxury to your monotonous skin care routine. If this has piqued your interest, scroll down to check out the 10 best smelling body oils that will be worth your investment.
10 Best Smelling Body Oils
The Olive Care Body Oil comes in a fragrance of apricot, French rose, and jasmine gardenia. It softens and moisturizes your skin and imparts a feminine aroma. This body oil contains vitamins E and K and omega fatty acids that lock in moisture and make the skin supple. It keeps your skin nourished throughout the day without being greasy.
Pros
Non-greasy
Hypoallergenic
Cruelty-free
Paraben-free
Phthalate-free
No colorants
Vegan
GMO-free
Suitable for all skin types
Cons
The White Musk Perfume Oil by Body Shop has a fresh, floral fragrance. It comes in a pretty little bottle with notes of velvety musk, lily, ylang ylang, fresh galbanum, and basil. The earthy, sensual fragrance is long-lasting, and the body oil is suitable for all skin types.
Pros
Cruelty-free
Paraben-free
Gluten-free
Alcohol-free
Vegan
Silicone-free
Long-lasting
Suitable for all skin types
Cons
None
The Rose Perfume Body Oil contains rose petals, peony, and bergamot that impart a subtle fragrance. It retains the natural moisture of your skin and keeps it soft and hydrated. This body oil is formulated with natural ingredients that nourish and smoothen your skin. The lightweight formula is absorbed easily into your skin and has a therapeutic effect on your body.
Pros
Lightweight
Non-GMO
Vegan
Paraben-free
Gluten-free
Cruelty-free
Long-lasting
Cons
None
The GRAND PARFUMS Perfume Oil nurtures and moisturizes your skin for long hours. It contains vitamin E, jojoba oil, castor oil, and coconut oil, which soften your skin. The organic formula is non-greasy and blends easily into your skin without leaving any residue. This fragrance oil uplifts your mood and relieves anxiety.
Pros
Long-lasting
Contains organic ingredients
Chemical-free
Alcohol-free
Non-greasy
Cons
None
The Ocean Scent Massage Oil has a scent of rain on the seashore. It contains a blend of sunflower, apricot kernel, and sweet almond oils, which softens the skin. This massage oil moisturizes and conditions your skin without any sticky residue. It is made with 97% natural plant oils and has a long-lasting fragrance.
Pros
Non-sticky
Long-lasting
Value for money
Cons
None
The Elizabeth And James Nirvana Body Oil features notes of violet, sandalwood, and creamy vanilla. It naturally seeps into your skin and provides a sensory experience. This product is long-lasting and comes in elegant packaging.
Pros
Absorbed quickly
Long-lasting
Easy to use
Elegant packaging
Cons
None
The pure grace satin-finish body oil mist by philosophy contains natural oils that moisturize, condition, and soften your skin. It has a fragrance of water lily, leafy greens, and frosted musk that gives you a refreshing feel. The lightweight formula contains natural sunflower, olive oils, and vitamin B5 that help nurture your skin.
Pros
Suitable for all skin types
Lightweight
Value for money
Cons
This scented massage oil provides a soothing and relaxing feel of aromatherapy. It is formulated with coconut oil, almond, and jojoba oils that moisturize your skin and offer a spa-like experience at home. This product is one of the most popular couples massage oils for a unique sensual experience. It helps relieve muscle tension and provides anti-aging benefits.
Pros
Contains natural ingredients
Preservative-free
No artificial flavors
Non-sticky
Cruelty-free
Laboratory-tested
Cons
This Multi-Use Oil by PEONY can be used on your body, hair, face, hands, and nails. It firms, smoothens, and brightens your skin while supporting its natural cell metabolism. This body oil improves the appearance of uneven skin tones, and dry and aging skin. It contains peony petals, apricot, and sweet almond. Vitamin E helps reduce aging, scarring, and dark sun spots. The plant-based ingredients are rich in phytonutrients that provide several health benefits.
Pros
Long-lasting
Gentle formula
Suitable for all skin types
100% natural
Vegan
Cruelty-free
Paraben-free
Gluten-free
Non-GMO
Alcohol-free
Cons
The Moroccan Dry Body Oil is lightweight and absorbed quickly into your skin. It locks skin moisture and helps soothe dry areas, improving the overall skin texture. The gentle formula is infused with argan, olive, and avocado oils that nourish your skin. It is delicately fragranced with a Moroccan oil scent and notes of spicy amber and sweet floral.
Pros
Lightweight
Absorbed quickly
Gentle formula
Cons
Not suitable for sensitive skin.
That was our round-up of the 10 best smelling body oils you can buy online. The products mentioned above have nourishing properties with a soothing fragrance that you will fall in love with. Scroll up and pick your favorite body oil now!
Recommended Articles