10 Best Dr Roebuck's Skin Care Products You Must Try In 2023
Stick to Dr. Roebuck's products and notice visible improvements in your skin's texture.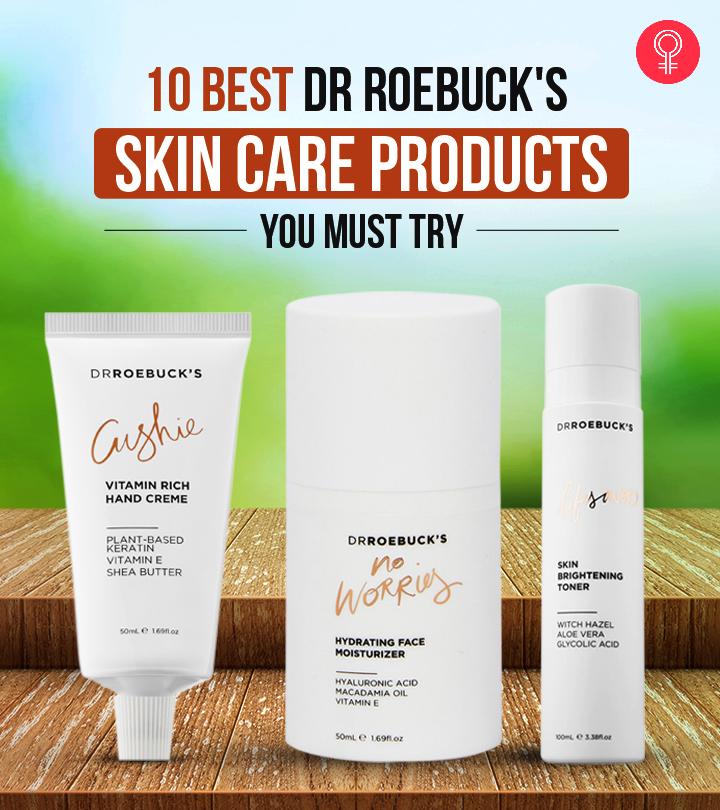 If you shy away from multi-step skin care routines and prefer being a minimalist, we have the best Dr. Roebuck effective skin care products lined up for you. Dr. Roebuck is one of the best A-beauty (Australian beauty) skin care brands that only use natural ingredients to achieve the best skin care results.
This skin care brand was launched by the children of two Australian doctors, Kim and Zoe. Its main motto is "minimal ingredients, maximum results." So, Dr. Roebuck's products contain active ingredients like neroli, plant-based squalane, Kakadu plum extract, and evening primrose oil. The clean beauty products are free of toxins such as sulfates, silicones, and parabens. So, go ahead and check out the list of 10 Dr. Roebuck's skin care that we have mentioned below.
Best Dr Roebuck's Skin care Products of 2023
The face moisturizer by Dr Roebuck's has a non-comedogenic formula that deeply hydrates the skin. It is absorbed well, and one little pump is sufficient for your entire face. The texture is a bit thick when compared to other moisturizers, but is very smooth and easy to apply. This scientifically formulated moisturizer does wonders for the skin during cold weather. It is a grease-free moisturizer and works well for oily skin too, leaving it soft and supple.
This moisturizer contains a combo of potent ingredients like macadamia oil and rosehip oil that aid in cell regeneration and smooth fine lines and wrinkles. Macadamia oil is rich in omega-3 fatty acids that heal, nourish, and hydrate the skin. Rosehip oil is rich in vitamin A that stimulates collagen. Hyaluronic acid hydrates and plumps the skin.
Key Ingredients: Macadamia oil, Rosehip oil, and Hyaluronic acid
Pros
Non-comedogenic
Makes the skin youthful
Improves skin texture
Cons
Greasy
May cause skin irritation
The Tama healing mask by Dr Roebuck's is a natural mask that is best for sensitive and acne-prone skin. The skin rejuvenation mask is infused with turmeric, which possesses anti-aging, antibacterial, and anti-inflammatory properties. The sustainably sourced manuka honey reduces redness and heals inflammation.
The mask also contains avocado oil, which in rich in fatty acids that deeply hydrate, soften, and nourish your skin. The blend of potent vitamins, minerals, anti-inflammatory ingredients, and antioxidants helps nourish and condition in your skin. This sustainable skin care mask is suitable for dry, tired, or aging skin and imparts a healthy and dewy glow.
Key Ingredients: Turmeric, Manuka honey, and Avocado oil
Pros
Suitable for sensitive skin
Evens out the skin tone
A little goes a long way
Makes the skin soft
Cons
The Down Under Collagen Boosting Eye Treatment by Dr Roebuck's is a rich and luxurious eye cream. It is formulated with plant-based collagen, which firms the skin around the delicate eye area. This cream also contains rosehip oil, which is rich in vitamins A and C that help smooth fine lines and stimulate collagen production.
Hyaluronic acid boosts hydration and makes the skin plump, while caffeine soothes swelling and redness. Arnica enhances blood flow and circulation to the eye area. This, in turn, depuffs the eyes and brightens the under-eye area. Apply the cream under the eye with your fingertip, moving towards the temples.
Key Ingredients: Rosehip oil, Hyaluronic acid, Caffeine, and Arnica
Pros
Depuffs the eyes
Smooths fine lines and wrinkles
Brightens the under-eye area
Cons
May cause reactions if applied on the hair around the eyes.
The AHA brightening mask by Dr Roebuck's is infused with a potent blend of unique Australian super fruits. Caviar lime is rich in AHAs that make your skin brighter and smoother. Kakadu plum is antioxidant-rich and contains vitamin C with 50 times more potency than an orange. The multi-fruit AHA mask gently sloughs off dead skin cells and surface dirt while smoothening and brightening the skin to give you with an even skin tone.
Key Ingredients: Caviar lime, Kakadu plum, and Multi-fruit AHA
Pros
Improves skin texture
Imparts glow
Minimizes pores
Suitable for sensitive skin
Cons
Takes time to show results
The Dr Roebuck's Lifesaver Skin Brightening Toner soothes, calms, and hydrates the skin. This gentle exfoliation formula contains glycolic acid that lifts the dead skin cells and surface impurities and helps minimize acne, fine lines, oiliness, dullness, and uneven skin texture. Witch hazel and peppermint oil reduce inflammation, eliminate excess oil, unclog the pores, and soothe the skin.
Grapefruit oil is antioxidant-rich and protects the skin from free radical damage. Aloe vera extracts provide healing and anti-inflammatory effects to hydrate, soothe, and heal the skin. Regular use of this skin brightening product will clarify, tighten, and brighten the skin and make it smoother and healthier.
Key ingredients: Glycolic acid, Organic witch hazel, Aloe vera, Grapefruit peel oil, and Peppermint oil
Pros
Brightens the skin
Easy to use
Soothes the skin
Reduces acne
Cons
May irritate sensitive skin
The Noosa Nourishing Creme Cleanser by Dr Roebuck's is the go-to cleanser for sensitive skin. This gentle skin care cleanser unclogs the pores and helps remove surface impurities and light makeup. It cleanses your skin without stripping its natural oils or making it feel tight.
This skin-friendly cleanser is suitable for sensitive skin and contains calendula with antibacterial and anti-inflammatory properties that protect the skin from infections and soothe inflammation. Amica soothes the skin and promotes healing, while oat leaf extract and green tea extracts soothe, hydrate, and restore the skin barrier.
Key Ingredients: Calendula, Amica, Oat leaf extract, and Green tea extract
Pros
Gentle
Non-drying
No tightness
Makes the skin soft and smooth
Cons
Dr Roebuck's Icebergs Hydrating Mask is a go-to mask for people with normal, combination, and dry skin types in search of an instant hydration boost. It infused with ultra-hydrating red algae that are rich in vitamins and minerals. These nutrients hydrate, strengthen, and protect your skin.
The hyaluronic acid in the mask boosts and locks in skin moisture, while chamomile and aloe vera soothe and heal the skin. These skin nourishing ingredients potentially penetrate into your skin layer and soothe and calm your skin. This mask can be used 2-3 times per week on your entire face or as a spot treatment.
Key Ingredients: Red algae, Hyaluronic acid, Aloe vera extract, and Chamomile extract
Pros
Instant hydration
Cools and refreshes the skin
Calms breakouts
Cons
Price at the time of publication: $35.33
The super hydrating mist by Dr Roebuck's is enriched with vitamin skin boosters, which nourish your skin and protect it from environmental aggressors. The Bondi Hydrating Mist contains kakadu plum, which contains 50 times more vitamin C than an orange. Vitamin B3 hydrates and strengthens the skin and soothes inflammation.
The hydrating formula promotes skin barrier repair and contains cucumber extracts that help soothe redness and irritation and refresh your skin. It has a smell of sweet coconuts and can be spritzed under or over makeup for a dewy, glowing complexion.
Key Ingredients: Kakadu plum, Cucumber, and Vitamin B3
Pros
Smells good
Suitable for daily use
Refreshes the skin
Suitable for acne-prone skin
Cons
Dr Roebuck's Surf Chaser Reverse Aging Serum has a concentrated formula that specifically targets the visible signs of aging and helps to restore hydration while revealing a glowing complexion. The formula of this serum is enriched with bakuchiol which provides a plant-based alternative to retinol and offers anti-aging solutions and anti-acne treatment. It contains the potent Gatuline In-Tense that reorganizes the texture of your skin while smoothing fine lines and supporting slacking skin. The ascorbyl glucoside, a stable and gentle form of vitamin C, fades pigmentation spots and neutralizes free radical damage while revealing a radiant complexion. Matrixyl 3000 peptide refines the overall appearance of your skin. This lightweight serum firms the skin's natural texture and is suitable for all skin types, especially for aging and pigmented skin.
Key ingredients: Aloe vera, Ascorbyl Glucoside (Vitamin C), Hyaluronic Acid, Vitamin B3 (Niacinamide), Gatuline In-Tense, Vitamin E, Sunflower seed oil, and Bergamot oil
Pros
Suitable for all skin types
Improves overall skin's appearance
Smooths fine lines and wrinkles
Cons
None
The result-driven Dr. Roebuck's Top Stuff Ultra Hydrating Body Crème helps soothe and nourish your skin and replenish moisture. This product contains shea butter that deeply moisturizes and soothes the skin, macadamia oil that nourishes, moisturizes, and heals the skin, and white tea extract that protects the skin from free radical damage and has anti-aging benefits.
Key Ingredients: Shea butter, Macadamia oil, and White tea extract
Pros
Non-greasy
Quickly absorbed
No residue
Cons
None
Before incorporating any of these new skin care products into your routine, it's essential to go through reviewers' experiences and perform a patch test to minimize the risk of adverse reactions. Let's now look into the key ingredients used in these products.
What Are The Key Ingredients In Dr Roebuck's Products?
The key ingredients include skin superfoods like coconut oil, glycolic acid, macadamia oil, and shea butter. Their plant-derived essential ingredients are:
Aloe vera – deep hydration, soothing, and detoxifying properties
Blueberry extract – protects the skin from free radical damage
Borage seed oil – reduces inflammation and soothes redness
Gatuline In-tense – reduces deep wrinkles and lines
Jojoba beads – exfoliate the skin
Kakadu plum extract – nourishes and lightens acne scars and blemishes
Paracress flower extract – reduces the appearance of fine lines and wrinkles
Peptides – smooth and plump the skin
Plant-based Squalene – balances oil production and reduces dark spots
Pullulan – skin tightening ingredient
Vitamins A, B3, C, E – skin enhancing vitamins
Why Trust Stylecraze?
Shiboli Chakraborti, the author of this article, is a certified skin care coach. She curated this list of the best Dr. Roebuck skin care products that are guaranteed to work wonders on your skin after thorough research into their ingredients and user feedback. This article covers all aspects of the shortlisted products to ensure you end up with nothing but the best skin care regimen according to your preferences.
Frequently Asked Questions
Will Dr Roebuck's work for all skin types?
No. Not all products from Dr Roebuck's work for all skin types. You will have to pick the appropriate product based on your skin type.
Is Dr Roebuck's vegan, cruelty-free, and gluten-free?
Yes. Dr Roebuck's is strictly against testing on animals and all its products are cruelty-free, gluten-free, and vegan, except for the Tama Healing Mask that contains sustainably sourced Manuka honey.
Can Dr Roebuck's products be used while you are pregnant?
If you are pregnant, it is better to consult your doctor before using any of these products.
Can Dr Roebuck's products be used with allergy?
Yes. All of Dr. Roebuck's products can be used by people with sensitive skin or allergies.
Recommended Articles