13 Best Cool-toned Eyeshadow Palettes Of 2023
Achieve a flawless and edgy look with long-lasting, cool toned makeup colors.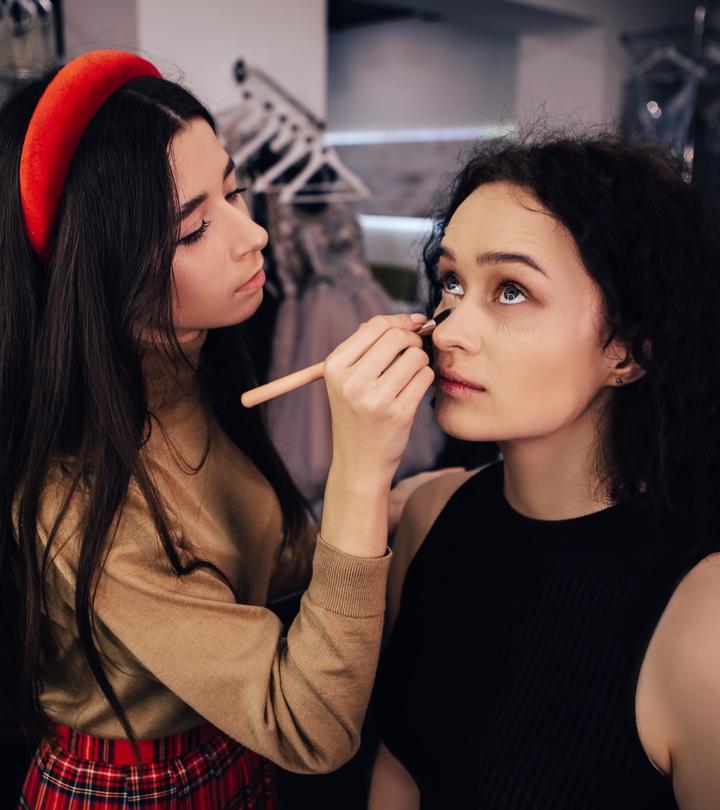 Despite the fact that most makeup enthusiasts float towards the neutral or warm eyeshadow tones and believe those to be the ultimate makeup look, you should not overlook the potential of the best cool toned eyeshadow palettes. Well known cool tones for eye makeup include beige, cream, beige, silver, grey, navy blue, and more. These tones look extraordinary on individuals who have a cool skin tone. In spite of popular conception, cool tones can be worn daily as makeup and do a fantastic job of helping you look polished and classy. The best part? Cool toned makeup can give you the chic look without making you look too glamorous or "party ready" if that's what you want to achieve. From bold metallics to matte finishes, cool palettes can offer you a wide variety of looks to suit any occasion.
So if you are ready to rock your eyeshadow makeup looks with shades like taupes, cocoa, and neons, this list of the top 13 cool eyeshadow palettes is for you!
13 Best Cool-toned Eyeshadow Palette For You
Pros
Easy to blend
18 highly pigmented shades
Includes matte, metallic, shimmer, and satin finishes
Cruelty-free
Travel-friendly
Cons
May not suit all skin types
Price at the time of publication: $18.0
The L.A Girl Eyeshadow Collection Nudes is a high-quality eyeshadow palette that is versatile and can be used for any type of eye makeup look, day or night. The palette contains 12 impressive and highly pigmented shades, that range from bold neons to subtle nudes. The case is magnetic and it comes with a mirror as well as a double-ended eyeshadow applicator. You will find smooth matte and dimensional shimmer finishes that go well with any skin tone.
Pros
Magnetic case
Palette includes a mirror and double-ended eyeshadow applicator
Suitable for daily wear
Highly pigmented
Cons
May require primer if applied on oily skin
Price at the time of publication: $7.95
Pros
Great for natural makeup looks
Smooth application
Easy to blend
Versatile
Cons
May cause fallout if applied on dry skin
Price at the time of publication: $8.98
Pros
Highly pigmented
Blendable
Long-lasting
Double-sided brush
Travel-friendly
Cruelty-free
Talc-free
Paraben-free
Gluten-free
Cons
Price at the time of publication: $32
Pros
Suitable for day and night makeup looks
Can be applied dry or wet
Travel-friendly
Palette comes with a double-sided makeup brush and mirror
Easy-to-blend
Cons
Price at the time of publication: $42.0
If you are looking for cool makeup palettes that are safe, vegan, and cruelty-free, then the Catkin Eye shadow Palette is a great choice. The palette contains bright colors that are highly saturated with pigment and blend very easily. You can achieve many cool eye shadow looks that will be long-lasting and waterproof. The pigmented palette is perfect for women of all ages and skin tones. The creamy texture provides a velvety application that can be layered to create the look you want.
Pros
Cruelty-free
Vegan
Rich pigment
Suitable for all skin tones
Cons
Not suitable for sensitive skin
Price at the time of publication: $20.99
This cool eyeshadow palette contains 14 fabulous colors that are long-lasting and highly pigmented. This is also a great product for brown eyes, as the colors make the color pop! You will find 11 smooth and soft matte shades, two duo-chromes, and one creamy metallic shade. You can wear the shades the entire day, without worrying about annoying touch-ups, creasing, or fall out. The 100% vegan and cruelty-free product is formulated to last long with minimum creasing and fallout.
Pros
Cruelty-free
Vegan
Long-lasting
Highly pigmented
Cons
Not suitable for natural makeup looks
Price at the time of publication: $8.95
Pros
High color payoffs
Creamy texture
Vegan
Blendable
Cruelty-free
Paraben-free
Phthalate-free
Triclosan-free
Triclocarban-free
Hydroquinone-free
Nonylphenol ethoxylates-free
Cons
None

Price at the time of publication: $12.78
When it comes to the best hypoallergenic eye shadow, we highly recommend the Pyt Beauty Day-To-Night Eyeshadow Palette. The formula is not just highly pigmented but is infused with vitamin E and free from parabens. The luxurious eyeshadows have a creamy texture that offers a smooth application and will glide on your lids. You can play around with nine cool-tone and nine warm-toned shades, to create vibrant or neutral looks for any occasion.
Pros
Cruelty-free
Formula is infused with vitamin E
Creamy texture
Hypoallergenic
Cons
Requires primer for easy blending
Price at the time of publication: $24.49
The Illia Eyeshadow Palette is one of the best vegan eyeshadow palettes in the market. The product contains six pan, talc-free, and clean eyeshadows, which also provide a buttery texture that allows a smooth application. The palette also comes with an assortment of finishes like matte, satin, and metallic, so you can wear it any time of the day or night. This is a great product if you are looking to transition into clean makeup.
Pros
Gluten-free
Cruelty-free
Vegan
Smooth application
Travel-friendly
Cons
May smudge or crease, if applied without primer
Price at the time of publication: $38
If you love purple and want to create looks with various mauve shades, then this palette is for you. It has nine beautiful colors that will provide you with a soft glam look. This little palette is perfect for any occasion and the highly pigmented eyeshadows provide even application. The formula is velvet smooth, easy-to-blend, and it adheres to the eyelid easily while providing a soft-focus effect.
Pros
Long-lasting
Suitable for day or night looks
Even application
Easy-to-blend
Cons
Price at the time of publication: $19.23
This cool-toned palette includes 14 shades that have a professional formulation, which is suitable for any skin tone. This product is a wonderful combination of matte and metallic finishes, and they can be applied dry or wet. You can create any look you want, whether it is a glamorous cool-toned smokey eye or a natural look, this palette will deliver the desired results.
Pros
Can be applied dry or wet
Includes matte and metallic finishes
Travel-friendly
Suitable for any skin tone
Cons
Doesn't last long without primer
Price at the time of publication: $10.5
Pros
Vegan
Cruelty-free
Long-wearing
Smudge-proof
Hypoallergenic
Waterproof
Lightweight packaging
Cons
Price at the time of publication: $12.95
Now that you have gone through the top 13 cool-toned eyeshadow palettes, here are some points you must remember before choosing the perfect one.
Buying Guide:
Long-lasting:
This is where you have to consider the wear ability of the eyeshadows and whether they will last on your eyelid. Look for palettes that are long-lasting, sweat proof, and won't smudge or crease. The formula must be smooth and provide even application, with or without primer.
Tones:
The best cool-toned eyeshadow palettes have a balance between dark, medium, and light tones. This is perfect if you are looking for versatility, and want to create many looks with just one product.
Pigmentation:
Eyeshadow palettes need to have high pigmentation. Pigment and wear ability go hand in hand, and if they are good then you don't have to bother with touch-ups the whole day. Good pigmentation will make your eye makeup look amazing, and enhance your eyes.
Infographic: A Beginner's Guide To Using Cool-Toned Eyeshadow Colors
Why Trust Stylecraze
The author behind this article, Chaitra Krishnan, is a fervent makeup fiend who loves sharing products that improve your daily makeup experiences. She recommends using these eyeshadow palettes to enhance those beautiful eyes. She curated this list after long hours of research and investigating many product reviews. Each of these eyeshadows offers benefits like a high color payoff, good color variation, smooth finish, and much more.
Frequently Asked Questions:
Can cool skin tones wear warm eyeshadow?
Yes, cool skin tones can wear warm eyeshadow hues and vice versa. Look for eyeshadow tones that flatter you, they will have more to do with hair/eye colors and your personal style.
How do you tell if you are cool or warm-toned?
If you notice your veins, the color will determine if you are warm or cool-toned. For instance, if your veins are green then you have warm undertones. If they are blue, then you have cool undertones.
How long does an eyeshadow palette last?
An eyeshadow palette can last you two years after it is opened. Eyeshadows expire two to three years after they are opened.
How should I clean the eyeshadow palette?
You can easily clean your eyeshadow palette by skimming the top layer, with a tissue. Then you can quickly spritz rubbing alcohol and let it dry. This won't harm the shadows, but it will kill the germs.
What eyeshadow colors should I wear if I have cool undertones?
Red, pink, and blue shades work well with cool undertones . Colors with more blue work best for a cool undertone, such as cool blues, rosy pinks, blue-based reds, greens, and purples.
What colors should cool skin tones avoid?
Cool skin undertones must avoid pale and washed-out colors and stay away from black, gold, orange, and earthy tones. Instead, they can opt for true white instead of ivory.
Can cool tones wear warm eyeshadow?
People with cool undertones can wear warm eyeshadows and vice versa. The eyeshadow shades that look flattering on you are based on your hair color, eye color, and personal preferences.