15 Best Round Hair Brushes For Blowout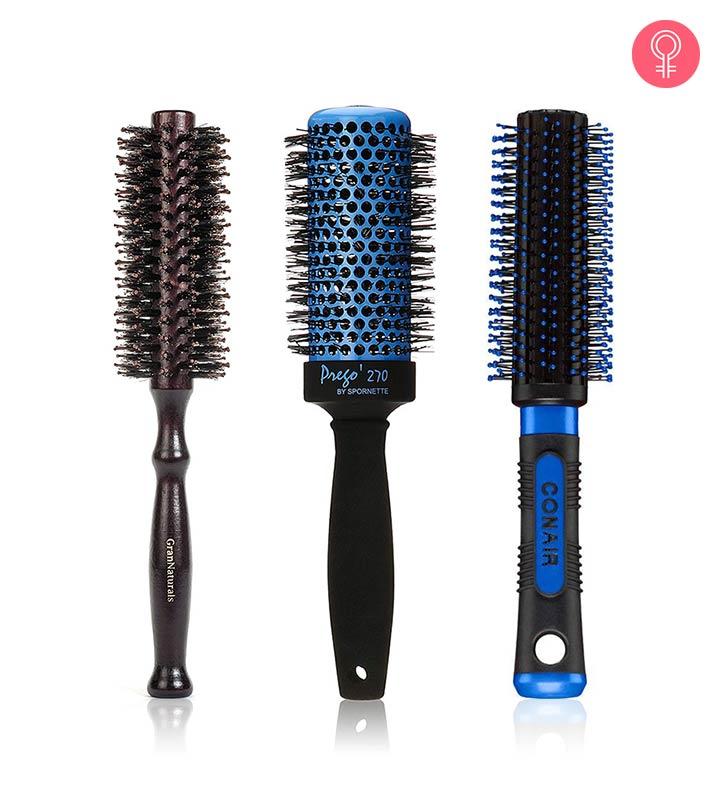 Want to get salon-style hair at home without any hassle? You don't need to spend huge amounts of money at a salon to get those perfect curls. All you need is a budget-friendly hair styling tool – a round hair brush! A round brush and a blow dryer are all you need to give yourself that perfect blowout at home. However, you need to know how to use them properly to get that salon-styled look at home. Scroll down for a step-by-step tutorial!
How To Blow Dry Your Hair With A Round Brush
Step-1
Start off by washing your hair. Comb your hair with a wide-toothed comb after applying conditioner to remove all tangles. Rinse off the conditioner and pat your hair dry with a towel. Detangle your hair one more time and divide it into four main sections.
Step-2
Apply a heat-protectant serum or spray to your hair to protect it from heat damage. Set your blow dryer at a low or medium setting and dry your hair 80-90% of the way.
Step-3
Wrap a section of your hair around the round brush and blow dry it. Keep the blow dryer at least 10-12 cms away from your hair to prevent heat damage. Changing the position and angle of the round brush will add volume to your hair and give it a wavy look.
Step-4
Make sure that each section of your hair has dried completely. Now, create curls at the bottom by twisting your hair inwards or outwards with your round brush.
Step-5
Apply a hair serum to remove any flyaways. And you're done!
Now that you know how to blow dry your hair with a round brush, let's look at 15 best round brushes available on the market.
Top 15 Round Hair Brushes To Buy In 2020
Olivia Garden is well-known for its innovation and production of premium quality hair brushes. Its NanoThermic Ceramic Plus Ion Round Thermal Hair Brush is regarded as one of the best tools for styling your hair. It is widely used by hairstylists and highly recommended by people as it helps you transform your frizzy tresses into smooth, shiny, and bouncy hair. Its Nano Thermic Technology claims to make your hair healthier by eliminating frizz and providing long-lasting shine.
Pros
Reduces the drying time
Long-lasting results
Hydrates your hair cuticles
Adds luster to your hair
Cons
Brush gets overheated quickly.
Conair Pro Round Hair Brush with Nylon Bristles is specially designed for blow-drying and styling your hair. This brush works like a pro to make your tresses soft, glossy, and voluminous. It is suitable for all hair types, be it curly, wavy, or coarse. Its ball-tipped bristles and soft-ridged grip enable you to blow dry and style your hair comfortably. You can attain salon-like results with this affordable hairbrush.
Pros
Easy to use
Adds shine to your hair
Comfortable grip
Affordable
Cons
May create an electrostatic effect on silky hair.
Spornette Prego Round Brush is the ideal choice for styling short, medium, long, curly, kinky, or coarse hair. Its tourmaline ceramic vented thermal barrel works wonders in eliminating frizz and preventing heat damage. Its nano-silver ionic bristles reduce the static effect and lock in moisture to make your hair healthy and lustrous. Its lightweight handle gives you a comfortable grip while styling your hair, thereby preventing muscle fatigue and strain.
Pros
Reduces electrostatic effect
Prevents heat damage
Provides long-lasting hold
Durable
Cons
Hair can get entangled if not used properly.
Looking for a brush that detangles, volumizes, and revitalizes your hair? Xtava's Natural Double Bristle Hair Brush is the right choice for you. Its nylon and anti-static boar bristles not only detangle and soften your hair but also make it healthy by distributing the natural oils evenly across your scalp. Its ergonomic wooden handle saves your skin from getting burnt as it keeps the brush cool while styling your hair. It comes in different sizes to choose from according to the length and type of your hair.
Pros
Conditions your hair
Adds volume
Reduces frizz
Wooden handle that keeps the brush cool
Detangles and softens your hair
Cons
Boar bristles may break off after some time.
Care Me's Round Hair Brush is known for its 100% pure boar bristles with nylon ball tips, ionic haircare technology, and honeycomb design. It conditions your hair by distributing the natural oils evenly across your scalp. It also reduces frizz by retaining moisture and adds volume and luster to your tresses. It decreases blow-drying time by 50%.
Pros
Easy to use
Reduces frizz
Distributes the heat quickly and evenly
Suitable for all hair types
Cons
The bristles break easily.
Ecotools Large Expert Thermal Styler Round Hair Brush is made with Ecovent Technology. It features a recycled aluminum ribbed barrel that enables optimal airflow and fast styling. It is exclusively designed for medium to long hair. This hairbrush increases volume reduces frizz, conditions your tresses, and gives a salon-styled look to your hair. The use of recycled aluminum in its barrel construction makes it eco-friendly and unique.
Pros
Reduces frizz
Adds shine to your hair
Prevents breakage
Long-lasting results
Eco-friendly
Cons
This professional round hairbrush designed by Osensia works like magic on your hair, making it look healthy, soft, and shiny. It is the perfect tool for obtaining voluminous and stunning hair. Its ceramic barrel allows optimal airflow while blow-drying, and the ionic anti-static and antibacterial bristles provide maximum luster to your hair. It prevents breakage and imparts shine to your hair. Moreover, its ergonomic handle provides a comfortable grip.
Pros
Detangles your hair
Anti-static
Antibacterial
Adds volume
Provides long-lasting hold
Cons
Fagaci's Nano Ceramic Round Hair Brush with natural boar bristles and four multifunctional hair clips is one of the best choices for blow-drying and styling your hair. Its boar bristles not only spread the natural oils across your scalp and cleanse it, but also trigger hair growth by stimulating blood circulation. This ionic ceramic hair brush creates volume, reduces frizz, and dries your hair faster. This hairbrush is also equipped with a splitting needle at its tail that can be used to section your hair easily, without using other tools.
Pros
Anti-static
Antibacterial
Uniform heat distribution
Cleanses scalp
Conditions your hair
Promotes hair growth
Cons
Revlon Perfect Style Ion + Ceramic Maximum Shine Round Hair Brush is suitable for all hair types and lengths. You can create smooth waves and perfectly straight hairstyles with this round brush. It dries your tresses quickly, retains moisture, and tackles unruly hair effortlessly. It grips your hair well without creating frizz or tangles. This hairbrush is a popular choice among professional hairstylists.
Pros
Promotes hair growth
Dries your hair quickly
Softens dry ends
Tames unruly hair
Makes your hair look healthy and glossy
Cons
The bristles may melt at high-temperature heat.
Suprent Round Barrel Hair Brush is considered to be one of the best roller hair brushes for blow-drying, curling, and straightening. Its nano ionic barrel and boar bristles seal the cuticles and give a smooth texture to your hair from the roots to the ends. It distributes the natural oils on your scalp evenly, which, in turn, promotes blood circulation and makes your hair look healthy and shiny. It also reduces frizz and increases the volume of your hair. This hairbrush features an ergonomic and lightweight design.
Pros
Reduces blow-drying time
Improves hair growth
Adds shine to your hair
Anti-static
Antibacterial
Heat-resistant
Cons
Bristles break off after a few uses.
GranNaturals Boar Bristle Round Styling Hair Brush can be used to blow-dry, curl, and style your hair. Its boar bristles improve the luster and health of your hair, giving it a glossy and gorgeous look. It adds body and lifts your hair from the roots to help you achieve a bouncy look. Its wooden handle is crafted with grooves for a comfortable grip. This small brush is easy to carry around as it fits in your purse.
Pros
Travel-friendly
Ideal for short hair
Tames unruly flyaways
Affordable
Cons
Not suitable for fine hair
Minalo Ceramic + Ionic Round Hair Brush is perfect for blowouts and hairstyling. It helps in increasing hair volume, infusing moisture, adding luster, and eliminating frizz. Its nylon bristles can withstand temperatures up to 180°C. It's ceramic and ionic barrel coated with aluminum makes your hair smooth and shiny. Its boar bristles prevent oil build-up and detangle your hair effortlessly. It also creates long-lasting voluminous curls, making your hair appear full and bouncy.
Pros
Extra-large vents for free airflow
Anti-static
Antibacterial
Comfortable grip
Affordable
Cons
The heated barrel may burn your skin.
Bangmeng Round Barrel Anti-Static Hair Brush is the ideal choice for improving your hair's health, texture, and style. It features nano and ionic technologies, along with anti-static boar bristles. This lightweight brush gives long-lasting shine to your hair every time you use it. Its anti-static boar bristles protect your hair from heat damage and give you soft, silky, and shiny hair. It also reduces split ends and breakage.
Pros
Easy to use
Makes your hair look glossy
Ideal for dry and brittle hair
Anti-static
Reduces drying time
Cons
This small round hair brush with nylon bristles is perfect for blow-drying and styling short and thick hair. Its compact size makes it travel-friendly. Its ball-tipped nylon bristles stimulate blood circulation and enhance hair growth. It tames unruly baby hair and makes your hair manageable.
Pros
Holds your hair firmly
Comfortable grip
Lightweight
Durable
Travel-friendly
Cons
The ball-tipped nylon bristles feel hard against your scalp.
BIBTIM Round Hair Brush is regarded as one of the best multipurpose hair brushes. It works great for blow-drying, styling, straightening, curling, and detangling your hair. Its high-quality and pure boar bristles condition and nourish your hair effectively, making it look glossy, healthy, and smooth. It is made using nano and ionic technologies that enable heat resistance and uniform heat distribution. This brush makes your blow-drying process easy, quick, and comfortable.
Pros
Conditions your hair
Anti-static
Antibacterial
Durable
Guaranteed replacement or refund if you are not satisfied with the product
Cons
Style your hair like a professional with the help of these round brushes! Pick a product from this list, and let us know about your experience in the comments section below.