10 Best Wooden Hair Brushes (2023) – Reviews And Buying Guide
Switch to these gentle and effective brushes to achieve healthy and gorgeous tresses.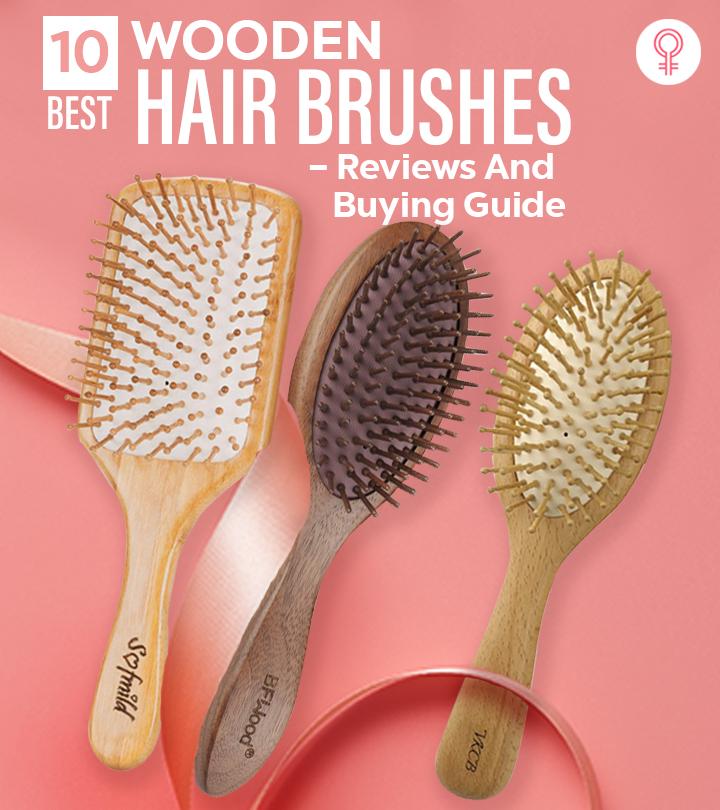 Once you've added the best wooden hair brush to your arsenal of daily hair care tools, there's no looking back. Unlike plastic brushes that only provide a temporary fix, wooden hair brushes eliminate frizz, control messy hair, and provide restorative care to your hair. The advantage is that they are anti-static, which does not make your hair stand up, making it look like a bird's nest. They also do a great job of brushing intensely to your scalp and massaging for better circulation while absorbing the extra oil. If you go through our list below, you will find the best wooden brushes in the market. We're sure you'll find the perfect one!
What Are The Benefits Of Using A Wooden Hair Brush?
Unlike the regular plastic combs, wooden hair brushes are a much healthier option. They provide a soothing scalp massage and can help reduce stress to a great extent. Unlike synthetic brushes, they have softer natural bristles. They also help minimize damage to the hair, promoting its overall health. Here are many other advantages of using a wooden hairbrush:
Promotes hair growth.
Gently massages your scalp and stimulates blood circulation.
Prevents static electricity and frizz.
Conditions your hair and reduces hair damage.
Improves blood circulation and stimulates hair follicles
Sustainable and environment-friendly.
Now, let's check out the best wooden hair brushes available online!
10 Best Wooden Hair Brushes Available Right Now
Sofmild Natural Wooden Bamboo Brush is made with natural rubber and sustainable bamboo. The seamless design of this brush prevents unnecessary pulling and snagging on your hair. Instead, it helps in efficiently detangling the knots. Made of natural bamboo, it is more durable than traditional plastic hair brushes. The rounded wood bristles glide through your hair gently and massage your scalp to stimulate hair growth. It gives you perfectly sleek and shiny hair. The reviews claim the product has strong bristles that detangle easily.
Pros
Eco-friendly
Naturally conditions the hair
Promotes healthier hair
Stimulates blood flow
Prevents scalp and hair damage
Suitable for men, women, and children
Cons
Not suitable for thick hair.
One of the best wooden hair brushes is the Boar Bristle Hair Brush by Ineffable Care. The natural boar bristles of this brush promote healthy hair growth and stimulate the secretion of natural oils from the scalp. Its frame is made of pure bamboo wood that relieves stress and gives you shinier hair. Ineffable Care Boar Bristle Hair Brush is a 9" long and 3" wide brush. It is suitable for all hair types including curly, wavy, and straight.  Multiple reviewers praise the brush on Amazon for its ability to smooth knots easily and evenly distribute scalp oils.
Pros
Firm bristles
Anti-static
Reduces frizz
Imparts shine
Adds shine and smoothness
Detangles hair from root to tip
Comes with a free cleaning tool
Travel-friendly
Cons
Looking for a wooden hair brush that gives you healthy and shiny hair before styling? If so, you should get your hands on Beauty By Earth Boar Bristle Bamboo Hair Brush. It is durable and easy to use. It is a perfect detangling brush for your hair. It helps spread the natural oils from the root to the tips and provides proper care to your tresses. Suitable for various hair types, straight, curly, or wavy hair, it makes your tresses smooth and silky after brushing them.
Pros
Eco-friendly
Reduces hair damage and breakage
Smoothens the hair
Suitable for all hair types
Cons
Bristles fall off easily
Not 100% boar bristle
Minalo Natural Boar Bristles Hair Brush adds a professional touch to your hair. Its handle is made of high-quality wood. This brush is anti-static and anti-bacterial. Thus, it protects your hair from any kind of damage. It is the best round brush for blowouts. The wooden handle is well-finished and offers a firm grip while brushing your hair.
Pros
Reduces frizz
Improves blood flow
Enhances hair texture and definition
Adds volume
Prevents oil build-up on the scalp
Suitable for blowouts
Cons
Not suitable for thick hair
This natural, handmade hair tools set by VKLW consists of a wooden hair brush and two wooden combs that are suitable for all hair types including straight, wavy, and curly hair. They are also suitable for coarser, thicker hair. The brush is made of natural bamboo, and the combs are carved out of whole pieces of peach wood. These wooden brush and combs do not damage your hair. They are perfect for detangling and styling your hair. They combat hair loss, split end, and dandruff effectively. The reviewers affirm that the round tip of the bristles gently massage the scalp and the brush glides swiftly through the hair.
Pros
Suitable for all hair types
Good elasticity
Long-lasting
Controls frizz
Anti-static
Increases blood flow
Ideal for wet and dry hair
Cons
PureGLO Natural Wooden Hair Brush offers all the benefits of wooden brushes. It distributes the oils from your scalp evenly throughout your hair. It is excellent for naturally conditioning your hair, making it feel soft and silky, and stimulating hair growth. This wooden hair brush is made of dense sandalwood that is rich in essential oil. Its therapeutic aroma soothes your senses. Here's a personal review video to help you get a better understanding of the product.
Pros
Handcrafted
Improves hair texture
Reduces frizz
Reduces hair tangles and knots
Boosts hair growth
Prevents hair breakage
Pleasant sandalwood fragrance
Natural rounded bristles
Vented cushion base
Ergonomic handle
Cons
Not suitable for thick hair
BeKind Natural Wood Paddle Brush is an eco-friendly brush with hand-polished wooden bristles. It redistributes the natural oil from your scalp throughout your hair. It prevents static so that your hair remains smooth and frizz-free after gentle brushing. The wooden paddle brush comes in a set along with a drawstring bag, three wooden combs, and a waterproof cleaning claw.
Pros
Eco-friendly
Reduces frizz
Detangles the hair
Restores hair balance and shine
Hygienic and easy to clean
Suitable for all hair types
Cons
Not suitable for sensitive scalp
The WeCoola Wooden Hair Brush is a durable and portable hair brush made of natural wood. Its silicone bristle bed with wooden tips massage your scalp and boost blood circulation, help penetrate oil, adding volume and enhance shine. In addition, the brush has an ergonomic handle that doesn't breakdown. It is a sturdy yet lightweight, smooth brush that can be easily carried wherever you go.
Pros
Sturdy
Lightweight
Air ventilation hole
Durable wooden comb tips
Detangles hair
Reduces hair static and flyaways
Enhances volume and shine
Suitable for all hair types
Comes with a storage bag, brush cleaner, and spare pins
Cons
None
Boodboo Bamboo Bristles Pins Hair Brush is a high-quality hair brush set with a natural look and feel. You do not need to put any extra effort to style your hair as it makes it shiny and bouncy. The soft bamboo bristles on a cushion foam base soothingly massage your scalp when you brush your hair, thus making it healthy.
Pros
Made from 100% biodegradable material
Eco-conscious and sustainable choice
Prevents frizz
Massages the scalp
Travel-friendly
Lightweight
Cons
None

Are you looking for a short paddle hairbrush that is travel-friendly? BFWood Wooden Paddle Hair Brush is worth a try. This cushion-based brush detangles your hair without causing any hair loss or breakage. Your hair appears silky and shiny as it distributes the natural oils from root to tip. Its black walnut handle with curved sides offers a comfortable grip. This luxurious hair brush comes with a canvas storage bag.
Pros
Made of natural beech wood
Ergonomic handle
Soft-tipped bristles
Non-slip handle
Comes with a storage bag
Cons
Unusual squeaky sound while brushing
Not suitable for fragile hair
*The prices provided in this article are based on the latest available information. However, they may vary due to changes in pricing by the seller and/or promotional offers.
This was our list of highly-rated wooden brushes that you can add to your hair care regime. Wooden brushes are suitable for all hair types. However, due to different shapes and features, choosing the best wooden brush for your hair can be quite tedious. Listed in the next section are some factors that you need to keep in mind when buying one.
How Do You Choose The Best Wooden Brush For Your Hair?
If you have curly and coarse hair or textured hair, opt for wide-toothed brushes, and women with fine hair should use small, rounded brushes.
Large paddle brushes are suitable for women with long and thick hair. Small wooden hair brushes are more travel-friendly and great for women who are always on the go. Vented hair brushes are ideal if you want to style your hair using a blowdryer or other styling tools. "When using a brush on tangled hair, brush your hair from the ends up to your scalp. Consider taking small sections to avoid any unnecessary pulling or hair loss," says hairstylist Alicia Igess Jones.
Wooden hair brushes offer a wide range of benefits to your hair.It is especially great for people with frizzy hair.Consider buying one of the brushes listed above to get the smooth and frizz-free hair of your dreams!
Why Trust StyleCraze?
The author of this post, Oyendrila Kanjilal, is a hair care enthusiast and covers articles related to hair essentials. To curate this list of the best wooden hairbrushes, she has analyzed numerous product reviews from different trusted websites. Keeping your quality parameters in priority, she has included premium brushes of varying designs along with their detailed features. You can go through the buying guide provided here before choosing the best product.
Frequently Asked Questions
Can you use a wooden brush on wet hair?
You can use wooden brushes on wet or damp hair as they gently remove the tangles.
Which is better – a wooden brush or a boar bristle?
Both a wooden brush and a boar bristle have their unique set of benefits. While the wooden brush is good for scalp massage and promoting hair growth, they have slightly hard bristles that may not be suitable for fine hair types. Boar bristles on the other hand are made of animal products but are suitable for fragile hair and scalp because they have soft bristles.
Does a wooden comb reduce hair fall?
Yes, they reduce hair fall by promoting better blood circulation in the scalp.
How long do bamboo brushes last?
Bamboo hair brushes are made of organic material and hence do not last more than 6-8 months.
When should you use a bamboo brush?
You can use bamboo brushes on both wet and dry hair as they do not snag at the hair strands or cause breakage.


Recommended Articles