13 Best COSRX Products To Add To Your Skin Care Routine – 2023
Treat your sensitive skin issues with these chemical-free products from Korea.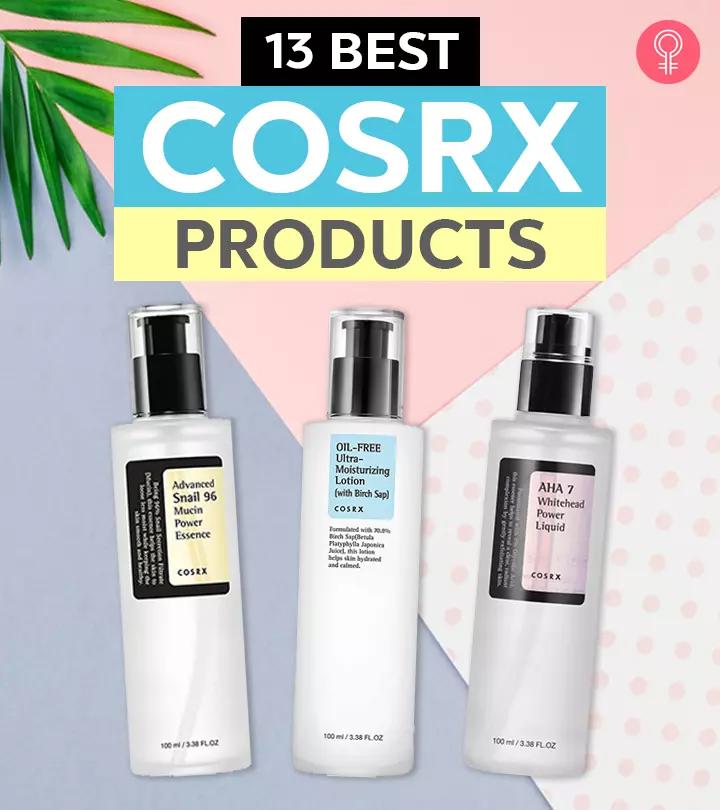 If you are looking for the best Cosrx products to incorporate into your daily routine, we can help you! The products of this Korean skin care brand have become bestsellers among skin care lovers all over the world. Their products are inexpensive and treat a wide range of skin issues. Their goods also have no-fuss recipes focusing on chemical-free and natural ingredients. With so many products to choose from at Cosrx, it might be difficult to know where to start. Hence, we have compiled a list of the 14 best Cosrx products for all skin types to assist you in narrowing down your skin care options. Let's get started!
The Top 13 Cosrx Products Of 2023
Top Picks
The COSRX Acne Pimple Master Patch is a thin clear hydrocolloid infused patch. This patch works like hydrocolloid dressing to heal acne and pimples effectively. It reduces inflammation and redness and is a quick overnight solution for breakouts. One packet contains 24 patches in three sizes. These patches act like tiny vacuums and suck out all the gunk from the pimple. Remove and replace the patch when it turns white. The patches stick through face washing or showering and are easy to use. You can check this elaborate review for more information on this skincare product from COSRX.
Pros
Available in three different sizes
Suitable for cystic acne
Calms redness
Promotes faster healing
Cons
Price at the time of publication: $22.0
The Cosrx Good Morning Gel Cleanser is formulated with botanical extracts that mildly exfoliate and cleanse your skin. The low acidic pH level removes excess sebum from your skin without drying out or irritating your skin. The BHA (betaine salicylate) in this cleanser helps wash away the impurities in your skin, while the tea tree oil soothes irritated or damaged skin. It is a soft-gel type cleanser and is suitable for all skin types. This skincare product from COSRX can work wonders on oily skin. To know more, you can take a look at this video.
Note: Avoid the product if you are allergic to tea tree oil or essential oils.
Pros
Mild
Natural BHA
Vegan
Chemical-free
Paraben-free
Cruelty-free
Cons
Price at the time of publication: $7.0
The Cosrx Advanced Snail 96 Mucin Power Essence is a cult favorite. It contains 96% snail mucin extract that replenishes the skin and repairs damage. The snail secretion filtrate used in this product is collected without harming any animal. This essence prevents moisture loss from the skin and keeps it rejuvenated and healthy. It helps to maintain skin elasticity and reduce dry patches and hyperpigmentation. It is best for those who have dry and damaged skin. If you want to know more about this popular COSRX essence, make sure to go through this brief video.
Note: This product contains phenoxyethanol, a possible skin irritant. If you are allergic to this ingredient, avoid the product.
Pros
Easy pump dispenser
Affordable
Paraben-free
SLS-free
No harmful chemicals
Preservative-free
Mineral oil-free
No artificial color or fragrance
Suitable for all skin types
Cons
Price at the time of publication: $18.3
The Cosrx Oil-Free Ultra-Moisturizing Lotion is a hydrating everyday moisturizer. You can use it as a day and night lotion.  This weightless lotion contains 70% willow bark water, also known as birch sap. This skin-friendly natural ingredient contains antioxidants and vitamins that nourish your skin and help calm irritated skin. The lotion gets absorbed into your skin instantly and does not feel greasy or oily. It makes your skin feel refreshed, supple, smooth and replenished.
Note: It contains essential oils. If you are allergic to them, please avoid it.
Pros
Easy to dispense pump nozzle
Hypoallergenic
Dermatologist-tested
Cruelty-free
Paraben-free
Vegan
Cons
Price at the time of publication: $25.0
The Cosrx Advanced Snail All in one Cream is infused with 92% of snail mucin, which helps repair and soothe redness and acne inflammation. It replenishes the skin, improves its elasticity and texture, and keeps dry skin moisturized. This cream claims to enhance your natural radiance. The mucin is gathered from Korean snails without harming them. This cream is suitable for combination, dry, sensitive, irritated, and acne-prone skin types.
Pros
Affordable
Lightweight
Paraben-free
No harmful chemicals
No artificial preservative
Cons
Price at the time of publication: $20.48
The Cosrx Aloe Soothing Sun Cream SPF50 PA+++ contains aloe vera extract that keeps your skin moisturized. This is a lightweight, broad-spectrum sun cream that also doubles as a moisturizer. This sunscreen has a gentle formulation and creamy texture. It protects the skin from photodamage without feeling oily or greasy or leaving a white cast.
Pros
Lightweight
Non-greasy
No white cast
No harmful chemicals
Paraben-free
SLS-free
Formaldehyde-free
Cons
Unpleasant fragrance
Less quantity
Price at the time of publication: $15.38
If you are dealing with dull skin, rough or patchy skin, or acne scars, the Cosrx AHA 7 Whitehead Power Liquid is the best choice for you. This mild essence contains hyaluronic acid that hydrates the skin, 7% glycolic acid that exfoliates dead skin cells, and 75% apple fruit water that brightens the skin. It replenishes the skin and evens out the skin tone while locking in moisture. This product is perfect for sensitive and irritated skin. Do not use it more than 2-3 times a week.
Note: Avoid using vitamin C products with this essence.
Pros
Paraben-free
SLS-free
Mineral oil-free
No harmful chemicals
Preservative-free
Phthalate-free
No artificial color and fragrance
Cons
May not help with blackheads
Price at the time of publication: $15.98
The Cosrx Ultimate Nourishing Rice Overnight Spa Mask contains skin boosters like 2% niacinamide and 68.90% rice water extract.  These ingredients nourish and moisturize your skin and even out your skin tone, making it bright.  This nourishing rice mask can be used in three ways: an overnight mask, a wash-off mask, and cream. It has a gentle formula and is perfect for rejuvenating dull and tired skin.
Pros
Affordable
Vegan
Paraben-free
SLS-free
Mineral oil-free
No artificial fragrance and color
Formaldehyde-free
Cons
Less quantity for the price
Price at the time of publication: $18.0
The Cosrx Centella Blemish Cream is an ointment-type antibacterial cream that soothes irritated and damaged skin. This non-oily cream contains anti-inflammatory Centella Asiatica leaf water that forms a protective barrier on your skin, reduces redness, and soothes it. This blemish cream helps even out your skin tone by reducing hyperpigmentation and acne scars. It also contains tea tree oil that fights acne and blemishes. This product can be used as both day and night cream.
Pros
Vegan
Cruelty-free
Paraben-free
Non-greasy
Suitable for sensitive skin
Affordable
Paraben-free
Formaldehyde-free
No artificial color and fragrance
Cons
Takes time to show results
Price at the time of publication: $20.0
The Cosrx AHA/BHA Clarifying Treatment Toner exfoliates and cleanses your skin thoroughly. It contains ingredients like apple water and white willow extract that work as natural exfoliating agents. This toner hydrates and rejuvenates your skin and prevents blackheads, whiteheads, and blemishes. The gentle exfoliating formula peels off dead cells, clearing your skin pores, and reducing excess sebum. This product is excellent for oily, combination, and acne-prone skin types.
Pros
Contains natural ingredients
Cruelty-free
Vegan
No chemicals
No artificial preservatives
Formaldehyde-free
Paraben-free
Sulfate-free
Cons
Price at the time of publication: $19.17
The Cosrx Two in One Poreless Power Liquid is an everyday pore toner-serum. This two-in-one product contains mentha hapocalix extract and methyl lactate that soothe your skin and minimize pore size. This toner-serum also contains willow bark water extract that gently exfoliates rough skin and dead cells to improve texture and regulate excess sebum production. This toner contains 0.1% BHA, and you can use it along with other vitamin C and AHA/BHA products
Pros
Vegan
Paraben-free
Cruelty-free
Mineral oil-free
SLS-free
Phthalate-free
No harmful chemicals
Cons
Price at the time of publication: $16.0
The Cosrx Hydrium Triple Hyaluronic Moisture Ampoule is a nourishing and hydrating serum that is best for dry skin. This ampoule, like other products from the Hydrium range, contains vitamin B5 or panthenol, an ingredient that contains low and high molecular hyaluronic acid. The higher molecular hyaluronic acid forms a protective barrier on the skin and keeps it nourished and hydrated. On the other hand, the lower molecular hyaluronic acid penetrates the skin to improve elasticity. It provides lasting hydration and makes the skin look supple and plump.
Pros
Vegan
Cruelty-free
Paraben-free
Suitable for all skin types
Cons
Price at the time of publication: $22.0
The Cosrx AC Collection Ultimate Spot Cream is an intensive spot treatment for acne and blemishes. It contains Centella Asiatica extract that helps heal damaged skin and soothes inflammation. This cream also contains madecassic acid, asiatic acid, and asiaticoside (extracted from Centella Asiatica) to reduce blemishes and calms the skin. This product is best for acne-prone and problematic skin.
Pros
pH-balancing
Paraben-free
Sulfate-free
Cruelty-free
Phthalate-free
No harmful chemicals
Cons
None
Price at the time of publication: $23.0
COSRX is a well-known brand when it comes to skincare, and their products are popular for a reason. They are affordable, effective, and cruelty-free. If you are looking for a good starting point for your skin care routine, look no further than COSRX. Here are a few points to consider before you buy a COSRX product.
Points To Remember When Purchasing A COSRX Product
Skin Type: There are many different skin types, and each one needs a different formula when it comes to skincare. For instance, if you have dry or sensitive skin, you would want to avoid using products with alcohol or added fragrances. On the other hand, if your skin is oily or acne-prone, you should look for water-based and oil-free products that can control excess sebum and grease. Choose COSRX products as per the needs of your skin.
Ingredients: Skincare ingredients can be important factors when choosing a product, so it is important to read the ingredients list carefully. Make sure that the ingredients are beneficial for your skin and would not cause any irritation or skin issues. However, refrain from using products that contain parabens, phthalates, artificial fragrances, or colorants.
Price: One factor to consider when selecting skincare products is the price point. Choose affordable COSRX products that offer the right benefits without you having to spend a lot. Opt for budget-friendly products with gentle formulations that nourish your skin and improve their texture.
Why Trust StyleCraze?
The author of this article, Shiboli Chakraborti, is a certified skin care coach who loves experimenting with different skincare products to ensure she brings the best of the best to her readers. COSRX is a skin care brand loved by users globally, and Shiboli combed through hundreds of user reviews online to curate this list of best products from this brand. COSRX products are made with natural ingredients and are pocket-friendly. They treat various skin issues and are a must-have in one's collection.
Frequently Asked Questions
Is COSRX good for the skin?
Yes. COSRX is made of skin-friendly, chemical-free formulas that cater to different skin needs. It is especially known for its products for sensitive skin.
Is COSRX a Korean brand?
Yes, COSRX is one of the bestselling Korean skin care brands that offer effective results and is loved by users worldwide.
What is COSRX famous for?
COSRX is known for its extremely effective, skin-friendly formulas that rejuvenate the skin and offer a plump, dewy complexion.
Which COSRX toner is the best?
The COSRX BHA Blackhead Power Liquid and the COSRX Pure Fit Cica Toner are the best toners for different skin types.
Who owns the COSRX skin care brand?
Sanghoon Jeon owns the COSRX skin care brand. He started the brand in the year 2013.
Can I use COSRX AHA BHA toner every day?
Yes. The COSRX AHA BHA toner exfoliates, hydrates, and rejuvenates the skin and is suitable for daily use.
How long do COSRX products last?
The shelf life of COSRX products is 12-36 months, but once opened and used daily, it lasts for a month or two.
Recommended Articles