8 Best White Tattoo Inks In 2021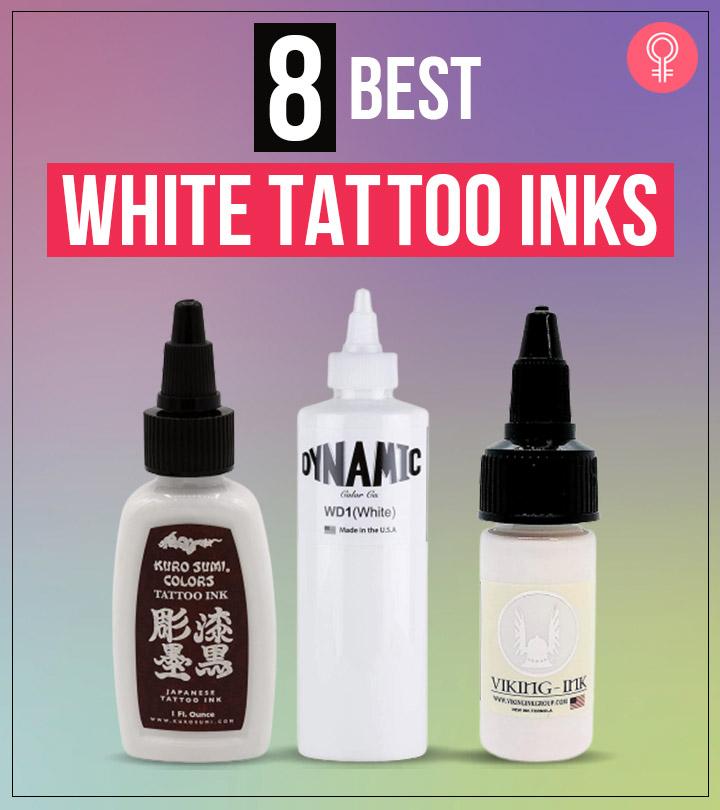 White tattoo ink is different from the traditional tattoo inks. With white ink, you usually need stenciling and outlining in black ink. A white tattoo is done with just white pigment and hence, not easily noticed. Perhaps this is one of the reasons why white tattoos have become very popular. However, they should be placed on body areas that are less exposed to sunlight because sunlight can fade white ink tattoos faster. In this article, you will find a list of the 8 best white tattoo inks. Pick the one that best suits your preference and budget.
8 Best White Tattoo Inks
The Kuro Sumi Colors Tattoo Ink has a high-quality molecular structure that gives a lasting and transparent tattoo. This ink is formulated with natural ingredients, which makes it skin-friendly. The ink is made in Japan, a traditional art form handed down through generations. Its superior consistency can be credited to the organic elements used in its making. This Samurai white ink is bright, bold, and produces outstanding tattoos. It settles smoothly into your skin and remains bright for a long time.
Pros
Natural ingredients
Superior consistency
Long-lasting
Bright color
Settles well
Safe on skin
Vegan
Chemical-free
Cruelty-free
Cons
None
The Dynamic Ink is a pre-dispersed professional white ink that has smaller particles in a thinner consistency. It is formulated to give you a wide range of shades to create versatility. This ink is long-lasting and has unique pigments, which heals quickly. The color is intense, bold, and won't fade any time soon. It is ideal for shading and lining. Additionally, the ink settles into your skin very quickly and efficiently. It is vegan and has not been tested on animals.
Pros
Pre-dispersed formula
Professional quality
Long-lasting
Heals quickly
Hypoallergenic
Vegan
Cruelty-free
Cons
The Viking Ink is lightweight and settles quickly into the skin. Its pigment is of high quality, which gives top-notch results and won't lose consistency with time. It gives versatile results. It features a unique protective membrane that keeps the product sterile. This ink is deeply concentrated, bold, and won't turn green or blue over time. Its strong consistency will adapt well to any skin type. It is ideal for dark skin as well. This ink is suitable for filling, tribal, and Maori tattoos.
Pros
Lightweight
Suitable for all skin type
Great consistency
Long-lasting
Cons
The Snow White Opaque color from the Intenze Advanced Tattoo Ink is excellent for doing highlights. It is safe, sterilized, and the best-looking tattoo ink. It has a unique blend of pigments that provides the best tattooing results. The packaging is properly done in a tamper-resistant bottle to ensure that it gets to you safe and intact.
Pros
Very opaque
Superior quality
Long-lasting
Vegan
No hazardous ingredients
Cons
The Mom's Power White ink stands out for its smooth, vibrant, consistent, and long-lasting nature. It can be used as the pigment itself or as a carrier ink. It flows easily and settles into the skin distinctly. It consists of high-quality pigments which are pure, uncut, and homogenized. Its rich tone will remain original for long after application.
Pros
Long-lasting color
Homogenized pigments
Skin-friendly
Vegan
Affordable
Cons
The StarBrite White Tattoo Ink is pre-dispersed with a thin consistency that makes it settle into your skin easily. This ink is sterilized and allergy-tested to ensure that it doesn't irritate or cause infection to the skin. Once applied, the result is vibrant and will last for a long time. It's authentic, bright, and makes very clean tattoos.
Pros
High quality
Easy to use
Long-lasting
Iron-free
Nickel-free
Cons
None
The Elements Toosup Tattoo Supply is a set of 5 shades. With this ink, you'll be able to do perfect tattoos that won't fade away easily. Its consistency is excellent that produces quality results. The bottles are well-sealed to ensure safety. This ink is designed by professionals with a beginner tattoo artist in mind.
Pros
Good consistency
Suitable for beginners
Safe
Suitable for creating versatile shades
Cons
None
The Dynamic Heavy White Ink is sterilized and tested per the regulations to ensure that it's safe for the skin and won't cause infection. It settles brightly on the skin and lasts long. It is highly recommended for people that love thinner blended ink. It's a must-have white tattoo ink for your everyday tattooing needs.
Pros
Thick consistency
Professionally created
Non-fading
Long-lasting
Cons
None
The tattooing industry is growing by the day. As technology develops, people are yearning to go beyond the ordinary and get amazing tattoos that match their skins and moods, and white tattoos are a big part of it. If you have a knack for the skill, you will find the right white tattoo ink in our list above. Pick the one that suits your needs the most and create masterpieces today!
Recommended Articles