6 Best Tattoo Numbing Sprays (Reviews) In 2023
Get inked painlessly with numbing sprays that exhibit skin-soothing properties.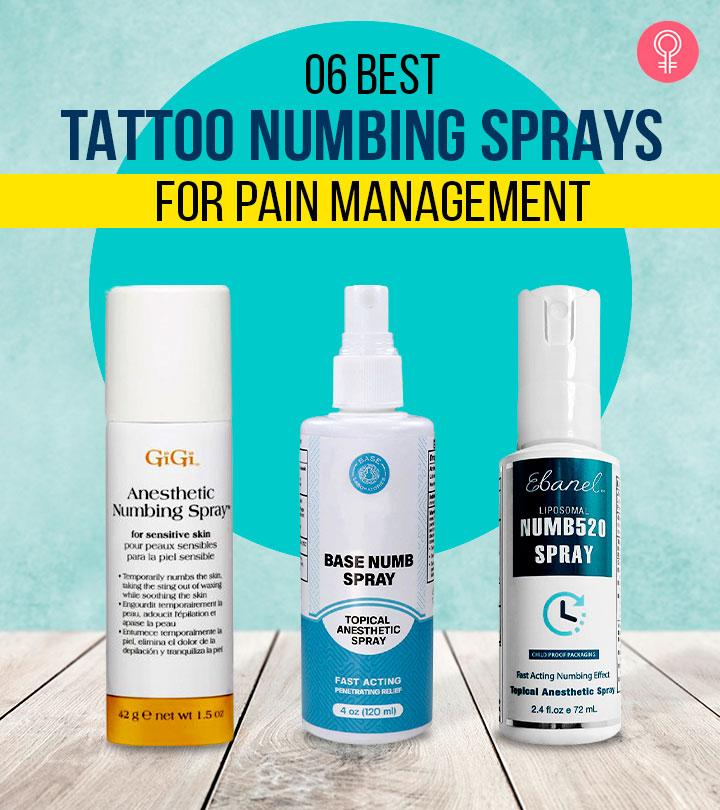 Deciding on a new tattoo is exciting, but are you ready for the needle-stabbing pain? If not, it should help to invest in the best tattoo numbing sprays that will make things much easier for you. A good quality numbing spray restricts the transmission of pain signals to your brain, making the process of getting inked easier. If you own a tattoo parlor or want to get your next tattoo without the pain, check out some of the top-rated products that we have listed for you. Keep scrolling to find out more about them!
6 Best Tattoo Numbing Sprays
The topical anesthetic spray Liposomal Numb520 from Ebanel contains lidocaine that numbs the skin. The phenylephrine in the formula tightens the blood vessels, restricting the blood from carrying away the medicine. This, in turn, increases the longevity of its effects. Its skin soothing ingredients like arginine and allantoin tame redness and inflammation caused by tattoo needles. It encapsulates lidocaine HCl and epinephrine into liposomes and thus gets absorbed into the skin instantly. It reaches the maximum numbing effect in just 5 to 10 minutes and stays the same for at least one hour. This non-oily, non-greasy numbing spray is 100% safe for sensitive skin as well.
Pros
Water-based formula
Unscented
Non-greasy
Faster results
Hypoallergenic
Cruelty-free
No harsh chemicals
GMP certified
Cons
Might sting on application
Price at the time of publication: $99.99
The Base Numb Spray has 4% lidocaine and 1% menthol that numbs the skin to relieve pain, itching, and irritation. The menthol in the formula soothes the skin, leaving behind a cooling sensation. The skin absorbs the formula within 3 to 5 minutes, reaching its maximum effect within 15 to 30 minutes. It retains the numbing effect for approximately 1 hour. To yield the best results, use it on clean, dry skin, and re-apply the same after every 2-4 hours. The sting-free formula is 100% safe for all skin types.
Pros
Lightweight
Cooling sensation
Quick-absorbing
Quick action
Long-lasting results
Can be applied to intimate areas
Ideal for tattooing, micro-needling, and waxing
Cons
None
The GiGi anesthetic numbing spray gently desensitizes the skin before tattooing and waxing to minimize discomfort. This fast-absorbing topical analgesic spray is formulated with 4% lidocaine that keeps the area numb for up to 1 hour. For extended sessions, you can always apply a few top-ups to get long-lasting results. Since it contains minimal amount of lidocaine, the spray never stings or irritates your skin.
Pros
Non-greasy formula
Quick action
Lightweight
Doesn't affect the tattoo color
Can be used on animals
Cons
Price at the time of publication: $14
Get your fancy tats without any pain with Hush Anesthetic Spray. Its 4% lidocaine helps to numb the skin while the aloe vera soothes redness and inflammation. The combination of skin-loving ingredients like chamomile, calendula, and green tea in the formula makes this spray the perfect tattoo after-care product as well. It anesthetizes the skin immediately when applied and lasts for up to 30 to 40 minutes, making the tattoo session virtually painless and worry-free. It gets activated within 90 seconds after application, but allow the spray to absorb for 10 to 15 minutes for optimal results. This numbing spray is FDA-approved and cruelty-free.
Pros
Vegan
Fast-absorbing
FDA-approved
Ideal for tattoo after-care
Suitable for all skin types
Cons
Price at the time of publication: $35.99
The Lidayn Surface Anesthetic Spray Mint acts as a local anesthetic agent and works on the skin by blocking the pain signals from nerves to the brain. It absorbs nicely into the skin within just 4 to 5 minutes and produces maximum numbing effect after 10 to 11minutes. This mint-flavored spray delivers 7.5mg of lidocaine USP with every actuation. It is even used for minor surgical procedures such as dental procedures, diagnostic tests, etc.
Pros
Fast action
More than 1800 sprays
Refreshing flavor
Cons
Price at the time of publication: $45
The Ink Scribd Tattoo Numbing Spray offers you quick relief from itching or pain caused by skin irritants such as tattoos, piercings, waxing, burns, or insect bites. This over-the-counter treatment comes with a built-in spray applicator and it is one of the quickest and most effective ways to ease the pain. It offers relief within 15 minutes of spraying. It is formulated with 5% lidocaine that provides relief from the temporary discomfort that you might experience.
Pros
Quick action
Non-greasy formula
Easy to use
Cruelty-free
Cons
None
To make inking easier and less painful, several numbing sprays on the market are available to provide a numbing effect on the area to be tattooed. This buying guide will help you consider the factors for buying the best tattoo-numbing sprays.
Things To Consider Before Purchasing The Best Tattoo Numbing Sprays
Ingredients: The main element in numbing sprays is lidocaine, and the highest dose medically authorized is 5%. A good numbing spray should also contain calendula, which has anti-inflammatory and antibacterial properties. Aside from this, sprays should contain herbal extracts such as aloe vera, vitamin E, minerals, antioxidants, and detoxifying agents, which help relax the skin and make it soft and smooth. Avoid sprays that include any allergen-containing ingredients. Look for paraben-free sprays, as this might put your skin in danger and trigger severe allergies.
Formulation: While there are so many options available in the market, choose a numbing tattoo spray that is hypoallergenic, lightweight, and produces a cooling sensation. The spray should be quick absorbing, and have a non-greasy consistency that is great for tattoo after-care and can be applied to intimate areas. Water-based formulas are ideal, especially for use before tattooing. They leave no oil behind and eliminate the possibility of sliding. Look for vegan, cruelty-free, GMP-certified, and FDA-approved formulas that are mentioned on the product package.
Longevity: These vary from spray to spray, and the setup time typically spans between 5 and 40 minutes. Consider choosing long-lasting sprays based on the size of your tattoo and the area of your body where it will be applied.
A topical numbing spray can be of huge relief during your long tattoo sessions. But to get the best benefit from these sprays, you must use it the right way. Let's discuss how a tattoo numbing spray should be used.
How To Apply A Tattoo Numbing Spray
First, shave the soon-to-be tattooed area carefully
Next, wash the skin and dry it before spritzing the numbing spray.
Now, let it sit on the skin anywhere between 20 minutes to one hour.
Repeat the application after some time.
If you worry about the safety factor of a tattoo numbing spray, you are not alone. Let's discuss this in the following section
Are Numbing Sprays Safe?
Yes, tattoo numbing sprays are safe if applied correctly. But remember, most tattoo numbing sprays contain lidocaine, known to cause allergic reaction in many. Do a patch test to check for allergies before using any product. Too much of numbing spray can irritate your skin and cause swelling or blisters. So, apply moderately and with caution.
Why put up with pain? Rub a dab of any of these tattoo numbing sprays and get instant relief. While all the sprays in our list are brilliant, our top favorite is the one from Base Laboratories. This one is the most versatile spray and can be used for tattooing, bug or insect bite, micro-needling, cuts, and scraps. It goes deep inside the skin and retains the numbing effect for a longer time. However, you do you. Choose the one that suits your needs the most before getting a new tattoo!
Why Trust StyleCraze?
Baishali Bhattacharya is passionate about skincare and keeps herself up to date with the latest trends in the industry. She understands that getting a new tattoo can be exciting yet scary. To ensure you have a painless experience, she has read through various customer testimonials online and put together a list of the best tattoo numbing sprays you can use. These sprays ensure that they restrict the transmission of pain signals to your brain, making your inking experience easy and smooth.
Frequently Asked Questions
Which is better – numbing cream or spray?
Numbing sprays are better than creams. They are easier to use and their formulas act faster on tattooed areas.
How long before a tattoo do you put numbing spray on?
Apply the numbing spray 30 to 60 minutes before sitting for the tattoo session since some formulas take time to deliver the desired effect.
Can teenagers use a numbing spray?
Yes, most numbing sprays are safe for teenagers. Check the formula and do not use the spray if you have allergies to any of the ingredients, especially lidocaine.
Is it safe to use a numbing spray on my lip before getting a piercing?
No, it is not safe to use a numbing spray on your lips without your doctor's supervision.
Can numbing spray mess up a tattoo?
Not really. However, some numbing sprays can make it harder for the tattoo artist to draw precise lines as the formulations keep your skin wet.
Is it safe to use a numbing spray when pregnant?
Most numbing sprays are safe to use during pregnancy. Consult your doctor before making a decision on using a numbing spray while your baby is on the way.
Recommended Articles