14 Best Tattoo Numbing Creams For Painless Tattoos 2020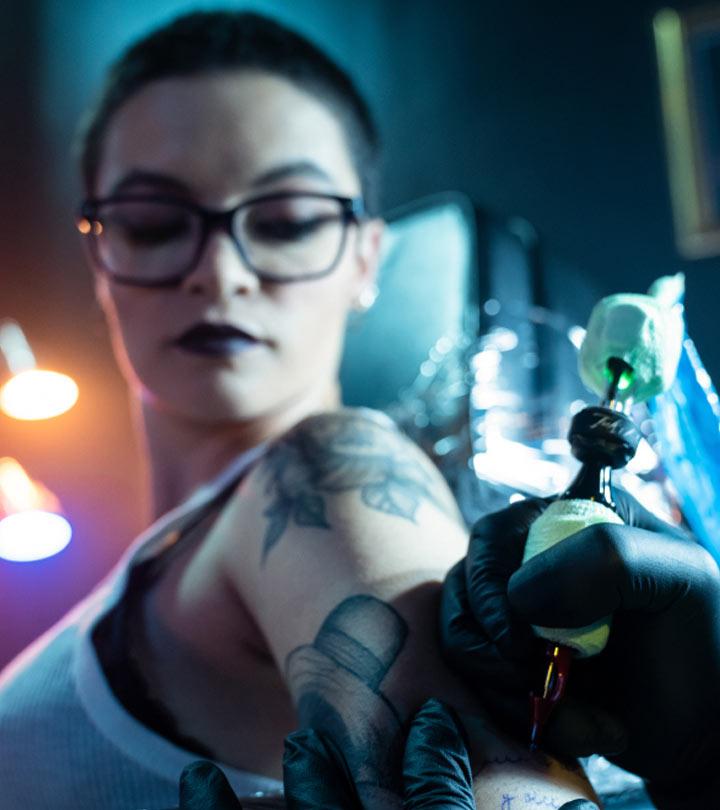 Planning to get a tattoo but the pain is making you reconsider it? You aren't the only one. A lot of people give up on the idea of getting inked because of their low tolerance for pain. And we don't blame them because it is no joke. Getting a tattoo may add a wild streak to your persona, but the whole experience can turn into a regretful one if you are not ready for the discomfort in store for you.
However, things are changing and people are now opting for tattoo numbing creams to make it a bearable process. These over-the-counter numbing creams are topical anesthetics that desensitize the area for 1-4 hours to reduce the pain associated with the process. So, if you are still gathering all the guts to brace the needle, rest assured these numbing creams are godsend saviors that are successfully making tattoo parlors a no-shrieking zone! Check out our list of 14 best tattoo numbing creams of 2020 that will definitely make 'getting inked' a painless episode for you.
Read on to know more!
14 Best Tattoo Numbing Creams
With a slightly higher concentration of Lidocaine, this water-based topical cream assures quick relief from pain, soreness, and itchiness within 2-3 minutes! Its maximum strength formula numbs the area, peaks after 20-25 minutes, and lasts for up to 2 hours, making it quick and long-lasting. The cream also soothes the skin and combats irritation with hydrating ingredients like aloe vera, vitamin E, lecithin, and allantoin. Stain-free and odorless, 5% Lidocaine Topical Numbing Cream Maximum Strength is recommended by doctors as well.
Pros:
Odorless, non-greasy, and water-based cream
Numbs in 2-3 minutes
Long-lasting and quick
Recommended by doctors
Guarantees relief from pain, burning, soreness, and more
Cons:
It does not reduce the pain completely
Similar Products:
No products found.
Getting inked is no child's play. But to tackle the pain, Uber Numb 5% Lidocaine Topical Numbing Cream is the one you can count on. The reason – 5% of Lidocaine! A super-strong pain reliever that also enhances skin penetration owing to its quick-absorb formula reaches the nerves and blocks the pain. You can easily feel its effects peak after 20-25 minutes, and it guarantees numbness for up to 1 hour. Other than relieving pain, the cream also heals and comforts any swelling or soreness with its ultra-hydrating properties. It is a water-based cream with a non-greasy formula, which means no cakey residue or itchiness post-application.
Pros:  
Super strong pain reliever
Elevates skin penetration
Fast absorbent, water-based, and non-greasy
Quick action guarantees numbness within 2-3 minutes
Lasts for up to one hour
Cons:
It does not provide 100% numbness, only reduces the pain
Similar Products:
Sensitive skin? Fret not. Numb Master Lidocaine 5% Topical Numbing Cream with liposomal technology protects sensitive skin and blocks pain for up to 2 hours! With Lidocaine delivering peak strength within 20-25 minutes, this water-based anesthetic cream with non-invasive application guarantees numbness without any side effects. Plus, it's non-greasy and free from harsh chemicals like paraben, thus keeping your skin safe and free from redness or blisters.
Pros:
Liposomal technology guarantees quick penetration
Last long
Suitable for sensitive skin
Oil and paraben-free
Cons:
It does not deliver 100% numbness
It is expensive
Similar Products:
Let's not forget that even after getting a tattoo, your skin needs care and comfort. Also, a lot of people complain of swelling, soreness and itchiness post getting inked. Hence, Organic Shingles Treatment and Relief Cream with Manuka Honey is not only gentle but absorbs quickly to help your skin heal. Infused with the goodness of natural and organic ingredients, it nourishes the skin and soothes the pain as well. The result – Soft, smooth and pain-free skin!
Pros:
Pain-relieving cream with natural ingredients
Gentle and absorbs easily
Nourishes and heals the skin
Recommended to calm swelling and soreness
Free from paraben, sulfates, gluten, and fragrance
Cons:
It is a pain-relieving cream to treat post-tattoo swelling or soreness
Similar Products:
Aspercreme with Lidocaine Maximum Strength Pain Relief Cream directly targets the pain receptors. It desensitizes the area within minutes and lasts up to hours all thanks to 4% Lidocaine maximum strength, thus making your experience absolutely pain-free and memorable. Though temporary, this odorless solution combats pain without causing any irritation and is recommended to alleviate back and muscle aches too.
Pros:
Targets pain receptors
Numbs the pain within minutes and up to several hours
Odorless
Alleviate back and muscle aches
Cons:
It relieves pain but does not offer complete numbness
Similar Products:
Imagine getting inked without feeling the pain at all. Sounds unbelievable? Not if you apply this numbing cream by Ink Scribd that reduces pain even in the most sensitive areas. Its fast-acting formula is powered by 5% lidocaine thatnumbs the skin within 15 minutes and lasts up to 2 hours, so you can stay carefree throughout the tattoo session. It also contains vitamin E to moisturize your skin and help heal it quicker.
Pros
 Absorbs quickly
Acts within 15 minutes
Contains vitamin E
1-year guarantee
Cons
Loved by beauty and makeup experts across North America and gentle-enough to be used on children, Zensa Numbing Cream 5% Lidocaine is a savior when it comes to pain-free treatment. Whether you are getting a tattoo, piercing, or permanent makeup, its quick-absorbing solution acts within 20 minutes. It provides desensitization up to 2 to 4 hours, in fact even more if reapplied mid-session. Safe, hypoallergenic, and non-oily, it neither leaves stains nor does it change skin texture, affect color settling or retention.
Pros:
5% Lidocaine numbs within 20 minutes
Last up to 2 to 4 hours
Hypoallergenic, non-oily, and water-based
Safe to use on open skin and sensitive areas
FDA-approved
Suitable for all skin types
Cons:
It does not act quickly and needs to be left on longer than 30 minutes
What makes UltraNumb Anesthetic Skin Numbing Cream different from other creams is the double application formula that delivers intense numbing for up to 3-4 hours. This oil-free and water-based cream penetrates the skin quickly, numbs the nerves, and prevents discomfort. Like its name, it provides ultra-numb and long-lasting effects, though numbness may vary depending on the skin type.
Pros:
Double application formula
Intense numbing up to 3-4 hours
Cons:
So, you think you can sit through the whole tattoo session without stopping midway? If not, Advanced Numb 5% Lidocaine Pain Relief Cream is all you need to get through your first, second, or 100th session without feeling the pain. Its powerful 5% Lidocaine strength along with propylene glycol enhances skin penetration making the cream quick-absorbing and fast-acting. It peaks after 20-25 minutes, blocks the pain, and stimulates numbness up to 1 hour. And it doesn't stop there, it also soothes the skin with vitamin E and other moisturizing ingredients!
Pros:
Powerful 5% Lidocaine strength
Quick-absorbing and fast-acting
Peaks after 20-25 minutes
Enhances skin penetration
Moisturizes the skin
Non-greasy and water-based
Last up to 1 hour
Cons:
It may not provide 100% numbness
Don't let the pain get in between you and your love for tattoos! Greencaine Blast Numbing Cream with 4% Lidocaine is a topical anesthetic gel-based cream that blocks pain from the core and desensitizes your skin for long hours. Ideal for several other pain-inducing treatments and backed by professionals from the skin and beauty industry, if an expert-recommended product is what you are looking for, then Greencaine Blast Numbing Cream is the one for you.
Pros:
4% Lidocaine for reducing the pain
Recommended by professionals
Gel-based cream
Guarantees 100% refund
Cons:
It lessens pain but not 100% numbness
Rapid absorption, maximum strength pain reliever, and long-lasting effect all in one tube! Dr. Numb 5% Lidocaine Topical Numbing Cream for Pain Relief is a hypoallergenic, smooth, and velvety cream-based formula that numbs the skin within 15 minutes. Reducing the pain up to 90% for 2-4 hours, its quick-action, safe, and super hydrating features is what makes it a hit! FDA-certified and cruelty-free, it's backed by well-known experts across Canada.
Pros:
Maximum strength pain reliever
Rapid absorption and act within 15 minutes
Reduces pain up to 90%
Hypoallergenic, FDA-certified, and cruelty-free
Moisturizes the skin with vitamin E
Lasts long up to 2-4 hours
Cons:
It needs frequent re-application to last long
More potent than other numbing creams out there, this topical over-the-counter anesthetic gel by Hush does not take it lightly when it comes to desensitizing the skin. Though other creams may wear off within 1 hour, Hush Anaesthetic Tattoo Numbing Gel lasts up to 2 hours, even more in some cases. A numbing gel that not only blocks the pain but heals the skin after the procedure – it is absolutely gentle, free from chemicals and safe for sensitive skin as well. Hailed as one of the top numbing cream brands, ask your tattoo expert about Hush, and you'll not be disappointed.
Pros:
Gel-based formula
Lasts up to 2 hours
Free from paraben and epinephrine
Cruelty-free and vegan-friendly
Reduces redness and skin irritation
Suitable for sensitive skin
Cons:
We have one word for this product- relief! LMX5 Lidocaine Pain Relief Cream has not just the customers but also doctors raving about its super numbing and pain-relieving effects. Whether you are looking for a temporary pain reliever or a potent numbing cream, LMX5 contains 5% Lidocaine that desensitizes the nerve endings and surrounding tissue quickly for instant relief and numbness. Clinically proven to provide a painless experience, it is also recommended by doctors to soothe skin irritations like sunburns, abrasions, cuts, and more.
Pros:
Clinically proven to numb the nerves and tissues
Instant and quick relief
Fast-absorbent
Soothes skin irritation
Easy-to-apply and long-lasting
Cons:
It does not give 100% numbness to all
More of a gel person than a cream person? Go for Topicaine 5 Lidocaine Anesthetic Anorectal Numbing Gel. It's fast, clear, and it does what it promises, numbs the skin with 5% Lidocaine maximum strength, and easily lasts for up to more than 1 hour. Non-greasy, oil-free, and easy-to-wipe off, it doubles up as a pain reliever as well.
Pros:
Fast-acting gel
Maximum strength with 5% Lidocaine
Non-greasy, oil-free and easy-to-use
Relieves pain and stimulates numbness
Cons:
It provides light numbness
It's more a pain reliever than numbing gel
How To Select The Most Effective Numbing Cream
Unless you are brave enough to endure the pain, we suggest you pick a gel or cream with 5% Lidocaine strength, as it is the highest prescription allowed in over-the-counter topical anesthetics. They are powerful, numb the nerve endings, tissues, and block pain for up to 1 – 2 hours. If the pain relapses, reapply to increase the effect and duration. Also, it is ideal to choose a cream/gel that is non-greasy to prevent a cakey residue or itchiness, and if it has hydrating ingredients, then you've hit a bonus.
How To Apply Tattoo Numbing Cream
Applying numbing cream is not a complicated process at all. Here's how it goes:
Clean the skin or area where you are planning to get a tattoo.
Now the numbing cream is ideally applied twice. The first time, massage the cream into the skin.
The second time, apply it without rubbing it in, let it sit for a few minutes.
Then take a saran or plastic wrap and cover the area for up to 1 – 2 hours, this is to let the heat activate the cream and numb the area.
Before removing the wrap completely, check if you can feel any sensation. If yes, let it sit more otherwise remove the wrap.
Lastly, clean the excess cream with a dry and clean cloth. You can use Kleenex as well. However, make sure you don't use water, alcohol, or soap to clean the area.
Hence proven, getting a tattoo is not a painful experience anymore! No more rain check on appointments or last-minute panic attacks, now that you know 14 best tattoo numbing creams of 2020. We bet you can't wait to get inked soon. So, what are you waiting for? Pick your numbing cream today and get tattooed!
Did we miss out on a numbing cream or gel? Have feedback or suggestions regarding this article? Share your thoughts in the comments below.
Expert's Answers For Readers' Questions
How long does numbing cream work for?
It varies from cream to cream. Some may numb the skin within 2-3 minutes and peak after 25-30 minutes, whereas some may take up to 15-20 minutes for the numbness to set in.
Why is numbing cream bad for tattoos?
Numbing creams are not bad for tattoos. They help relieve and block pain as well as make it a smooth and no-scream experience for both you and the tattoo artist.
Is it wrong to put numbing cream on before a tattoo?
Though these topical over-the-counter anesthetics are non-prescription creams, it's advisable to get a doctor's head-up if your skin is easily prone to allergy or sensitivity. Also, only certain creams work on open wounds, so to avoid any grave risk, get a recommendation from a doctor or professional expert.
Should you take painkillers before a tattoo?
It's not necessary to take painkillers if you are applying a numbing tattoo cream. The painkillers may or may not relieve the pain, whereas the numbing cream dulls the nerves and tissues, thus blocking the pain.
How can I numb my skin naturally?
There are several natural remedies like ice, aloe vera, and more that are used to numb the skin. However, the effects may not be as strong and long-lasting as a numbing cream. These are primarily used for light numbing purposes.