10 Best Affordable Clay Masks For Hair – 2022 Update
Eliminate grease and oily hair from your scalp and keep it fresh and light.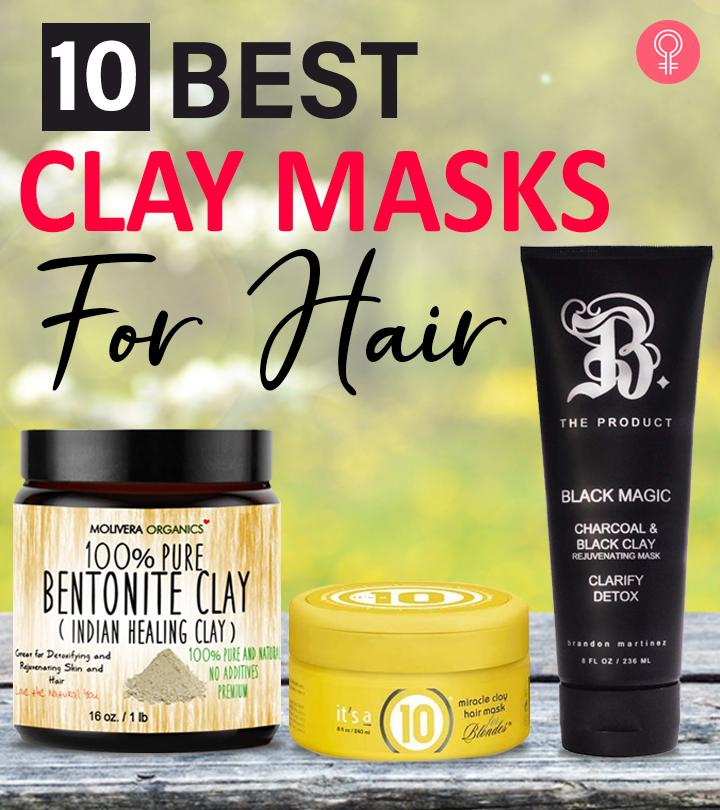 A greasy hair scalp along with dry hair strands is a confusing hair problem, and there's just one way to beat that – a clay hair mask. If you shampoo often, you get dry hair strands and a greasy, oily scalp if you skip a shampoo. This is where a clay mask comes to save your day.
Clay masks work great for your hair and scalp. It strips off dead skin cells and toxins deposited on the scalp. Simultaneously, they also remove excess oil from the scalp, leaving it clean, fresh, and feeling light. If you feel this is what your hair needs, scroll down to find the list of the 10 best clay masks available out there.
What Is A Clay Mask?
A clay mask is made with different types of clay and other natural ingredients that have healing and nourishing properties. It is dried in the sun and powdered before being made into a mask to be used on your hair.
When mixed with water, some forms of clay can draw out impurities and harmful toxins from the hair and scalp and help your hair grow longer and stronger. Check out the next section to understand who would benefit from such masks. 
Who Should Use It?
You can use clay in your hair care treatment if you are dealing with the following issues: 
1. Dandruff: Dandruff is caused due to fungal growth that thrives on extra sebum and the buildup of products on the scalp. Clay masks detoxify the scalp, absorb excess sebum, and eliminate the fungus, thus getting rid of dandruff and flakes.
2. Slow Hair Growth: Clay contains potassium, calcium, and sodium that help your hair grow. These masks also remove dead skin cells from the scalp, allowing your hair to grow faster.
3. Greasy, Oily Scalp: Using a clay mask regularly removes oil and dirt buildup from your scalp. It provides a deep cleansing treatment for your hair and scalp and makes your hair shiny and glossy.
Let's now check out the 10 best clay masks for your hair.
Top 10 Clay Masks For Hair
The 100% Pure Bentonite Clay by Molivera Organics is a premium grade product gathered from the feet of Wyoming volcanoes. It deeply detoxifies the scalp and produces an electrical charge that attracts and absorbs impurities, toxins, chemicals, and heavy metals from your scalp.
This clay mask improves blood circulation to the scalp, clarifies and softens the hair, and makes it manageable. It also rejuvenates the hair and scalp with minerals. This product is hypoallergenic, natural, and completely chemical-free. This clay mask is suitable for those who use hair products daily to remove product buildup and residue in a single-use.
Pros
Comes in an anti-UV ray packaging
100% natural
No synthetic additives
Money-back guarantee
Cons
Price at the time of publication: $12.95
The Plant Therapy Calcium Bentonite Clay is a multipurpose mask that can be used on your hair, skin, or face. The pure calcium bentonite is made of aged volcanic ash that draws out impurities,removes toxins, and calms irritated skin. This detoxifying formula can be mixed with other hair-friendly ingredients such as apple cider vinegar for a purifying hair mask. It cleanses your scalp and hair without disturbing the natural oil balance of your skin.
Pros
100% pure
Multipurpose
Detoxifies hair
Calms irritated scalp
Removes toxins from hair
Suitable for sensitive skin
Cons
None
Price at the time of publication: $10.99
People with greasy and oily hair often make the mistake of over-washing it. This leads to excessive oil production on the scalp and dryness at the ends. You end up washing your hair again – and it becomes a vicious cycle. To combat this, you need a clay mask.
The L'Oréal Paris Elvive Extraordinary Clay Pre-Shampoo Maskabsorbs the oil from the roots and revives dry ends. It is formulated with three types of refined clay that help rebalance your scalp. This clay mask leaves your hair clean, fresh, and light and keeps the roots lifted for up to 48 hours. Follow it up with a shampoo and conditioner from the same range for the best results. Take a look at this video to know more about the product.
Pros
Lightweight
Long-lasting freshness
Pleasant scent
Makes the hair soft
Suitable for color-treated hair
Cons
Price at the time of publication: $4.99
The Poppy Austin RhassoulClay is a detoxifying clay sourced from deep within the fertile Atlas Mountains in Morocco. This spa-grade clay is a multipurpose cleanser that can also be used as a face mask and skin conditioner in addition to a hair restoration treatment. It absorbs all impurities and toxins from your scalp without stripping it of its natural oils.
This clay mask removes dead skin cells on the scalp, makes your hair manageable, controls frizz, and defines curls. It is naturally rich in minerals like magnesium, potassium, calcium, and iron that nourish the scalp and hair. You can use this clay as a deep conditioning hair mask to improve its texture and shine.
Pros
Not tested on animals
Paraben-free
No artificial fragrances
No synthetic additives
Alcohol-free
Organic
Vegan
30-day money-back guarantee
Cons
Price at the time of publication: $17.49
The theAsutraHealing Clay has four times the strength of regular calcium bentonite clay masks. It is one of the best clay products for natural and curly hair. This clay mask cleanses your scalp without over-drying. It effectively draws out chemicals, toxins, and impurities from your scalp and hair.
It removes dead skin cells from the scalp and purges your hair of all the accumulated impurities and toxins. This clay mask also strengthens your hair and prevents hair loss by cleansing the hair follicles so that they absorb more water. It emits a negative electrical charge when combined with water and effectively draws out positively charged toxins. This product makes your hair soft, shiny, thick, and healthy.
Pros
100% natural
No fillers
No added preservatives
Fragrance-free
Organic ingredients
Non-toxic
No synthetic chemicals
No artificial colors
No artificial fragrances
Paraben-free
Cruelty-free
Cons
Price at the time of publication: $12.99
The it's a 10 Miracle Clay Hair Mask For Blondes is a simple hair treatment that claims to protect, restore, and refine blonde hair within minutes. It is formulated with mineral-rich kaolin clay, which bonds nutrients and conditioners with the hair shafts and makes your hair strong and shiny. It also removes yellow or brassy tones from colored hair, brightens highlights, and preserves hair color. This clay mask deeply conditions the hair to get rid of frizz and tangles.
Pros
Preserves color
Makes the hair soft and shiny
Does not weigh the hair down
Cons
Price at the time of publication: $29.71
The Matrix BIOLAGE R.A.W. Re-HydrateHair Mask is infused with Moroccan lava clay and shea butter, both of which are extremely nourishing for the hair. It conditions and hydrates dry, frizzy, dull hair by sealing in nourishment. This hydrating mask is formulated with plant-based extracts that nourish and revitalize your hair. This creamy formula provides the hair with essential vitamins and moisture to make it healthy and lustrous.
Pros
Natural-origin formula
Silicone-free
Paraben-free
No artificial colorants
Cons
Price at the time of publication: $30.0
This charcoal hair mask detangles, moisturizes, and revives dull and dry hair and provides deep conditioning. It nourishes, revitalizes, and strengthens damaged, weak, and over-processed hair. Charcoal is a natural detoxifier and exfoliates, renews, and restores your hair health by removing impurities and toxins from your scalp. It also provides natural volume to your hair.
This mask is formulated with black clay, which cleans the hair by absorbing oils, dirt, sebum, product buildup, and impurities from your scalp. It also removes dandruff from your scalp and relieves redness and itching. The mask also contains aloe vera, which repairs dead skin cells and acts as a conditioner, and keratin, which nourishes the hair. It restores hair elasticity and integrity and imparts incredible shine.
Pros
Cruelty-free
100% natural
Makes the hair soft
Imparts shine
Money-back guarantee
Cons
Price at the time of publication: $19.01
This steam mask by MIZANI is formulated with Moroccan lava clay, which detangles, nourishes, and defines your natural hair texture. It refreshes your curls and makes them look defined, refreshed, and frizz-free. The highly nourishing formula also contains olive, coconut, and marula oils that deeply moisturize your tresses. This deep conditioning hair mask works best for dry wavy, curly, and coily hair.
Pros
Sustainably sourced
3% biodegradable
Softens the hair
Defines curls
Smells amazing
Cons
Does not work for extremely dry hair
Price at the time of publication: $36.0
This hair mask contains a blend of Moroccan lava and kaolin and bentonite clays. It detoxifies the scalp and hair, unclogs pores, and removes excess oil and product buildup to promote a healthy scalp environment. It also provides volume to fine hair and is the best hair clay for thin hair. Use it once weekly for noticeable root lift and volumized tresses.
Pros
Mess-free
Sulfate-free
Paraben-free
Phthalate-free
Cons
Price at the time of publication: $12.47
Why Trust StyleCraze?
The author, Shiboli Chakraborti, is a hair care enthusiast. She suggests the best clay hair masks for rejuvenating her hair and keeping it healthy and voluminous. After extensive research and reviewing numerous online feedback, she compiled this list. The clay hair masks mentioned here help remove dead skin cells and excess oil from the scalp, leaving it feeling clean, fresh, and revitalized.
Frequently Asked Questions
Are clay hair masks good for low-porosity hair?
Yes. Clay hair masks contain bentonite clay that exhibits high adsorption potential. This helps detox and clarify low porosity and coarse strands that tend to accumulate product buildup.
Which clay mask is the best for natural hair?
The Asutra Take Out The Toxins Healing Clay mask is suitable for natural and curly hair. It eliminates toxins, dead cells, buildup, and impurities from the scalp, making your hair soft, shiny, thick, and healthy.
How often should you use a clay mask?
Use a clay hair mask twice weekly. However, if you have an oily scalp, you can use it more often – a few times weekly.
How long should I leave a clay mask on my hair?
Leave a clay mask on your hair for 30-45 minutes. Do not keep it on longer; otherwise, it will make your hair dry and brittle.
How long does it take to see results from a clay hair mask?
Clay hair mask is fast-acting. It will make your scalp less oily from the first wash, leaving it clean, fresh, and feeling light.
Recommended Articles