The 10 Best MATRIX Shampoos Of 2023
Clean your manes and keep them healthy with the goodness of botanical ingredients.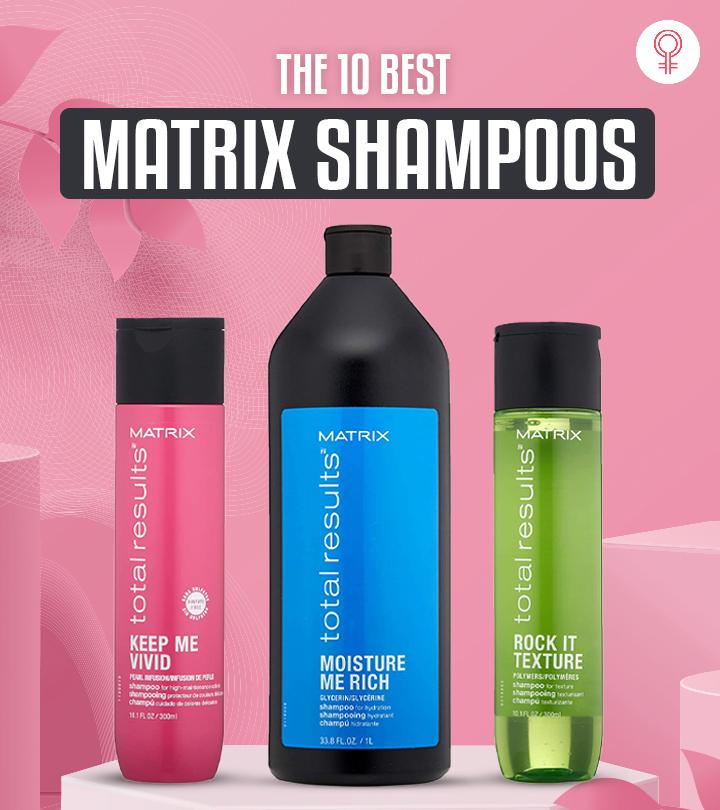 MATRIX as a brand has been known for making chemical-free and paraben-free shampoos that make your hair silky smooth, and gorgeous. Adding the best matrix to your hair care routine can be difficult because they make so many great shampoos for all hair types. The great thing about MATRIX shampoo is that they use an exclusive blend of botanical ingredients that clean your hair without stripping off any natural oils. Go check out our list to help you find the best matrix shampoo for your hair.
10 Best MATRIX Shampoos
The MATRIX Total Results So Silver Color Obsessed Shampoo is a color-depositing purple shampoo that neutralizes unwanted brassy warmth and eliminates yellow tones. It keeps your highlights radiant. This salon-grade shampoo adds extra shimmer to color-treated, naturally white, or gray hair. It is gentle, tames coarse hair, and prevents dryness.
Pros
Gentle formula
Tames coarse hair
Fights dryness
Cons
None
Price at the time of publication: $20.0
Do you have unmanageable and frizzy hair? Try the MATRIX Total Results Mega Sleek Shampoo. It tames unruly and frizzy hair by improving its texture. The formula is enriched with nourishing shea butter that moisturizes the hair. It cleanses your hair and scalp of dirt, impurities, grease, and oil without stripping the essential moisture. This shampoo adds shine to the hair and offers up to 5X smoothness. The innovative formula improves humidity resistance and prevents flyaways.
Pros
Unisex
Tames frizz
Controls flyaways
Cons
None
Price at the time of publication: $16.5
The MATRIX Total Results Keep Me Vivid Shampoo protects your hard-earned hair color efficiently. It helps seal the hair color and maintain the vibrancy of fast-fading hair colors for up to nine weeks. This shampoo transforms into a milky foam lather that cleanses dirt, impurities, and grime from your scalp and hair. It is infused with a soothing fragrance of vanilla, coconut, and cotton candy. This product is gentle, sulfate-free, and suitable for all hair types.
Pros
Color-safe
Gentle formula
Sulfate-free
Pleasant fragrance
Suitable for all hair types
Cons
Price at the time of publication: $20.0
The MATRIX Total Results High Amplify Shampoo boosts your hair volume, giving it an instant lift. The 24-hour full boost technology strengthens the hair. This shampoo is formulated with phyto-protein and panthenol that plump thin hair. It cleanses grime, oil, and dirt from your scalp, making it healthy. This product is silicone-free.
Pros
Volumizes the hair
Makes the scalp healthy
Silicone-free
Cons
None
Price at the time of publication: $30.0
The MATRIX Total Results So Long Damage Shampoo revives dull and damaged hair. The repairing formula is enriched with ceramides and strengthens the hair, reduces hair breakage, and imparts shine. The ceramides improve hair health by penetrating and filling the hair fibers. This shampoo has anti-frizz properties and offers up to 88% less breakage. It is suitable for color-treated and natural hair.
Pros
Controls frizz
Reduces breakage
Imparts shine
Suitable for color-treated and natural hair
Cons
Price at the time of publication: $30.0
The MATRIX Total Results Length Goals Shampoo ensures the longevity of the hair. It makes the hair 5X easier to detangle, 5X smoother, and 5X more conditioned after every wash. The gentle formula is co-created with Bellami. It revives and maintains human hair extensions and wigs. This product is sulfate-free, color-safe, and suitable for all hair types.
Pros
Sulfate-free
Color-safe
Gentle formula
Suitable for all hair types
Cons
None
Price at the time of publication: $37.0
If you want your curls to stay luscious, gorgeous, and bouncy, try the MATRIX Total Results Curl Please Shampoo. This shampoo moisturizes your curls without weighing them down. It is gentle and helps control frizz. The humidity-resistant formula is infused with jojoba oil that nourishes your hair. This shampoo keeps the shape of your curls intact.
Pros
Controls frizz
Does not weigh the hair down
Humidity-resistant
Gentle formula
Cons
None
The MATRIX Total Results The Re-Bond Shampoo is a strength-rehab system. It is formulated with citric acid that cleanses product build-up and keeps your hair primed and ready for deep repair. This shampoo helps fortify weak, over-processed hair. It also makes the hair manageable and detangles it for easy blow drying and styling. The repairing and rejuvenating formula are suitable for damaged, chemically treated hair.
Pros
Makes the hair manageable
Adds bounce
Strengthens the hair
Suitable for damaged and chemically treated hair
Cons
None
Price at the time of publication: $26.0
The MATRIX Total Results Moisture Me Rich Shampoo enhances the moisture level of your scalp. It is rich in therapeutic properties and contains glycerin, a humectant that moistures the hair. The mixed Fibre Gloss technology cleanses and softens the scalp. This shampoo keeps your hair soft, lustrous, and radiant.
Pros
Moisturizes the scalp
Gentle formula
Imparts shine to hair
Cons
None
Price at the time of publication: $30.0
The MATRIX Total Results Rock It Texture Shampoo helps to create hair body, structure, and texture. It is formulated with advanced polymers and is safe for color-treated hair. This shampoo boosts the hair structure and enables easy styling. It is unisex and suitable for wavy hair.
Pros
Color-safe
Suitable for wavy hair
Unisex
Long-lasting
Cons
None
Price at the time of publication: $12.5
You need to make sure you purchase a MATRIX shampoo that suits your hair type and meets your requirements – or you may end up with dull, frizzy hair. There are a lot of options available in the market, just go through the guidelines and make sure you get the perfect one for your needs.
How To Choose The Perfect MATRIX Shampoo – A Buying Guide
Ingredients
Sulfate- and paraben-free products should be prioritized over regular shampoos wherever feasible. Phthalates and alcohol are common ingredients in shampoos, and they both dry out the hair and cause damage over time. Avoid anything with silicones.
Shampoos formulated with natural oils are a good buy if you're looking for a nourishing shampoo.
Some of the MATRIX shampoos deeply nourish your hair and fix any damage it may have sustained. They are especially formulated to treat heat-damaged and chemically-treated hair.
Hair And Skin Concerns
If your hair tends to dry out easily, choose a shampoo that does not strip the moisture from the strands. People with wavy, curly or chemically-treated hair require deeply hydrating shampoos. As a matter of fact, using a moisturizing shampoo and deep conditioner together can do wonders for your hair.
Choose a mild, everyday shampoo and conditioner if you must wash your hair frequently. If you get an itchy scalp, particularly in the summer, you may want to try a shampoo that also claims to keep your hair feeling fresh.
If you use a lot of hair products (which might lead to buildup), you should choose deep cleansing or clarifying shampoos and limit your washings to once a week.
Don't waste your money on a regular everyday shampoo if you have dyed hair; it might strip away your color and leave your hair looking dry and frizzy. You should use MATRIX shampoos created especially for colored hair.
Fragrance
When buying hair or skin care products, go for those without added scent. However, if you want your hair to smell nice and have no special hair issues, scented shampoos are alright to use – provided you don't have dry hair, dandruff, an itchy scalp, or flaky skin.
Why Trust Stylecraze?
Oyendrila Kanjilal, the author of this article, dedicates her time to reviewing hair care products after analyzing multiple products and user reviews. Here she has listed the best MATRIX shampoos in the market after considering factors like ingredients, formula, hair type, fragrance, and more. Each product comes with a detailed description and pros and cons list to help you choose a suitable product.
Frequently Asked Questions
Is Matrix shampoo good for hair?
Yes, Matrix is a tried-and-tested brand that offers paraben-free and other chemical-free shampoos that cater to a variety of hair types and needs.
Is Matrix shampoo cruelty-free?
Matrix is not totally cruelty-free as it allows testing on animals in some countries where it is required by law.
Is Matrix shampoo color-safe?
Yes, the MATRIX Total Results Keep Me Vivid Shampoo is color-safe. It protects the vibrancy of hair colors for up to nine weeks!
Can I use Matrix shampoo after smoothening?
Yes, you can use the Matrix Opti. Care Smooth Straight Professional Ultra Smoothing Shampoo after hair smoothening.
Does Matrix shampoo cause hair loss?
No, generally Matrix shampoos do not cause hair loss. But, if the shampoo does not suit your hair or scalp type, you may notice hair loss.
How often should you use Matrix shampoo?
Use it twice or thrice a week for the best results.
How long does Matrix shampoo last?
The average shelf life of an unopened Matrix shampoo bottle is 2-4 years, but once the seal is broken, it will last up to six months.
How long does it take for Matrix shampoo to work?
It may take roughly 3-6 weeks of regular use for your Matrix shampoo to start showing visible results.
Recommended Articles