10 Best Hair Straightening Shampoos
Get the straight hair look that you always dreamed of and flaunt that extra length.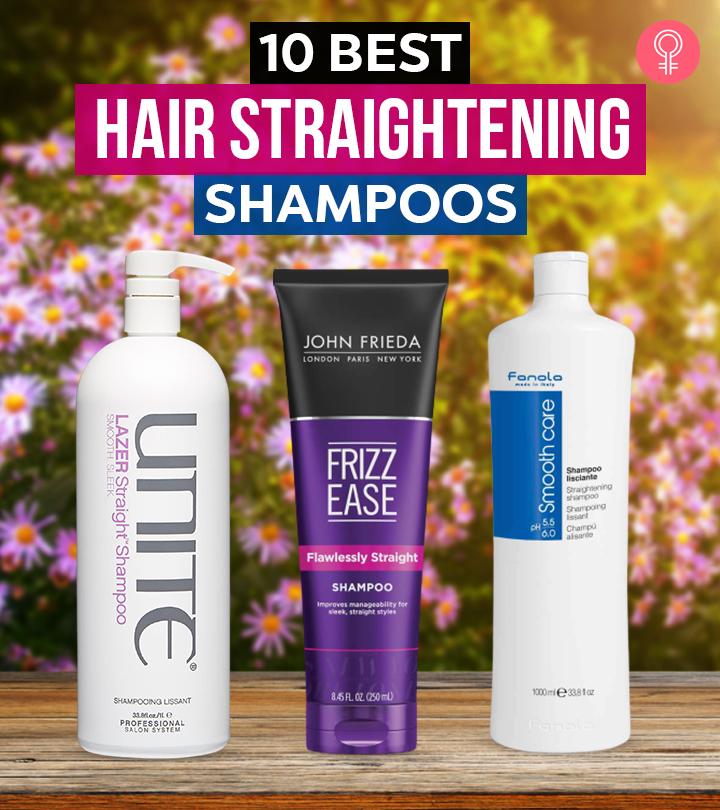 You put your hair through all possible styles, colors and end up damaging it with a hot tool and wonder why you don't have straight hair? Then you will look for things like best hair straightening shampoo to fix your frizzed-up and damaged locks. For the experimentalist and the fashionista that you are, we feel your pain and understand your urge to experiment and be creative. That is why we have a list of the 10 best hair straightening shampoos that nourish, moisturize, and repair your hair.
Top Picks
What Are Hair Straightening Shampoos?
Hair straightening shampoos are specially developed to help tame frizzy, wild tresses even in humid weather conditions. These shampoos have a unique formula containing hair smoothing agents that weigh down the hair, making it appear straight and manageable. They control the natural tendency of wavy hair to curl up.
What Makes Hair Straightening Shampoos Different?
Compared to regular shampoos, hair straightening shampoos contain a high level of conditioning agents like silicones and polymers. These conditioning agents coat the hair to weigh it down and prevent frizz and tangles. These agents are water-resistant and stay on your hair even after washing, preventing the strands from absorbing moisture and curling up.
Scroll down to check the best hair straightening shampoos to buy online.
10 Best Hair Straightening Shampoos To Try
Pros
Color-safe
Gentle
Lightweight
Cons
Contains artificial fragrance and SLS
Price at the time of publication: $15.66
The Organix Ever Straightening Brazilian Keratin Therapy Shampoo is specially formulated for dry, sun-bleached, and frizzy hair. It is infused with coconut oil, keratin, avocado oil, and cocoa butter. The oils and cocoa butter keep the hair shaft moisturized and hydrated and prevent split ends, while keratin strengthens the strands. The shampoo smooths your hair, minimizing frizz and giving it a silky straight appearance. Watch this video to get a detailed review of the product. 
Key Ingredients: Coconut oil, Keratin, Avocado oil, and Cocoa butter 
Pros
Sulfate-free surfactants
Pleasant fragrance
Softens the hair
Cons
Contains diazolidinyl urea, artificial color, and fragrance
Price at the time of publication: $6.78
The Fanola Smooth Care Straightening Shampoo offers deep hydration and thorough cleansing to your hair, leaving it soft and supple. It contains cotton seed oil, rich in linoleic acid, that helps straighten and strengthen your hair. The shampoo can control even the wildest hair, defrizzing and untangling it easily, easing the hairstyling and grooming process.
Key Ingredient: Cotton seed oil 
Pros
Contains natural ingredients
Smells great
Long-lasting effects
Cons
None
Price at the time of publication: $15.35
Pros
Moisturizing
Softening
Pleasant fragrance
Paraben-free
Sulfate-free
Paraffin-free
Mineral oil-free
DEA-free
Cruelty-free
Cons
Pros
Anti-static
Sulfate-free
Paraben-free
Sodium chloride-free
Cons
Price at the time of publication: $74.0
Pros
 Shampoo and conditioner set
 Multiple benefits
 Provides thermal protection
 Improves hair appearance
Cons
Price at the time of publication: $35.7
Pros
Sulfate-free
Ultra-fast drying
Humidity resistant
Cons
None

Price at the time of publication: $18.0
Pros
Unisex
Color-safe
Mineral oil-free
No animal derivatives
No petroleum derivatives
Cons
Expensive
Contains parabens, SLS, and diazolidnyl urea
Price at the time of publication: $23.99
Pros
Softens the hair
Moisturizes
Pleasant fragrance
Climate-friendly
Value for money
Cons
Price at the time of publication: $16.5
Pros
Vegan
Cruelty-free
Artificial color-free
Paraben-free
Mineral oil-free
Phthalate-free
DEA-free
Cons
Price at the time of publication: $21.98
If you are looking at straightening your hair, premium-quality straightening shampoos could be quite convenient! You can avoid permanent procedures and hot tools that may damage your tresses. A hair straightening shampoo will give you the desired look while cleansing and protecting your hair. Take a look at this buying guide to note some points that you should keep in mind while purchasing a hair straightening shampoo.
Things To Consider While Buying The Best Hair Straightening Shampoo
Look for shampoos with keratin that help in straightening the tresses. Opt for formulas with argan oil, coconut oil, or shea butter to condition and moisturize the hair. These help control frizz as well. Along with the natural oils, vitamins A, D, and E are good antioxidants that provide a healthy shine to the hair. Look for UV protection in your shampoo to shield the hair from harmful sun rays. Panthenol and tricone are great UV protecting ingredients.
Avoid ingredients like sulfate, paraben, formaldehyde, and artificial fragrances or colors.
The more specific the shampoo is for your hair type, the better the results. Choose shampoos made specifically for your hair type. For instance, you may have oily tresses, for which you need a less oily or water-based shampoo. If you have frizzy and dry hair, pick a nourishing formula with hydrating ingredients.
A good choice of a hair straightening shampoo may be one which is a little heavier in nature as it offers a strong hold in your tresses. This is to avoid the hair from rising up, becoming frizzy, or forming untamed curls. Slightly denser formulas will give the hair a natural-looking straight structure.
The primary job of a shampoo is to cleanse the hair and scalp. Pick a shampoo with good cleansing properties. It should be able to pull out impurities from the pores of the scalp as well as leave each hair strand squeaky clean without stripping them of their natural moisture. It must clean dirt, debris, and accumulated oil effectively.
These are the 10 best hair straightening shampoos that you can buy online. If you are wondering what these shampoos can do for your hair, scroll down to the next section.
What Are The Advantages Of Using Hair Straightening Shampoos?
Easy Detangling: Hair straightening shampoos contain conditioning agents like silicones and natural oils that help detangle your hair easily, minimizing breakage and hair fall.
Frizz Control: They weigh down the hair to control frizz even in humid weather and reduce flyaways.
Strengthen The Hair: Most hair straightening shampoos contain keratin, the hair protein that supports the hair shafts, minimizing breakage and frizz and helping retain moisture.
Prevent Heat Damage: The hair conditioning agents present in these shampoos coat your hair and do not wash off easily, protecting it from heat and thermal damage.
Speed Up Styling: The conditioning agents in the hair straightening shampoos repel moisture, speeding up heat styling and blow drying.
Before you jump straight into shopping your favorites, keep in mind the following things to make a better buying decision.
Things To Keep In Mind When Buying Hair Straightening Shampoos
Shampoo Type: Pick a shampoo specific to your hair type. Make sure you check the bottle as brands often specify the hair types on the packaging.
Ingredients: Check the ingredients carefully. A good hair straightening shampoo is sulfate-free and contains silicones, keratin, and natural oils like coconut and argan oils. Avoid products with parabens, formaldehyde, and artificial colors and fragrances.
Check The Reviews: Go through the brand website or check review blogs and videos. This is a good way to understand how the shampoo performs and how different hair types react to it.
Why Trust StyleCraze?
The author, Oyendrila Kanjilal, is a hair care enthusiast and a big fan of straight hair. Instead of using a straightening tool that might leave the hair dry and damaged, she prefers using straightening shampoos. She has prepared this list of best hair straightening shampoos. Oyendrila has checked thousands of online reviews and feedback on brand websites to create this list.
Frequently Asked Questions
Does a keratin shampoo straighten the hair?
Yes, to a certain extent. Do not expect poker-straight hair. A keratin shampoo smoothens the hair, reduces frizz, and makes it easier for you to blow dry or style it with a flat iron.
How do I make my hair straight with shampoo?
Here is the process of straightening your hair with shampoo.
Warm-up a required amount of coconut or jojoba oil.
Mix the oil with aloe vera extract.
Apply this mixture to your hair.
Leave it for 40 minutes.
Wash the hair with a mild sulfate-free shampoo and cool water.
How can I straighten my hair naturally?
Take a bowl of raw milk and add one tablespoon of honey. Mix the ingredients thoroughly and pour the mixture into a spray bottle. Spray this mixture onto your hair after shampooing, and leave it on for 2-3 minutes before rinsing.
After doing permanent hair straightening, can one use any shampoo or the specified ones only?
Any regular shampoo will not work on permanently straightened hair. You need to switch to sulfate-free hair products to avoid damage to your locks.
Can dry shampoo straighten curly hair?
No. Dry shampoos are a great option for people with curly hair, but when it comes to hair straightening, it gives temporary results.