11 Best-Loved Ampoules Of 2022 For Every Skin Type
These gentle and quick-absorbing ampoules minimize signs of aging for every skin type.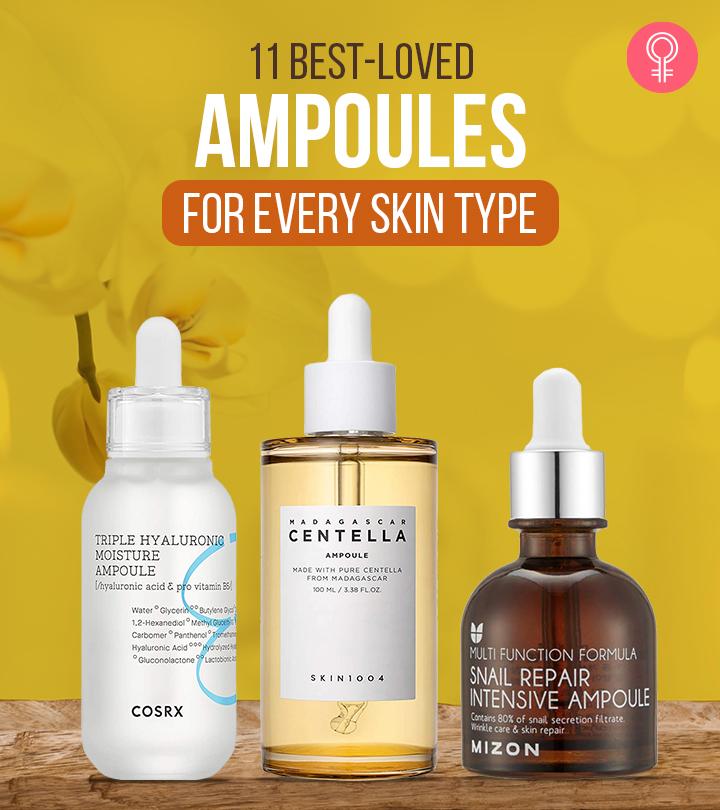 Are you looking for the best ampoule for glowing skin? We have just what you need. Ampoules are beauty elixirs that help remove fine lines, pigmentation, wrinkles, and dark spots. They contain concentrated serums that target various skin issues and boost your skin health. They are available in vials or bottles that can be applied with droppers to your cream.
If you are fighting premature aging due to work stress or lack of sleep, this is the product you need. Here are the top 11 ampoules to keep the natural glow of your skin intact. Keep reading for more information.
11 Best Ampoules
The Snail Repair Intensive Ampoule from Mizon contains 80% snail secretion filtrate, which forms a protective layer over your skin to prevent moisture loss and promote skin regeneration. It gets quickly absorbed into your skin and delivers maximum nutrition due to its lightweight texture. Other active ingredients like hyaluronic acid and adenosine provide superior hydration and anti-aging effects. With regular use, this ampoule helps reverse all your skin's concerns, including acne scars, and prevents further damage. You can check this YouTube video for more information about the product.
Key Ingredients: Snail secretion filtrate, Hyaluronic acid, and Adenosine
Pros
Lightweight
Quick-absorbing
Non-greasy
Paraben-free
Dermatologist-tested
Refreshing fragrance
Cons
These ampoules from L'Oreal Paris provide an instant splash of hydration, resulting in revitalized and smoother-looking skin. Hyaluronic acid can retain lost moisture and lock in hydration for prolonged freshness. The brand claims that after using seven of these ampoules, your face would look visibly cleaner, smoother, fresher, and softer. They reduce dark spots and wrinkles, plump your skin, and improve its texture.
Key Ingredients: Hyaluronic acid
Pros
Dermatologist-tested
Allergy-tested
Paraben-free
Fragrance-free
Dye-free
Mineral oil-free
Cons
Not suitable for very sensitive skin.
This luxurious formula is all you can ask for in an ampoule. The deeply nourishing product soothes irritation, softens your skin, and rejuvenates it from within. It contains Centella asiatica extracts to balance the sebum levels, rehydrate dry patches, and reverse the signs of aging, leaving your skin plump and smooth. Regular hydrating products tend to wear off in an hour, but this unique composition seeps into your skin and delivers the maximum hydration that lasts all day.
Key Ingredients: Centella asiatica extracts
Pros
Lightweight
Quick-absorbing
Mild fragrance
Works well under makeup
Cons
These anti-aging ampoules from Vichy are powered with concentrated ingredients like peptides, hyaluronic acid, and pure vitamin C. Each dose comes in a protective anti-oxidizing glass, which protects the effectiveness of the ingredients. Vitamin C is an antioxidant that brightens the skin and reduces aging. Hyaluronic acid plumps up your skin and revitalizes it, while the plant peptides fade fine lines and firm the skin.
The serum inside the ampoule has a super lightweight texture, which gets quickly absorbed by the skin without leaving any residue. Each of these amber shots comes with precise dosage and claims to give you super radiant and healthy skin when used for 10 consecutive days. These ampoules keep fine lines, wrinkles, and dark spots at bay while nourishing and hydrating your skin.
Key Ingredients: Vitamin C (10%), Hyaluronic acid, and Peptides
Pros
Dermatologist-tested
Allergy-tested
Non-greasy
Lightweight
Fragrance-free
Paraben-free
Oil-free
Silicone-free
Preservative-free
Alcohol-free
Cons
Regular ampoules may have heavy active concentrations, which can sometimes trigger breakouts or acne in sensitive skin types. But the soothing and nourishing Cicaful Ampoule from BE PLAIN is exceptionally gentle. It is formulated with 84.28 % Centella asiatica extract to strengthen your skin's barrier and prevent moisture loss.
The chamomile and hyaluronic acid soothe and hydrate your skin. The antioxidant and anti-inflammatory properties of these ingredients keep acne and skin irritation at bay. This ampoule also contains rice ferment filtrate that improves the skin's ability to deal with environmental aggressors and free radical damage.
Key Ingredients: Centella asiatica extract, Chamomile, Hyaluronic acid, and Rice ferment filtrate
Pros
Absorbed well
Lightweight
Mild
Fragrance-free
Cruelty-free
Alcohol-free
Cons
This daily ampoule, packed with powerful antioxidants, gives your skin the much-needed TLC. It contains hyaluronic acid that restores skin moisture and vitamin C that protects the skin from free radical damage and brightens it. It also contains ultraglycans that boost skin elasticity and firmness, soften it, and impart radiance. This ampoule can enhance your skin's proteoglycan levels and fade the signs of aging within 10 days of use.
Key Ingredients: Vitamin C, Ultraglycans, and Hyaluronic acid
Pros
Pleasant aroma
Glides on smoothly
Cons
This luscious plant-based formula is all you need for healthy-looking skin. It has a unique combination of essential vitamins that provide clinical-grade, all-in-one treatment in the comfort of your home.
Retinol or vitamin A is a powerful active agent that reduces visible signs of aging, like fine lines, wrinkles, and dark spots, by strengthening and firming your skin. Panthenol and biotin protect your skin's natural moisture barrier and retain moisture. This potent formulation of seven active ingredients shields your skin against daily environmental aggressions like smoke, UV, blue light, and dust.
Key Ingredients: Vitamin A, Panthenol, Vitamin E, and Biotin
Pros
Pleasant scent
Quick-absorbing
Lightweight
Suitable for use under makeup
Cons
Not suitable for dry, sensitive skin.
This intensely hydrating serum prevents your skin from drying out and keeps it plump all day. The ampoule contains three types of hyaluronic acid. While the high molecular weight hyaluronic acid creates a protective barrier over your skin and stops moisture loss, the low molecular weight hyaluronic acid is absorbed into the deep layers of the skin to enhance its elasticity and make it plump from within.
The lightweight formula is seamlessly absorbed into your skin without any residues. It also contains allantoin that has soothing properties to calm down irritation, redness, and itching. Vitamin B5 hydrates and moisturizes the skin and helps it recover from damage. This serum gives you supple skin and a visibly plumped complexion. If you are still unsure about purchasing, you can check out a review of this product on YouTube.
Key Ingredients: Hyaluronic acid, Allantoin, and Vitamin B5
Pros
Gentle on skin
Smells good
Suitable for sensitive skin
Non-irritating
Vegan
Cruelty-free
Paraben-free
Fragrance-free
Cons
None
This ampoule by TOSOWOONG is infused with a high concentration of propolis, rich in anti-inflammatory properties. The serum leaves your skin rejuvenated due to the presence of citrus oils like lemon, lime, and bergamot. It also tightens your skin and minimizes the appearance of enlarged pores. The ampoule works by gently exfoliating the dead skin cells and lightening your face with an instant glow from within.
Key Ingredients: Propolis, Lemon oil, Lime oil, and Bergamot oil
Pros
Gentle
Light exfoliation
Absorbed quickly
Lightweight
Cons
This ampoule contains hemp seed oil that works wonders in targeting pigmentation, acne, and spots. It seeps deep into your skin, leaving it clearer and healthier. The concentrated formula has a lightweight texture that gets absorbed into your skin for maximum benefits.
This ampoule also contains niacinamide, vitamin B3, and vitamin E, which nourish and strengthen your skin. Hyaluronic acid fastens the skin's healing process and boosts hydration. This serum improves cracked skin, bumps, and uneven texture and leaves your skin younger-looking.
Key Ingredients: Hemp seed oil, Niacinamide, Hyaluronic acid, Vitamin B3, and Vitamin E
Pros
Lightweight
No residue
PEG-free
Sulfate-free
Paraben-free
Mineral oil-free
Phthalate-free
Cons
This one-week hydrating treatment set includes seven individual bottles for added proficiency. It helps wake up your dry and dull skin with a splash of refreshment due to the presence of hyaluronic acid. This active ingredient can absorb up to 1000 times its weight in water. It locks in moisture and leaves your skin feeling plump. The 24-hour moisture lock formula increases your skin's elasticity and strengthens its barrier with daily use. It also reduces the appearance of wrinkles, dry skin, and spots, resulting in a radiant and toned complexion.
Key Ingredients: Hyaluronic acid
Pros
Absorbed quickly
Paraben-free
Sulfate-free
Cons
None
Why Trust Stylecraze
Shiboli Chakraborti, the author of this article, is a certified skin care coach trusted for her research and review skills. Here she analyzes multiple product reviews before curating this list of the best ampoules for glowing skin. These serums have concentrated formulas and fight various skin issues. For your convenience, she compares all the products on this list and talks about their pros and cons so that you can make an informed decision.

Recommended Articles