13 Best Glycerin Soaps Of 2023 For Supple Skin
Cleanse, moisturize, and hydrate your skin with long-lasting and effective soaps.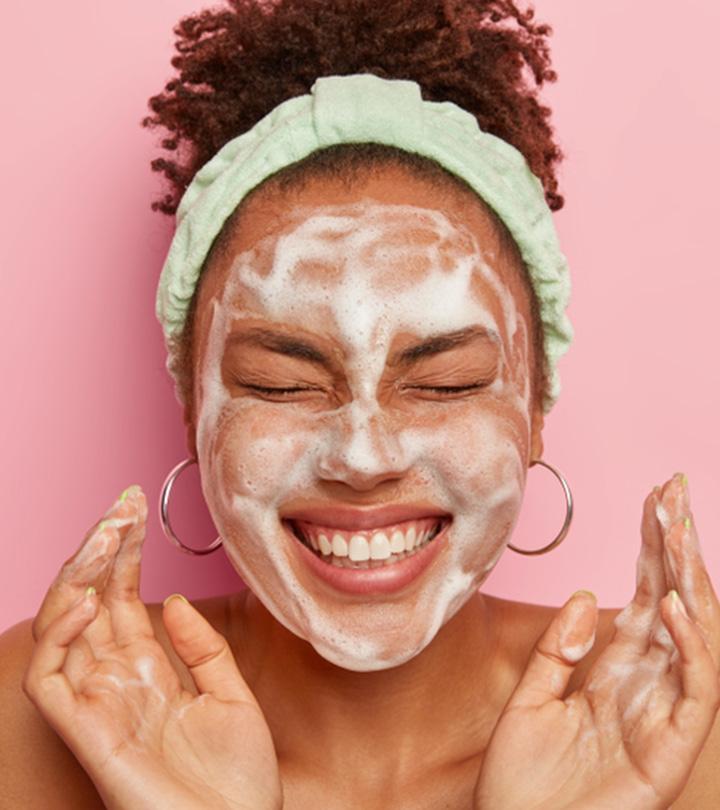 Skin care experts swear by glycerin because it soothes and moisturizes. The best glycerin soap has all of these benefits and more. This mild cleanser is beneficial for sensitive skin. Glycerin replenishes skin's natural oil, which soap often strips away. Fermented foods, for example, bread, beer, and wine are rich in plant-based oils. Glycerin is produced from these oils, and they do not contain any chemicals or alcohol, which means they won't irritate your skin. Since glycerin is non-greasy, you can use it on any skin type. Glycerin works as a humectant, a substance that draws moisture from the air to the skin, which sets it apart from regular soap. It also retains moisture and nourishes the skin, looking and feeling younger. Plus, it has a milder pH than regular soap and helps keep your skin hydrated.
If you want soft, supple skin, consider this product as it is kinder to your skin. Our review of the top glycerin soaps is intended to help you make the right decision. Take a look!
13 Best Glycerin Soaps To Keep Your Skin Hydrated
Tired of dry, flaky skin? This clear glycerin soap has been in the market for 200 years and is considered as one of the oldest brands that has been used for generations. It contains high quality skin care ingredients like glycerin and natural oils which clean and moisturize your skin thoroughly. Each bar goes through a special process of moulding and is then matured till it becomes totally transparent. With its evolving formula that has been better over the years, this glycerin bar soap continues to enjoy the trust of its users even today. It's suitable for all skin types as it's gentle on the skin and can be used by both men and women for moisturized skin.
Pros
Dermatologically-tested
Pear fragrance
Paraben-free
Enriched with natural oils
Suitable for all skin types
Cons
Price at the time of publication: $5.3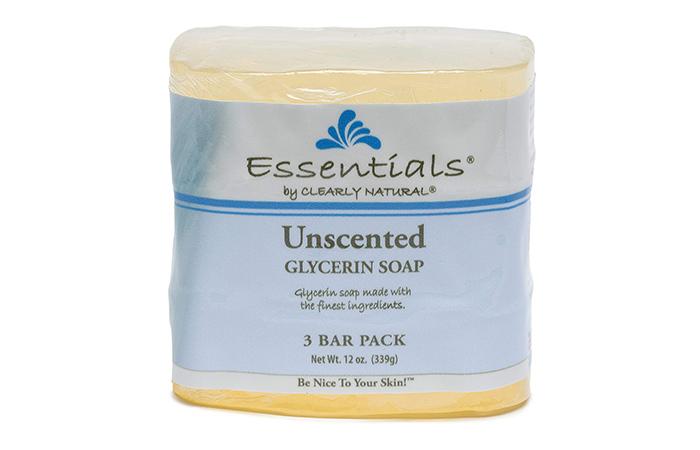 Has your dry, itchy, and lacklustre skin been driving you crazy? Well, this unscented glycerin soap might be the answer to your skin woes. This pure and natural glycerin soap is made with the finest ingredients and comes in a pack of 3 soaps. Apart from glycerin, which is its main ingredient, it delivers the benefits of saponified coconut, palm kernel oils, coconut oil, and corn oil to name a few. It does wonders in protecting  and maintaining your skin's pH balance, calms skin irritations, and rinses off easily without leaving any sticky residue. If you want to know more about the merits of this popular glycerin soap, have a look at this YouTuber's elaborate review.
Pros
Fragrance-free
Natural ingredients
Sulfate-free
Suitable for all skin types
Cons
Price at the time of publication: $6.29
This glycerin soap for face cleansing can give you clean, clear, and healthy-looking skin. Made with high quality ingredients, it gently cleanses your skin and washes off without leaving any pore-clogging residue. Its hypoallergenic formula contains no harsh dyes, detergents or hardeners making it suitable for even the most sensitive skin. As it's fragrance-free, it can be used for fragrance sensitive skin as well. This glycerin bar soap washes away dirt, oil, and makeup from your face, leaving it fresh and clean and making you feel as if you have just stepped out of a spa. If you are still unsure about this glycerin soap from Neutrogena, you can take a look at this YouTuber's brief review.
Pros
Fragrance-free
Hypoallergenic
Non-comedogenic
Suitable for all skin types
Dermatologist-recommended
Cons
Price at the time of publication: $13.56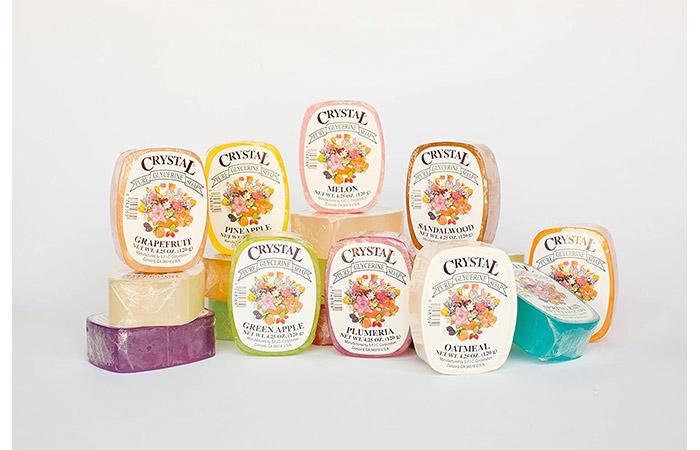 If finding the right glycerin soap for your skin seems like a far-fetched dream, this natural and pure crystal glycerin soap may just be the answer to your prayers. This pack of 24 soaps consists of an unscented bar which is color and fragrance-free, and 24 other fragranced options such as rose, peppermint, spring rain, sandalwood, jasmine, peach, mango, orange, green apple, coconut, gardenia, aloe vera, and lemon. These fragranced bars contain kosher glycerin of vegetable origin, saponified vegetable oils such as coconut, purified water, moisturizer, fragrance oil, and certified food colors. A good glycerin soap to try, these bars are hypoallergenic and won't block the pores of your skin.
Pros
Unscented
Cruelty-free
Hypoallergenic
Biodegradable
Vegetarian
Soy-free
GMO-free
Non-comedogenic
Sustainably grown ingredients
Cons
Price at the time of publication: $45.0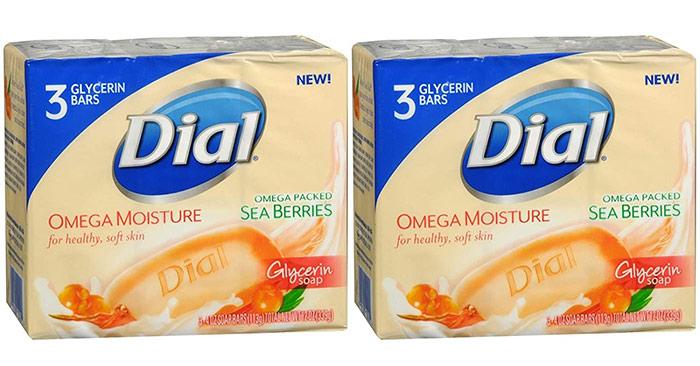 An answer to your prayers for a good glycerin soap may be just a click away with Dial Omega Moisture Sea Berries Glycerin Soap that is packed with the goodness of berry extracts. Berries contain powerful antioxidants like vitamins A, C, and E that fight the effect of free radicals and harmful UV rays of the sun which cause damage to your skin. So, apart from cleansing your skin, this glycerin soap bar leaves you with beautiful & younger looking skin free of fine lines and wrinkles. This mildly scented soap lathers well and does not dry out your skin which makes it worth the try.
Pros
Contains antioxidants
Natural ingredients
No harmful chemicals
Suitable for all skin types
Cons
Price at the time of publication: $9.72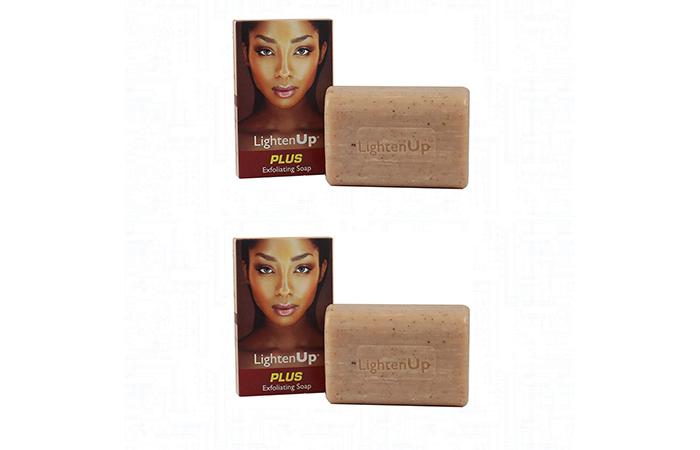 Allow this exfoliating bar to work its magic on your skin as it's packed with the goodness of glycerin, shea butter, coconut oil, papaya extract, and apricot seed. This glycerin soap for oily skin gently exfoliates dead skin cells, leaving your skin soft, smooth, and radiant. Its brightening apricot seed powder gives an instant glow to dull skin. For optimal results, it is recommended to use this product once or twice a week because of its extraordinary exfoliating properties. It works best when followed up with a SPF 50 sunscreen to avoid sun damage to your skin. It also makes for a great glycerin soap for sensitive skin and needs to be used just once a fortnight for visible results.
Pros
Cruelty-free
Paraben-free
No harmful chemicals
Natural ingredients
Cons
Not suitable for dry skin
Price at the time of publication: $19.99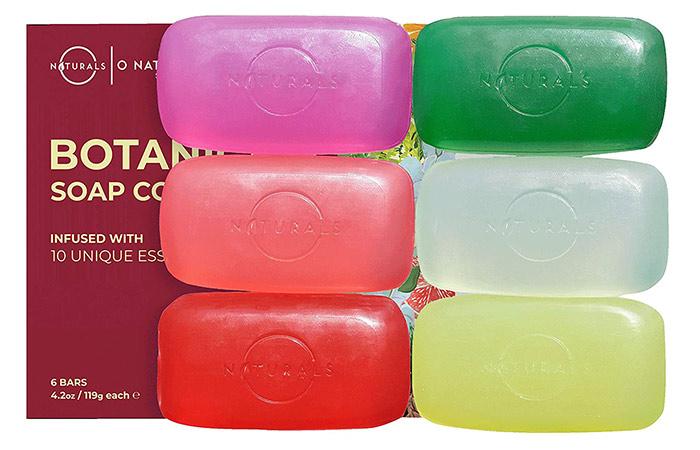 This clear glycerin soap comes in a pack of 6 different fragrances and is infused with 10 essential oils from which you can choose depending on your mood and requirements. One of these soaps is made from echinacea and grapefruit which boosts the immune system and restores balance, another with patchouli and cedarwood that stimulates the senses and relieves stress, and the third with clove and bergamot that invigorates and lifts your mood. Another soap contains lemon with calendula that heals sensitive skin, while the lavender with bitter orange soap is soothing and calming for the skin. The sixth soap in the pack has  palma rose with rosehip which balances dry, oily and combination skin. These glycerin soaps unclog pores, remove excess oil, hydrate your skin, and have their own unique fragrance. Additionally, this set of soaps works very well to manage conditions such as acne, eczema, and psoriasis without drying out the skin. Don't you think your skin deserves this treat?
Pros
Natural ingredients
Cruelty-free
Paraben-free
Sulfate-free
100% vegan
Works great for combination skin
Cons
Some may not like certain fragrances from the set.
Price at the time of publication: $16.99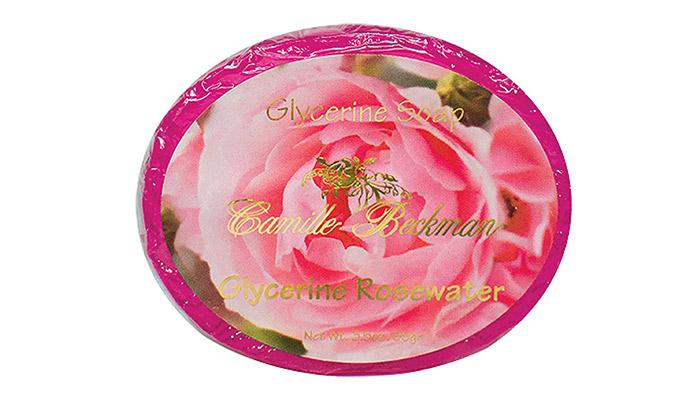 Made from rich and wholesome ingredients, this company still handcrafts its glycerin soaps in small batches using old-fashioned methods which makes all the difference. This special rose glycerin soap is made with vegetable glycerin combined with the delicate fragrances of garden roses with persian tea rose and elegant rose de mai. Great for the face and those with sensitive skin, they provide a refreshing and moisturizing experience. These handmade soaps gently cleanse your face and leave the skin soft and smooth without that dry and stretched feeling. So, it's time to say goodbye to dull, lifeless skin and welcome a bright and radiant complexion.
Pros
Nourishing herbal extracts
Cruelty-free
Paraben-free
Phthalate-free
Gluten-free
Cons
Price at the time of publication: $7.99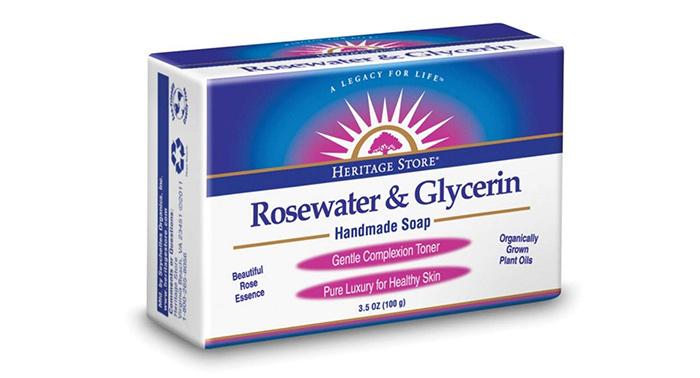 This rose glycerin soap gently nourishes, exfoliates, and moisturizes your skin, leaving it petal-soft, smooth, and hydrated. This handmade soap soothingly exfoliates your skin and can be easily washed off without leaving any residue that could clog your pores. It uses glycerin in the soap making process, which is derived from organically grown plant oils combined with rose essence, saponified olive oil, coconut oil, palm oil, cedarwood oil, rose geranium flower oil, natural cranberry, kaolin powder, hibiscus petals, rosehip seed oil, and rose petals. All these ingredients work together to give you glowing, healthy-looking skin upon regular use.
Pros
Natural ingredients
No toxic chemicals
Non-comedogenic
Paraben-free
Cons
May not suit extremely sensitive skin
Price at the time of publication: $8.39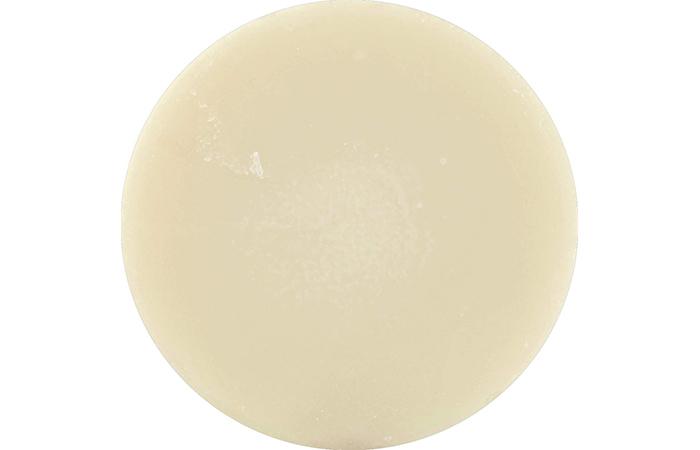 This soap has been crafted by master soapmaker John Toso for the last 40 years using traditional methods and ingredients like natural vegetable oil. The soap making process involves  a careful blend of palm and coconut oil for their rich, skin-moisturizing glycerin. This plain glycerin soap is color-free and fragrance-free and is air-dried, wire-cut, and aged to create a mild, long-lasting soap bar. All the glycerin which is naturally produced during the making process is retained in the soap which makes it all the more beneficial. This is because glycerin softens the skin naturally and enhances the soap's longevity, as it prevents it from dissolving quickly in water. This soap is not tested on animals, the packaging is environment-friendly and as minimalistic as possible. To understand the nuances of this glycerin soap from Sappo Hill, you can check this video out on YouTube.
Pros
Cruelty-free
Paraben-free
Gluten-free
GMO-free
Color-free
Free of animal products
Fragrance-free
Cons
Some feel it does not lather enough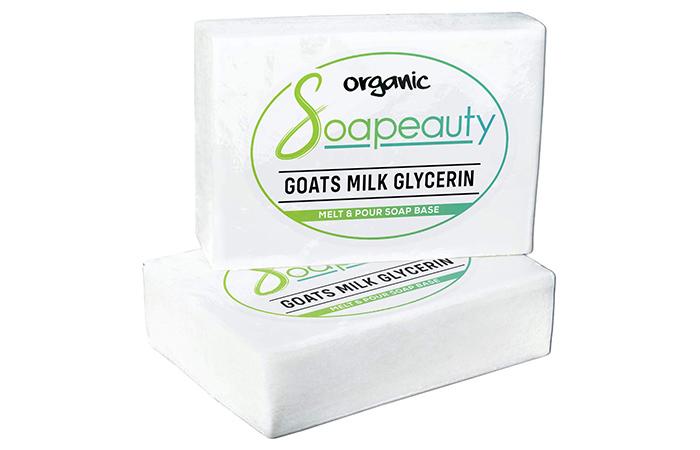 This goat milk glycerin soap base is wonderful for making your own soaps at home while adding fragrances and essential oils according to your requirements. It combines the creamy and restorative qualities of pure, natural goat milk and plant-based glycerin with the cleansing and moisturizing benefits of Stephenson's soap base to create a great melt and pour soap. This soap base has a natural milky color because of the addition of pure goat's milk sans artificial colors. Goat's milk is a powerhouse of antioxidants like vitamin A and vitamin D which help nourish and soften your skin. It also contains coconut oil, palm oil, purified water, sodium hydroxide, sorbitol, sorbitan oleate, and soybean protein. Melt and pour soap bases are an ideal way to craft your own soap without the extra time, expense and experience needed to make soap from scratch. It's available as a 2 pound soap base and also as 5, 10, and 25 pound soap bases.
Pros
Cruelty-free
Biodegradable
Eco-friendly
High glycerin content
Neutral pH of approximately 7.8
Non-yellowing, even at high temperatures
Low water content so there is less shrinkage
Cons
Some may find the glycerin content too high.
Price at the time of publication: $52.79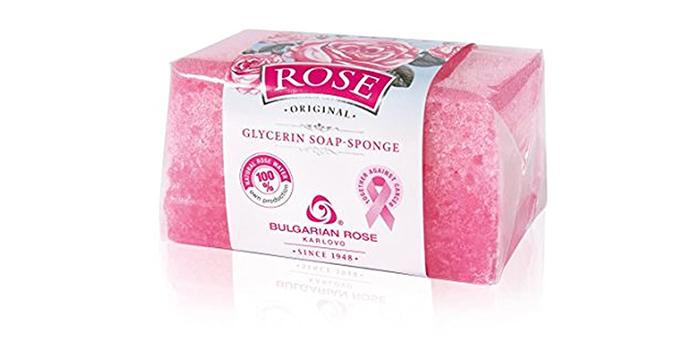 This amazing product is a combination of gentle and pure glycerin soap on one side and a sponge on the other. It has a mild rose scent that is not overpowering and makes showering a pleasure. This luxurious soap-sponge is infused with glycerin, natural rose water, and pure bulgarian rose oil, creating a rich creamy lather to moisturize and soften your skin. Its 4-in-1 feature cleanses, exfoliates, massages, and moisturizes your skin. The specifically textured surface of the sponge buffs and massages your skin without being harsh on it, removing dead skin cells to reveal soft and glowing skin.
Pros
Natural ingredients
No toxic chemicals
Anti-cellulite
Suitable for all skin types
Cons
Can be drying if used every day
Price at the time of publication: $6.95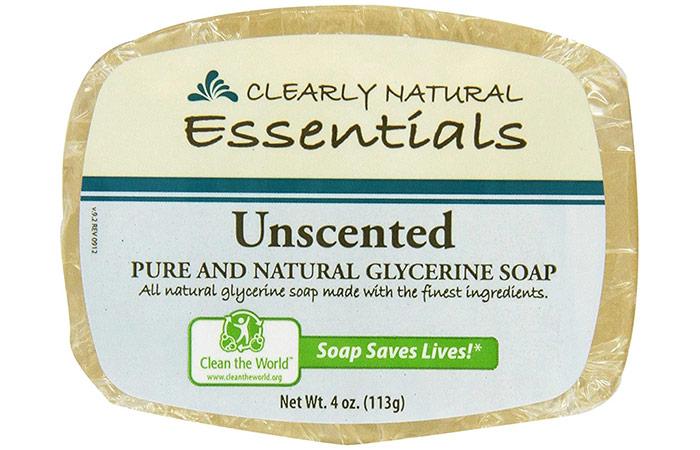 This pure and natural glycerin soap is unscented and made with the finest ingredients. As glycerin is a humectant, through its hydroscopic action, it draws moisture into the skin naturally. It gently cleanses your skin without stripping or upsetting the delicate natural pH balance and leaves your skin soft, supple, and healthy. This pure glycerin soap ensures that your skin does not dry out or become itchy and flaky while cleansing it. As it's unscented it's safe for the most sensitive skins as  well and contains no harsh detergents or surfactants. So if you have been looking for that perfect soap that is natural and doesn't disturb the delicate balance of your skin, this just might be your 'go-to'.
Pros
100% vegan
Cruelty-free
Paraben-free
Gluten-free
Sulfate-free
GMO-free
No artificial colors
Hypoallergenic
100% natural ingredients
Completely biodegradable.
Cons
Some may find it too greasy
Price at the time of publication: $12.7
When you're trying to keep your skin clean yet hydrated and supple, it is essential to get your hands on the best glycerin soap that suits your skin and requirements. It's important to know what you should be looking for so that you can make an informed choice. We hope our comprehensive buying guide will help you in this!
How To Choose The Best Glycerin Soap For Your Skin
Many soaps contain glycerin along with other ingredients like essential oils, dyes, and synthetic materials. If there are other ingredients besides glycerin on the label, this means that you're not looking at pure glycerin soap. Although additives won't make the glycerin ineffective, you need to ensure that the additional ingredients are those that you believe would benefit your skin.
Pretty much like the edible oil that we consume, we have to be careful about the oils that are added to the soap that we plan to use. Many soaps are cheaper because the fat or oil in them is synthetically produced. While buying a glycerin soap, ensure that it's made from a natural plant-based oil.
Avoid antibacterial soaps
Though the word antibacterial sounds good, antibacterial soaps contain an ingredient called triclosan which has an effect on the body's hormones and is known to work as an endocrine disruptor and carcinogen.
Choose organic or natural
Do read the list of ingredients carefully and ensure that the soap is made from 100% natural ingredients. Some soaps just use the word 'natural', but upon reading the ingredients you will find a few synthetic ingredients as well. 100% natural glycerin soaps will list only good plant-based oils as their primary ingredient and the other ingredients should be easily identifiable as natural.
Fragrances that are added to soaps, are usually synthetic and not natural. Around 95% of the chemicals used to produce fragrances come from crude oil and are directly linked to allergies, cancer, and nervous system disorders. Glycerin soap is naturally fragrance-free. If you can't see or smell the product before buying, check the ingredients to make sure it doesn't contain additives like fragrances.
Soaps are usually made with synthetic hardening agents to give them a longer shelf life, and for that they have to remove some of the glycerin which gives your skin moisture. The soap may last longer but your skin ends up paying the price. Glycerin soaps break down much more quickly. In fact, if exposed to moisture for a long time, they start to disintegrate.
Why Trust StyleCraze?
Kirtana Divakar, who authored this article, is a skincare aficionado, and she often experiments with a wide range of skincare products to help her readers find the most effective ones. With this intent, she conducted research and read many product reviews to compile a list of the best glycerin soap. These listed items have a milder pH compared to regular soaps, and they can hydrate your skin.
Frequently Asked Questions
Is glycerin soap good for your skin?
For people with dry or sensitive skin, glycerin soap is gentler on the skin than other soaps. Glycerin soap also has a lower pH than other soaps, which helps the skin retain its natural moisture and also because it's a humectant, it helps to moisturize the skin by attracting water from the air. It's also good for people with oily or combination skin as it's non-greasy.
Glycerin soaps are considered hypoallergenic, but can still cause reactions in some people, especially if it contains additives such as fragrances that may cause irritation. Because additives vary in different brands, some people may have an allergic reaction to one glycerin soap, and not another. Try to choose a glycerin soap that has a high glycerin content and no harsh additives.
Is glycerin soap harmful?
Glycerin soap is good for your skin if it has a high content of glycerin, no surfactants, and a low concentration of cleansers. They are usually safe for all skin types, but its humectant feature may be irksome for those with extremely oily skin as glycerin draws moisture to your skin. Glycerin soap works very well for people who have dry or sensitive skin.
Does glycerin darken skin?
Glycerin is an ingredient that is actually used in some whitening products. So, glycerin does not darken your skin.
Can glycerin irritate the skin?
Sometimes, 100% pure, undiluted glycerin can dehydrate the skin and cause irritation, so consider diluting it with water. If after applying glycerin to your skin, you notice any allergic reactions, stop using it immediately.
Is glycerin soap good for eczema?
Yes, glycerin soaps prevent your skin from over-drying and help seal in moisture. This makes them good for skin conditions like eczema.
Is glycerin soap good for dry skin?
Yes, glycerin soap is great for dry skin as it gently washes your skin without stripping off moisture. It removes dirt and oil while exfoliating your skin but does not trigger allergic reactions on dry skin.
Does glycerin soap kill bacteria?
There is no scientific evidence that suggests whether glycerin soaps can kill bacteria or not.
How can I use glycerin soap?
You can use glycerin soap as a humectant that keeps your hands moisturized. Gently wash your hands with water and glycerin soap for two to three minutes to remove any kind of dirt, grime, or oil. This will also help provide a soothing sensation and keep your hands from feeling dry.
Recommended Articles