The 10 Best Nail Strengtheners To Use After Removing Acrylic Nails – 2023
Nail strengtheners are a must-have after removing acrylic nails to combat nail damage.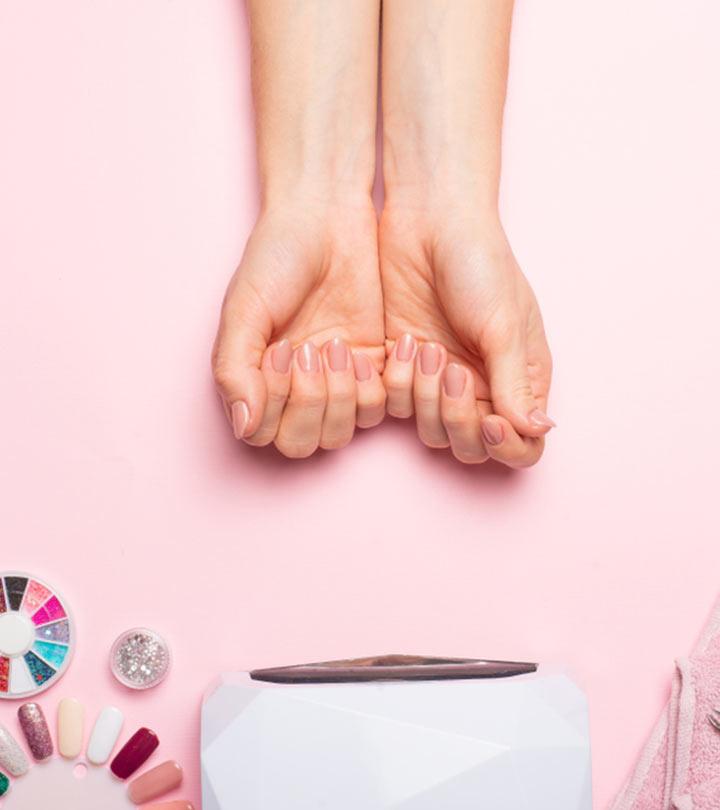 We love how fabulous our nails look after adding the acrylic touch to them. But these acrylic nails can leave your natural nails severely damaged. Luckily, we have compiled a list of the best nail strengtheners after acrylic nail removal that ensure your natural nails stay healthy and strong.
Your nails get damaged every day. Washing the dishes, biting and sanitizing your nails, drying nails under a UV lamp, and using glue-on nails and nail art stickers can weaken your nails. But there are nail strengthening creams, oils, and treatments that can protect and strengthen them. They contain beneficial ingredients like vitamin B5, vitamins A, C, and E, botanical extracts, proteins, and calcium that repair your nails and keep them from chipping and breaking. These ingredients also rehydrate dried nails and help the brittle nails grow. If you are unsure which strengthener to pick, scroll down and read up on the ones we have specially curated for you. There are some healthy vegan options and cost-effective alternatives too. Get ready to bring your nails back to their shiny, strong glory! Swipe up to learn more.
Top Picks
10 Best Nail Strengtheners For Healthy, Strong Nails:- 2023's Top Picks
If you've just removed your latest set of acrylic nails, this cream for nails after acrylic treatment is what you need to get your hands on. It restores moisture to your nails and strengthens them while also regulating growth. It also helps soften and condition cuticles and has a fresh coconut scent. The formula is infused with jojoba seed oil, beeswax, calcium, and vitamins A, C, D, and E to keep your nails moisturized and strengthened. What's more, this cream is cruelty-free and prevents your nails from chipping, peeling, and cracking. Click on the video to find the details of the Onyx Professional Hard as Hoof Nail Strengthening Cream.



Pros
Helps in nail growth and conditioning
Stops nails from chipping, peeling, and cracking
Enriched with jojoba seed oil, and calcium
Cruelty-free
Restores nails after damage from acrylics
Coconut scented
Cons
Formula may be slightly greasy for some
Price at the time of publication: $27.99
Say goodbye to damaged nails after acrylics with this liquid nail treatment for sensitive nails from OPI that will repair and restore your nails to their natural shine and matte finish. The OPI nail strengthener can be used as a base coat before applying polish or as a stand-alone topcoat without nail polish. It comes in 4 different neutral shades for an added tint of color to your nails while you strengthen them. The formula contains natural ingredients like vitamin E and Kukui nut oil to hydrate your nails and has added calcium and hydrolyzed wheat protein to help rebuild your damaged or brittle nails.
Pros
Restores and strengthens nails
Available in 4 neutral shades
Contains vitamin E and Kukui nut oil
Prevents peeling
Contains calcium and hydrolyzed wheat protein
Cons

Pro Tip
Apply as a base coat before applying nail polish or as a stand-alone topcoat without nail polish.

Price at the time of publication: $18.95
One of the best ways to transform your nails after acrylics is to pamper them with this nail strengthening cream. This overnight mask provides intensive nail care after acrylics for UV gel-damaged nails and renews them while you get your beauty sleep at night. Enriched with multivitamins and an overnight renewal complex, it breathes life back into dry, brittle nails. You can apply 2 coats on your bare nails before sleeping and wash them off the following day. For best results, use it consecutively for 3 nights.
Pros
Repairs UV gel damaged nails
See results overnight
Infused with multivitamins and overnight renewal complex
Affordable
Cons
Formula may form bubbles on nails
Price at the time of publication: $4.82
Another one of the best nail strengtheners after acrylics is Ella+Mila's liquid treatment that toughens and revives your thin and weakened nails. This is a 4-week long treatment that is sure to work wonders in strengthening your nails after being subjected to the harsh process of acrylic nails. If this wasn't all, this kit is enriched with vitamin E to rehydrate your nails and rescue them from peeling, splitting, and weakening. Another plus is that the product is vegan and cruelty-free along with being long-lasting, chip-resistant, and quick drying!
Pros
Helps repair thin, peeling, weak nails
Hydrating formula
Vegan and cruelty-free
Infused with vitamin E
Does not contain formaldehyde, toluene, formaldehyde resin, camphor, TPHP, etc.
Cons
May take a while to show results
Price at the time of publication: $10.49
To avoid any excess damage, soon after taking off acrylic nails, you can turn to Nail-Aid's Ceramide Extreme Thickener for healthy and strong nails. This treatment is enriched with ceramide and reinforces your nails against tearing and bending. The formula is quick-drying and has a plump gel finish. Your nails will be smooth and ridge-free after applying just 2 coats, and it is advised to use it every 3 days for long-lasting protection to prevent any further breakage or damage to your nails after acrylics. The video will give you a clear understanding of the results of applying the Nail Aid Ceramide Extreme Nail Thickener.
Pros
Rich in ceramides
Prevents bending and breaking
Plump gel finish
Smooth and ridge-free formula
Cons

Pro Tip
For longest-lasting protection of nails, apply this product as a base and a top coat, and apply another coat of the product every 3 days.

Price at the time of publication: $6.57
If you want the best nail care after acrylics, Nail Tek's Hydrate 4 is one of the best nail strengtheners after acrylic nails you can apply to rejuvenate your nails! This product is enriched with pentavitin, which helps prevent moisture loss, aid in nail growth and lock in moisture so nails are left hydrated. It also includes calcium and vitamins A and E for strengthened and hydrated nails. This is a 2-pack treatment that you can apply as either a base coat or a top coat to prevent your nails from cracking, splitting, and severe peeling. The formula is suitable for all nail types and is cruelty-free.
Pros
Infused with pentavitin
Contains calcium and vitamins A and E
Suitable for all nail types
Can be applied as either a base or top coat
Cruelty-free
Ideal for daily use
Cons
May contain formaldehyde
May not prevent ridges in nails
Price at the time of publication: $16
Probelle's nail strengthener is among the best nail strengtheners after acrylic nails, and you should check it out! Thanks to its transparent nitrocellulose-based formula enriched with hexanal vitamins B5 and C and AHAs, it gives your nails nutrition, moisture, and strength. This product can improve your nail texture and transform your chipped, peeling, or cracked nails back to their healthy form. Only one application is needed to renew your nails, and it can be used as either a top coat or a stand-alone polish to give your fingers a glossy finish.
Pros
Infused with hexanal and vitamins B5 and C
Only 1 coat needed
Repairs chipped, peeling, and cracked nails
Improves nail plate layer
Gives you a glossy shine finish
Cons
May have a slightly strong scent
Price at the time of publication: $9.98
ISDIN SI-NAILS Nail Strengthener Cuticle Serum Treatment is a highly effective nail and cuticle treatment that helps to restore and strengthen weak, brittle nails. The unique formulation contains hyaluronic acid, which helps to nourish and hydrate the nails and cuticles while providing long-lasting protection from external aggressors. The serum also contains silicon and calcium to help strengthen the nails and improve their elasticity. This product is easy to apply, and with regular use, you can expect to see healthier, stronger nails and cuticles in no time.
Pros
Easy to us
Quick absorbing
Protects against environmental damage
Fragrance-free
Cons
Contains alcohol and formaldehyde
Price at the time of publication: $32
If you are left with weak nails after acrylic nauls, you can look to alleviate the damage with a product no other than the Vitry Nail Repair Care Hardener. One of the best nail strengtheners after acrylic nails, this solution gives you stronger and more resistant nails if you have damaged nails after acrylics. The formula containing ethyl acetate and butyl acetate, leaves you with a shiny finish and protects your nails if they are brittle, thin, split, or soft. It can be used as a 2-week treatment or applied as a simple base coat before polish. Watch the video to find out if the Vitry nail repair care hardener actually work.
Pros
Shiny finish
Repairs brittle, weak nails
Gives you stronger and more resistant nails
2-week treatment or base coat
Cons
Price at the time of publication: $31.44
Last but certainly not least among the best nail strengtheners after acrylic nails, we have for you another one from Sally Hansen. It leaves brittle, weak nails hardened and strengthened, making it a must-have for brittle nails after acrylic gel nails. It leaves you with shiny, natural nails after just 1 coat and stimulates nail growth as well. You can use this as a base coat or as a stand-alone treatment for fragile, torn, chipped nails so you can toughen them up into hard, strong, shiny ones which won't break easily after the treatment.
Pros
Only 1 coat needed
No drying time
Strengthens and hardens brittle nails
Leaves you with shiny nails
Can be used as a stand-alone treatment or a base coat
Stimulates nail growth
Cons
Formula may form air bubbles
Price at the time of publication: $9.99
Now that we know of the 10 best nail strengtheners after acrylic nails, it's time to move to our buying guide to help you take better care of your nails.
How To Take Care Of Nails After Removing Acrylics
Here are some ways for strengthening nails after acrylics:
Your nails will likely grow even with acrylics on. While you may be tempted to keep them growing, it is essential to cut them off. Subjected to the difficult process of getting acrylics, most nails may already be weak and prone to chipping. Hence, it is better to cut them off and give them a new start.
Repairing nails after acrylics is an essential step but it is also often overlooked. Healing nails after acrylics requires products such as creams and oils that provide essential vitamins and nourishment to nails, so they remain strong and healthy. They also provide hydration and protect the cuticle to help prevent chipping and breaking.
While we may all get swept in the frenzy of beautifully shaped nails, we must maintain the nail's natural shape. Research shows that nails grow faster, healthier, and stronger when the natural form is maintained.
Infographic: Key Ingredients In Nail Strengtheners
Nail strengtheners are an essential part of any manicure or pedicure. They help protect the nails from damage and keep them looking beautiful for longer. There are many different types of nail strengtheners, each with its unique ingredients, so it is important to understand what they are to make an informed decision when purchasing one. Check out the infographic below for more information.

Your nails have to experience a lot of roughness as you wash hands, wash dishes, apply nail polishes and nail art, remove the polishes, and more. The damage is especially notable when you remove acrylic nails. Such nails require additional pampering to prevent nail breakage and chipping. It is essential to invest in the best nail strengtheners after acrylic nail removal to repair the damage. These nail strengtheners hydrate your nails, regulate nail growth, and strengthen your nails. In addition, some nail strengtheners provide a glossy finish and repair brittle nails. You can even use the nail strengtheners regularly to get healthier nails even if you are not doing any acrylic nail procedures.
Why Trust StyleCraze?
Kirtana Divakar is a product writer and a skin and hair care enthusiast. Due to her passion for nail art and grooming, she has combed many sites and forums for user comments and thoroughly examined the products to compile this list of the best nail strengtheners. These strengtheners come in lotions, oils, and treatments to preserve and protect nails damaged by acrylic nails. This list includes each product's specifications, a shopping guide, and answers to some common questions regarding the product.
Frequently Asked Questions
How long should you let your nails rest after acrylics?
It is recommended to let your nails rest naturally every 3 to 6 months after repeated use of acrylics so as to prevent maximum damage done to your nails.
Why do nails hurt after getting acrylics?
Acrylics harden and become firm around your nail when first applied so that they last long and don't break. This is why you may feel slightly uncomfortable after getting acrylics nails.
Is it bad to wear acrylic nails for a long time?
Yes, if you overstretch the amount of time you leave your acrylic nails on, it can leave your nails extremely weak and brittle. Your nails may chip, split and crack more easily and there will also be the problem of your real nails growing underneath that will require touch ups to your nails..
How do you rejuvenate your nails after acrylics?
Keep the nails in their natural shape and get regular manicures. You can also use cuticle oil and eat nutrient-dense foods to make your nails healthy.
Can you put nail strengtheners over acrylic nails?
Ideally, there is no benefit in using nail strengtheners over acrylic nails. Use them after removing acrylic nails to revive your natural nails.
Why are my nails so weak after taking off the acrylics?
Wearing acrylics for a long period of time can remove the moisture from your nails and make them fragile and dry.
Do acrylic nails ruin your nails?
Wearing acrylics does not necessarily damage your nails. It is the poor application and removal of the acrylics that can cause the actual damage. Plus, non-stop wearing of acrylic nails can also make your nails dry and brittle.
Why are my nails soft and bendy?
Overexposure to moisture and chemicals and deficiency of vitamins, iron, and zinc can cause soft nails.
What vitamin helps nails get stronger?
Biotin also known as Vitamin B7 or Vitamin H promotes cell growth and strengthens your fragile fingernails.
The following two tabs change content below.