9 Best Nail Ridge Fillers That Really Work – Top Picks Of 2022
A smooth and even nail base is the first step towards a nail paint job superbly done.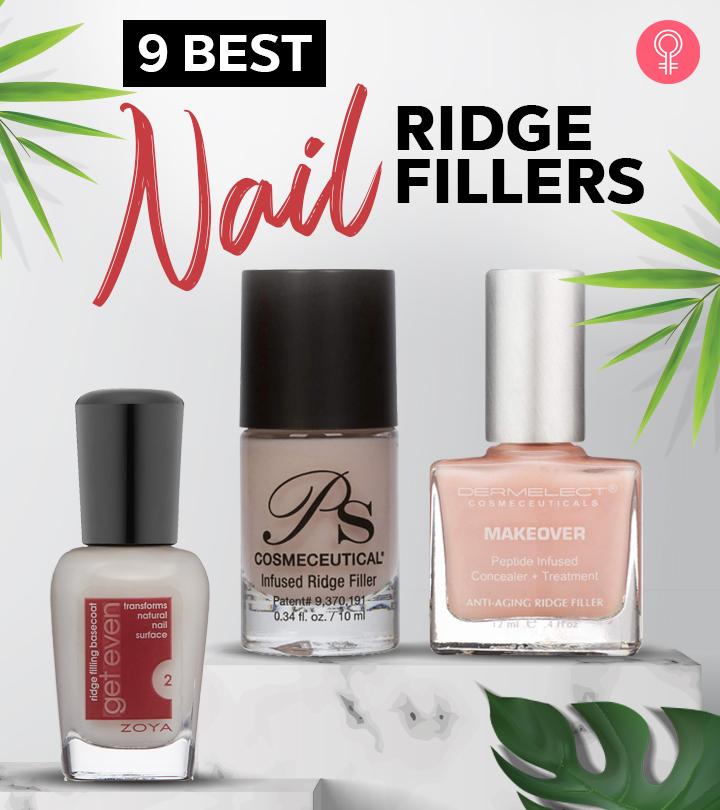 Ridged nails can look uncared for and unkempt. Fortunately, having the best nail ridge filler can help you solve this problem. Nail fillers serve as a foundation layer for your nails, filling in any ridges or blemishes. They can instantly revitalize the nail plate and make the surface smooth for easier, more uniform application of nail color. They also fortify your natural nails, promote flexibility, prevent chipping, and may lessen nail discoloration.
We have researched and created a list of the top 9 nail ridge fillers on the market right now in this article. Take a look at them below!
9 Best Nail Ridge Fillers Available Right Now
Nail Tek Foundation Xtra Ridge-Filling Base Coat is the best nail-strengthening base coat. It fills unsightly ridges and masks nail imperfections and damage while strengthening your natural nails. This base coat is a blend of natural fillers, micro-fibers, strengtheners, and conditioners. It helps smoothen out uneven nail surfaces, leave you with healthy-looking nails.
Pros
Strengthens the nails
Masks nail imperfections
Smoothens out uneven nail surfaces
Easy to use
Suitable for weak and damaged nails
Cons
Unpleasant fragrance
Peels off quickly
Dermelect Cosmeceuticals Makeover Ridge Filler Base Coat is a concealing ridge filler for fragile and weak nails. This peptide-infused shimmering pink base coat instantly fills ridges and strengthens weak and dehydrated nails. The keratin protein-peptide technology used in this nail ridge filler conceals imperfections and improves the appearance of unsightly nail ridges, yellow stains, and discoloration. It restores nail flexibility and helps resist the splitting and chipping of nails.
Pros
Hydrates the nails
Conceals nail imperfections
Suitable for fragile and weak nails
Strengthens weak and dehydrated nails
Extends the life of your manicure
Reduces the yellowing of nails
Cruelty-free
Cons
Mavala Ridge Filler is the best base coat to smoothen nail surfaces. It fills ridges and irregularities and evens out the nail surface. This ridge filler contains mattifying pigments that cover the rough fibers on the surface of your nails and smoothen out their surface. It provides a long-lasting manicure.
Pros
Smoothens the nail surface
Preventsnails from drying out
Long-lasting manicure
Prevents discoloration
Paraben-free
Formaldehyde-free
Toluene-free
Cons
Does not prevent chipping
ZOYA Get Even Ridge Filling Base Coat has an advanced formula. It acts as a protective barrier against chipping, moisture, and UV damage. This ridge-filling base coat evens out uneven nail ridges and holds nail polish in place. It smoothens uneven nail surfaces with a dense fiber-like formula that grips the nail plate and ensures a long-lasting manicure.
Pros
Evens out uneven nail ridges
Holds nail polish in place
Smoothening compound for natural nails
Long-lasting
Easy to use
Cons
Barielle Hydrating Ridge Filler is suitable for dry, brittle, and ridged nails. It is formulated with silk protein fibers that deeply moisturize the nails and enhance their growth. This hydrating ridge filler smoothens and hydrates unsightly nail ridges, leaving your nails strong and healthy. It is pregnancy-safe and formulated without formaldehyde, dibutyl phthalate, toluene, formaldehyde resin, triphenyl phosphate, xylene, or camphor.
Pros
Deeply moisturizes the nails
Treats dehydrated and ridge-filled nails
7-free formula
Pregnancy-safe
Easy to use
Cons
PS Cosmeceutical Infused Ridge Filler is a non-toxic ridge-filling base coat. Its special blend of plant stem cell complex and vitamins helps protect the nail plate from stains and discoloration. This natural ridge filler hydrates your nails while preventing brittleness and breakage. It contains a high concentration of minerals that fill nail ridges and hide imperfections and yellowing of nails. This nail foundation is formulated without formaldehyde or formaldehyde resins, toluene, hazardous phthalates, or camphor.
Pros
Long-lasting
Chip-resistant
Antifungal formula
Minimizes nail chipping
Reduces white spots
Non-staining
Hydratesthe nails
Easy to remove
Cons
None
Orly Ridgefiller Smoothing Basecoat is the best salon-quality base coat. It smoothens ridged nail surfaces and leaves a sparkling glow across your nails. This nail ridge filler is formulated with natural fillers, micro-fibers, conditioners, and strengtheners that instantly glide on your nails and offer long-lasting wear. It fills extremely deep ridges and conceals imperfections. It also offers smooth application, vibrant color intensity, and a perfect finish.
Pros
Long-lasting
Smoothens nail ridges
Fills extremely deep ridges
Conceals imperfections
Cons
None
Londontown Kur Fortifying Ridge Filler is the perfect ridge filler for your manicure. The formula of this fortifying ridge filler gently corrects any nail imperfections. It evens out the appearance of ridges and creates a smooth and even base for lacquer application. This ridge filler is formulated with a blend of natural vitamins and minerals that restore hydration to dry, thin, and brittle nails. Have a look at this video to learn more about the product.
Pros
Corrects nail imperfections
Provides a smooth and even finish
Restores hydration
Vegan
Paraben-free
Gluten-free
Cruelty-free
Cons
None
Christian Dior Diorlisse Ridge Nail Filler is highly recommended for casual wear. This pink nail ridge filler nourishes, whitens, and strengthens your nails. It smoothens the ridges and small imperfections on your nails and gives them a perfect finish. You can use it as a base coat or by itself for naturally nude nails.
Pros
Smoothens ridges
Masks nail imperfections
Nourishes the nails
Strengthens the natural nails
Cons
None
Why Trust StyleCraze?
The author, Oyendrila Kanjilal, is a certified skin care coach. She knows the ins and outs of skin care and breaks down the ingredients listed on the labels to get a complete, unbiased picture of the products. She has filtered the best nail ridge fillers by reading online reviews by users on various trusted platforms. These products work effectively, do not damage the nails, and make them look healthy and beautiful.
Frequently Asked Questions
Is there a nail polish that will fill ridges?
Yes, many nail care companies produce polishes that are best known for hiding ridges. They function like base coats and settle into the ridges to make your nails appear even and smooth.
How many coats of ridge filler should you use?
Use two coats of ridge filler to make your nails look even. You can use more if two coats do not serve enough. However, do not apply more than four coats of ridge filler at once.
Which goes first, ridge filler or base coat?
Ridge filler goes first. It settles into the ridges and lines in and around your nails. You can put on a base coat after filling your ridges.
Can I use ridge filler under gel polish?
Yes, if you use a transparent ridge filler, it can be used under a gel polish. Some ridge fillers also act as a base for gel manicures.
How do you get rid of ridges on your nails naturally?
You can get rid of ridges by moisturizing your nails frequently. Buff them gently and keep them neat. Also, quit picking at or biting your nails. Do not forget to keep your cuticles well-protected.
Can ridge filler damage nails?
While ridge fillers cover gaps on the edges of the nails, they can damage your nails if used too much, or the ingredients comprising the ridge filler are not skin-friendly. Avoid using ridge fillers with ingredients like formaldehyde or formalin.
How do you remove ridge fillers?
You can remove ridge fillers with nail polish removers. You can also use rubbing alcohol on soaked cotton to remove ridge fillers from your nails gently.
Recommended Articles