The 9 Best Acrylic Nail Powders For Salon-Quality Nails
Keep up with the Instagram trends and achieve artsy-looking nails at your home.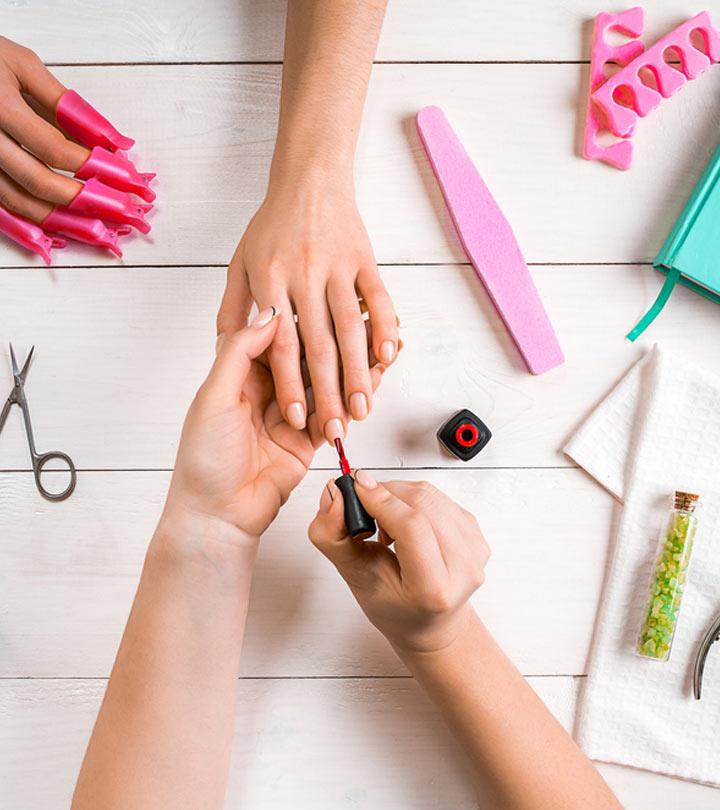 While you scroll through the Instagram reels, you surely often wonder where the bloggers get their nails from and then want to run to a salon. But, we would say don't burn your pockets at the salon; instead, grab some of the best acrylic nail powders. It won't cost you a fortune; you can play around with it in the comfort of your home and still get similar-looking salon-like professional results.
You don't have to be an expert to use acrylic nail powders. They are easy to use and do not require a salon visit to get professional-looking nails. With acrylic nail powders, you can get fancy-looking, artsy nails in just a few minutes. We have listed the 9 best acrylic nail powders for you to get those perfect acrylic nails that look beautiful and last long. Have a look!
The 9 Best Acrylic Nail Powders In 2023
Pros
Non-toxic and odor-free
Water-resistant
Resistant to chipping and cracking
Cons
It may take some time to dry.
Price at the time of publication: $7.99
Pros
Very affordable
Strong adhesion
It can last for over two weeks.
Cons
They may be prone to chipping.
Price at the time of publication: $14.41
Pros
Opaque coverage
Self-leveling, medium viscosity formula
Available in 19 different styles and 4 different sizes
Cons
The drying might take a few extra minutes.
Price at the time of publication: $15.54
Pros
Inexpensive
Scratch-resistant
It does not allow the nails to crystallize.
Cons
Might need extra filing to achieve the desired results.
Price at the time of publication: $6.99
Pros
Suitable for nail extension and nail carving
Suitable for all seasons
Does not require UV/LED curing
Cons
Price at the time of publication: $13.99
Pros
It is an ideal option for beginners.
It prevents yellowing or dulling.
It has great lasting power.
Cons
It might not last for a long duration.
Price at the time of publication: $9.65
Pros
Chip-resistant
It stays for 2-3 weeks without nail lamp curing.
It helps you keep your fingers healthy as it does not require any artificial nail lamps for drying.
Cons
The powder may be gritty.
Price at the time of publication: $10.19
Pros
Perfect for full-coverage
High-pigmented neon color
It has a smooth texture.
Cons
The color might change slightly after application
Price at the time of publication: $12.99
Pros
Prevents yellowing or dulling
Provide color clarity
Provides chip-resistant nails
Cons
Price at the time of publication: $9.99
That was our list of the 9 best acrylic powders for this year. If you are new to the concept of acrylic nail powder, then you probably want to know more about it and also how to choose the right one. Don't worry, we have your back! In addition to that, we will share some tips on how to use them too.
Things You Need To Know About Acrylic Nail Powder
Acrylic nail powder is one of the essential products when it comes to nail care or enhancements. Everything from creating 3D acrylic nail art to nail extensions, they make the process quick and easy. You don't have to be a nail expert because most of them are DIY acrylic nail powder.
Different types of acrylic nail powders: There are quite a few varieties of acrylic powder, ranging from different color variations, shimmer to glitters. But, they should ideally be selected by their particle size. If the particles are too small, they will be prone to cracking/chipping due to lack of strong adhesive properties. If they are too big, it could create a doughy-texture that does not dissolve well. So, having the right particle size will give the desired results.
A Guide To Buying The Best Acrylic Nail Powder
You spend a lot of time working on your nail art, but you also need quality products that will complement your artistry. If you don't choose the right ones, your nails might crack or chip in just a few days from application. So, here are a few pointers that you need to be aware of before buying any nail powder:
One of the important ingredients in acrylic nail powder is poly-ethyl methyl methacrylate (PMMA). They are usually mixed with monomer liquid that causes the PMMA to dry into a tough doughy texture. To avoid a tough texture and create a flexible nail, additional polymers are added to the powder. So, you have to choose the one that incorporates soft polymers along with PMMA.
Depending upon the material of nail powder, the drying time could vary. If you are a professional nail artist, you will probably prefer a powder that offers quick-drying for a speedy process and if you are new, you would probably need some extra time to get the perfect brush strokes before it dries.
Cheap quality nail powder might result in cracking or chipping in just a couple of days. So, you should be looking at products that offer strong adhesive properties to protect the nails from any kind of damage or falloffs.
Choosing the right color is all about your preference, style, or outfit. A lot of brands on this list offer colored acrylic nail powders, so you can choose the one that you like best. If that is too monotonous, go wild and select something completely opposite to create a contrast.
How To Apply Acrylic Powder
Here are the steps to apply acrylic nail powder:
Start by prepping your nails – remove any existing nail polish and clean it with acetone.
Push back the cuticles. Be gentle while pushing the cuticles back and make sure you don't apply a lot of pressure as it might damage the skin.
Remove the shine of the natural nail using a nail file.
If you are going to use an extension you can apply it now. Make sure it fits side to side and isn't too small or large as it might increase the chances of lifting.
Apply bond and primer to the nail bed.
Dip your brush into a monomer and wipe off the excess liquid. The liquid should only be at the tip of the brush.
Now, dip the brush into the acrylic powder jar and collect enough powder for the first brush stroke and wait for it to polymerize. Apply it all over the nail bed in a single bead application.
Sculpt the polymerized substance along the edge of the nails.
Let it dry for a few seconds.
Once dried completely, start filing the nail and trim them into the shape you want.
Finish it by applying a layer of top coat.
Now go and show off your nails!
How To Remove The Acrylic Powder
Here are the steps to remove acrylic nail powder:
Clip the acrylic nails to a short length.
Get rid of the top coat by filing it. Depending upon your preference, you can use an e-filer or a buffer.
Now, you have two options. You can either dip a cotton ball in the acetone solution and apply it on the nails and wrap it with foils for a few minutes or dip your fingers directly into the solution.
This should loosen the nails and come off easily. If it doesn't you can use a metal pusher to remove it.
Once done, buff away the leftovers particles and file the edges of the natural nail as needed.
You can apply some cuticle oil for rehydration purposes.
Why Trust StyleCraze?
Chaitra Krishnan, the author of this article, is a makeup and fashion enthusiast. She loves to try out various makeup products. She browsed online to check the user feedback and details to ensure the list of the best acrylic nail powder is ideal for you. These products come with strong adhesion and are chip- and scratch-resistant. In addition, they have a smooth texture.
Is nail dip powder the same as an acrylic powder?
Yes, both nail dip powder and acrylic powder are the same; they are just used differently.
What lasts longer: dip or acrylic?
They both last for nearly the same time, about 2-3 weeks.
What is the powder they use for acrylic nails?
Acrylic powder is combined with acrylic liquid for the nails.
Can I use water with acrylic powder?
It is advised to use an acrylic liquid which helps in sculpting the nail and drying it much faster than water.
How long do powder acrylic nails last before they fall off?
Powder acrylic nails last six to eight weeks, provided you visit a salon every two to three weeks to fill in the nail growth.