13 Best Holographic Nail Powders of 2023
Sprinkle magic on your fingertips with these organic, trendy, and stylish hues.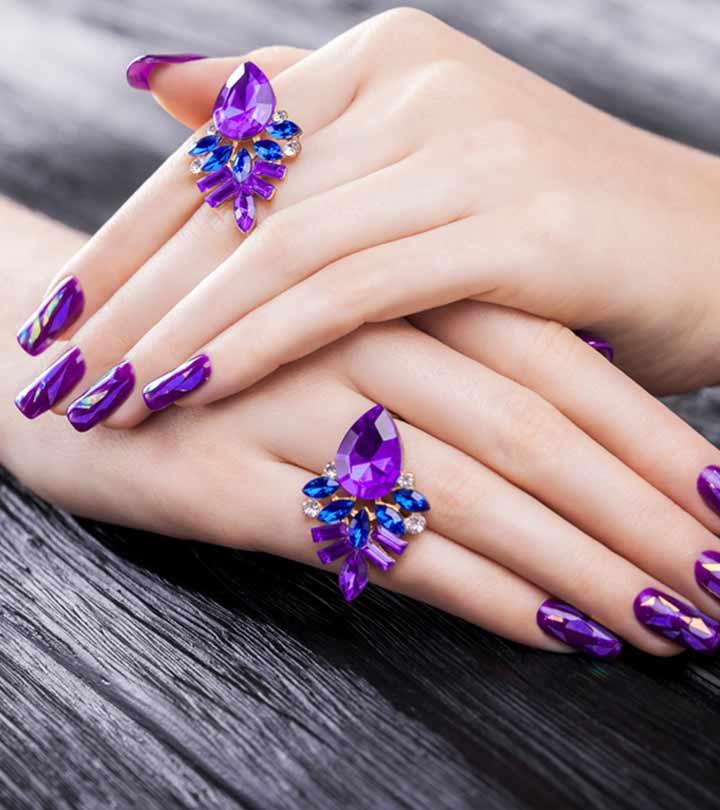 Life is way too short to be stuck with uninspiring nails. So, this year, treat yourself to more manicures, confidently dust on the best holographic powder you can afford, and get nails that excite you without going to the salon! Yes, even beginners can now get the beautiful holographic effects from within the comfort of their own homes. You don't have to run to the salon and spend a small fortune to achieve the mermaid, the chrome, or any of the fancy holographic effects that are trending so hard!
Now that there are a plethora of easy-to-use holographic powders available online in a variety of colors, you may simply DIY your favorite color with your favorite holographic effect at home as many times as you please! So, without further ado, check out the best 13 holographic nail powders on the market that can give you the coolest holographic nail art your heart desires. These powders are highly praised by uncountable reviewers on various forums. So, read on and grab your favorite.
13 Best Holographic Nail Powders of 2023
25 holographic manicures in one jar! iMethod Holographic Powder will save all those expensive salon trips and give you an iridescent glow in the comforts of your home. Made of ultra-fine, 35-micron salon-grade pigments, this iridescent nail powder contains real silver and can easily burnish on a no-wipe top coat. Delicate, and offering a striking smooth application, you'd be stunned to see how your nails go from boring to beautiful within minutes!
Pros
Guarantees 25 holographic manicures
Smooth and ultra-fine
Easy-to-apply
Burnish easily
Cost-effective
Long-lasting
Cons
Make your nails glittery and beautiful with the Hanzel Holographic Nail Powder.  The set has 12 ultra sparkling colors that go well on UV gel nails, acrylic nails, and natural nails. The holographic powder comes in tiny containers and has a smooth finish. You can use this powder on wet nail polish or mix it with your favorite nail shade and apply it to your nails for a unique effect. Many reviewers have claimed that this powder can also be used for body art or home decorations. The product is an affordable choice for those who want to experiment with vibrant nail art but are looking for a product that is light on the pockets too!
Pros
Non-toxic
Safe
Long-lasting
Easy to use
Multipurpose
Cons
No glitter, only 35-micron high-quality holo powder for you! The unique formula promises to deliver exceptional results with flawless finishing. This product can be applied smoothly and with a few good buffs, you will have radiating, beautiful rainbow nails at home. Also, they shine best against darker shades, making your Holo nails stand out, be it during the day or night. And you don't have to be a professional to DIY with these, as these holographic rainbow nail powder are easy-to-use and guarantee maximum color payoff in a small amount.
Georgia Smith, an experienced cosmetologist and beauty therapist, says, "This formula contains particles at 35 microns, which means the particles are tiny and there are ALOT of them, these reflective particles will catch the sun in all the right places and make your holographic nail dreams come through."
Pros
Genuine 35-micron powder
No glitter included
Smooth with a vibrant effect
Easy-to-use
Maximum color payoff
Cons
Mirror, Chameleon, Pearl, and Holo— Pamper your nails with 4 different types of holographic powders! Who said you have to go to the salon or be an expert to get those stunning holographic nails? This 4-powder set by Born Pretty is easy-to-use, adheres quickly, and offers a stronghold for days, making it an excellent choice. Use it with UV gel nail polish or your regular nail polish, to get a nice chameleon effect. Highly-pigmented and accentuating your gorgeous nails, you'll never want to go back to those boring nail polishes again.
Pros
Highly pigmented and smooth
Easy-to-use
Strong adhesion
Longwear
Versatile
Compatible with UV gel and regular polish
Cons
The Artdone Chrome Nail Powder highlights your dull-looking nails with its varied effects. The 35-micron powder is ultra-fine and coats your nails smoothly. The pack has a mix of aurora, chameleon, and chrome powders.  You can use these nail powders on gel nail polish or mix them directly with the nail polish and apply. The smooth texture of the powder promotes easy application and gives beautiful results on a base of white or black shade generally.
Pros
Attractive colors
Mirror effect
Easy to use
Smooth
Long-lasting
Cons
Getting a multi-chrome chameleon effect can't get easier than this! PrettyDiva Chameleon Chrome Nail Powder is made of the finest, smoothest, and high-quality ingredients that ensure supreme fluency and strong adhesion. Its microstructure, on the other hand, delivers a chameleon effect that looks so surreal under sunlight that people won't believe you've got your nails done at home. Also, no wipe coat is required to achieve the chrome effect. Try it to experience its vibrance!
Pros
Multi-chrome chameleon effect
Metallic finish
No wipe coat needed
Finer and high-quality
Smooth application
Strong adhesion
High fluency
Easy-to-use
Cons
Nail that gorgeous holographic effect with this non-grainy, non-toxic, and long-lasting chrome powder. Compatible with nail art and press-on nails, you need not be an expert to crack the exquisite glossy look. Made of ultra-fine salon-grade pigments, it does not contain aluminum, which means all that shine on your nails will be pure silver! This fine holographic powder is easy-to-use and ideal for those who love to experiment with stunning holographic nail polish looks and stay ahead in their nail game. No wonder it is one of the best holographic powders to try on.
Pros
Non-grainy texture
Ultra-fine, Non-toxic, and long-lasting
Made of real silver
Gloss finish
Effortless and smooth application
Compatible with press-on nails and nail art
Cons
More glittery than regular holographic powders
Dripping in elegance, the aurora or the mermaid effect truly transcends all nail trends. And now, with PrettyDiva Mermaid Chrome Nail Powder, you can get this holographic polish at home! Effortless and easy for beginners too, all you have to do is gently rub on this nail powder over a no-wipe top coat (and white base gel to get the aurora effect) and let it cure under the UV lamp till you get the desired look. Ultra-fine, super-pigmented, and with strong adhesion, with this best chrome nail powder, anyone can feel like a pretty diva.
Pros
Effortless application
Gentle rub-on powder
Salon-grade nail pigment
Super-fine and smooth
Adheres quickly
The quantity will last through many manicures.
Cons
Not very reflective
Expensive
Glitter squads, rise! This glitter powder set has not 1 or 2 but 12 glitter powders for you. Let your imagination run wild and create as many new nail trends as you like with this sparkling set, featuring numerous holographic colors, that is versatile enough to be used on hair, like makeup, and for other decorating purposes. Never used holographic nail glitter powder before? No problem, it's beginner-friendly and easy-to-use.
Pros
12-glitter powder set
Versatile
Easy-to-use
Beginner-friendly
Ideal for nail art and decorations
Cons
Glittery with bigger chunks
There is no such thing as too much glitter. And for all those who agree, here's a 12-in-1 set to satiate all your glitter fetish! Skin-friendly, environmental-friendly, no-smell, and easy-to-use, this glitter set will care for your nails while making you shine wherever you go. Featuring 12 different and highly-pigmented polish colors, it is pure indulgence for those who are into nail art, nail decorations, etc. and it can be used for makeup too. A nail-dust with limitless uses and long-lasting adhesion, there is no better way to get glittered than this.
Pros
Intense pigmentation
Skin-friendly glitter set
No-smell and easy-to-wear
Strong adhesion and long-lasting
Recycle-friendly product
Can be used for nail art and makeup
Cons
Light holographic effect
Not easy to remove
Get ready to wear confidence on your nails, for the reflective power of these chrome powders is no joke. 6-in-1 set, they are vibrant and bold enough to make a statement wherever you go. And if you want to add a fun element, these smooth and highly-pigmented colors can be used to create a bubble effect too! Besides letting you enjoy the best of both the mirror and bubble worlds, you also get one sponge stick with every jar to make the whole application process easy and effortlessly cover your entire nail bed in one go. What's more? This set is free from harmful ingredients! Plus it is vegan and free of animal testing, so you can enjoy a guilt-free experience.
Pros
Highly-pigmented
Strong, bold, and vibrant effect
Long-lasting
Every jar includes 1 sponge stick
Smooth and effortless application
Cons
So classy, you won't stop staring! Wenida Nail Powder along with having 100% pure synthetic resin powder in its non-grainy texture, it also has a drop of unmatchable finesse! All thanks to the mirror and chameleon effect it delivers. The 8-in-1 set nail dust also comes with 8 false nails and a silicone nail brush for beginners to practice. Non-toxic, long-lasting, and smooth like butter, it's compatible with nail art, press-on nails, gel nails, acrylic nails, etc.
Pros
Ultra-fine, intense pigmentation
Non-toxic and long-lasting
Smooth and non-grainy texture
Suitable for all types of nails
Delivers chameleon and mirror effect
Cons
For all those who love to mix-match two or more shades at once, this set belongs to you. With 22 different nail powders in one, your nails will always be prepared to make a stunning statement. Call it a pamper set if you like, but while promising a vibrant glow, they are also super-smooth, non-grainy, and will last through several mirror-effect manicures. Compatible with mostly all nail color bases, and suitable to apply on all nail extensions, the set also includes an eye shadow applicator for easy application.
Pros
Ideal for mirror-effect manicure
Intense pigmentation
Non-grainy and smooth texture
Compatible with all nail color bases
Long-lasting set
Cons
It may not deliver full coverage.
*The prices provided in this article are based on the latest available information. However, they may vary due to changes in pricing by the seller and/or promotional offers.
There you go, that's all the TLC you need to dress up your nails this year! Still not sure which holographic nail powder to choose? Our buying guide can help:
Buying Guide For Holographic Nail Powder
How To Choose The Best Holographic Nail Powder?
Look out for the following features while picking a holographic powder:
Ingredient – Pick a nail powder that is made of 100% real silver with 35 microns to get the desired chrome, holographic, or mermaid effect. If you have sensitive skin and brittle nails, go for powders infused with dermatologist-tested and premium ingredients to avoid allergic reactions. sensitive skin and brittle nails, go for powders infused with dermatologist-tested ingredients to avoid allergic reactions.
Texture – The holographic effect is all about a smooth surface reflecting a metallic glow. So, naturally the powder should have an ultra-fine and non-grainy texture.
Adhesion – The powder should have a strong holding power to last long.
Compatibility – Check if it is compatible with false nails and nail design/art in case you want to explore.
Pigmentation – If you are opting for a colored holographic nail powder, pick the ones that are intense or give off the maximum color payoff.
User-friendly – The nail powder should be DIY-friendly and should burnish easily.
How To Apply Holographic Nail Powder?
Here is a step-by-step guide on how to apply holographic nail powder:
Apply a color coat or base of your choice.
After you have cured the coat, dip an eyeshadow sponge or stick in the nail powder and use the buffing motion to apply the powder to the nail.
Spread it in all areas and avoid buffing in one area continuously.
Remove the excess powder.
After you are satisfied with the coverage, apply a top coat and cure it under the UV light.
Why Trust StyleCraze?
Srijani Roy Chowdhury, the author of this article, is a makeup enthusiast. She loves experimenting with various nail shades. After trying out many colorful shades, she has compiled a list of the best holographic nail powders out there that can jazz up your nail color in a jiffy. They are affordable, easy to use, and save you the energy of going to the nail salon.
Frequently Asked Questions
Can You Use Holographic Powder On Dip Nails?
Yes, you can use holographic powder instead of holographic dip powder on dip nails. But first, apply a no-wipe topcoat or base coat before buffing on the powder. After the buffing, you can skip the activator and go for no-wipe gel or topcoat.
How Do You Apply Holographic Nail Powder Without Gel?
To apply without gel, you need the right base coat and assorted color (top coat) that allows the nail powder to adhere. If you have the right base, you can easily get the desired look without any hassle.
Can You Use Holographic Powder On Normal Nail Polish?
Yes, you can. All you need to do is apply a clear coat after following the regular nail polish steps. Make sure the clear coat has a strong adherence. Let it dry for a minute and the nail bed is all yours to add the holo!
How long does holographic nail powder last?
The holographic nail powder lasts for about four weeks.
Recommended Articles