13 Best Face Mask Brushes & Applicators For Facial 2023
Enjoy a glowing finish with suitable brushes that evenly glide on your face.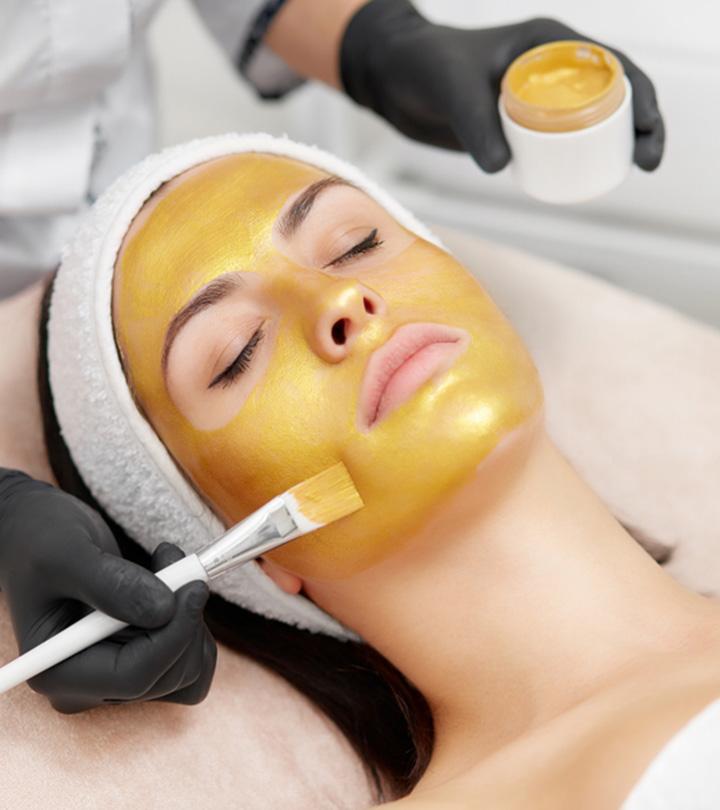 If you desire clean, healthy, and moisturized skin after masking, you must get your hands on the best face mask brush. We all know that a face mask can be a great addition to your beauty routine. Facial masks can help remove excess oil, moisturize the face, and improve the appearance of the skin. And when you have the necessary tools (read: a face mask and a face mask brush) on hand, you don't need to go to a spa to apply masks anymore.
While using your fingers to apply a mask, sticking your fingers in the jar can contaminate the entire product and be quite unhygienic and wasteful. Thus, mask brushes are a much better alternative! We have compiled a list of the best mask applicators and brushes to help you with a hygienic and mess-free application. Keep scrolling!
Top 13 Best Face Mask Brushes Reviewed In 2023
For those who have skin prone to irritation and discomfort, these brushes will work as a perfect solution for applying facial masks. This soft silicone brush smoothly glides through the sharp edges of your face and applies the mask evenly on the face and neck. This face mask brush applies thin layers of the mask so you can use it for applying clay masks, peel-off masks and other skincare products.
Pros
Suitable for sensitive skin
Comes in a pack of 2
Easy to clean and maintain
Convenient to hold
Cons
The brush handle is loose fitted.
Price at the time of publication: $4.39
Nothing works as smoothly as a subtle brush for applying different types of face masks. This perfect applicator will impress you with its soft synthetic bristles that hold enough mask solution and easily apply the product on your skin. The tiny and smooth bristles will reach the hard-to-reach areas like around the eyes and nose smoothly. Plus, the brush comes in an independent pack for proper storage.
Pros
Suitable for masks, peels, serums, and oils
Transparent high-grip rod with a golden head
Convenient size and compact
Easily mixes powder-based masks
Cons
The bristles may fall apart.
Price at the time of publication: $8.19
The silicone face mask skincare brushes with a curved design are engineered to easily reach each and every area of your face. This fluffy and curved brush can be used to apply thin coats of a mask, serum, or gel to the skin in a hassle-free manner. The brush head is soft and hygienic and is also suitable for sensitive skin.
Pros
Durable and sturdy design
Easy application
Minimal product waste
Comes in a set of 2
Contours perfectly
Cons
Not suitable for thick masks
Price at the time of publication: $4.89
If you are looking for a complete face mask and mixing bowl set, this product comes at a reasonable price and offers great value. This silicone applicator brush for a face mask is smooth and feel gentle on the skin while the stick spatula can be used for mixing the mask in the given mixing bowl. For a completely hygienic and safe mask preparation and application, this is an ideal face mask set you can choose.
Pros
Compact set that can fit in a small bag
Mess-free mixing and application
Easy to clean with water and doesn't stain.
Skin-friendly brushes made of food-grade silicone.
Cons
You may not find it sturdy.
Price at the time of publication: $3.8
This set of soft and luxurious face mask applicators features two different types of applicators to apply modeling masks, peel off masks, serums, oils, and body lotion effortlessly. Unlike the hairbrushes, these applicators will not soak up your products and will gently apply it to your skin while minimizing waste. These two applicators are great for covering sensitive and small areas of your face effectively.
Pros
Easy to clean and dry
Fluid-resistant silicone surface
Perfect for all skin types
Features perfect density
Sturdy and lasting product
Cons
Bristles may get loose after some time.
Price at the time of publication: $6.99
This teeny-tiny smooth face mask brush and applicator is specially designed to make product application easier and comfortable. The brush features super-smooth bristles and works well with dead sea mud masks, charcoal and clay masks, various serums, and products that are hard to hold. This organic face mask brush has a sturdy and durable wooden handle with shiny and smooth synthetic bristles for a rich finish. Plus, it can also be used as a kabuki or foundation brush.
Pros
Mix the mask quickly
Cruelty-free product
Washable and reusable
Offers even coverage
Quickly spreads the mask around the eyebrow, eyes, and nose.
Cons
Due to the small size, some may find it difficult to hold.
Price at the time of publication: $12.99
Here is a complete facemask mixing tool kit that comes with a mixing bowl, 2 face mask silicone brushes, a stick spatula, a wet puff, a spray bottle, 3 measuring spoons, and a soaking bottle. This kit consists of all the tools you need for a DIY face spa face mask session. The kit is made using high-quality silicone and is compact, so you can easily carry it in your travel bag.
Pros
Silicone and soft brush for masks with different consistencies
Made using soft silicone fur
Skin-friendly
3 measuring spoons for preparing masks conveniently
Easy to clean and store
Cons
The silicone set may have a strong odor.
Price at the time of publication: $6.99
This compact jelly brush is engineered like a small spatula that evenly spreads the product without soaking or wasting it. The brush is compact and acquires little space in your bag so you can carry it anywhere while traveling. You can use the spatula end to scoop any kind of mask and apply it all over your face within minutes. The best thing about this high quality face mask brush is that it is cruelty-free and gluten-free.
Pros
Hygienic and easy to clean with running water
Safe and Ideal for all skin types
Free from parabens and phthalates
Wedge-shaped design that works like a brush
Works for masks of clay and jelly-consistency
Cons
Some may find it very small.
Price at the time of publication: $8.0
If you and your friends often gather for a mini-spa treatment at your home, this set of 2 silicone brushes will spice up your special spa session. The set of 2 silicone face mask brushes with a spatula and a bowl holds an optimal amount of product and applies it evenly on the face and neck. Especially if you want the mess-free and easy application, use these brushes with a sturdy handle and wide front that spreads the mask firmly on the skin. Plus, you also get 3 gauges and a cute makeup headband with the set.
Pros
Stain-resistant brush
Easy to clean with water and soap
Compact and travel friendly
Offers great value at a given price.
Bristle free brush so your mask won't get stuck.
Cons
The edges are flat, so some may find it hard to use.
Price at the time of publication: $9.99
This dual-sided brush is an ideal pick if you use your face mask brush to apply face masks. The brush features two applicators that can be used to apply masks of different consistencies. If you want to apply a thick clay or charcoal mask to broad areas, switch to the silicone applicator, and if you wish to apply multiple layers of a thin mask, pick the brush with nylon bristles for complete coverage.
Pros
Easily mixes and applies the mask
Soft and hygienic tool
Easy to clean with soap and warm water
Durable and sturdy construction
Soft bristles will easily reach hard-to-reach areas.
Cons
Bristles of the brush may come off after prolonged use.
Price at the time of publication: $4.99
This is the right kind of brush you need if you apply different kinds of masks on your face. The silicone spatula style brush is ideal for hassle-free application. Whether you choose a clay mask or a mask with chalky consistency, this spatula will hold any product without spilling and will apply it evenly on your skin. The pore cleansing brush can easily clear pores and removes dirt from the skin while leaving your skin flawless. You can check this video out if you need to know more about the product.
Pros
Cruelty-free product
Unique and functional design
Safe to use on sensitive skin
Easy-to-clean
It can be used to apply foundation and masks.
Cons
You may find it a little thin.
Price at the time of publication: $6.0
This is a face mask brush designed for effortless mask application. The brush features a silicone wedge that is strong and can be used to mix and apply thick masks. Plus, it comes with a spot treatment brush that can be used to apply the mask around the eyes and nose. The silicone brush is also capable of withstanding chemical peels and hot wax-based products so you can use it for applying peels, serums, and makeup too.
Pros
Heat and cold resistant
Sanitary, washable, and reusable
Ideal for sensitive or acne-prone skin
Set of 3 brushes available in 2 colors
Great for all skin treatments
Ensures even distribution of mask
Cons
You may find edges a little flat.
Price at the time of publication: $7.77
There's nothing more amazing than hydrating your skin with a rich nourishing face mask. This silicone face mask brush will help you rejuvenate your skin. This face mask brush kit comes with two brushes. The silicone brush is ideal for mixing and applying thick mud masks, while the second brush with soft bristles is designed to reach the delicate area of your face.
Pros
Curved brush to reach difficult areas
Smooth synthetic bristles
Ideal for applying face masks and makeup
Compact and travel-friendly brushes
Cons
Plastic handles may be delicate to you.
Price at the time of publication: $8.99
Now that we know some of the trending face mask brushes available, let's have a look at some buying guide points:
What Kind Of Brush Should You Choose To Put On A Face Mask?
Choosing the right brush to apply a face mask is crucial if you want to apply the mask hygienically. Pick a brush with synthetic bristles or a silicone spatula style brush. These kinds of brushes hold the product without soaking it and make it easy to apply the mask evenly on the skin. These brushes are also easy-to-clean and are gentle on every skin type.
What Is The Best Way To Apply A Face Mask?
To apply the face mask evenly and hygienically, pour the mask in a mixing bowl, and mix the product with water if needed. Use a spatula or blending brush to mix the mask and apply a layer of mask on your face. Avoid applying the mask on the lips, eyebrows, and eyes and cover the surrounding areas using a brush. Apply a second layer if needed. Keep the mask for the time mentioned in the instructions and rinse with cold or lukewarm water.
How To Clean Face Mask Brush?
Face mask brushes made using silicone are very easy to clean. The brushes with soft bristles may need a thorough cleaning where the spatula-style brushes can be cleaned under running water. You can use lukewarm water with soap to clean the brushes and place it aside for drying. To keep your brush bacteria-free, you can soak the brush in rubbing alcohol for a minute and rinse the alcohol. Let the brush towel or air dry. You can perform this cleaning ritual to remove any bacteria from the brush.
Why Trust Stylecraze
The author of this article, Chaitra Krishnan, is an ardent makeup lover who is always on the lookout for products that keep your skin moisturized, clean, and healthy. Facial masks are great for your skin health and must be incorporated into your routine to improve the appearance of your skin. But, constantly putting your fingers in your jar can contaminate the product. To avoid that, she has listed some of the best face mask brushes available on the market. These durable brushes are easy to clean and maintain.
Frequently Asked Questions
Is it better to apply face masks with a brush?
It is always recommended to apply a face mask with a brush because your fingers and hands may consist of bacteria that can transfer to your facial skin and cause acne, irritation, and other skin issues. When you use a brush to apply a mask, the mask's chances of getting contaminated reduces, and you can hygienically apply it.
Why do face masks work better with a brush?
The face masks work better with a brush as the brushes are capable of holding the right amount of product without soaking the product. Plus, the spatula style or bristle brushes can reach the smaller areas of the face and evenly spread the product without creating a mess.
Why should you use a mask brush?
Many of us are habitual of using fingers instead of a brush to apply the face mask. The practice of using a facial brush is mess-free and more hygienic. Fingers sometimes get contaminated, which may cause the unsafe application of the face mask. So, it's better to apply face masks with brushes.
How do I know which exfoliators to use with my facial spin brush?
Exfoliators like scrub are the main key for glowing and vibrant skin. Removing dead skin cells through an exfoliator is the basic need for a skin cleaning regime. Hence, know your skin type and choose the best exfoliator as per the need of your skin.
Can you use a makeup brush for face masks?
Yes, you can use a clean foundation brush to apply face masks. It helps in even application of a face pack around the face.
Can I use a silicone face mask brush every day?
Yes, silicone brushes are safe for daily use. They are hygienic, resistant to bacterial buildup, and easy to clean.
Recommended Articles