Get Rid Of Milia With These Skin Care Products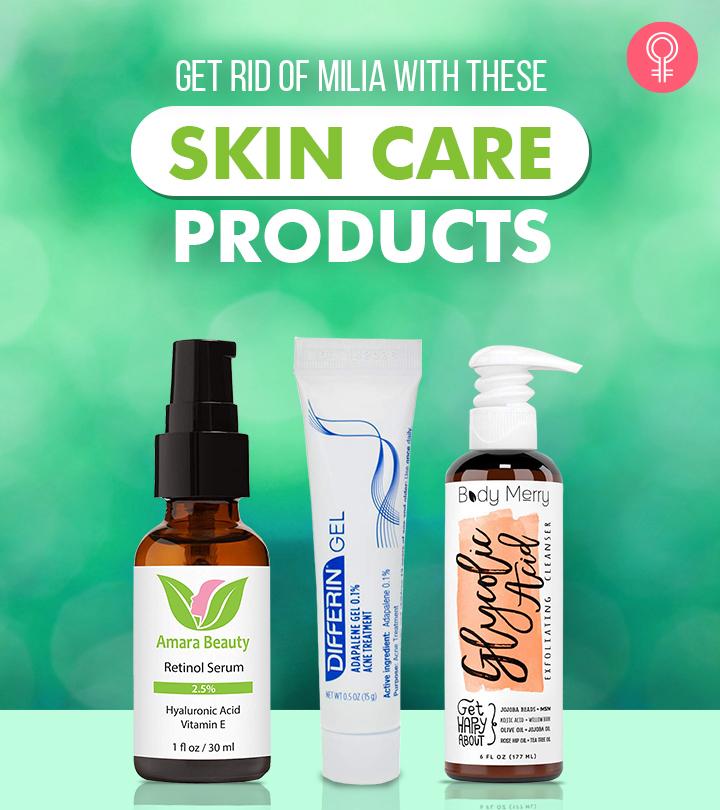 Have you ever noticed whiteheads-like bumps around the nose and eyes? These tiny skin-colored particles or bumps are made of keratin protein, which gets trapped underneath a skin layer. These are sort of dead skin cells that have not been removed in a long time and are called milia. Well, you can't treat them with any regular skincare product. To get rid of them, you need to invest in suitable products that are designed to treat those bumps. To make things easy for you, we have shortlisted some best skincare products to treat milia effectively and safely. Check them out!
9 Best Skin Care Products For Milia
The Diva Stuff Milia Treatment Set provides the ultimate solution for milia. This kit contains a face scrub and cream infused with salicylic acid that exfoliates the skin and clears the pores. The retinol liposomes in the formula prevent the occurrence of milia, and sandalwood eliminates excess oil and dead skin cells. Olive squalene promotes brighter and soft skin. This treatment contains a blend of other skin-protecting and nourishing ingredients, such as lemon oil, fruit acids, tea tree oil, evening primrose oil, aloe oil, and lactic acid.
Pros
Smells good
Aluminum-free
Paraben-free
Cruelty-free
Cons
 This milia spot treatment from Diva Stuff contains salicylic acid that effectively exfoliates the skin and clears the skin pores. It also contains retinol liposomes to open the milia and prevent their reoccurrence. This milia treatment pen contains several skin-nourishing and protecting ingredients like sandalwood to prevent excess oil and dead skin cells and olive squalane to brighten and soften the skin.
Pros
Easy to apply
Aluminum-free
Paraben-free
Cruelty-free
Cons
May cause a burning sensation.
Beautlex's Lancet for Facial Milia works great to get rid of milia, whiteheads, blackheads, pimples, and zits from any part of the body. This lancet extraction tool comes with a small needle on one side to poke a tiny hole and a wire loop on the other to extract the pus and oily plug. This dermatologically approved extractor removes stubborn milia and has a comfortable grip. It is made from lightweight, stainless steel and can be sterilized anytime you want.
Pros
Dermatologically approved
Durable
Comfortable grip
Lightweight
Rust-free
Comes with a leather case
Cons
Can cause inflammation or irritation.
This Total Skin Tag Remover from Dabida has an herbal, chemical-free formula to eliminate skin tags painlessly without melting or burning. It works by drying out the tag or milia while naturally shrinking it to fall off during showering or otherwise. The Korean formula contains a blend of premium natural ingredients like thuja that helps in skin recovery, Centellato deeply moisturizes the skin, and madecato soothes the skin and promotes elasticity. It eliminates tags or milia from the root to provide permanent and lasting results.
Pros
Chemical-free
No scarring
Vegan
Cruelty-free
Cons
The Paula's Choice Skin Perfecting BHA 9 Spot Treatment offers a one-stop solution for blackheads, red bumps, clogged pores, milia, and acne-related concerns. The super-concentrated formula is enriched with 9% BHA to deliver impressive results overnight. IT is suitable for all skin types and helps reduce wrinkles and breakouts. The oat and sea whip extract in the formula calm redness and sensitivity, while arginine and glycerin restore the moisture barrier to hydrate the skin.
Pros
For all skin types
Unscented
Prevents redness
Paraben-free
Cruelty-free
Cons
 Body Merry's Glycolic Acid Exfoliating Cleanser is formulated with 2.5% glycolic acid and ingredients like jojoba beads and willow bark that eliminate dead skin cells and unclog pores by removing dirt, oil, and buildup. It contains olive oil, kojic acid, tea tree oil, and rosehip oil that deeply penetrate the skin to eliminate impurities. This gentle face wash not only cleanses the skin but also eliminates milia, dark spots, age spots, sun spots, acne scars, fine lines, and wrinkles. It also rejuvenates and brightens the skin.
Pros
Non-drying
For all skin types
Cruelty-free
Removes makeup
Cons
Watery consistency
May cause itching.
 The Glycolic Acid Treatment Pads from Glycolix Elite have a moisturizing and exfoliating formula to remove oil and other impurities from the skin. These easy-to-use treatment pads shrink the pore size, tighten the skin, and even out the skin tone. They are infused with green tea, vitamins A, C, and E, and CoQ10 to nourish and protect the skin from free radicals. The presence of glycolic acid helps treat milia, acne, age spots, wrinkles, and fine lines to reveal bright, smooth skin.
Pros
Non-comedogenic
Dermatologist-tested
Alcohol-free
Fragrance-free
Paraben-free
 Cons
Sticky
Expensive
Causes a tingling sensation.
 The Differin Gel has a water-based, non-comedogenic formula to visibly reduce acne lesions and problems like milia while restoring the skin and enhancing its texture. This treatment works by stimulating cell turnover to target issues like inflammation, clogged pores, and causes of acne. The mild and cool formula is gentle on the skin.
 Pros
on-comedogenic
Prevents hyperpigmentation
Alcohol-free
Oil-free
Fragrance-free
 Cons
May cause rashes and dryness.
This retinol serum from Amara Beauty is an ideal choice to achieve brighter, tighter, clearer, and smoother skin. This dermatologically tested serum contains retinol that helps diminish wrinkles, fine lines, and age spots over time while also treating issues like milia. It unclogs and shrinks the pores and eliminates dead skin cells. The serum contains hyaluronic acid, green tea, organic jojoba oil, and vitamin E to protect and nourish the skin without irritating it. It is safe to be used around the eyes and contains only superior quality additives.
Pros
For all skin types
Fragrance-free
Dye-free
No artificial colorants
Paraben-free
Chemical-free
Cruelty-free
Cons
 That was our round-up of the best skincare products for milia. They also improve skin tone and reduce skin concerns like acne, fine lines, and wrinkles. Pick the one best suited for your skin issues and order it now!
Frequently Asked Questions
Can you remove milia yourself?
Yes, you can remove milia by yourself with a suitable non-surgical treatment.
Can moisturizer cause milia?
Selecting and using the wrong or heavy moisturizer can cause milia. It can also occur if you use a body moisturizer on your face.
Can milia be permanent?
Milia can last from weeks to months. In some cases, it can be permanent too.
Can milia grow bigger?
Milia are often small and can grow up to 2mm.
 Recommended Articles