10 Best Emu Oils For Hair Growth In 2023, According To A Hairstylist
Avoid hair fall and breakage with these moisture-boosting and hair-regrowing oils.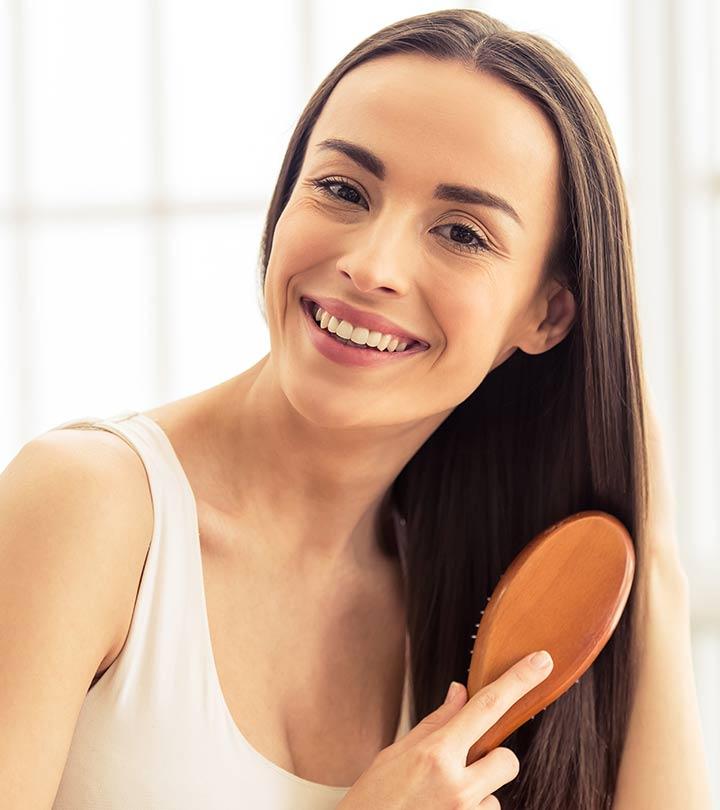 Do you see your hair falling like water from a waterfall? You are not alone. Dry and damaged hair can be a heartbreaker and cause stress and anxiety. But don't you stress about your tresses, as the best emu oils of 2023 are here to save the day! Known for their hair-building and moisture-boosting ingredients, they have been used in the beauty industry to treat hair damage. In fact, many experts use this in the regrowth of your hair as well. If these reasons make you want to buy one, we couldn't agree more! We have curated a list of emu hair oils available in the market to choose from.
What Is Emu Oil Good For
Pure Emu Oil packs all the rich nutrients, fatty acids, and essential minerals that your hair needs to replenish and grow. Ideal for restorative care of damaged hair, split ends, dryness, itchy scalp, and more, there's nothing this oil cannot repair. Making hair, healthier, shinier, and damage-free with its remarkable benefits, this is the oil to choose if you want to give your hair a makeover.
How Will Emu Oil Benefit Your Hair
There are so many ways Emu oil can benefit you if you have dull or damaged hair. Some of them include:
It nourishes dry hair by increasing the level of hydration
Repairs and strengthens coarse, dull, and chemically-treated hair
Brings back the natural shine and bounce
Nourishes roots and adds volume to hair
Eliminates, itchiness, dryness, and dandruff
Makes hair more manageable
Let us see how this oil must be used.
How To Use Emu Oil For Hair Growth
The process is simple and similar to when you apply coconut oil on your scalp and hair.
Step 1 – Pour out the amount of oil you will need for the massage. This depends on whether you want to apply it only on the scalp or along the length of your hair.
Step 2 – Gently massage the oil on the scalp, moving in circulation motion. Make sure the oil has spread evenly on the scalp.
Step 3 – Since Emu oil is light and non-greasy, it quickly absorbs into the skin. You can wash it off after 30-45 minutes. However, some people prefer to keep it overnight for deep conditioning and wash it the next day.
Now, if you are wondering which brand you should start with, scroll on as we have collated the 10 best Emu oils for you. Read on to know more!
10 Best Emu Oils For Hair Growth
Are you keeping your hair confined in the twist and turns of hair ties? They don't deserve it and nor do you! Let your hair free with 100% pure InstaNatural Emu Oil. Boosting the level of hydration, the oil penetrates the hair follicles and scalp to provide intense nourishment. This Emu oil for hair texture helps to make them soft, shinier, and healthier than before, we bet you'll never want to let go of this wonder product. This video review of the tester's experience will help you understand more about the product.
Pros
Offers deep hydration and nourishment
Replenishes hair texture
Eliminates scalp itchiness
Not tested on animals
Cons
Not effective for severe hair loss problems
This is a multi-purpose moisturizer that is formulated for hair and skin! We fail to realize, but dry hair is the sign of a lack of essential nutrients and moisture. This Emu oil for split ends is odorless and enriching oil from Naturals New Zealand works on your hair to rejuvenate and replenish it. Highly recommended if you have split ends, dryness, and want to boost hair growth and improve scalp health. It can also be used as a leave-in conditioner. If you are still unsure, check out this honest review of the reviewer's experience of using the product.
Pros
100% natural oil
Hypoallergenic
Odorless and hydrating
It can be used as a leave-in conditioner
Cons
The oil has a thick consistency
Your hair is precious. Give it a treatment of a lifetime by choosing the oil that is composed of superior-quality ingredients and triple-refined. Pro Emu Oil has a clear goal – its rich, unsaturated fatty acids penetrate the hair and increase the moisture level of your hair. This Emu oil for dry hair is guaranteed to be all-natural and tested by the AOCS (American Oil Chemist Society), this emu oil treatment has several people going for the second bottle because of positive results. So if you think there's nothing out there for your dry and dull hair, well, you haven't tried Pro Emu Oil yet!
Pros
Triple-refined
Aids in eliminating dull and dry hair
Rejuvenates from the roots
Cons
Not recommended for those who are sensitive to strong fragrances
The Cocojojo Australian Emu Oil is refined and impurity-free. It is rich in omega 3, 6, and 9 fatty acids. This Emu oil product restores hair moisture and conditions dry, damaged hair. You can use it directly from the bottle or mix it with a carrier oil, hair mask, conditioner, or other hair care products. The Emu oil for hair thickness is rich in antioxidants and nourishing ingredients, and it restores hair health while making your tresses stronger and shinier.
Pros
Long-lasting results
Moisturizing formula
Adds shine
Soothes itchy scalp
Cons
None
This Emu Oil by Leven Rose, promises a soothing and healing treatment for your hair. With no paraben, sulfate additives, or any other harsh chemicals, this formula is pure and works like a charm on your hair. This Emu oil for hair growth helps to nourish the roots with essential fatty acids that promote hair growth, it also has linolenic acid and oleic acid that accelerates the healing effect. Packaged in an easy-to-use bottle with a dropper, this brand is a frontrunner when it comes to delivering what it promises!
Pros
It nourishes and heals the roots
Accelerates hair growth
It contains essential fatty acids like Omega 3, 6 and 9
Free from paraben, sulfates, and other harmful chemicals
Free from animal testing
Cons
Oils are great for treatments, but this one takes it to a whole new level! A light massage on the scalp and roots using Emu Oil by Artizen, will not only benefit your hair but also help release stress. This brand guarantees a pure, concentrated mixture of natural oil without any dilution or adulterants. So if you are struggling with a bad hair day phase, this Emu oil for frizzy hair will help get restore the natural shine and volume. According to reviews, this product works well on sensitive scalp and does not cause breakouts.
Pros
100% pure and concentrated oil
No adulteration or dilution
Good for coarse hair
Promotes hair growth
Cons
Thick consistency
Strong fragrance
This blend of shea butter, lavender oil, virgin coconut, pumpkin seeds along with other nourishing extracts, is here to bring back happy hair days! This Emu oil for damaged hair instantly softens dry hair, eliminates dandruff, scalp itchiness, and restores elasticity too. All in all, it is the ultimate food therapy to repair, revitalize, and replenish damaged hair. This brand guarantees incredible results within a few uses. Also, it is suitable for all types of hair. Click this video to check out the reviewer's experience and learn more about the product.
Pros
Repairs damaged, brittle, and weak hair
Restores elasticity, eliminates dandruff, and itchiness
Free from chemicals, paraben, and sulfates
Suitable for all types of hair
Cons
Heavy and greasy for thin hair
The Y-Not Natural Ultra Pure Australian Emu Oil is the perfect addition to your daily beauty routine. Its non-greasy texture makes it easy to apply and gets absorbed into your hair and skin, leaving you with a smooth and silky feel. This Emu oil for thinning hair is rich in vitamins A, D, and E, as well as proteins which help nourish and moisturize both your scalp and strands while providing protection against sun damage. The lightweight formula absorbs quickly into the skin, leaving it feeling soft without any greasy residue or build-up.
Pros
Replenishes hair texture
Eliminates scalp itchiness
Aids in eliminating dull and dry hair
Rejuvenates from the roots
Cruelty-free
Cons
None
If your hair is weak, brittle, and damaged, then you need oils to strengthen and aid in regrowth. Australia Naturals Pure Emu Oil is a mild yet effective formula that penetrates quickly, repairs, and replenishes your hair from the roots to the ends. This Emu oil for hair health is odorless, non-greasy, and lightweight, this oil also packs all the essential nutrients that your hair needs to look healthy again. According to reviewers, the product is also great for achy joints and healing skin.
Pros
Helps repair weak and damaged hair
Lightweight and non-greasy
Odorless
Strengthens and promotes hair growth
Cons
Not recommended for severe hair loss
Did you know that using Emu oil helps increase hydration and bring back the volume? Targeting the overall health of the hair, Pure Emu Fully Refined Emu Oil is rich in nutrients that make your hair soft and silky. Hence, if your roots are strengthened, this hair repair oil automatically boosts hair growth. And this oil is anything but greasy! One can also use it as a leave-in conditioner post-shower.
Pros
Absorbs easily into the hair
Lightweight and non-greasy
Increases moisture and softness
Cons
Dispensing bottle is not convenient to use
*The prices provided in this article are based on the latest available information. However, they may vary due to changes in pricing by the seller and/or promotional offers.
Why Trust StyleCraze?
The author, Medha Deb, is a haircare aficionado. She compiled a list of the best emu oil for hair after going through several product details and customer reviews from trusted sources and brand websites. These products help boost hair moisture and promote hair growth.