9 Best EMMA HARDIE Skin Care Products Of 2022 – Reviews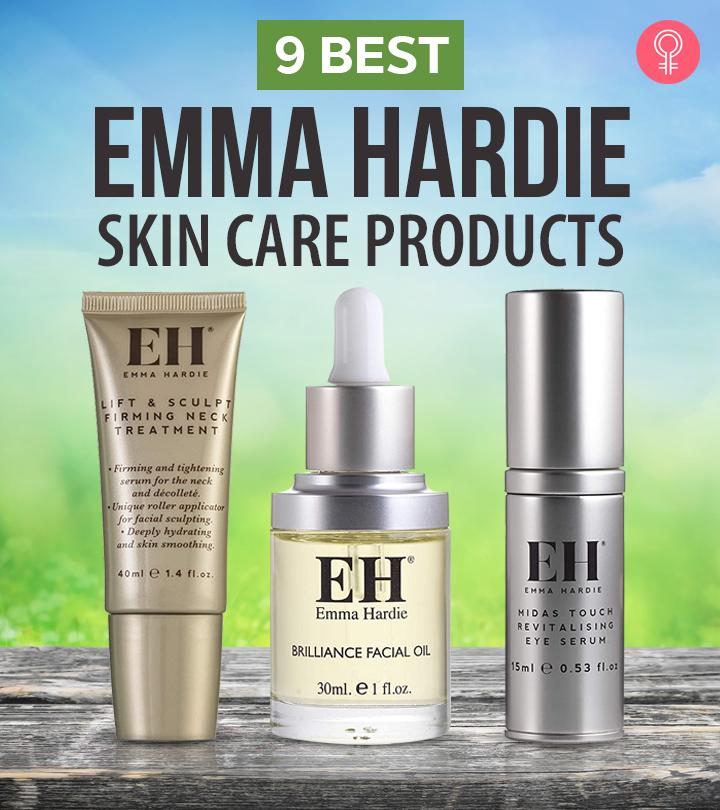 Do you want to improve your skin's natural functions to make it look younger? Then, EMMA HARDIE is a name you should look into. Here, we have compiled a list of the best EMMA HARDIE products for you to try. This skin care brand rejuvenates your skin through sculpting, lifting, and massaging techniques.
EMMA HARDIE products are formulated with active, pure botanicals to brighten and strengthen your skin. In addition, EMMA HARDIE products are vegan, cruelty-free, and suit all skin types. Parabens, SLS, dimethicone, petrolatum, mineral oil, colors, and synthetic scents, are also absent from the formulations.
Scroll down to check out our top picks!
Top 9 EMMA HARDIE Skin Care Products Of 2022
The EMMA HARDIE Moringa Cleansing Balm removes all traces of makeup from the eyes and face. It reduces the appearance of open pores while hydrating the skin. This vegetarian cleansing balm is made of organically extracted natural ingredients like sea fennel, moringa seed extract, essential oils, and vitamin E that purify and balance the pH level of the skin.
It comes with a dual-action cleansing cloth made up of 100% cotton, 20% polyamide, and 80% polyester to ensure a silky smooth touch. Massage it on your face gently. Dip the cleansing cloth in lukewarm water, squeeze the excess water, and wipe your face. If you need further convincing, check this YouTuber's review out.
Key Ingredients: Moringa seed extract, Vitamin E, Wild sea fennel, Grape, Sweet almond, and Orange peel
Pros
Easy to use
Purifies the skin
Hydrates the skin
Vegetarian
Comes with a dual-action cleansing cloth
Cons
Melts at high temperatures
The EMMA HARDIE Brilliance Facial Oil with multi-active essential oils hydrates and nurtures your skin. It helps promote skin elasticity, ensures antioxidant protection from free radicals, and balances the pH level of the skin. This facial oil contains natural ingredients like lemon, lavender, rose, mint, palmarosa, orange, chamomile, vanilla, and geranium.
Warm a few drops of this product and massage on your face gently until absorbed.
Key Ingredients: Sweet almonds, Apricot, Olive, Fruit oil, Black currant, Grape, Lemon, Lavender, and Citral
Pros
Improves skin elasticity
Moisturizes the skin
Balances skin pH
Cons
None
The EMMA HARDIE Moisture Boost VIT+C Cream is a vitamin B3 and C enriched anti-aging product that helps get rid of fine lines and wrinkles and accelerates collagen production. It contains a rich blend of vitamins with other natural ingredients like rosemary, red algae extract, sesame seed oil, shea butter, and sweet almond oil. This cream reduces the appearance of dark spots, sun damage, and hyperpigmentation.
Massage it on the face and neck gently for 30 to 50 seconds and allow the cream to set on your skin. Use it daily for a sheer glow.
Key Ingredients: Sesame seed oil, Rosemary, Shea butter, Red algae extract, Sweet almond oil, and Vitamin B3 and C
Pros
Reduces fine lines and wrinkles
Adds glow
Easy to use
Lightens dark spots
Minimizes hyperpigmentation
Cons
None
The EMMA HARDIE Moringa Light Cleansing Gel help remove all traces of makeup from your face, eyes, and neck. It forms a thin, refreshing layer on your skin, protecting it against pollutants. This pure botanical cleansing gel hydrates your skin and adds radiance without being heavy or greasy. It acts as a perfect skin purifier in all seasons. This gel contains vitamin E, omega 3, 6, and 9 fatty acids, sea fennel extract, and moringa sweet almond oil.
Key Ingredients: Vitamin E, Sweet almond oil, Omega 3, 6, and 9 fatty acids, Grapeseed oil, and Sea fennel extract
Pros
Non-greasy
Imparts glow
Moisturizes the skin
Reduces the appearance of wrinkles
Cons
None
The Emma Hardie Midas Touch Revitalizing Eye Serum is an age support eye cream that tightens the eye contour area, smoothens fine lines and wrinkles, accelerates cellular renewal, reduces puffiness, and fades dark circles. It contains aloe vera, sweet almond oil, raspberry seed oil, and hyaluronic acid that soothe tired eyes. Beautifeye technology maintains skin elasticity and hydrates the skin.
Key Ingredients: Castor oil, Albizia Julibrissin bark extract, and Rasberry seed oil
Pros
Hydrates the skin
Reduces dark circles and puffiness
Fades wrinkles and fine lines
Cons
The EMMA HARDIE Midas Touch Revitalizing Cream contains natural ingredients like sunflower seeds oil, Persian silk tree, graveolens flower oil, Algae, sorbic acid, citral, and avocado extract. It hydrates and soothes the skin, improves its elasticity, and reduces fine lines and wrinkles. The hyaluronic acid plumps the skin and delays the appearance of aging signs. This anti-aging youth renewal cream blends perfectly with your skin and imparts a healthy glow.
Key Ingredients: Avocado peptides, Hyaluronic acid, Sunflower seed oil, Vitamin E, and Polymatrix algae extract
Pros
Reduces fine lines and wrinkles
Imparts glow
Soothes tired eyes
Cons
The EMMA HARDIE Lift & Sculpt Firming Neck Treatment gives your skin a shot of collagen and long-lasting hydration. It has a unique roller attached to the lid of the bottle for easy application. This firming neck treatment contains natural ingredients like aqua, cocoa, sweet almond oil, raspberry, inca oil, omega 3, 6, and 9, and titanium dioxide that make your skin youthful and refreshing. It improves dry, dull skin without leaving any greasy residue.
Key Ingredients: Glycerin, Jojoba oil, Pouteria sapota seed oil, Cocoa, Raspberry, Citric acid, and Titanium oxide
Pros
Moisturizes the skin
Plumps the skin
Adds glow
Long-lasting
Cons
THE EMMA HARDIE Plump & Glow Hydrating Facial Mist contains a rich combination of hyaluronic acid and skin-soothing aloe vera. It reduces the signs of aging, soothes redness, provides sheer radiance, prevents skin damage from pollutants, and treats dryness. This non-greasy facial mist also helps soften the skin and set your makeup. It also reduces fine lines and nourishes dull skin.
Key Ingredients: Limoene, Aloe barbadenis leaf juice, Citric acid, Velvet flower, Titanium oxide, and Mica
Pros
Refreshes the skin
Non-greasy
Helps set makeup
Imparts glow
Cons
None
The EMMA HARDIE Exfoliating Brightening Tonic tightens the pores, clarifies the skin, and reduces dryness, fine lines, and wrinkles. It adds glow and makes your skin look youthful. This lightweight tonic contains refreshing botanical products like bitter orange flower oil, aloe vera, bacuchiol (natural retinol), bergamot, nettle leaf extract, and pomegranate that brighten the skin. This cleanser solution stimulates collagen production, smoothens the skin, and evens out the skin tone.
Key Ingredients: Nettle leaf extract, Aloe vera, Bitter orange flower oil, Bergamot fruit oil, and Pomegranate
Pros
Imparts glow
Lightweight
Reduces fine lines and wrinkles
Makes the skin soft and smooth
Cons
Why Trust StyleCraze?
The author of this article, Shiboli Chakraborti, is a certified skincare coach and likes to help her readers choose the most effective skincare products. With that same aim in mind, she read many product details and customer reviews and compiled a list of the best Emma Hardie products. These products that have been listed are cruelty-free and vegan and can rejuvenate your skin.
Frequently Asked Questions
Are EMMA HARDIE products natural?
Yes. The EMMA HARDIE products are formulated with high-grade, botanical ingredients and do not contain any toxic elements.
Who owns EMMA HARDIE?
EMMA HARDIE is a British skin care brand owned by the world's renowned facialist and cult beauty expert, Emma Hardie.
Recommended Articles