10 Best Antifungal Shampoos In 2022, According To Reviews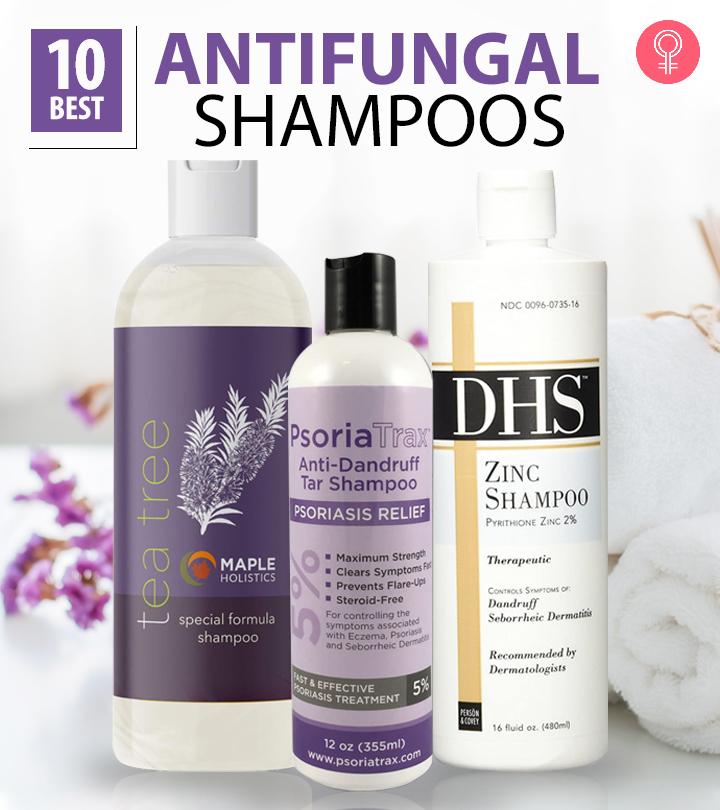 Fungal infections on the scalp like seborrheic dermatitis and tinea versicolor are characterized by things like dandruff, flaking, and itching. To combat these infections and their symptoms, you need to invest in the best antifungal shampoo. It will not only ensure that these pesky problems are at bay but will also protect and nourish your hair and scalp. Unlike regular shampoos, these are crafted using a medicated formula that will surely give you the desired results. To help you pick the perfect one, we've listed the 10 best ones in the market. So scroll on and find your perfect hair match.
Let's take a look!
10 Best Antifungal Shampoos In 2022 That You Must Try
Nizoral A-D Anti-Dandruff Shampoo is formulated with an active ingredient called ketoconazole that works best to get rid of dandruff. This shampoo is undoubtedly a big hit and recommended by most doctors as a permanent dandruff solution. It is also effective on the fungal acne-like pimples or whiteheads on your skin. Dermatologists also swear by this product as it helps in getting rid of unwanted bumps. Additionally, Nizoral is considered to be the best shampoo for treating ringworm. If you want to know more about the results of the Nizoral A-D Anti-Dandruff Shampoo, check out this YouTube review.
Pros
Effective dandruff treatment
Treats fungal acne
Reduces itching
Quick results
Cons
May cause an allergic reaction
May cause dryness 
:
Healthy Hair Plus Anti-Fungal Shampoo is the right fit for you if you have fungal acne and flaky scalp problems. The formula of this shampoo consists of emu oil, which has anti-inflammatory properties and helps alleviate swollen or painful areas on the scalp. It eliminates bacteria and fungus at the same time. It also contains coconut oil that is rich in caprylic, capric, and lauric acids. These fatty acids have potent antifungal, antiviral, and antibacterial effects. The grapeseed oil in this shampoo boosts hair growth. To learn more about the benefits of this shampoo, have a look at this YouTube video.
Pros
Treats flaky scalp and acne
Moisturizes the hair
Antibacterial properties
Stimulates hair growth 
Cons
Not suitable for sensitive skin
:
Maple Holistics Tea Tree Oil Special Formula Shampoo contains tea tree oil that hydrates your scalp and hair. Its antifungal and antibacterial formula treats dryness, itching, and flaking on the scalp. It also contains rosemary and lavender that naturally eradicate lice. It promotes fast hair growth and prevents hair loss and hair thinning. This shampoo is free from harsh ingredients like sulfates and parabens. It is one of the best organic antifungal shampoos out there. For a detailed review of the Neutrogena T/Gel Therapeutic Shampoo, have a look at this video.
Pros
Washes away dandruff flakes
Hydrates your scalp and hair
Boosts hair volume
Promotes hair growth
Suitable for chemically-treated hair
Sulfate-free
Paraben-free
Hypoallergenic
Cons
Leaves your hair tangled
May cause skin irritation
:
If you're longing for healthy hair and scalp for days now, ProBliva Fungus Shampoo for Hair & Scalp is the best cure. This antifungal shampoo deals with several problems like itching, flaking, and irritation on the scalp. It reduces inflammation and soothes your damaged scalp. Its ingredients include coconut oil, jojoba oil, and grapeseed extract that can heal any damage caused by fungus. The emu oil in it is a tough emulsifier that boosts the health of your scalp and hair. It is one of the best and natural antifungal shampoos.
Pros
Reduces scalp issues caused by fungus, bacteria, and ringworm
Decrease oil secretion from sebaceous glands
Reduces itchiness, flaking, and inflammation
Moisturizes your hair from root to tip
Cons
May cause mild irritation
Excessive use might lead to hair loss
:
Neutrogena T/Gel Shampoo is one of the top-rated products that wonders for severe scalp issues like seborrheic dermatitis, scalp psoriasis, and dandruff. It contains menthol that has a long-lasting soothing effect on your scalp. The active ingredient in this shampoo is Neutar (coal tar extract) that slows down the overproduction of skin cells on the scalp and reduces inflammation.
Pros
Effectively treats seborrheic dermatitis, scalp psoriasis, and dandruff
Reduces inflammation and flaking
Recommended by dermatologists
Safe for color-treated hair
Cons
:
pHat 5.5 Manuka Honey Seborrheic Dermatitis Shampoo contains medical-grade manuka honey with potent antimicrobial and antiviral properties to effectively treat eczema, psoriasis, and seborrheic dermatitis. It is also infused with aloe vera, orange peel oil, tapioca, coconut extract, and australian cehami that eliminate stubborn dandruff, treat itchy scalp, prevent hair breakage, while leaving your hair strong, shiny, soft, and smooth. This sulfate-free shampoo is suitable for oily, dry, and normal hair types.
Pros
pH-balanced formula
Organic
Quick results
Effective on rosacea
Sulfate-free
Paraben-free
Gluten-free
Cons
None
7. Best Dermatologist Recommended: DHS Zinc Shampoo
DHS Zinc Shampoo is one of the easiest ways to clear all sorts of fungi and bacteria from your scalp. It contains 2% zinc pyrithione, which is highly effective in treating dandruff. Dermatologists highly recommend this shampoo for treating all types of scalp issues. DHS Zinc Shampoo improves the growth cycle of your hair, calms irritated skin, provides relief from itching and flaking, and reduces hair thinning.
Pros
Relieves irritation and flaking
Treats dandruff
Soothes the scalp
Conditions the hair
Suitable for all skin and hair types 
Cons
May cause blistering issues in rare cases
Zatural Naked Neem Therapeutic Hair & Scalp Shampoo contains several fatty acids that nourish your scalp. It contains neem oil that prevents free radical damage on the scalp and stimulates hair follicle growth. It revitalizes undernourished hair by reducing flaking and itchiness on your scalp. It is effective against several fungi like candida, which is one of the leading causes of dandruff. It promotes thicker hair growth and reduces redness and irritation on the scalp.
Pros
Anti-inflammatory and antiseptic properties
Suitable for dry and oily scalps
Smoothens the hair
Stimulates hair follicle growth
Regulates the secretion of sebum on the scalp 
Cons
Not suitable for children
Ovante Folliculitis Solution Shampoo is a gentle, antibacterial, and antifungal shampoo formulated with natural oils and herbs. It cleanses the scalp, removes dirt, sebum, and eliminates yeast, bacteria, and fungi to prevent folliculitis. It also treats dandruff and other bacterial infections, leaving your scalp itch and irritation-free.
Pros
Natural ingredients
Treats bacterial infections
Effective results
Cons
Tea tree oil is a natural remedy for fungal scalp infections. Brooklyn Botany Tea Tree Shampoo is rich in this oil that deeply cleanses your scalp, hydrates it, and promotes thicker hair growth. It fights dandruff, fungi and cleanses the clogged follicles for faster hair growth. This is the best antifungal shampoo with rich ingredients that smell amazing and invigorate your scalp.
Pros
Sulfate-free
Paraben-free
Natural scent
Cruelty-free
Cons
None
The antifungal shampoos listed above work delicately to solve all your scalp problems. They are clinically tested and recommended by doctors. Pick an antifungal shampoo from this list to get the kind of healthy hair you have always desired.
Why Trust Stylecraze
Oyendrila Kanjilal, the author of this article, has a keen interest in hair care and styling. Her love for haircare makes her one of the bests to review hair care products. She has conducted in-depth research to find the best antifungal shampoos for her readers. She has picked products with medicated formulas that nourish the scalp and keep it healthy.
Frequently Asked Questions
How long does antifungal shampoo take to work?
Antifungal shampoos should be used according to the instructions given by your dermatologist. Using such products frequently may result in certain side-effects as these products contain potent ingredients. Nevertheless, if you follow a proper hair care routine, you'll see visible results within 2-4 weeks of usage.
What causes scalp fungal infection?
One of the most common forms of scalp fungus is ringworm, scientifically known as Tinea capitis. However, this condition is not caused by worms but is named such because of the round rings that appear on your scalp. Such a fungal infection causes scalp issues like itchiness, flakiness, and major dandruff problems. Ringworm is most common among toddlers and school children and is a contagious infection. It may occur in various age groups.
How can you get rid of scalp fungal infection?
The right antifungal shampoo can help you eliminate the root cause of your scalp problem. Fungal infections can spread throughout your scalp if they are not treated adequately. As soon as you find notice any scalp problems, you must take the necessary precautions and consult a doctor.
Recommended Articles