The 11 Best Makeup Products For Eczema – 2023
Gentle makeup products that bring out your inner beauty while tackling sensitive skin.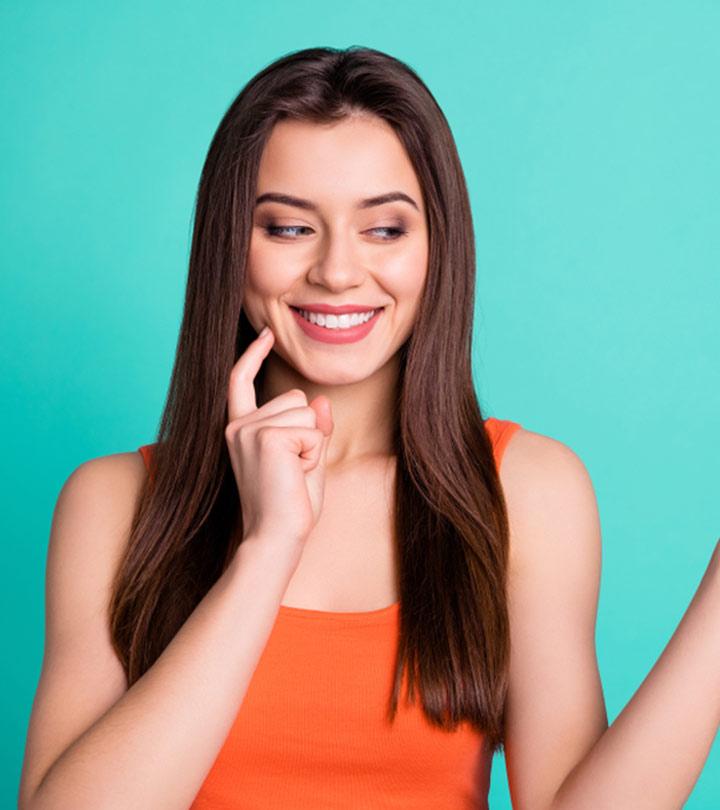 If you suffer from eczema and feel that most makeup products available in the market are not meant for you, you are not alone. Many people struggle to find the best makeup for eczema-prone skin. Using regular makeup might lead to flare-ups, red patches, and leave your skin feeling more dry and itchy. However, this does not necessarily mean that you have to give up on makeup. You just have to avoid products that contain irritants like artificial fragrances and other harmful chemicals.
Celebrity makeup artist and founder of Ouli's Ointment, Stephanie G-M says "When dealing with eczema prone skin you want to use products with ingredients that will hydrate the skin it's covering. When skin is red and dry anything that dehydrates it more will lead to more inflammation. Always look for ingredients you understand and where possible avoid synthetic ingredients."
Makeup products exclusively formulated for eczema-prone skin contain soothing and nourishing ingredients such as, shea butter, hyaluronic acid, glycerin. They can help cover areas that make you feel self conscious  while protecting and benefiting your inflamed skin. Some makeup products for eczema-prone skin are also infused with ceramides. The trick is to know what ingredients don't aggravate your condition and help give the desired results.
In this article, we have reviewed the 11 best products for eczema that will not trigger your skin woes and help you achieve a defined makeup look. Keep scrolling through to check out the list!
What Is The Best Makeup For Eczema?
As you shop for a product when you have eczema, it's best to rely on the label, to begin with. Most products that are safe for sensitive skin and are hypoallergenic are a safe bet for those with eczema. And besides that, you can also consciously make an effort to avoid products that contain questionable, chemical ingredients. It's a good idea to look for products that are alcohol, phthalate, and paraben-free and contain hyaluronic acid which is very hydrating, along with vitamins C, E, and other natural ingredients that prevent dryness. So rather than go for a normal moisturizer, you should go for one that's for sensitive skin or specifically for eczema.
11 Best Eczema-Friendly Makeup Products Of 2023 For A Glam Look
Pros
Oil-free
Non-comedogenic
Lightweight
Contains hyaluronic acid for hydration
Cons
Some may not find the applicator satisfactory
Price at the time of publication: $9.72
Pros
Hypoallergenic
Cruelty-free
Blendable and lightweight
No additives or harsh irritants
Cons
May not be suitable for warm undertones because of its orange tint
Price at the time of publication: $17.58
Pros
Hypoallergenic
Waterproof
Oil-free
Lightweight
Blendable and buildable
Dermatologist-tested
Cons
Might settle in fine lines after a while
Price at the time of publication: $9.99
Pros
Hypoallergenic
Cruelty-free
Vegan formula
Oil-free
Paraben-free
Sulfate-free
Phthalate-free
Fragrance-free
Triclosan-free
Non-comedogenic
High performance pigments
Dermatologist-tested
Cons
Some might face difficulty with blending it.
Price at the time of publication: $40
Pros
Paraben-free
Alcohol-free
Soap-free
Oil-free
Non-comedogenic
Dermatologist-recommended
Ophthalmologist-approved
Cons
Price at the time of publication: $16.99
Pros
Cruelty-free
Paraben-free
Gluten-free
Sulfate-free
Phthalate-free
Synthetic fragrance-free
Formaldehyde-free
Triclosan-free
Mineral oil-free
Coal tar-free
Chemical sunscreen-free
Cons
Some may find them too glittery
Price at the time of publication: $13.7
Pros
Fragrance-free
Water-resistant
Non-greasy
Matte finish
Reef-friendly
Contains antioxidants
Broad spectrum SPF 50 sunscreen
FSA-approved sunscreen
Cons
Price at the time of publication: $38
Pros
Cruelty-free
Non-comedogenic
Sensitivity tested
No synthetic fragrances
No synthetic preservatives
Cons
Price at the time of publication: $32.0
Pros
Semi matte finish
Lightweight
SPF 20 sunscreen
Fragrance-free
Cons
Some might find the texture too thick
Price at the time of publication: $60
Pros
Lightweight
Oil-free formula
Non-comedogenic
Buildable coverage
Contains natural ingredients
Cons
Price at the time of publication: $57
Pros
Oil-free
Paraben-free
Blendable
Soft and creamy texture
Cons
Price at the time of publication: $21.75
Eczema does not mean that you have to give up on your makeup altogether. There will be certain cosmetic products that may trigger a flare-up, but there are others that are proven gentle on sensitive skin. Therefore, to help you find the correct cosmetic products for your makeup needs, especially if you have eczema, we have listed some factors to keep in mind while making your next purchase.
Moisturizing ingredients like lanolin, shea butter, and glycerin repair your skin and make it soft, plump, and radiant. Hyaluronic acid helps in drawing moisture from the air to your skin cell. With this ingredient, you can enjoy an extra boost of moisture and thereby avoid dry or flaky skin.
Niacinamide, also known as Vitamin B3, helps in reducing any redness on your skin by strengthening the overall natural barrier of your skin. It is recommended that you apply niacinamide first and then use other cosmetic products.
Ingredients like salicylic acid, glycolic acid, and retinol make your skin dry and thereby develop irritation. Such a condition is caused by a weak skin barrier, which allows irritating chemicals to get inside skin cells easily and allows more water to evaporate.
Avoid preservatives such as butylparaben or methylparaben. These ingredients lead to inflammation when put in contact with eczema-prone skin. So, use products that have natural preservatives such as grapefruit seed extract or neem oil because they are less irritating.
Does not matter how soft or subtle the perfume might be, the ingredients can easily trigger eczema flare-ups. That is why it is suggested to pick cosmetics that are made for sensitive skin and are fragrance-free (rather than 'unscented' mentioned on the product label). Organic or natural products are generally free from fragrances. .
As a rule of thumb, select makeup products that have been labeled as formulated or hypoallergenic for sensitive skin. Such products will have fewer common allergens that can cause eczema flare-ups.
Avoid gel-based products since their alcohol-based formulas can deprive the skin of moisture and thereby aggravate eczema symptoms.
Avoid make-up powders. Instead opt for cream or mousse formulas, as they are less prone to drying.
Now that you have been through our review of the 11 best makeup products for eczema of 2023, it's equally important to know what you should be looking for in cosmetics if you have eczema. Here are a few pointers which we hope will help you along the way so that you don't have to miss out on anything to look gorgeous.
What Should You Look For In Cosmetics If You Have Eczema?
Shea butter, glycerin, and lanolin are great moisturizing ingredients that not only repair your skin but also help it to look healthier. Hyaluronic acid is another wonder ingredient that helps draw moisture from the air into your skin and gives an extra boost of moisture to give relief to flaky, dry skin. Niacinamide, commonly known as vitamin B3 performs its magic on red patches on your skin, and a serum or cream with niacinamide can reduce redness caused by eczema by strengthening your skin's natural barrier.
Glycolic acid, salicylic acid, and retinol tend to dry out and irritate skin with eczema. This happens usually because of a weak skin barrier, which lets irritating chemicals enter your skin more easily, and let its moisture evaporate. Preservatives like butylparaben and methylparaben which keep cosmetics from going bad can also lead to inflammation. It's better to use products with natural preservatives like neem oil or grapefruit seed extract instead. Fragrances, no matter how soft and subtle they are, can also trigger eczema flare-ups.
Pick cosmetics that especially mention that they are for sensitive skin. Also look for products that say 'fragrance-free' rather than 'unscented' on their label. Organic or natural products are also usually free of perfumes, but again read their labels to be sure. Chemical-free sun protection and mineral sunscreen ingredients are definitely a better option for a sunscreen. Anything that is too aggressive or full of chemicals like soaps, detergents, foaming agents, and fragrances can all trigger eczema flare-ups.
How To Wear Makeup With Eczema?
Step 1- It's essential to prep your skin by thoroughly cleaning and hydrating it with products that are packed with hydrating ingredients that calm the skin. If you're on a prescription for eczema , apply it before using any makeup. Also, always do a patch test of any new makeup product on your neck before applying it to the face.
Step 2- You can use a primer to seal your pores so that the foundation does not make it into your pores.
Step 3- It is best to start off with eye-makeup so that any chunks of eyeshadow on the cheeks can be cleaned and then covered with other makeup products.
Step 4- Apply your foundation with clean hands instead of brushes or makeup sponges as they tend to harbor germs. If you're trying to hide dark circles, you can also use a concealer.
Step 5- Even for blush, use your fingers as it's easier to press out to blend until you have the color you want. You can use a brush for highlighter if you're using one, as a highlighter may require more precision while blending.
Step 6- Once your makeup is in place, you can finish it off with a lipstick of your choice.
When you have eczema, you are well aware of the fact that some products and cosmetics in the skincare realm can really irritate your skin and induce a flare-up. But that doesn't mean you need to give up on makeup, it just means you need to identify those products that are gentle enough on your skin. There are literally thousands of hydrating formulas to keep your skin healthy and nourished and give you full coverage to camouflage those rough, red, itchy, dry, or inflamed patches without inducing a further flare-up. We hope our review of the 11 best makeup products for eczema will help in bringing the diva out in you and you look your gorgeous best.
Why Trust Stylecraze
The author, Srijani Roy Chowdhury, is a makeup and fashion enthusiast. She enjoys reviewing various products to help her readers make an informed choice. Choosing the best makeup products for eczema can be a daunting experience, so she curated this list of the best ones on the market after thorough research. She also consulted numerous user reviews online to shortlist the products that are gentle on the skin.
Frequently Asked Questions
Is it bad to put makeup on eczema?
When you have eczema-prone skin, wearing makeup is difficult, but with the right products and application technique, it is safe to use makeup to help your complexion appear smoother without irritating your skin further.
What should you not put on eczema?
Glycolic acid, salicylic acid, and retinol tend to dry out and irritate your skin, and are best avoided by those with eczema. Preservatives like methylparaben and butylparaben, fragrances, talcs, or any kind of chemical should also be avoided by those with eczema-prone skin.
Does makeup irritate eczema?
Some ingredients in makeup can clog pores and encourage further flare-ups, but certain types of makeup products can actually help to improve the condition. Hydrating formulas that contain hyaluronic acid, niacinamide, glycerin, shea butter, lanolin are all great for moisturizing your skin and reducing flakey or angry red patches.