The 11 Best Makeup Products For Eczema – 2022
Gentle makeup products that bring out your inner beauty while tackling sensitive skin.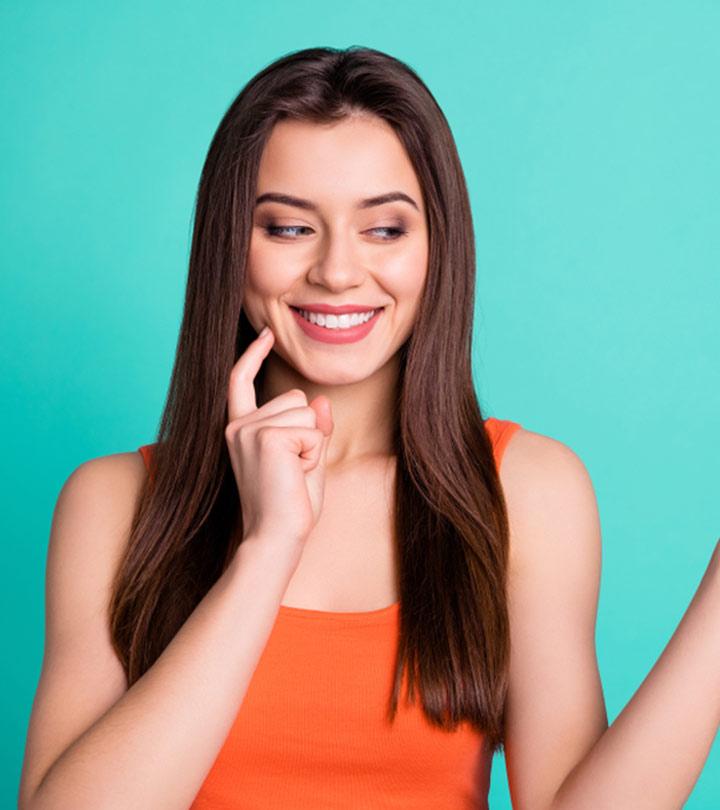 If you are suffering from eczema and feel that most makeup products available in the market are not meant for you, you are not alone. Many people struggle to find the best makeup for eczema-prone and affected skin. While some cosmetics irritate their skin, others don't suit their needs. Using random products might lead to flare-ups, red patches, and your skin might end up looking dry and flaky. However, this does not necessarily mean that you have to give up on makeup. You just have to avoid products that contain irritants like artificial fragrances and other harmful chemicals.
Makeup products exclusively formulated for eczema-prone skin contain shea butter, hyaluronic acid, glycerin, and other natural ingredients. They help cover all the unwanted rough patches on your inflamed skin and feel gentle on application. Makeup products for eczema-prone skin are also infused with ceramides. The trick is to know about the products that don't aggravate your condition and help give the desired results.
In this article, we have reviewed the 11 best products for eczema that will not trigger your skin woes and help you achieve a defined makeup look. Keep scrolling through to check out the list!
What Is The Best Makeup For Eczema?
As you shop for a product when you eczema, it's best to rely on the label, to begin with. Most products that are safe for sensitive skin and are hypoallergenic are a safe bet for those with eczema. And besides that, you can also consciously make an effort to avoid products that contain questionable, chemical ingredients. It's a good idea to look for products that are alcohol, phthalate, and paraben-free and contain hyaluronic acid which is very hydrating, along with vitamins C, E, and other natural ingredients that prevent dryness. So rather than go for a normal moisturizer, you should go for one that's for sensitive skin or specifically for eczema.
11 Best Eczema-Friendly Makeup Products Of 2022 For A Glam Look
This amazing tinted moisturizer not only boosts skin hydration, it also evens out your complexion. Its lightweight water gel formula features hyaluronic acid, which is known for its skin plumping and hydrating properties for upto 24 hours. What's more, this favorite moisturizer of many is weightless, oil-free, and non-comedogenic, so no more worrying about clogged pores, and it might even be better for your skin than wearing no foundation at all. Suitable for daily use, it keeps your skin hydrated, and is available in 10 blendable shades that offer enough coverage to cover those red patches. Neutrogena eczema hydrating tinted moisturizer applies flawlessly and improves the suppleness of skin over time, and doesn't settle into fine lines, creating a natural, moisturized and fresh look. Watch this video of the product for more information.
Pros
Oil-free
Non-comedogenic
Lightweight
Contains hyaluronic acid for hydration
Cons
Some may not find the applicator satisfactory
Price at the time of publication: $9.72
If you have always had to be careful about the makeup products you use, fret no more. This product for sensitive skin has micro color-correcting pigments and superior anti-aging ingredients, and carries the benefits of an anti-aging treatment, moisturizer, foundation and SPF sunscreen. Its gentle formula helps minimize redness and other blemishes while providing SPF protection and hydration. Its lightweight and blendable creamy formula not only corrects skin imperfections, it also smooths skin texture, and evens out skin tone. This makeup for eczema sufferers adds to your wow factor by reducing age spots, dark circles, dullness, fine lines, wrinkles and other skin conditions.
Pros
Hypoallergenic
Cruelty-free
Blendable and lightweight
No additives or harsh irritants
Cons
May not be suitable for warm undertones because of its orange tint
Price at the time of publication: $17.58
If you have been struggling every day to cover flaky or red patches on your skin, we might have just the solution for you. This clean, sensitive skin foundation for eczema easily blends into your skin to give you a flawless, stunning look that lasts all day. It's waterproof, oil-free, lightweight, and blendable, and hides redness, tattoos, and pimples, so you can feel confident yet comfortable through the day. It has a whitening and moisturizing repair composition, with natural full coverage that protects your delicate skin and makes it look perfect. It features micro-powders that control shine and camouflage pores and prepares your skin for makeup to cover eczema. Get that gorgeous, natural look you've been striving for, without having to worry about skin allergy and your eczema, with this soft, matte, and long-wear liquid foundation.
Pros
Hypoallergenic
Waterproof
Oil-free
Lightweight
Blendable and buildable
Dermatologist-tested
Cons
Might settle in fine lines after a while
Price at the time of publication: $9.99
Have you been wary of using a foundation on your eczema-prone skin? This eczema foundation has pure, concentrated pigments in a weightless suspension, with only 10 ingredients that are totally safe for your sensitive skin. It's ideal for light skin with warm undertones with a hint of peach and has a very smooth finish that doesn't get cakey. A little goes a long way and you literally need a few drops for that flawless complexion. This liquid makeup foundation is oil-free, water-free, and lightweight and gives full coverage. Its non-comedogenic formula doesn't clog your pores and is suitable for sensitive skin. This vegan formula is hypoallergenic and completely free of all harmful chemicals that could cause a flare up.
Pros
Hypoallergenic
Cruelty-free
Vegan formula
Oil-free
Paraben-free
Sulfate-free
Phthalate-free
Fragrance-free
Triclosan-free
Non-comedogenic
High performance pigments
Dermatologist-tested
Cons
Some might face difficulty with blending it.
Price at the time of publication: $40
This micellar water for oily, sensitive skin can do wonders for your skin and can be used as a face wash, toner, and makeup remover. It removes makeup, oil, grime, and other impurities by capturing them in its micelles, leaving the skin perfectly cleansed, hydrated, and refreshed. This gentle oil-free micellar water removes 99% of long wearing foundation and prevents flare ups if you suffer from eczema. One of the best makeup brands for eczema, it also contains a mild cleanser called poloxamer, which is so gentle that it is considered safe for your eyes and is used in contact lens solution. La Roche-Posay contains thermal spring water which is full of antioxidants and soothes irritated skin, while the glycerin in it hydrates the skin. The best part is that it also removes minute pollution particles from your sensitive skin, reducing the chances of a flare up.
Pros
Paraben-free
Alcohol-free
Soap-free
Oil-free
Non-comedogenic
Dermatologist-recommended
Ophthalmologist-approved
Cons
Price at the time of publication: $16.99
Who doesn't appreciate an eyeshadow that is simultaneously elegant and playful, bold and delicate, soft, and striking? These eye colors are velvety smooth, lightweight, easy to apply and blend seamlessly. This medium pink taupe eyeshadow with its loose mineral eyeshadow powder formula has low-to-high opacity for complete lid color and crease contouring. These vibrant, stay-true colors can be mixed and matched for customized combinations. This eyeshadow contains no harmful chemicals and you don't have to think twice before using it, even with the most sensitive skin. So, go ahead and try out different looks!
Pros
Cruelty-free
Paraben-free
Gluten-free
Sulfate-free
Phthalate-free
Synthetic fragrance-free
Formaldehyde-free
Triclosan-free
Mineral oil-free
Coal tar-free
Chemical sunscreen-free
Cons
Some may find them too glittery
Price at the time of publication: $13.7
This tinted compact is the ideal makeup for eczema and acne-prone skin as it has a 100% mineral SPF 50 sunscreen in a light, cream to powder formula. It's enriched with a powerful photostable form of vitamin E, which is a powerful antioxidant and protects against free radicals. The mineral formulation is non-irritating and makes it so very safe for eczema and sensitive skin types. Formulated with titanium dioxide and zinc oxide, it provides broad spectrum UVA protection from the harmful rays of the sun. The compact comes with a mirror for those easy, on-the-go applications. It's water-resistant for up to 40 minutes, but in any case is best reapplied after every 2 hours for best protection. This non-greasy, matte finish compact will enable you to face the world with confidence and élan.
Pros
Fragrance-free
Water-resistant
Non-greasy
Matte finish
Reef-friendly
Contains antioxidants
Broad spectrum SPF 50 sunscreen
FSA-approved sunscreen
Cons
Price at the time of publication: $38
This blush defines and highlights cheekbones and is formulated with powerful minerals and antioxidants. It provides a soft wash of just-touched color in a natural shade. Non-comedogenic and suitable for all skin tones, it's infused with natural ingredients like pomegranate extract to help calm and soothe skin, pine bark extract to provide antioxidants, and mica to promote glide. It also contains boron nitride, considered the 'Rolls Royce' of minerals, to help the blush adhere to your skin and diffuse light. This healthy mineral product is sensitivity tested and contains no synthetic preservatives or synthetic fragrances that can cause an eczema flare-up. This eczema-safe makeup is cruelty free, clean makeup that looks and feels good on your skin.
Pros
Cruelty-free
Non-comedogenic
Sensitivity tested
No synthetic fragrances
No synthetic preservatives
Cons
Price at the time of publication: $32.0
If flawless, even skin tone seemed like a far-fetched dream, we are here to make it a reality. This foundation serum is suitable for all skin tones and types, and is designed to perfect your complexion with buildable coverage and a semi-matte finish, while the broad spectrum SPF 20 sunscreen protects your skin from the harmful UV rays of the sun. This eczema-friendly makeup covers any rough or red patches and camouflages any blemish you may have on your skin. It helps minimize the appearance of wrinkles and visibly reduces dark spots and an uneven skin tone. It blends in beautifully with your skin and creates a luminous glow and natural flush of color.
Pros
Semi matte finish
Lightweight
SPF 20 sunscreen
Fragrance-free
Cons
Some might find the texture too thick
Price at the time of publication: $60
Craving for a velvety complexion? Just a few drops of this liquid foundation gives you full coverage and conceals all skin imperfections like eczema, vitiligo, discoloration, bruising, scars, and tattoos. This ultra lightweight foundation gives a matte finish to your skin for up to 12 hours. It has a high color concentration and its formula contains plant-based moisturizing ingredients like jojoba oil, sunflower oil, and mimosa natural wax that help your skin to remain comfortably soft and silky. It promotes overall evenness of your skin tone and leaves you with a radiant complexion. This product can be mixed with a sunscreen or moisturizer for a custom-made BB cream, and is available in 2 other shades as well— bronze and caramel.
Pros
Lightweight
Oil-free formula
Non-comedogenic
Buildable coverage
Contains natural ingredients
Cons
Price at the time of publication: $57
This soft and creamy sculpting highlighter glides so smoothly on the skin, almost like butter. This subtle pale pink highlighter is easy to use, and has a non-chunky silver shimmer to it, giving a luminescent effect. It has rich pigment, a lovely texture, and blends effortlessly into the skin. It can be worn over bare skin or over foundation and looks natural on the skin. It's suitable for normal to dry skin and its gentle formula makes it suitable makeup for eczema and acne-prone skin as well. This highlighting stick is formulated with light-reflecting optics to illuminate the face, so get ready to bedazzle the world!
Pros
Oil-free
Paraben-free
Blendable
Soft and creamy texture
Cons
Price at the time of publication: $21.75
Eczema does not mean that you have to give up on your makeup altogether. There will be certain cosmetic products that may trigger a flare-up, but there are others that are proven gentle on sensitive skin. Therefore, to help you find the correct cosmetic products for your makeup needs, especially if you have eczema, we have listed some factors to keep in mind while making your next purchase.
Moisturizing ingredients like lanolin, shea butter, and glycerin repair your skin and make it soft, plump, and radiant. Hyaluronic acid helps in drawing moisture from the air to your skin cell. With this ingredient, you can enjoy an extra boost of moisture and thereby avoid dry or flaky skin.
Niacinamide, also known as Vitamin B3, helps in reducing any redness on your skin by strengthening the overall natural barrier of your skin. It is recommended that you apply niacinamide first and then use other cosmetic products.
Ingredients like salicylic acid, glycolic acid, and retinol make your skin dry and thereby develop irritation. Such a condition is caused by a weak skin barrier, which allows irritating chemicals to get inside skin cells easily and allows more water to evaporate.
Avoid preservatives such as butylparaben or methylparaben. These ingredients lead to inflammation when put in contact with eczema-prone skin. So, use products that have natural preservatives such as grapefruit seed extract or neem oil because they are less irritating.
Does not matter how soft or subtle the perfume might be, the ingredients can easily trigger eczema flare-ups. That is why it is suggested to pick cosmetics that are made for sensitive skin and are fragrance-free (rather than 'unscented' mentioned on the product label). Organic or natural products are generally free from fragrances. .
As a rule of thumb, select makeup products that have been labeled as formulated or hypoallergenic for sensitive skin. Such products will have fewer common allergens that can cause eczema flare-ups.
Avoid gel-based products since their alcohol-based formulas can deprive the skin of moisture and thereby aggravate eczema symptoms.
Avoid make-up powders. Instead opt for cream or mousse formulas, as they are less prone to drying.
Now that you have been through our review of the 11 best makeup products for eczema of 2022, it's equally important to know what you should be looking for in cosmetics if you have eczema. Here are a few pointers which we hope will help you along the way so that you don't have to miss out on anything to look gorgeous.
What Should You Look For In Cosmetics If You Have Eczema?
Shea butter, glycerin, and lanolin are great moisturizing ingredients that not only repair your skin but also help it to look healthier. Hyaluronic acid is another wonder ingredient that helps draw moisture from the air into your skin and gives an extra boost of moisture to give relief to flaky, dry skin. Niacinamide, commonly known as vitamin B3 performs its magic on red patches on your skin, and a serum or cream with niacinamide can reduce redness caused by eczema by strengthening your skin's natural barrier.
Glycolic acid, salicylic acid, and retinol tend to dry out and irritate skin with eczema. This happens usually because of a weak skin barrier, which lets irritating chemicals enter your skin more easily, and let its moisture evaporate. Preservatives like butylparaben and methylparaben which keep cosmetics from going bad can also lead to inflammation. It's better to use products with natural preservatives like neem oil or grapefruit seed extract instead. Fragrances, no matter how soft and subtle they are, can also trigger eczema flare-ups.
Pick cosmetics that especially mention that they are for sensitive skin. Also look for products that say 'fragrance-free' rather than 'unscented' on their label. Organic or natural products are also usually free of perfumes, but again read their labels to be sure. Chemical-free sun protection and mineral sunscreen ingredients are definitely a better option for a sunscreen. Anything that is too aggressive or full of chemicals like soaps, detergents, foaming agents, and fragrances can all trigger eczema flare-ups.
How To Wear Makeup With Eczema?
Step 1- It's essential to prep your skin by thoroughly cleaning and hydrating it with products that are packed with hydrating ingredients that calm the skin. If you're on a prescription for eczema , apply it before using any makeup. Also, always do a patch test of any new makeup product on your neck before applying it to the face.
Step 2- You can use a primer to seal your pores so that the foundation does not make it into your pores.
Step 3- It is best to start off with eye-makeup so that any chunks of eyeshadow on the cheeks can be cleaned and then covered with other makeup products.
Step 4- Apply your foundation with clean hands instead of brushes or makeup sponges as they tend to harbor germs. If you're trying to hide dark circles, you can also use a concealer.
Step 5- Even for blush, use your fingers as it's easier to press out to blend until you have the color you want. You can use a brush for highlighter if you're using one, as a highlighter may require more precision while blending.
Step 6- Once your makeup is in place, you can finish it off with a lipstick of your choice.
When you have eczema, you are well aware of the fact that some products and cosmetics in the skincare realm can really irritate your skin and induce a flare-up. But that doesn't mean you need to give up on makeup, it just means you need to identify those products that are gentle enough on your skin. There are literally thousands of hydrating formulas to keep your skin healthy and nourished and give you full coverage to camouflage those rough, red, itchy, dry, or inflamed patches without inducing a further flare-up. We hope our review of the 11 best makeup products for eczema will help in bringing the diva out in you and you look your gorgeous best.
Why Trust Stylecraze
The author, Chaitra Krishnan, is a makeup and fashion enthusiast. She enjoys reviewing various products to help her readers make an informed choice. Choosing the best makeup products for eczema can be a daunting experience, so she curated this list of the best ones on the market after thorough research. She also consulted numerous user reviews online to shortlist the products that are gentle on the skin.
Frequently Asked Questions
Is it bad to put makeup on eczema?
When you have eczema-prone skin, wearing makeup is difficult, but with the right products and application technique, it is safe to use makeup to help your complexion appear smoother without irritating your skin further.
What should you not put on eczema?
Glycolic acid, salicylic acid, and retinol tend to dry out and irritate your skin, and are best avoided by those with eczema. Preservatives like methylparaben and butylparaben, fragrances, talcs, or any kind of chemical should also be avoided by those with eczema-prone skin.
Does makeup irritate eczema?
Some ingredients in makeup can clog pores and encourage further flare-ups, but certain types of makeup products can actually help to improve the condition. Hydrating formulas that contain hyaluronic acid, niacinamide, glycerin, shea butter, lanolin are all great for moisturizing your skin and reducing flakey or angry red patches.
Recommended Articles