14 Best Formal Dresses For Women That Hide Belly Bulge (With Buying Guide)
Witness these dresses make a huge difference when it comes to enhancing your figure.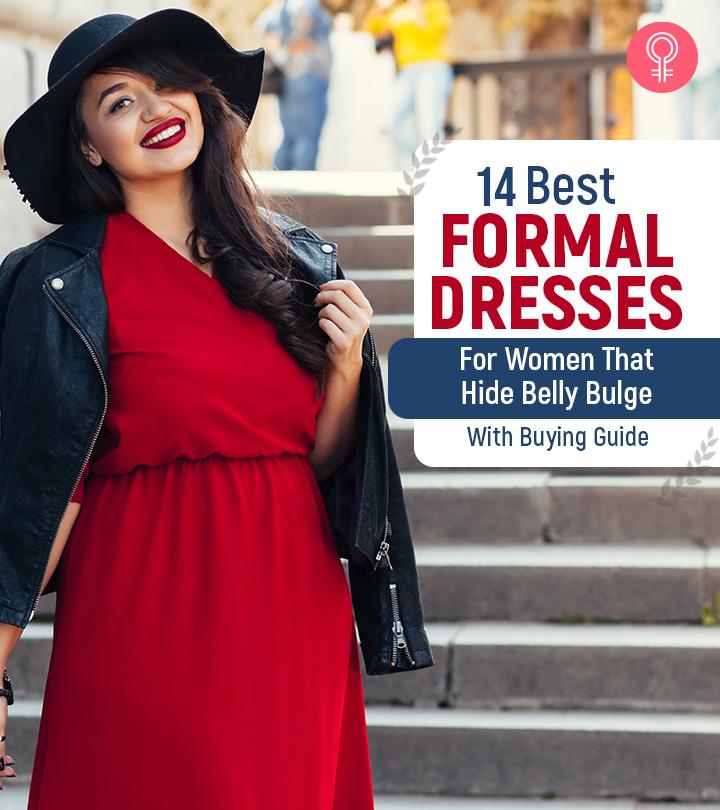 Busy days require lightweight dresses that can flaunt your figure while keeping you comfortable. Attending formal events can be extremely tough if you are not sure how to dress appropriately for them. There are many clothing styles and formal dresses that hide belly bulges and accentuate your silhouette. Irrespective of your size, these dresses can offer great security while fancying up your fashion game! However, not every formal wear can be your go-to dress if your main ambition is to hide your belly fat or back bulges. You should know how to look for the right dresses to hide your bulges and slimmed-down figure. There are several clothing factors that you shouldn't miss out on before making a purchasing decision. Let's start with a list of the best formal dresses that are available in the market. Scroll through and take your pick!
14 Best Formal Dresses To Hide That Belly Bulge – 2023
The Amoretu Women Summer Tunic V Neck Dress is one of the classiest yet stylish formal dresses that hide belly bulges. This summer wear is made of breathable material and boasts a simple yet creative design. This pleated loose swing dress can hide your belly fat effectively due to its flowy structure. If modest clothing is your thing and you are looking for a knee-length dress that wouldn't hug your body but offer a great flare, this empire waist formal dress can be the perfect choice for you. This comfortable V-neck formal dress can be worn for office meetings, parties, and business vacations. It can effectively hide pregnant bellies, or create an overall slimming effect. You can also pair this dress up with leggings, tights, and jackets.
Pros
Breathable fabric
Stretchable material
Flowy structure
Suitable for everyday use
Printed as well as block color option
Cons
Price at the time of publication: $27.18
The BELONGSCI Women's Mini Dress is made of polyester and spandex along with high-quality chiffon. This dress is perfect for summer and autumn wear or a summer wedding guest look! It provides a flattering fit while being non-elastic and absolutely breathable. The unique design of this dress offers a great flare around the knees. This dress can be easily worn by plus-size women and people who want to hide their belly pooch and bulges without making it too obvious. The V-neck design of this floral print dress isn't too deep yet makes the entire outfit look attractive. This dress is one of the best cocktail dresses that hide the belly. It even offers enough freedom to move freely without the fear of exposing too much. To switch up the look of the floral print as per the season, you can add a pair of pumps or kitten heels for the summer or throw on your favorite pair of over-the-knee boots during autumn.
Pros
Made with high-quality chiffon
Suitable for plus-size women
Stretchable and breathable
Comes in multiple colors and designs
Cons
Price at the time of publication: $27.97
The AUSELILY Women's Short Sleeve Pleated Dress is made of rayon and spandex, which makes the fabric very soft, smooth, and breathable. This charming formal wear comes with cleverly hidden pockets that make it even more popular among women who aren't a fan of carrying bags everywhere. This formal dress is ideal for summer and doesn't stick to your body uncomfortably. Besides being roomy, this dress features a pleated design around the thighs that allows you to hide your belly bulges effortlessly. It doesn't slip or fall off your shoulders, making it one of the best dresses that hide your stomach. This stylish dress is available in many sizes including extra small, small, medium, large, and extra-large and would be perfect for a formal wedding guest look. For the spring or summer, just throw on your favorite ballet flats or sandals! For autumn/winter season, switch those sandals into over-the-knee boots and a pair of your favorite tights, and an oversized leather jacket for the perfect final touch.
Pros
Breathable fabric
Comes with pockets
Roomy design
Unique pleated design
Anti-slip fabric
Available in many sizes
Cons
Gives off a chemical smell
Price at the time of publication: $34.99
4.4
The Charlee Dress is extremely versatile and just the right choice for a comfortable day or night out. The material is a comfortable blend of 76% polyester, 20% viscose, and 4% spandex. The A-line cut of the dress accentuates the waist and draws attention away from your belly. What's more? It has pockets! A dream come true for most women. The ruched bust technique gives the fabric texture and dimension and some extra room. The shirred back ensures the dress fits oh-so-perfectly according to your body shape while the thicker sleeves prevent any discomfort of digging into the skin. Multiple reviewers have mentioned that this dress is true to size and can be styled for various informal occasions.
Pros
Soft fabric
Multiple size options
Available in 5 colors
Full nipple coverage
Good bust support
Cons
May not look as flattering on inverted triangle body shapes
The Sidefeel Women Off Shoulder Ruffles Bodycon Mini Dress is detailed with sweet ruffle and draped side flaps that gracefully fall from one of the shoulders. If you like asymmetric clothing details, you would love this piece. This side-to-side one-shoulder dress creates a relaxed yet sensuous silhouette. The unique design of this elegant and affordable dress makes it easier for fashion lovers to hide their belly fat and look stunning! This unique off-the-shoulder batwing tie waist dress has been made with a blend of spandex and polyester that makes it soft and body-hugging. Its lightweight fabrication is perfect for summer and spring events. From cocktail parties to business meetings, you can pair this draped formal attire with long earrings and high heels!
Pros
Lightweight material
Stretchable fabric
Budget-friendly
Creates a relaxed silhouette
True to size
Available in a variety of colors
Cons
Material might be see-through
Price at the time of publication: $34.99
The R.Vivimos Women's Cotton Long Sleeves Elegant Pencil Dress is made of cotton, polyester, and spandex that offers softness and stretch. This is one of the best dresses with anti-static cling-free fabric to hide your tummy with an A-line silhouette and would be perfect for an inverted triangle body type. It comes with a tie-up on your waist area which hides your belly bulges and looks attractive. Not just during summer, the vibrant color of this dress can also create a great style statement in the spring, autumn, and winter months. This A-line knit sweater dress offers a round neckline along with full-length balloon sleeves and elastic cuffs. This design can also work wonders during business meetings or formal office parties.
Pros
Soft and stretchable fabric
True to size
Belted waistline
Suitable for every season
Comes in multiple sizes
Cons
None
Price at the time of publication: $31.99
If you are looking for a casual yet formal dress that can effectively hide your unwanted belly fat, the MITILLY Women's Summer Boho Polka Dot Sleeveless Midi Dress might be the right one for you! This is one of the best plus-size dresses to hide your stomach as it comes with a simple design that can create a defined silhouette. Whether you are in your postpartum period, or just trying to lose your excess belly fat, this dress can effortlessly keep you company while you shed a few extra pounds on your own time. This elegant shirt dress comes with a flattering v-neck and buttoned-down front with an adjustable tie-waist and fluttery sleeves. The boho style polka-dot design makes it the perfect dress for casual beach occasions or summer office parties! This V-neckline evening dress is made of high-quality fabric and boasts a beautiful flounce.
Pros
Lightweight design
Made of high-quality fabric
Suitable for pregnant women
True to size
Cons
The sleeves might be too long
Price at the time of publication: $25.49
The GRACE KARIN Women Loose Chiffon Dress has a clothing material ideal for summer, autumn, or springtime. This dress comes with a concealed back zipper and polyester lining that secures the outfit and keeps you comfortable during busy business meetings or a black tie event. It comes in V-neck and boat neck designs and helps accentuate your figure with its knee-length fit. It also offers a loose fit and an A-line silhouette which makes it easier for you to hide your unwanted belly fat. Being one of the best summer dresses that hide belly bulge, it effortlessly covers your arms, underarms, belly, and back fat. This dress is perfect for people with an hourglass figure!
Pros
Concealed back zipper
Flattering neck design
Budget-friendly
Available in multiple sizes
Cons
Sizes run small
The material might form wrinkles
Price at the time of publication: $56.99
MEROKEETY Women's T-Shirt Midi Dress has ¾ sleeves and reaches to the knees to make it a perfect dress for fashionably going out on a stroll. The elegant style dress comes with two side and one front patchwork pockets. It is a cozy, striped dress that can be paired with a beret in winter and with hats in spring or fall. It offers all day comfort and is suitable for casual events, picnics, parties, and work.
Pros
Elastic waist
Versatile
Comfortable material
Offers modest coverage
Cons
Might shrink after wash
Might smell like burnt chemicals
Price at the time of publication: $33.99
The Berydress Women's Vintage V-Neck Wrap Dress is made from a blend of cotton and polyester. The material is super soft, breathable, and stretches according to your figure. The deep V-neck design gives this dress a sensual look. This classic dress is ideal for weddings, formal parties, and business meetings where you need to make an impression! Its flattering fit helps you hide your belly fat effectively. This faux wrap dress also defines your curves and accentuates your figure. The invisible zipper closure at the side of the dress makes it look professional and stylish at the same time. The material doesn't fade or shrink after washing, and you can use a low-temperature iron on this dress to keep wrinkles away. With polka dots print, style a classic pair of black pumps or switch out for something more bold like a pair of red pump! Don't forget to add a matching bag and an oversized trench coat, perfect for the winter months.
Pros
Breathable material
Stretchy fabric
Invisible zipper closure
Non-fading material
Anti-shrink fabric
Cons
Price at the time of publication: $31.9
PRETTYGARDEN Women's Long Sleeve Vintage Wrap Dress is made of 100% breathable polyester that makes the dress lightweight, cool, and comfortable. This maxi wrap dress with A-line skirt design has a side split, which makes your legs look slender and long, and a belt at the waist, which hides your belly and enhances the body's curves. If you are a fan of asymmetric clothing, you would love this vintage-style boho dress that is perfect for the spring and fall seasons and can be worn on a daily basis. The flattering V neck of this belted boho style evening party dress allows you to show off your neckline, while the ruffled long sleeves increase the fashion score of them.
Pros
Available in multiple colors
Pull on closure
Versatile
Comfortable material
Cons
Not true to size
No button in the front
Price at the time of publication: $46.99
The Amazon Essentials Women's Short-Sleeve Waisted Maxi Dress is a blend of rayon and elastane that offers softness and breathability. This is one of the most elegant long dresses that offer a flattering fit. This unique empire waist formal dress is affordable and boasts high-quality materials, making it perfect for mature women who prefer decent and high-quality clothing. You can wear this concealing belly formal gown as casual wear or to urgent business meetings. The sophisticated design of this classic dress hides your belly fat and side bulges with utmost ease. This plus-size formal dress hides belly fat, hugs your curves, and elevates your figure for any special event.
Pros
Budget-friendly
Breathable fabric
Empire waistline design
Premium-quality materials
Suitable for daily wear
Does not shrink after wash
Cons
Chemical smell
The color may fade with time.
Price at the time of publication: $35.2
If you are looking for a dress that isn't too tight, but perfect for formal occasions, the LookbookStore Women Casual Crewneck Tunic Dress could be your best option! Its crewneck design and loosened fit add classiness to your style. It offers a relaxed fit and an a-line silhouette that can effectively hide your belly fat. This dress is available in numerous colors and is made of breathable fabric that is smooth, skin-friendly, and devoid of linings. This beautiful dress keeps you comfortable throughout the day. The bell sleeves make sure that you can move your arms and shoulders freely. Moreover, the A-line hemline of this dress with mesh patchwork adds more character and a touch of glamor to the outfit. It comes with many choices of color and remains perfect for an evening party or any special occasion!
Pros
Breathable fabric
Skin-friendly fabric
Relaxed fit
True to size
Available in several sizes
Cons
Price at the time of publication: $32.49
Dokotoo Women's Split V-Neck Ruffle Chiffon Mini Short Skirt Dress is made from 95% polyester and 5% spandex to offer maximum comfort. The ruffle-tiered dress has an A-line skirt shape and makes a great outfit for spring or a beach vacation. The split neck and the neck ties highlight the neckline and the elastic belt at the waist hides the belly, which makes you look charming and slim with a narrower waistline. Moreover, this belted dress with long sleeves with elastic cuffs takes the appearance of the attire up a notch. With a statement necklace and some eccentric sandals, this soft ruffle dress spoils you with many choices of color and could make you the life of any event, be it a casual brunch or any special occasion!
Pros
Breathable
Pull-on closure
Available in multiple colors
Cons
Polyester may irritate the skin
Not true to size
Price at the time of publication: $38.96
Things To Consider While Buying Formal Dresses That Hide Belly Fat
Feeling confident in your own body, no matter your size is a good feeling, but it also feels good to look fit and toned while dressing up for an important formal occasion. Thankfully, the fashion world nowadays offers several options for every body type to trick the common eye and hide your belly and bulges. Here is a quick list of clothing hacks or things to consider before buying the best formal dresses that can hide your belly fat, and make you look slim and attractive.
Dress color plays an important role in making your body look slimmer. Formal dresses in dark colors help to hide those tummy bulges. Dresses with prints also do the job and look great on mature women. But, try to avoid bright and shiny colors, particularly on the upper body since they fit the body in a way that reveals belly fat and has no slimming effect.
Fitting plays an important role in making you look elegant on every occasion. To conceal belly fat you must avoid dresses that are too tight, especially on the upper area. Opt for well-fitted dresses that flatter your body shape while successfully drifting attention away from the tummy area. Dresses with a stretchable fit may also offer a flattering fit by smoothing your tummy area. Unique designs, such as when the length of the dress on the front is shorter than the back of the dress, may create a flow in the outfit that hides your belly fat along with your back and side bulges.
Dress material plays an important role in both the fit and fall of your clothes. Choosing formal clothes with good quality material like cotton jersey, cotton, spandex, etc. will naturally fit better on the curvy body. This will ensure that the belly area is not exposed to attention and that your body appears slimmer. Choose more cotton and polyester stuff while dressing for formal occasions in summer or any warmer month. In winter, brocade and velvet dress materials make you appear elegant, younger, and fitter.
The traditional tuck-in methods don't work when it comes to concealing the unwanted fat on your tummy. Tucking tops inside your trousers creates a horizontal line around your belly area that attract attention to your midriff.. Thus, avoid tucking in to ensure your tops have a better fall and the belly area doesn't draw unwanted attention. High-waisted formal dresses work magic in hiding your tummy bulge. High-waist dresses also don't stick too much to the lower body area and thus help you appear leaner. You may pair it with a shrug or denim jacket for a casual look.
Without further ado, let us understand how to properly look for the best formal dresses that hide belly fat and wouldn't be too suffocating.
How To Look For The Best Formal Dresses That Hide Belly Bulges
Fit: Dressing up classy mostly means understanding what works for your body and what doesn't. To hide belly fat, you should wear dresses that would steer the attention away from your tummy. For that, you can look for ruched dresses or trapezoidal fits. The mantra is to offer more definition to your features and create a tummy-slimming effect.
Style: The formal dresses that you have chosen should also cater to your personal style and aesthetic. Many women might love wrap-up dresses, or many might go for dresses with additional belts and knots for a narrower waistline. No matter your preference, it should enhance your figure, highlight the waistline, and create the illusion of a slimmer middle.
Fabric: As summer occasion wear, lightweight dresses are the way to go. Cotton, polyester, and spandex are some of the materials that can help you feel comfortable and keep the heat at bay. For winters, it is better to choose materials that can keep you warm throughout your event. Dresses with tweed, velvet, or brocade can work wonders for this season. Overall, you should choose formal dresses that are made with stretchable fabric, and can snugly hug your silhouette.
Infographic: Tips To Wear Formal Dresses To Hide Belly Bulge In Style
Why Trust StyleCraze?
The author, Srijani Roy Chowdhury, is a certified style and image consultant who keeps a check on fashionable clothes. She has carefully browsed through several e-commerce websites to create this list of the best formal dresses that hide belly bulges. Srijani's list features outfits that are comfortable and offer a flattering fit. These dresses are unique and can help your body look well-toned without visiting the gym!
Frequently Asked Questions
How can I hide my belly fat in a formal dress?
Formal dresses can hide your belly fat as much as any other outfit. You should select formal dresses that are comfortable, and fit your style. Darker colors including black or navy blue can make your body look slimmer. Elegant long dresses with narrow or vertical stripes can also help in creating an illusion of a slimmer stature. You may also go for dresses with elastic and drawstring closure at the wait area for a flattering fit. This helps minimize the tummy area's appearance.
What kind of dress hides belly fat?
High-waisted dresses or trapezoidal dresses can be good options if you are willing to hide your belly bulges. The dresses that hide belly fat needn't always be in darker colors if you know which designs flaunt your body. Ruffle dresses or peplum dresses and a vertically patterned shirt dress can work really well to cover tummies. Even laced-up floral patterns can take away the attention from the belly bulge.