5 Best Anti-Fungal Nail Polishes You Can Use
Hide the infection without causing any further harm to the nails with these antifungal polishes.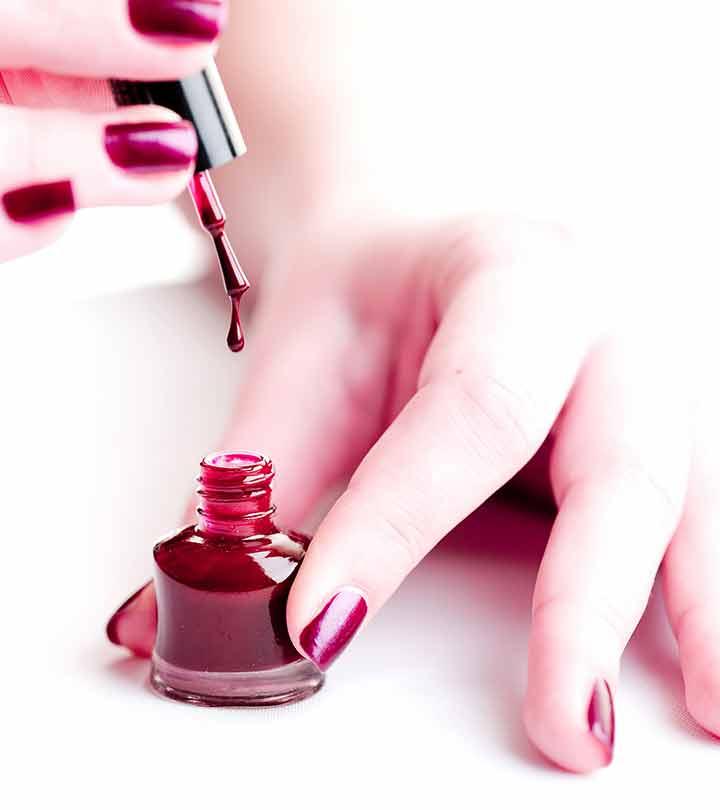 No one wants to have yellow, brittle, and infected nails. You can avoid this problem with the best antifungal nail polishes listed in our article. The treatment for nail fungus can go on and on for days, and it is not an infection that you can ignore. This is when the antifungal nail polishes come in handy. They allow you to prevent infection and help in nail fungus control without causing any further harm to your nails. These lacquers are available in colored and colorless formulas that can reduce fungus growth. But finding a suitable nail polish for this condition is hard. Not for you! Simply browse our article and pick your favorite antifungal nail polish. Swipe up!
Read on to know more!
Our Top 5 Picks Of The Best Anti-Fungal Nail Polishes
If you are suffering from nail fungus, it is highly recommended that you choose organic and natural nail paint to prevent your nails from further damage and for nail repair. This fast-drying non-toxic nail kit from Dr.'s Remedy brings you 3 vibrant nail polish shades. This protective nail coating checks all the boxes as it is strengthening, organic, non-toxic, lasting, and is enriched with ingredients like tea tree oil, biotin, garlic bulb extracts, and lavender for preventing infections.
Pros
A lightweight and breathable coat that dries off quickly
Offers shine and prevents breakage
Organic and non-toxic nail paint with anti-bacterial and antifungal ingredients
Cruelty-free product
Easy application
Cons
The nail paint chips within a few days of application
Very thick consistency
Price at the time of publication: $39.95
Pamper your nails with this antifungal and vibrant bubble-gum pink nail polish! This nail paint is infused with undecylenic acid that prevents fungal growth and keeps your nails safe. Its unique chip-resistant formula makes your nails look beautiful for days. The best part is that this nail paint will shine through, without frequent touch-ups. This formulation is free from chemicals and toxins so you can safely use it on your infected nails. For a thorough review of the product, have a look at this YouTuber's video.
Pros
Infused with undecylenic acid for better nail protection against fungus
Infused with natural ingredients
Long-lasting
Smooth application
Cons
Price at the time of publication: $25.49
If you are drawn towards the pretty shades of purple, this purple orchid shimmery nail lacquer will be your best friend! It is free from formaldehyde, resins, camphor, and such harmful ingredients and is formulated for fungus prevention and to keep your nails safe. This professional-grade, non-toxic nail polish is long-lasting and chip-resistant, so you can wear it for days without worrying about touch-ups.
Pros
Infused with botanical grapefruit seed extracts to prevent fungus
Works well on cracked, thin, stained, or peeling nails
Improves the appearance of nails gradually
Offers smooth application and has a medium consistency
Cons
Takes long to dry
Expensive
Price at the time of publication: $16.0
Not all the antifungal nail polishes are long-lasting and durable, and this is where Dr.'s Remedy saves the day! It brings to you a topcoat that seals your nail paint and makes it last for weeks. You can apply it on the base coat or directly on your nails to hide the fungus or white spots and protect the nails from further damage. This fungal nail treatment polish is made using natural ingredients that soothe the infected area and protect the nails from damage leading to stronger nails.
Pros
Can be used as top and base coat for both, fingernails and toenails
Made using organic antifungal ingredients
Offers a great shine and prevents nail breakage
Repairs damaged cells
Anti-infective properties
Does not have a strong aroma
Cons
Very thick and does not apply smoothly
Price at the time of publication: $19.95
NovaNailPLUS Powerful Antifungal Agent treats the nail from onychomycosis and prevents it from spreading. Fungal infection in toenails is prevalent, and to help you deal with the infection, this base coat comes with 1% artemisia tridentata extracts and 4% melaleuca alternifolia oil to stop it from spreading. This base coat quickly penetrates the nail bed and prevents further spread of the infection. It offers a clean, shiny glow to the nails, helps maintain nail hygiene, and works great as an antifungal treatment for clear and healthy nails.
Pros
Infused with antifungal ingredients
Can be used as a base coat and nail polish
Free from chemicals, toxins, and resins
Helpful in treating fungus, yeast, and infections
Cons
Price at the time of publication: $19.99
Nail fungus can lead to fatal nail thickening and permanent nail distortion if not appropriately treated. One of the best over-the-counter treatments for nail fungus is using an antifungal or antiseptic nail polish. These polishes are infused with ingredients that help fight fungal infections by inhibiting fungal growth. They also help hide any nail distortion. To ensure that you buy the best antifungal fungal nail polish, we have listed a few aspects to consider before you select an anti-fungal nail polish.
1. Ingredients To Look For: Choose formulas infused with tea tree oil, garlic bulb extract, biotin, cinnamon, lavender, and undecylenic acid, that target fungus growth and inhibits further spread.
2. Ingredients To Avoid: Avoid the following toxic ingredients which affect your nail health and even damage the environment-
Toluene- It lets out harmful fumes, which cause breathing disability and nausea. In the worst cases, it can also cause nerve damage.
DBP- It damages sensitive organs and causes endocrine disability.
Formaldehyde- It dries out your nails and may cause nausea and breathing troubles.
3. Applicator Type: Choose a flexible but ergonomically designed applicator that helps spread the product precisely on your nails. Avoid polishes with wide-headed brushes as they usually pick up excess product resulting in uneven application.
4. Durability: Choose chip-resistant and fade-resistant formulas so it stays on for longer periods.
5. Color: Most antifungal nail polishes come in clear colors, but you can also find various colored nail polish options. Choose your favorite shade that complements your skin tone and outfit.
6. Consistency: Opt for a lightweight, breathable formula that dries easily for optimal treatment. Thicker formulas are heavy on the nails, which may hinder healing.
Now that we have seen the  best antifungal nail polishes, let's know more about them.
What Is Nail Fungus
Nail fungus is an infection caused due to overgrowth of fungus in, around or, under the nails. It causes the nail to thicken, crumble, and break. It may also cause a foul odor, degraded appearance, and little pain.
Is Nail Fungus Dangerous
Generally, nail fungus is not dangerous and nail renewal is easy if treated correctly and on time. However, severe cases of nail fungus can lead to pain and thickening of nails. It may also cause a bad smell, distorted nails, and can lead to permanent damage to the nails due to the spread of infection. One might need proper medical treatment and nail growth support for recovery.
How To Use Antifungal Nail Polish
Using an antifungal nail polish is a great way to treat fungus on nails. Here are a few steps to do so:
Before applying the nail polish, cut and trim the nails as much as possible.
These nail polishes consist of growth-inhibiting ingredients and, thus, should be applied once or twice a week.
Before applying a second layer, it is crucial to remove the first layer using an alcohol swab.
Use a colorless nail polish as a base coat and apply any colored antifungal nail paint as a
Tips For Treating Fungal Nails
Here are a few tips for treating fungal nails:
Make sure that you use topical gels and serums to cleanse and treat your nails while using the antifungal nail polishes
Cut and trim the nails to prevent breakage and further spread of infection
Use nail lacquers with amorolfine as it prevents the spread of fungus and fights against fungi, yeast, and molds
Apply the nail lacquer twice a week regularly for 12 months to repair the nails
Before applying any product, clean the nails thoroughly and dry the surface
Also, use sterile cotton buds on the nails to prevent contamination
Prevent exposure to extremely damp condition and choose correct breathable footwear to avoid pain
Maintain a regular foot-care routine, wear antimicrobial shoes and avoid nail trauma to heal the nails fast
Also, make sure that you do not share your nail polish or clippers with other people
Why Trust StyleCraze?
The author, Srijani Roy Chowdhury, is a makeup enthusiast who loves researching and curating safe and clean makeup products. She consulted a cosmetologist to find the best antifungal nail polishes that will help treat and hide fungal nail infections. She also went through hundreds of online reviews to ensure that the products mentioned in the article will help manage the condition.
Frequently Asked Questions
 Does antifungal nail polish work?
Yes, antifungal nail polishes are infused with antibacterial and antifungal ingredients that not only prevent the fungus from spreading but will also help in healing the nails and promote healthy nail growth. It can be used as a treatment for fighting fungus, although it is a time-consuming option compared to the other treatment options.
Can I wear nail polish if I have toenail fungus?
It is recommended to wear only antifungal nail polishes if you have toenail fungus. The antifungal nail polishes can help fight the spread of fungus and can prevent the nails from getting damp. It is recommended to apply the antifungal base coat if you want to use any other cosmetic nail polish on your toenails. Cosmetic nail polishes may worsen the condition and, thus, always choose antifungal nail paint even if you have the mildest infection.
How to make the toenail fungus look better?
Toenail fungus can look disturbing, and you might want to hide it. The best way to conceal the fungus and make the nails look better is to wear antifungal nail paint. Clean the affected area with water and cleansers every day. Groom the nails, but don't over-trim. File the nails and apply a transparent coat of antifungal nail paint. If you like colorful nail polishes, choose one and apply it on your nails to hide the fungus and make your nails look better.
What kills nail fungus fast?
You can use an antifungal nail polish to paint on your infected nails or use an anti-fungal cream that sinks into the nail bed to clear out fungus from within.
What are the natural treatments for nail fungus?
Here are the natural and home remedies for fungal nails:
Soak the affected nail in one part vinegar to two parts warm water for up to 20 minutes daily.
Listerine mouthwash contains menthol and eucalyptus which are anti-fungal and work well for soothing. Soak the affected nails in it for 30 minutes daily.
Tea tree oil has antibacterial and antifungal properties that help in treating nail fungus. Apply tea tree oil directly to the affected nail twice a day.
Place crushed garlic cloves on the affected nail for 30 minutes daily.
Vicks VapoRub contains ingredients like camphor and eucalyptus oil which can help in treating nail fungus. Apply a pea size of Vicks VapoRub to the affected nail once a day.
If your nail fungus is causing pain and spreading out seek medical attention without delay.
Recommended Articles: