13 Best Clear Nail Polish Reviews For Gorgeous Nails In 2023
Get clear, long-lasting, and polished nails for the effortlessly chic woman in you.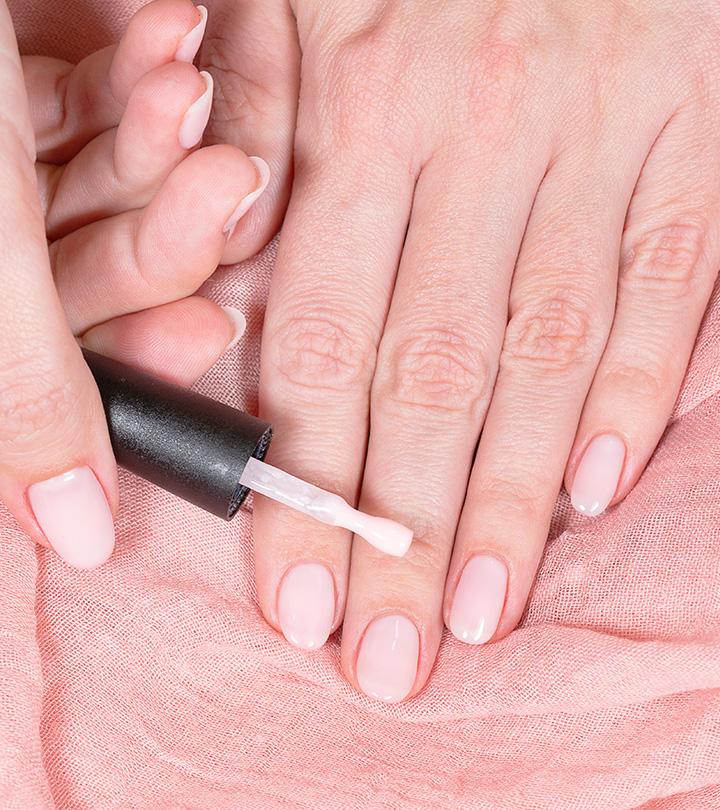 We might paint our nails and use ornate nail art that looks quirky or artistic, but a fine coat of the best clear nail polish is something that never goes out of style. It makes your nails look glossy and lovely and your hands well-maintained. You can use it by itself or apply a coat over your regular nail paint to achieve that extra gloss and sheen. Clear nail polish can also make your manicure last longer by protecting it from peeling and discoloration. Moreover, it prevents the splitting of nails too.
Chipped or peeled nail paint may ruin the whole look, and that's why you need clear nail polish to add sophistication to your freshly manicured hands. If you want to add clear nail polish to your long list of manicure tools, we are happy to help. Take your pick from the list below and find one that suits your gorgeous nails.
13 Best Clear Nail Polish Reviews Of 2023
Rock the party with this fast-drying topcoat that not only gives your nail polish a bright and glossy shine but also keeps your manicure looking great for days. This nail polish formula penetrates the primary nail polish forms a single solid, protective coating over the nail plate for a more durable finish. It is guaranteed not to be yellow and leaves your nails soft, strong, and resistant to chipping and peeling. It's a fast-drying top coat gel nail polish and gives a glossy, high shine finish without the use of a UV/LED light. It's self-leveling and is very smooth and hard as a rock after curing. It will surely make you the subject of ceaseless compliments. Check out this video on YouTube for a detailed understanding of the product.
Pros
100% vegan
Cruelty-free
Paraben-free
Sulfate-free
Phthalate-free
Triclosan-free
Cons
Some may be overwhelmed with its smell
Price at the time of publication: $7.18
Sally Hansen clear nail polish brilliantly covers your nails in just 1 coat. The precise brush contours to your nails, so the color always glides on quickly and flawlessly. It has a unique acrylic polymer formula that ensures that it hardens and air dries in just 30 seconds. It also comes with a double UV filter formula that ensures that your nail color is protected. Use this UV-resistant product after applying nail color for a shiny, super-fast manicure that lasts up to 10 days because of its long-lasting chip-resistant finish. This nail polish puts the power of having beautiful hands literally in your own for a shower of compliments.
Pros
Fast drying
Long lasting
High-gloss effect
Non-yellowing formula
Cons
Some may not be satisfied with its anti-chipping feature
Price at the time of publication: $4.47
The DaniPro Anti-Fungal Nail Polish is a unique and innovative product designed to not only enhance nail appearance but also protect them from harmful fungal infections. Unlike traditional nail polishes, DaniPro is formulated with biotin, vitamins A and E, along with an active ingredient called Undecylenic Acid, which has been clinically proven to help fight against fungal infections that can otherwise lead to unsightly and painful nail conditions. This high-performance professional product boasts a chip-resistant and long-lasting formula, ensuring that your manicure stays looking flawless for days on end.
Pros
Long-lasting
High gloss
Prevents yellowing of nail color
Formaldehyde-free
Dibutyl phthalate-free
Toluene-free
Cons
None

Price at the time of publication: $21.45
This fast-drying, healthy clear nail polish defies chipping, and its anti-fade technology helps your nails stay vibrant and look fresh longer. This nail polish's precision brush applies just the right amount of polish for smooth and even coverage. Formulated without any harmful or toxic chemicals, known as the 5-free formula, it protects your nails against chipping and breaking and provides a non-yellowing finish. Now, there's nothing stopping you from getting beautiful, elegant hands with this formaldehyde-free nail treatment.
Pros
Bubble-free application
No formaldehyde
No dibutyl phthalate
No toluene
No formaldehyde resin
No camphor
Cons
Some may find it too liquidy and sheer
Price at the time of publication: $9.99
The Mia Secret UV Finish Gel is a game-changing product for nail enthusiasts who crave salon-quality results from the comfort of their own homes. This high-quality gel formula provides an ultra-glossy and durable finish that will last for weeks, giving you a manicure that looks like it was done by a professional. This top-quality acrylic gel provides a shiny finish that resists chipping, fading, and smudging, keeping your nails looking perfect and protected.
Pros
Fast drying
Long-lasting
Protects nails
High gloss
Lasts for 21 days
Cons
None
Price at the time of publication: $12.5
Sold as a combination of a base coat with an ultimate gel top coat, this nourishing clear nail polish is long-lasting and can stay up to 21 days without chipping or peeling with a perfect shine. The flexible topcoat is resistant to nicking or smudging. It contains 9 toxin-free ingredients that make it safe to use and ensure it has next to no odor. It contains no harsh ingredients or adhesives that lead to damaged nails. This clear nail polish gel enhances natural nail color and is suitable for gel nails, artificial nails, acrylic nails, and nail tips. There is no need to wipe the base coat's residue off as it will help the color coat stay on your nails longer. Definitely worth a try!
Pros
Formaldehyde-free
Toluene-free
Xylene-free
Phthalate-free
Lead-free
No camphor
Paraben-free
Cons
May not be suit people with extremely sensitive skin
Price at the time of publication: $6.99
This strengthening clear nail polish has a convenient 3-in-1 formaldehyde-free formula for sensitive nails. It works as a base coat, topcoat, and nail strengthener. For fantastic nails, you need more than just color. The base coat acts as a primer for the nail surface, thereby increasing nail polish adhesion, preventing staining and yellowing natural nails. The topcoat gives nails a beautiful shine while extending the life of shiny manicures and pedicures. It comes in its signature thick and strong bottle that lasts a long time. To keep your hands looking youthful and manicure-ready at all times, definitely try this product!
Pros
3-in-1 nail polish
Formaldehyde-free
Prevents yellowing of nails
Makes nails stronger and healthier
Cons
Some may find that the formulas forms bubbles
Price at the time of publication: $14.49
If you're looking for an easy and effective way to keep your nails in perfect condition without tampering with your nail paint, look no further than the Ella Mila Quick Dry Nail Polish. This clear nail polish is designed to provide a long-lasting, natural shine that will last all day. It also helps prevent chipping and splitting of the nail polish effortlessly. Just apply one coat of this nail care product and watch it dry in less than 3 minutes to give your nails the ultimate shine and protection. With its toxin-free ingredients and fast drying time, this nail polish provides convenience as well as lasting results. You can use this quick-drying formula as a top coat as well!
Pros
Formaldehyde-free
Toluene-free
Xylene-free
Phthalate-free
Fast drying
Long-lasting
Cons
None
Price at the time of publication: $10.49
If you are on the lookout for polishes that dry to a crystal-clear shine, try the Aimeili Gel Polish. This light pink clear nail polish has the unique advantage of having a gel finish formula that can be removed in minutes. It lasts up to 21 days and gives a high gloss, mirror shine without chipping, peeling, or smudging. This sheer, translucent pink nail polish requires drying under a UV or LED lamp and is perfect for natural-looking nails. In case you are looking for an opaque look, you would need to apply more than 2 coats.
Pros
Quick drying
High gloss
Translucent pink color
Lasts for 21 days
Cons
Some may find it too sheer
Price at the time of publication: $5.99
A blend of biotin, tea tree oil, cactus, ginseng, and kale extract, allows this clear fingernail polish to work as a base and topcoat. This organic nail polish has a natural gloss, promotes nail growth and strength, and offers UV protection to your nails. This brilliant shine, long-wear nail polish prevents chipping and peeling and hydrates your nails, keeping them beautiful for as long as you want. And the best part is that it contains no harmful or toxic ingredients. Maybe it's time to make a change!
Pros
100% vegan
Non-toxic
Natural gloss
Long lasting
Works as a base and top coat
Cons
Some feel that it tends to dry the nails out
Price at the time of publication: $19.95
This natural clear nail polish is breathable and adds a polished look to your nails. It has a little trick that puts it way over traditional nail polishes. This cruelty-free, vegan and permeable nail polish is designed to allow water and oxygen molecules to permeate through the polish and down to the nail. It's safe and can be used by everyone, including pregnant women and children. It's halal-certified and popular among Muslim women and men wanting beautiful nails while performing wudu. This nail polish makes a good gift item for many occasions. Say hello to beautiful hands with this must-have nail polish!
Pros
Vegan
Cruelty-free
Void of chemicals
Halal breathable polish
Cons
May have an unpleasant smell
Price at the time of publication: $13.99
This vegan clear nail polish is cruelty-free and handmade in small batches. Its matte look feature is a special effect that transforms your finish from glossy to matte. It strengthens your nails and seals and protects manicures to prevent scratches. It dries quickly without the help of a UV lamp and makes your nail polish last longer. Using this product will smoothen ridges and imperfections to improve your nails' appearance, as this quick-absorbing nail treatment is made with a natural formula to hydrate and condition nails. Get your hands ready for that special occasion.
Pros
Cruelty-free
Matte finish
Strengthens nails
Quick drying
Fast absorbing
Cons
Price at the time of publication: $12.5
In just a single coat, this good clear nail polish provides a rich sheen that dries in as little as 45 seconds and lasts up to 5 days without peeling or fading. There is also no chipping, so you can get into party mode without worrying about a smeared, ruined manicure. Just apply a thin and even coat to the nail bed and apply more coats for more coverage, and wait for the color to dry between coats. Wet n wild products are never tested on animals and are always cruelty-free, which is an added incentive to go in for this product.
Pros
Cruelty-free
Brilliant shine
Fast drying
Long lasting
Cons
Some may find it too sheer
Price at the time of publication: $4.29
Whether you are looking for a clear nail polish to apply over your gorgeous manicures for a glossy look or as a regular nail paint for a classy sheen, there are several factors you have to consider in order to choose the best. It is ideal to ensure your polish aces several factors for the best mani & pedi experience.
How To Choose The Best Clear Nail Polish
The ingredients used in most nail polishes or nail paints can be toxic, which can affect the environment and your personal health. This is why it is vital that you stay away from a few toxic ingredients like xylene, camphor, formaldehyde resin, DBP, and Toluene and learn about safe ingredients. Some side effects of these major ingredients are:
Formaldehyde: Many brands use formaldehyde in their nail polish formula to enhance its durability. But this ingredient can also cause nausea, asthma, and other breathing difficulties. So, it is better to refrain from using any polish that contains formaldehyde.
Toluene: This potent ingredient lets out harmful fumes, which causes nausea, breathing disabilities and even nerve damage in the worst cases.
DBP: DPB helps reduce bubbling and chipping in your polish, but can induce headaches, dizziness, dry throat, and irritated eyes.
Choose a non-toxic nail polish that mentions 3-free, 5-free, 7-free, and up to 16-free on the package, if you are looking for polishes that are suitable for daily wear. These counts indicate the number of chemicals or harmful ingredients that are absent in the formulation.
Choose a lightweight, water-based nail polish that does not give off harmful fumes and is safe for your skin. Solvent-based nail polishes, on the other hand, can give off toxic fumes, which can be dangerous when inhaled.
Nail polishes in general have a shelf life of up to 3 years, But, an early production date generally means the texture of the polish is no longer in the right consistency, as it can be hard and messy to apply. Always make sure you choose a nail polish with a late production date.
The applicator of your nail polish also plays an important role in flawless mani/pedi outcome. Choose applicators with soft brushes which are slim and flexible, as they easily spread the product in a precise way. Stay away from wide brushes as they can cause bleeding or pick up too much product. Also, choose a non-slip handle to have a firm grip while applying the polish.
Most nail polishes in the market have a very strong or unpleasant odor, which can sometimes cause breathing discomfort. A strong odor is usually an indication of high nail polish toxicity, so it is better to choose a nail polish that has a neutral odor.
Most non-toxic nail polishes are free from harmful chemicals but do not last as long as chemical polishes do. Look for products that last up to 7 days or more without chipping or peeling off. Also, opt for polishes that provide a smudge-proof finish.
Now that you have been through the review of the 13 best clear nail polishes, you need to keep a few things in mind when you choose the right clear nail polish for yourself. Here are a few tips to keep in mind so that you can make an informed choice.
Why Trust Stylecraze
Our author, Srijita De, is a makeup enthusiast. She has curated this list of the best clear nail polishes after after conducting thorough research and checking user reviews on trusted online forums. She picked only the top-rated products for the list that are easy to apply and have a glossy finish. These nail polishes are fast-drying, long-lasting, and prevent yellowing of nails.
Frequently Asked Questions
Is clear nail polish good for nails?
Clear nail polish is good from the point of view that it can extend the life of a manicure, treat peeling and splitting nails, prevent your nail polish from yellowing, and make your unpolished nails look well polished and glossy.
Is a top coat the same as clear nail polish?
There`s a distinct difference between a clear nail polish and a top coat. Clear nail polish is just like any other nail polish, which is prone to chipping and peeling off.  On the other hand, a top coat acts like a sealant or protector for the nail polish against chipping and peeling.
Does clear nail polish help your nails grow?
There is actually no nail polish that can make your nails grow. Products that make such claims generally are just hardening or conditioning the nail to minimize nail breakage. This makes it seem like they grow faster.
How long does clear nail polish last?
Most nail polishes can last from 18 to 24 months provided they are kept in a cool dark place. If the nail polish has not gone bad you can use it for even longer  than 24 months.
Is a top coat the same as clear nail polish?
No. Clear nail polish can be worn alone or on top of your colored polishes to add shine to your nails. Whereas a top coat seals your nail polish and prevents your nails from chipping and peeling.
What are the benefits of clear nail polish?
• Extends the life of the manicure of your nails.
• Lengthens the life and clarity of your nails, as well as increasing its shine.
• Prevents your polishes and nails from yellowing.
Does clear nail polish strengthen nails?
No, a clear nail polish primarily adds shine to your nails. It does not strengthen or add body to your nails.
Is clear nail polish toxic?
No. Not all clear nail polishes contain the five chemical toxins. However, various brands make clear polishes with one or many toxins, which are hazardous to your health. Therefore, read the label for ingredients before purchasing your clear nail polish.
Is it healthy to put clear nail polish on your nails?
No. Clear nail polish is similar to any other polishes. They do nothing to improve the strength of your nails. On the contrary, these polishes can damage nail integrity if worn for long hours.
What is the difference between clear nail polish and nail polish base?
Clear nail polish is similar to any other colored polishes that do nothing to improve the strength of your nails. Instead, it simply adds a polished shine to your nails and can be worn alone or over your colored polishes.