Best YSL Perfumes For Women – Our Top 10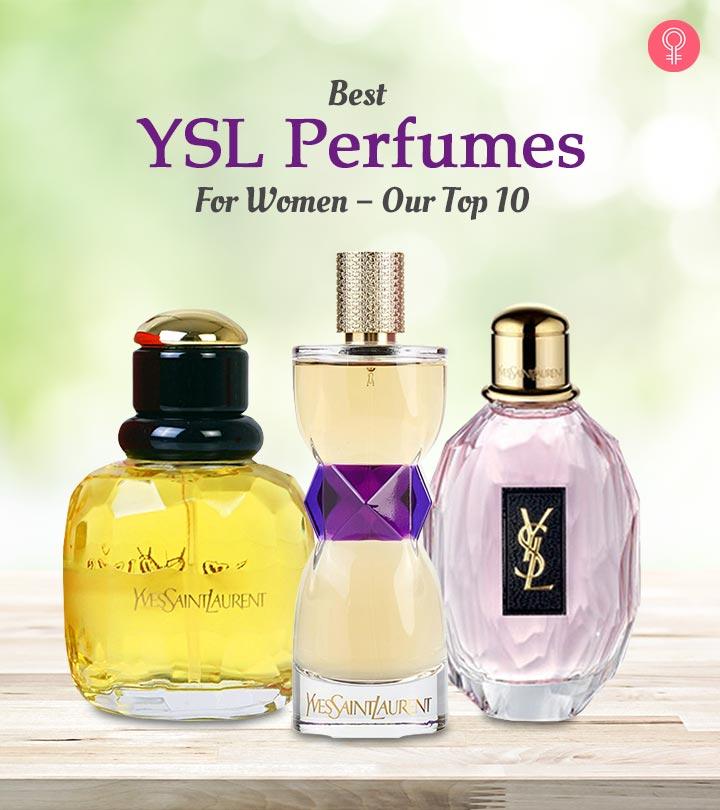 Yves Saint Laurent, or YSL as it is popularly known, is a popular luxury design house of Paris. It was founded in 1961 by Yves Saint Laurent – a designer who had previously worked for Christian Dior. He was among the first to design menswear-inspired clothing for women. YSL was a trailblazer and led the switch from haute couture to ready-to-wear fashion.
The perfumes from the YSL stable echo the same kind of innovation and originality, both in the scents and their packaging. Since releasing the first fragrance in 1964, YSL has come a long way. Their fragrances are top picks for both formal and casual events and are loved by women across the world. Take a look at the 10 best YSL perfumes for women and discover some new favorites!
Top 10 YSL Perfumes For Women
Opium By Yves Saint Laurent Eau De Toilette is the creation of Jean Amic and Jean-Louis Sieuzac. It was launched in 1977. The perfume exudes an overt sensuality that is opulent and decadent. It was reintroduced with new packaging in 2009.
The scent opens with top notes of plum, coriander, citruses, pepper, mandarin orange, clove, bergamot, and West Indian bay. It further deepens into alluring heart notes of myrrh, jasmine, carnation, lily-of-the-valley, peach, and rose. Sandalwood, patchouli, amber, and cinnamon in the base notes make the fragrance linger excitingly on your skin.

Similar Products:
Black Opium By Yves Saint Laurent Eau De Parfum is a highly addictive feminine fragrance. It was launched in 2014. It is seductive, intoxicating, and the best concoction to make your beloved swoon over you. The scent is a modern and colorful rendition of addiction.
The opening notes of sweet orange blossom and rosy pink pepper charm you with their refreshing vitality. The heart notes of coffee, rich in adrenaline, set the heart racing, with soft jasmine for contrast. At the base, the notes of white musk, white wood, and warm vanilla leave a cozy and comforting trail.

Similar Products:
Paris By Yves Saint Laurent Eau De Parfum is named after Paris – the beloved city of renowned designer Yves Saint Laurent. He created this rose-scented perfume to pay homage to Parisian women whom he considered romantic, elegant, lively, joyful, and utterly charming.
This fragrance is a delightful blend of roses and violet flowers. Bergamot and violet form the woody-floral perfume's top notes, with iris and May rose at its heart. Sandalwood at the base gives it a warm character. The blend of fruity and floral notes creates a wonderfully light-hearted fragrance that will put a spring in your step whenever you wear it, especially on a date night.

Similar Products:
Perfumer Michel Hy created rive Gauche By Yves Saint Laurent Eau De Toilette in 1970, and it was launched in 1971. The flowery scent owes its name (which means "left bank") to the left bank of the Seine river, the trendy, intellectual, and bohemian side of Paris, also home to the YSL boutique.
The fragrance is a harmony of several warm and gentle accords, starting with top notes of galbanum, peach, and bergamot. The heart notes deepen the effect with geranium, jasmine, rose, ylang-ylang, lily-of-the-valley, and orris. The base notes consist of tonka bean, vetiver, oakmoss, sandalwood, amber, and musk.

Similar Products:
Manifesto By Yves Saint Laurent Eau De Parfum was launched in 2012. It is a scent full of passion – the symbol of all things spontaneous, brave, and free-spirited. It is the creation of Anne Flipo and Loc Dong. The perfume is designed to ignite your deepest senses.
The top notes are a refreshing blend of black currant, fresh green wave, and bergamot. The heart notes feature white flower accords, such as those of lily-of-the-valley and Sambac jasmine. At the woody oriental base, the fragrance lingers on your skin with notes of sandalwood, cedarwood, tonka bean, and vanilla.

Similar Products:
Mon Paris By Yves Saint Laurent Eau De Parfum is a sparkling fragrance launched in 2016 and inspired by Paris – the city of intense love. The irresistible scent is the creation of Olivier Cresp, Harry Fremont, and Dora Baghriche. What you get in the end is an impulsive and passionate journey to Paris.
The composition opens with fruity top notes of strawberry, raspberry, pear, and Calabria bergamot. The floral heart notes that follow consist of datura flower, peony, Chinese and Sambac jasmine, and orange blossom. The dark chypre base has white musk, ambroxan, and patchouli from Guatemala and Indonesia.

Parisienne By Yves Saint Laurent Eau De Parfum is the 2009 creation of Sophia Grojsman and Sophie Labbe. Parisienne is a fragrance of utmost femininity and sensuality, perfect for the modern cosmopolitan woman.
Top notes of juicy blackberry and tart cranberry open this perfume. The heart notes are an intensely floral blend of violet, rose, and peony, punctuated by the warmth of leather. The base notes are warm and woody with vetiver, patchouli, sandalwood, and musk lingering in the dry down. The perfume also contains a bold surprise in the form of aromas of vinyl and lacquer.

Cinéma By Yves Saint Laurent Eau De Parfum is a celebration of glamorous ladies who spend their lives under the spotlight: confident, elegant, and skilled at being the center of attention. The seductive aroma of this scent brings to mind the leading ladies of classic Hollywood movies – in gorgeous evening gowns and high heels.
The scent opens with alluring top notes of almond blossom, clementine, and cyclamen. It transitions into a magnificent heart that blends jasmine, amaryllis, and peony. The warm, opulent base notes consist of benzoin, amber, white musk, and vanilla. This refreshing fragrance is suitable for any event, any time of day or night, and is sure to give you lots of compliments!

Elle By Yves Saint Laurent Eau De Parfum is a delicate yet sophisticated fragrance designed by Olivier Cresp and Jacques Cavallier. The 2007 creation is the ideal pick for a woman who is modern, elegant, and comfortable in her skin. The silky scent has a mysterious edge that makes it perfect for evening wear.
Lychee, peony, and citron open the perfume that heightens with heart notes of pink pepper, rose, pink berries, freesia, and Sambac jasmine. The intoxicating effect is smoothed down with base notes of ambrette, patchouli, and vetiver, along with woody accords.

Libre by Yves Saint Laurent Eau De Parfum is a bouquet fragrance launched in 2019. It was designed by Anne Flipo and Carlos Benaim for the confident woman. It has timeless quality and is perfect for both daytime and evening wear.
This fresh fragrance houses the top notes of lavender, mandarin orange, and black currant, while the heart notes are orange blossom and jasmine. The base notes Madagascar vanilla, ambergris, musk, and cedar give life to the fragrance. The fragrance isn't too sweet or too bold, but just right to complement your style.

Price Range
YSL is synonymous with luxury fashion, and these perfumes are not expected to come cheap. The overall range would be between $60 to $80. However, if you're hesitant about making a huge investment on your first YSL perfume, go for a sample vial or tester – these are easy on the pocket and can help you decide whether a particular scent is for you or not.
These are the 10 best Yves Saint Laurent perfumes for women. We hope you found some favorites on this list. If not, consider these choices as an excuse for perfume shopping! Which of these would you love to pick as your next signature scent? Let us know in the comments below.
Recommended Articles