10 Best Chemical Peels For Sensitive Skin – 2022
Enjoy a healthy glow with these paraben-free chemical peels for sensitive skin.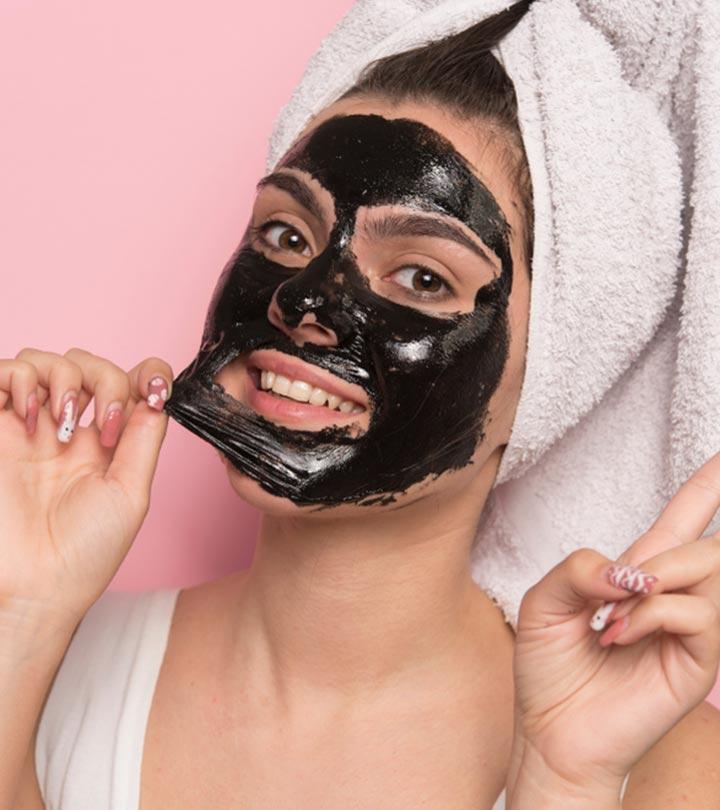 Sensitive skin and chemical peels may not always go hand-in-hand. The thought of applying acidic solutions on sensitive skin may sound jarring, but it can do wonders for your skin. The best chemical peels for sensitive skin are gentle and work effectively on your complexion. Yes, you read it right! They are free of parabens and phthalates and help retain healthy skin, along with providing you with a radiant glow.
Most chemical peels consist of salicylic acid, glycolic acid, or lactic acid to remove the dead skin cells settled on your skin's surface. They also remove excess oil and prevent clogging of the pores. Moreover, these chemical peels can improve your cell turnover, minimize the occurrence of wrinkles and fine lines, and boost collagen production. Here, we have put together a list of the best 10 chemical peels that you can use if you have sensitive skin.
.
10 Best Chemical Peels That Won't Irritate Your Sensitive Skin
Fine lines dulling your glow? Enriched with lactic acid and kojic acid, this Perfect Image Lactic 50% Gel Peel will help you achieve that youthful glow that you have always aspired for. Formulated with extracts of bearberry, licorice, green, cucumber, chamomile, and comfrey, this gel peel helps reduce pigmentation and gives you even skin tone. The lactic acid helps fade fine lines, freckles, and age spots. Take a look at this video to learn more about Perfect Image Lactic 50% Gel Peel.
Pros
Gluten-free
Cruelty-free
Absorbs quickly
Hydrates intensely
Stimulates collagen production for improved texture
Cons
Some may feel a tingling sensation on application
Enriched with the goodness of cucumber, green tea, Matricaria flower, and comfrey leaves, this gel peel exfoliates dead skin cells to reveal brighter, more youthful skin. Made with 30% glycolic acid and retinol, it offers clear skin by fortifying your skin's surface. It boosts collagen production in the skin and visibly reduces the appearance of fine lines and wrinkles. The formula also includes hyaluronic acid, which locks in moisture and leaves skin feeling soft and supple. Watch this Yeouth Glycolic Acid 30% Gel Peel video to better understand the product.
Pros
Unclogs pores
Offers even skin tone
Fights breakouts and blackheads
Reduces hyperpigmentation and dark spots
Cons
May increase skin's sensitivity with sun exposure
If you struggle with whiteheads and clogged pores because of oily skin, this Skin Beauty Salicylic Acid Skin Peel is your one true saviour. Salicylic acid is oil soluble, which means it can easily penetrate your skin's lipid barrier and remove the excess sebum in your pores. It gently exfoliates by breaking the bonds that keep dead cells together. The formula contains glycol, which cleans the skin's surface while helping with moisture retention.
Pros
Dissolves warts
Treats uneven skin tone
Reduces acne inflammation
Lightens scars and blemishes
Cons
May not be suitable if you are pregnant or lactating
This 20% glycolic acid face peel gently and efficiently exfoliates dead skin cells, offering your clean and clear skin. It penetrates the deeper layers of lingering dead skin cells, improving your skin's texture and tone. Unlike regular chemical peels, this will not irritate your skin. Made with a simple blend of sodium hydroxide, water, and glycolic acid, it strengthens your skin and delivers a velvety smooth finish.
Pros
Tightens skin
Lightweight formula
Fights wrinkles and fine lines
Reduces appearance of dark spots and blemishes
Cons
May not be suitable for dry skin
This 3-in-1 chemical peel sloughs off dirt and dead skin cells, revealing smoother and younger-looking skin. It contains the 3 natural AHAs that promote skin cell regeneration, reduce the appearance of fine lines, wrinkles, dark spots, blemishes, pores, etc., giving you an even-toned, clearer skin complexion. Here is the personal review of this Voibella Advanced Anti-Aging Glycolic Acid Peel video.
Pros
Promotes cell regeneration
Reduces wrinkles, fine lines
Removes dirt, excess oil, and dead skin cells
Suitable for all skin types
Cons
May be mild for some people
Formulated with deionized water, xanthan gum, potassium sorbate and glycolic acid, this medical grade peel will gently exfoliate dead skin cells and offer a smooth texture to your face. If your skin has faced significant sun damage, this peel will help reduce dark spots and blemishes caused by sun exposure. By shedding dead skin cells, this Medpeel Glycolic Acid 70% Maximum Strength Peel revitalizes your skin and stimulates production of new, healthy skin cells.
Pros
Tightens skin
Reduces pore size
Offers radiant glow
Fights hormonal acne
Eliminates blackheads and hyperpigmentation
Reduces appearance of wrinkles and fine lines
Cons
May require a patch test for sensitive skin type
Brighten your face instantly and let you skin bask in a healthy glow, with this Open Formula Glycolic Acid Peel. Infused with sodium hydroxide, it gently exfoliates dead skin cells and exposes the healthy skin cells, offering you an even skin tone and radiant complexion. Formulated with 20% glycolic acid, this peel works really well with oily and acne-prone skin. This Open Formula Glycolic Acid Peel reduces hyperpigmentation and fades dark spots and blemishes.
Pros
Vegan
Nut-free
Gluten-free
Cruelty-free
Free from oils and silicones
Cons
May have an overpowering scent
Turn back time and achieve youthful and glowing skin with this [re]fresh Skin Therapy Lactic Acid 10% Peel that boosts the skin's collagen production to erase plump fine lines, fade age spots and wrinkles. The formula contains kojic acid that offers even skin tone and lactic acid, which tightens skin. It also contains glycolic acid that speeds up skin cell turnover and pyruvic acid, which unclogs pores, to offer you smooth and clean skin.
Pros
Vegan
Gluten-free
Prevents breakouts
No artificial colors, fragrance, preservatives, alcohol, parabens and phthalates
Cons
May not be suitable for oily skin
This biochemical peel removes dead skin cells using active enzymes and fruit acids extracted from organic sources. Formulated with portions of fresh spring water, grapefruit, and apple cider, which help in exfoliating the skin and improving the skin texture. Other natural ingredients like pineapple, papaya, asparagus, bamboo, and mushroom, improve the skin's ability to repair, leaving behind flawless, smooth skin.
Pros
Unclogs pores
Fights breakouts and acne
Fades dark spots and blemishes
Reduces appearance of wrinkles, age spots and fine lines
Cons
May need a double application for dry skin
Formulated with a simple blend of lactic acid and distilled water, this chemical peel renews your skin by sloughing away dead skin cells. Made with pure lactic acid, it reduces pigmentation and offers even skin tone and silky smooth texture. This is a great detox agent that also hydrates your skin deeply, while also stimulating the production of collagen. It reduces the appearance of wrinkles, fine lines, age spots and melasma.
Pros
Lightweight
Cruelty-free
Tightens skin
Low pH levels
Moisturising formula
No fragrance and parabens
Cons
May not be suitable for oily skin
Now that you're caught up with the best chemical peels available in the market right now, here is a look at how you can pick one for yourself.
How To Choose Chemical Peel For Sensitive Skin
Here are a few parameters you must consider before making a purchase.
If your skin is acne-prone, select a peel that is a blend of glycolic and lactic acids, such as the [re]fresh Skin Therapy Lactic Acid 10% Peel. If your main worry is hyperpigmentation, opt for a glycolic acid peel such as the Yeouth Glycolic Acid 30% Gel Peel, Medpeel Glycolic Acid 70% Maximum Strength Peel and Open Formula Glycolic Acid Peel.
You must use high-quality skincare products free of toxins so that they don't deteriorate your skin's texture or lead to breakouts. You can opt for chemical peels that do not contain parabens, artificial fragrances, such as the [re]fresh Skin Therapy Lactic Acid 10% Peel and ASDM Beverly Hills 25% Lactic Acid Chemical Peel.
If you have sensitive skin, it is significant that you check without an experienced doctor before you make a purchase. It helps to get your skin tested by a dermatologist to understand what would work and what would not work for you.
Why Trust StyleCraze?
Kirtana Divakar is a skin and hair care aficionado who is passionate about researching the best products. She utilizes her research skills and knowledge to find the most reliable and safe products for her readers. She has thus compiled this list of the most effective chemical peels for sensitive skin. These peels help eliminate skin debris, thereby enhancing your glow. Kirtana has also included a buying guide to help you select the right product.
Frequently Asked Questions
What age should you start chemical peels?
Although teens with extreme acne can undergo dermatologist-assisted chemical peeling, the ideal age to start this procedure is in your 20s.
How long do chemical peel results last?
The result of chemical peels depends on the strength of the product. While a strong peel's results may last for four months, a moderate peel lasts for one.
What type of peel is the mildest chemical peel?
A superficial or light chemical peel and a lactic peel are two of the mildest chemical peels.
How often should you do a chemical peel?
A moderate strength peel can be used once a month, and a strong peel can be done every six months. The mildest, at-home gentle exfoliating peels can be done once or twice a week.
What should you not do before a chemical peel?
Avoid exfoliating or applying retinoids, anti-aging creams, or bleaching products before a chemical peel.
Can you wear makeup after a chemical peel?
You can wear makeup the next day if you have undergone a light peel. But for moderate to strong peels, it is advised to wait 7-10 days.
What are the do's and don'ts after a chemical peel?
The do's after a chemical peel include using proper skin protection. In contrast, the don'ts include avoiding the sun, harsh lights and temperatures, pollution, waxing or threading, picking at the skin, or using any products with acid.
Is facial or chemical peel better?
Chemical peels offer in-depth exfoliation and offer brighter, healthier skin, while facials do the same but at a more superficial level.