10 Best Toenail Clippers For Thick Nails – 2021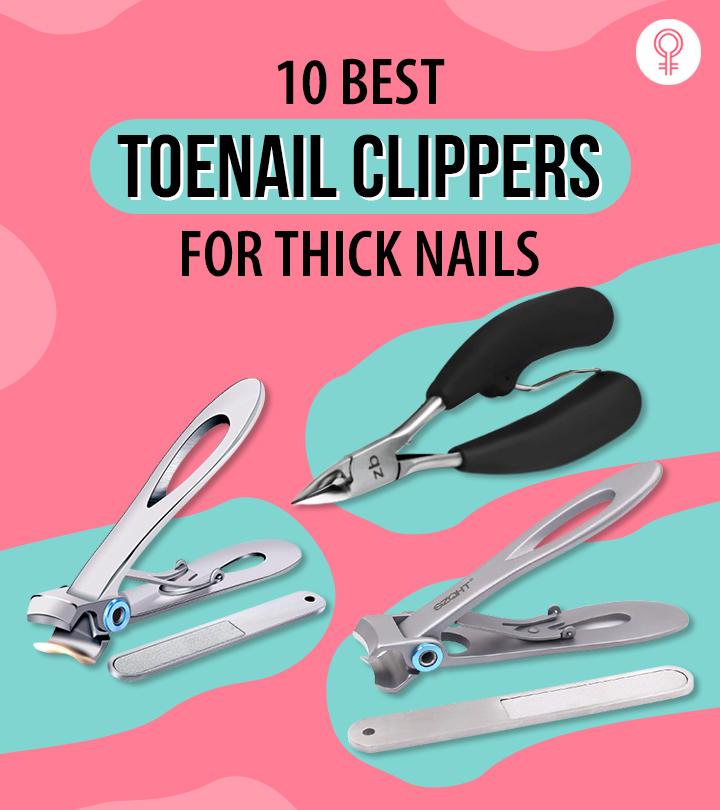 They say you can tell a lot about someone's personality by their footwear. And it sure extends to your feet and toenails as well. But we sometimes neglect our toenails and forget to groom them. It is necessary to take good care of your toenails regularly to prevent infections and preventing them from becoming thick, rough, and yellow.
A pedicure in the salon can take care of your nails, but you can do it at home too! By regularly clipping and shaping your toenails, you can maintain them on your own while sitting comfortably at home. Here, we bring to you the 10 best toenail clippers that will help trim and shape your thick toenails easily.
10 Best Toenail Clippers For Thick Nails – 2021
The SZQHT Nail Clipper features a 15 mm jaw opening and is the perfect choice for easily trimming thick and ingrown toenails. The ergonomic design features an extra-long and wide handle for better grip. It is reinforced to offer more control so that you can effortlessly clip thick, stubborn nails. Its sharp, stainless steel blades cut smoothly and precisely to prevent splitting, ingrowth, and infections. Plus, its durable quality ensures a long-lasting stay.
Pros
Durable
Ergonomic design
Non-slip design
Comfortable to use
Precise clipping
Available in 5 colors
Comes with a nail file
Cons
Not enough spring resistance
PrettyDiva's Professional Nail Clipper Set includes a clipper, nail filer, and a stainless steel box to store them. The clipper has a jaw opening of 15 mm and is ideal for hard, thick nails. Its ergonomically designed handle is non-slip for a safe grip. The clipper is durable with lasting strength and offers optimum comfort while you trim those stubborn toenails. Its super-sharp blades have dual-curved edges made with stainless steel to get the job done neatly and precisely.
Pros
Comfortable
Non-slip
Ergonomic handle design
Easy to operate
Nail file
Storage box
Cons
This toenail clipper set from Suunto includes a podiatrist toenail clipper, wide jaw heavy duty nail clipper, and a nail filer carved out of stainless steel of professional quality and packed in a metal box casing. These sharp, sturdy, and durable clippers are rust-proof, washable, and flexible. The podiatrist clipper has a curved blade to prevent injury. Its ergonomically designed non-slip handle offers firm grip and comfort while you trim your hard, thick nails. The heavy-duty clipper is sharp, curvy and has a 15 mm wide jaw. Its unique lever design reduces pressure so that you can easily trim even the toughest toenails.
Pros
Surgical-grade stainless steel
Ergonomic design
Non-slip handles
Rust-proof
Washable
Double spring grip
Three-in-one pack
Cons
The Zizzili BasicsPremium Stainless Steel Nail Nipper is suitable for clipping thick and ingrown nails. Its wide jaw opens up to 25.4 mm to trim hard and thick nails effortlessly. It features a soft rubber grip, non-slip handle to ensure complete control that requires less pressure. It has sharp cutting edges for clean and precise trimming of thick and tough toenails without splitting and cracking them. The slightly curved blades properly contour the nails and the pointed edges of the blade make trimming of ingrown nails easy. It is carved out of premium quality stainless steel and comes with a plastic blade covering to maintain the quality and sharpness of the blade.
Pros
Wide-jawed
Non-slip grip
Rubber handle
Heavy-duty spring
Requires less pressure
Easy to clean
Safe design
Cons
None
Kohm's Premium Nail Nipper has a broad jaw and curved blade design to seamlessly clip thick and hard toenails. It features a handle with an easy, comfortable grip that requires less pressure while trimming the stubborn toenails. Its professional quality makes it suitable for use at home, in saloons, and by senior citizens and caregivers. It's durable and easy to clean with a wipe.
Pros
Broad jaw
Easy-grip
Ridged handle
Easy to clean
Safety cover/tip
Cons
This Nippit Nail Nipper from Harperton features precisely crafted blades to let you groom your nails from any angle while preventing cracking and pains. The precisely crafted sharp blades open wide and are perfect for trimming thick, stubborn, and ingrown toenails. Its ergonomically designed handle is made from heavy-duty polymers and is coated with non-slip materials for safe usage.
Pros
Ergonomic design
Precisely crafted blades
Non-slip handle
Sturdy grip
Protective blade cover
Cons
Requires excessive pressure to trim
The Seki Edge Stainless Steel Nail Clipper combines decades-old craftsmanship with the latest technology to meet your nail grooming needs. This toenail clipper for thick nails is made from Japanese stainless steel of durable quality. It has curved blades for precise and clean trimming without any cracking or ripping. Also, its ergonomic design prevents slipping and makes it easy to use.
Pros
Ergonomic design
Comfortable to use
Non-slip grip
Long-lasting
Rust-proof
Cons
Mehaz's 668 Pro Angled Wide Jaw Toenail Clipper is specially designed for hard, thick toenails which are difficult to trim. It features a wide jaw of 30 mm precisely trims thick nails using straight-edge blades made from sanitizable stainless steel. It is also equipped with an in-built nail filer to meet all your nail grooming needs.
Pros
Wide jaw
In-built filer
Easy grip
Precisely angled blades
Easy to clean
Durable
Cons
The Original Soft Grip Toenail Clipper by Fox Medical is made of surgical-grade stainless steel for lasting durability. Equipped with a hand-honed, razor-sharp blade of razor sharp of lasting quality, it lets you easily trim hard and thick toenails precisely with optimal control. The ergonomically designed clipper features handles that offer a soft grip for effortless use.
Pros
Soft grip handle
Ergonomic design
Compact design
Concave tip for precise clipping
Rust-free
Corrosion-free
Plastic blade cover
Cons
Delicate Girl's Portable Nail Clipper is a professional quality clipper made from top-quality stainless steel. Its sharp and effective blades precisely trim thick toenails. It also features a catcher to avoid the splashing of nails while you trim. It comes in a leather case for easy storage and safe portability. This durable and rust-proof clipper won't corrode over time, and its blades will remain sharp for ages to come.
Pros
Rust-proof
Long-lasting
Non-slip handle
Easy-grip
Leather storage case
Cons
None
Before you buy any toenail clipper, it's important to remember a few points to be able to choose the best toenail clipper for toenails. Read on to find out about them.
How To Choose The Best Toenail Clipper For Thick Nails
The following points will help you choose the best clipper for your thick toenails.
Toenail clippers made from stainless steel are strong and durable. Also, look for an ergonomically designed handle with a non-slip grip for added safety, comfort, and ease of use.
A toenail clipper must be big enough in size to effortlessly trim thick toenails. A small size toenail trimmer is difficult to use on hard, ingrown nails and they also increases the chances of cutting the nail too short.
Some toenail clippers are specially designed, keeping specific conditions like ingrown nails, arthritis pains, etc., in mind. So, before purchasing, make sure that the toenail clipper you want to buy can serve your purpose well.
Read the section below to learn how you can use a toenail clipper to get the optimum results.
How To Properly Use A Toenail Clipper To Groom Thick Nails
Follow the steps given below to trim toenails properly:
Step 1: Soak your toes in a tub of warm water for about 10 minutes, to soften the nails.
Step 2: Dry your feet using a towel and clip your nails with a toenail clipper. Remember to round off the corners to prevent ingrown nails.
Step 3: Use a nail filer to smoothen the edges and corners of your nails.
Well-trimmed toenails make your feet look clean, healthy and presentable. It is very necessary to maintain your toenails to avoid ingrown nails and infections. A toenail clipper makes it feasible and easy for you to trim thick and hard toenails effortlessly without the need for costly pedicures. If you are looking for the best toenail clipper for precise nail trimming, choose from the options above!
The following two tabs change content below.