13 Best Hair Dryers For Fine Hair – Top Picks Of 2023
These incredible hair dryers protect your fine hair from frizz, heat damage, and dryness.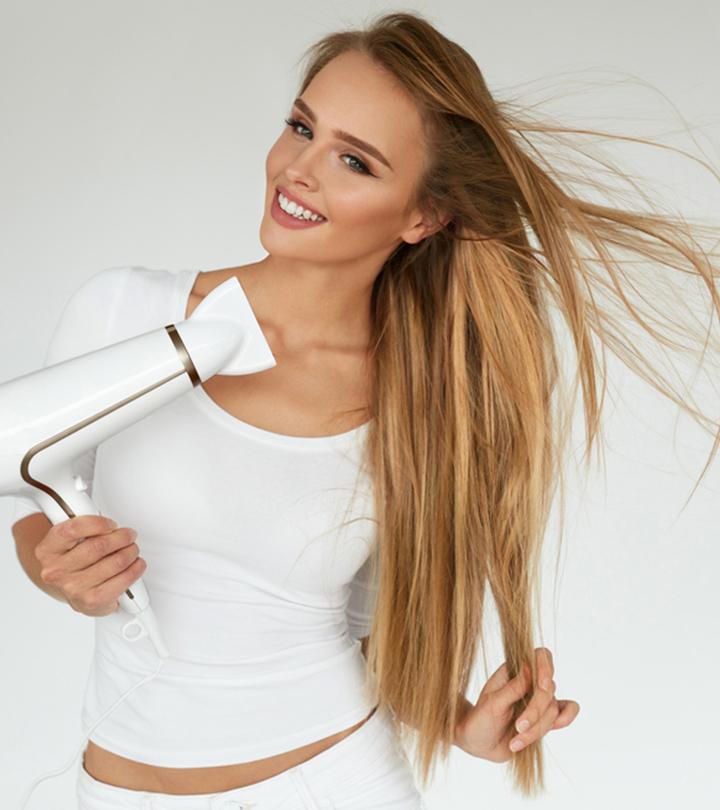 When looking for the best hair dryer for fine hair, remember that they are different from your average hair dryer. Looking for one with low wattage or adjustable heat settings is your best bet. We ladies realize that the right hairstyle and texture speak volumes about our personality and who we are. For women who have fine hair, the struggle is real. Under the wrong circumstances, our fine hair can feel dry, frizzy, and limp. To top that, using the wrong products and dryers with high heat can add more frizz to an already dry hair. So how do you fix that? Your first instance is to look for a standard blow dryer. But that's where you have to be careful. With the perfect hair dryer, you can make your hair look voluminous, lovely, and smooth. Drying your hair at the right time under the right setting can give your everyday style a chic look. If you haven't invested in one, it is time you do. To help all you lovely ladies out, we have compiled a list of the top 13 hair dryers with multiple positive reviews for you to say goodbye to fine hair woes! Scroll down to know more!
13 Best Hair Dryers For Fine Hair For 2023
One of the best features of this hair dryer for fine hair is that it uses negative ion technology which locks in moisture and shields hair from heat damage. This in turn, helps in keeping hair smooth and silky while eliminating frizz. It comes with 2 temperature settings and 2 speeds along with a 'Cool Shot Button', which helps set the desired style in place. As it runs on a professional 1875 W motor, it delivers a strong and consistent airflow to dry hair within minutes. It's also quite popular among several reviewers as one of the best silent hair dryers. The detachable concentrator and diffuser are ideal for straight and wavy hair respectively. Here's a review video to help you get a better understanding of the tester's experience while using the product.
Pros
Locks in moisture and protects hair from heat damage
Eliminates frizz
Low-noise
Removable filter for easy cleaning
Elegant matte finish
Cons
Some may find it slightly heavy
Price at the time of publication: $49.99
A hair dryer and a hot air brush in one ergonomically designed tool? It looks like fine hair woes have finally been addressed! This hair dryer cum brush comes in a unique oval shape for smoothing the hair, while its round edges add volume. Unlike other hair dryers, this one is safe to be used close to the scalp. Built with a genuine ion generator, it promotes faster drying and the ceramic coating helps in protecting hair from heat damage. Multiple reviewers are highly impressed by its innovative airflow vents and tangle-free combination bristles that makes it an ideal brush and hair dryer for fine hair. It meets all U.S. safety requirements and proudly bears the ETL certification seal. Need more information? Watch this video to know more about the tester's experience and make an informed decision about the product.
Pros
2-in-1 hair dryer cum brush
Features a cool tip
Detangles hair and eliminates frizz
Available in 4 eye-catching colors
Cute and compact design
Cons
You may need a voltage converter to use it outside of the USA
Price at the time of publication: $32.49
Once you introduce your fine hair to this hair dryer, your hair will be thanking you for infinity. It comes with a heavy-duty professional AC motor which will help reduce your hair drying time by 50%. While its ionic technology eliminates frizz by 75%, its ceramic technology dries hair safely without causing any breakage. It also features 3 heat settings and 2 speed settings for custom heat and air flow. Reviewers rave about its 'true cold shot button' that locks in curls to help you achieve natural-looking wavy hair. The removable filter prevents lint build-up and extends the dryer's motor life.
Pros
Salon-grade hair dryer
Dries hair 50% faster
Controls frizz by up to 75%
Comes with concentrator and diffuser
Cons
Slightly expensive
Some may find it noisy
Price at the time of publication: $22.49
Made with nano titanium ionic technology, this lightweight hair dryer is ideal for fine hair. How exactly does nano titanium help? It is an exceptional conductor of heat and maintains stability in high temperatures. It emits negative ions to smooth out positive ions in your hair. This helps in keeping your hair frizz-free and also retains moisture in your hair. It operates on 2000 W and helps you style your hair any way you want as it comes with an impressive 6 heat and speed settings, a cool shot button, and a concentrator nozzle. It is not just an excellent choice for fine hair, it is suitable for coarse and thick hair as well.
Pros
Uses nano titanium technology
6 heat and speed settings
Eliminates frizz
Retains the natural moisture of hair
Removable filter
Comes with tourmaline ions
Cons
Expensive
As it operates on 2000 W, it may be too loud for some
Price at the time of publication: $89.99
The Unikara Ionic Blow Dryer gives salon-like blow-drying effects to your thin hair. This professional blow dryer has an AC motor with two speeds and three heating settings that dries up the hair faster than other traditional dryers. It is made with the new innovative ionic and ceramic tourmaline technology with an advanced nano-ion motor, which causes zero damage to thin hair. The constant temperature smart technology maintains a constant flow of air at a certain temperature to prevent overheating and heat damage. It only weighs 1.6 pounds and has a 2.2-meter power cord, which is durable, long-lasting, easy to clean, and tangle-resistant.
Pros
Intelligent constant temperature
Fast-drying
Prevents heat damage
Prevent hair frizz
Various heat settings
Cons
Attachments might be a loose
Price at the time of publication: $29.99
Made with revolutionary ceramic pearl technology, this salon-quality hair dryer provides 40% faster air flow for quick results without hair-breakage. Real crushed pearls are infused into the ceramic barrel which then transfers micro-conditioners through the dryer. This air that is released lends a smooth and lustrous shine to the hair. Its ionic technology locks the natural moisture of hair and reduces frizz, leaving it silky and healthy. As it operates on 1875 W, one can expect it to be fairly noise-free too. The dryer includes a concentrator, a diffuser, and features 3 heat settings, 2 speed settings, and a cool shot button to lock your hairstyle in place. If you have thick or coarse hair, the high heat setting would be ideal for you. However, if you have thin or fine hair, the low heat setting is recommended.
Pros
Made with ceramic pearl technology
40% faster air flow

Budget-friendly

Low-noise
Cons
May not be the best for travel as it is rather bulky
Price at the time of publication: $27.99
Designed especially for fine hair, get the best of both worlds with this versatile hair dryer. Its ceramic plus technology dries hair gently, while improving its texture and protecting it from heat-damage. The ionic technology, on the other hand, reduces frizz and keeps the hair smooth and shiny. Its powerful diffuser releases a gentle airflow for frizz-free volume and curls, whereas the concentrator shoots out focused airflow to add a sleek sheen to your hair. Its 1600 W motor offers soft heat, which is ideal for fine hair.
Pros
Designed especially for fine hair
Low-noise
Affordable
Works on both ceramic and ionic technology
Includes diffuser and concentrator
Cons
Not dual voltage
Cord is short
Price at the time of publication: $29.95
Anybody who has ever lived with fine hair will attest to the fact that they have to deal with frizzy hair every day. With this hair dryer, frizzy hair can be a thing of the past. It is a volumizing product that provides glorious volume to otherwise dull and lifeless hair with its advanced ionic technology.
It delivers 2x shine and 3x frizz-control with 50% more ions. If you're someone who is always in a rush and scrambling to manage time, this dryer can help you out by reducing drying time by 50%. The titanium ceramic coated grill provides heat evenly and consistently and acts as heat protectant. It also comes with a diffuser attachment and not one, but with two concentrator attachments!
Pros
Made with advanced ionic technology
Eliminates frizz with 50% more ins
Adds shine to the hair
Reduces drying time by 50%
Titanium ceramic coating on outlet grill
Includes 1 diffuser and 2 concentrators
Cons
Price at the time of publication: $59.99
This professional salon grade hair dryer not only uses negative ion technology but also a far-infrared technology that dries your hair quickly and eliminates frizz without damaging it. The far-infrared technology emits a gentle heat as it dries your hair while eliminating burns to the scalp. Much quieter than a regular hair dryer, it releases powerful wind coupled with even heat distribution. It also comes with an airflow concentrator and diffuser, which can help you achieve glorious curls or straight and sleek hairstyles. Owing to its ergonomic design, it allows for an easy and comfortable grip and is recommended by stylists. Additionally, this hair dryer supports thermal hair care, providing the perfect combination of effective drying and protecting your hair's health and moisture.
Pros
Low-noise and vibration
Minimizes frizz
Uses negative ion and far-infrared technology
9-ft cord
Removable lint filter
Cons
Price at the time of publication: $16.96
This luxe beauty is considered to be one of the best hair dryers for fine hair and has several awards to its credit. You can experience digitally-controlled heat for healthy hair with this hair dryer that uses ion generators. These generators fight frizz like a pro and also come with a wide airflow for fast drying. You can also achieve envious voluminous hair with its volume booster switch and watch the texture of your hair improve, almost instantly! Its pure stream filter cap provides concentrated heat flow which helps in maintaining your hair's body and shine.
Pros
Winner of 5 editorial beauty awards
5 heat and 2 speed settings
T3 Digital Ion Air technology
Auto pause sensor
9-ft cord
Digitally-controlled heat
Cons
Price at the time of publication: $295.0
Panasonic Nanoe Salon Hair Dryer is made with nanotechnology that dries your thin hair quickly without any damage. The innovative nozzle moves backward and forwards, drying out hair with no hot spots and speeding up the drying process. It is 1400 watts and lightweight, which makes it easy to use, hold and carry around. The foldable design makes it easier to fit in your drawers, luggage, or for traveling. It features three airflow settings for efficient drying.
Pros
Travel-friendly
3 Airflow settings
Oscillating nozzle
Quick-drying
Cons
Price at the time of publication: $99.99
Ideal for not only fine hair but for all hair types, this ionic hair dryer is powerful and effective. It reduces drying time by more than 30% and isn't heavy or bulky. Its airflow retains the natural moisture of hair while its ceramic and ionic technology makes the hair glossy. With this professional hair dryer, you can achieve salon-style hair at home. It is designed to eliminate static electricity, thereby giving your hair a smooth finish. It comes with two concentrators, one for brushing your hair and the other for precision styling.
Pros
Ionic and ceramic technology makes the hair glossy
Reduces drying time by 30%
Eliminates static electricity
Comes with 2 concentrators
Available in many colors
9-ft cord
Cons
High-priced
Some may find it loud
Price at the time of publication: $195.0
Yiiho Hair Dryer is powered with 800 watts and has a wind speed that can reach 20 m/s, making it perfect for upping your curly hair game. It is ideal for short, medium, long, and curly hair. However, the drying time for long or curly hair depends on the hair volume, whereas short and medium hair takes 10 minutes only. The device offers 2 speed settings, and the round-head design enables even air blow. The dryer maintains a constant temperature throughout the drying time.
Pros
Great drying power
Lightweight
Travel-friendly
Even air-flow
Cons
Price at the time of publication: $59.97
How To Pick A Hair Dryer For Fine Hair – A Helpful Buying Guide
What type of hair dryer is best for fine hair?
Ceramic hair dryers are considered to be ideal for all hair types but particularly helpful for fine hair. Most people with fine hair often complain about heat damage from hair dryers, but a ceramic dryer doesn't use a lot of heat to dry hair. The distribution of heat is even and dries the whole head quickly.
How should one choose a hair dryer for fine (thin) hair?
As mentioned above, look specifically for a ceramic hair dryer. The second thing to look out for in hair dryers are high quality concentrators and diffusers. If the hair dryer you are going to pick doesn't have these two things, skip to the next one. The third thing you should keep in mind is the total wattage of the hair dryer. Try sticking to a hair dryer with less than 1875 W, as hair dryers which produce high levels of heat may damage fine hair.
Why Trust StyleCraze?
Krati Darak is a skin & hair care enthusiast. She loves trying out different products as they hit the shelves. For this article, she has spent hours researching hair dryers for fine hair and paid utmost attention to reviews posted on genuine online platforms. The dryers shortlisted above have met the necessary conditions to be considered safe for fine hair and are capable of keeping your hair frizz-free and moisturized.
Frequently Asked Questions
Is a Dyson hair dryer good for fine hair?
The Dyson Supersonic Hair Dryer is considered to be a good one for fine hair.
Is ionic hair dryer good for fine hair?
While ionic hair dryers may work well, ceramic ones are best-suited for fine hair.
Is ceramic or ionic better for fine hair?
Both ceramic and ionic are good for fine hair. This is because they cause less heat damage to the hair. Hence, choosing a hair dryer with both ceramic and ionic technology is a wiser decision.
What type of hair dryer is the best for fine thin hair?
All that fine thin hair needs is some bounce and an excellent blow dry that does not cause any damage to the hair. Therefore, a hair dryer with adjustable heat settings is the best choice. You can also opt for a tool with low watts.
What kind of hair dryer does the least damage?
Invest in a hair dryer with both ceramic and ionic technology if you are looking for a product that will not damage your hair in the long run.
Recommended Articles