10 Best Professional Hair Dryers To Buy Online In 2023
Get a salon-like experience with affordable, lightweight, and advanced hair dryers.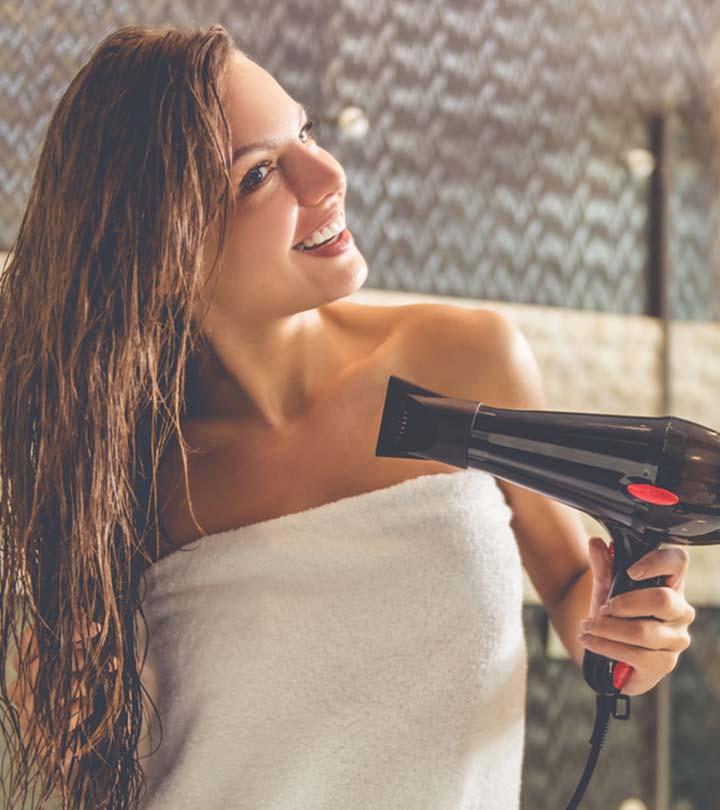 A standard hair dryer dries your hair but can not offer the salon finish. This is why you need to upgrade to the best professional hair dryer that is specially designed with advanced features and cutting-edge technology to offer a salon-like finish in less time. They are long-lasting and make the hair shine, reducing the styling and drying time. In addition, these dryers minimize the frizz, make the hair soft, easy to use, lightweight, and have smooth finishing.
This article mentions the 10 best hair dryers suitable for all hair types. Check them out below!
10 Best Professional Hair Dryers Available Right Now
The TREZORO Professional Ionic Salon Hair Dryer is a lightweight device. It has a built-in advanced ions generator that is anti-static and reduces frizz. This hair dryer uses ceramic tourmaline technology that makes hair soft, smooth, and glossy. The 2200-watt DC motor provides powerful airflow and reduces the drying time. The device has two professional concentrators for precision styling. Also, this hair dryer has 3 heat and 2 speed settings for effortless styling.
Key Features
Uses Ceramic Tourmaline Technology
Cutting-edge ionic system
Two concentrator nozzles
Detachable rear filter for easy cleaning
Cool shot button
Specifications
2200-watt DC professional-grade motor
3 heat and 2 speed settings
7 m length cord
Pros
Fast-drying time and power
Precision styling
Lightweight
Non-slip handle
Ergonomic design
Anti-frizz effect
Easy to clean
Suitable for all hair types
Cons
The BaBylissPRO Nano Titanium Hair Dryer is a high-performance hair styling tool suitable for all hair types. This heavy-duty 2000-watt hair dryer uses nano titanium ionic technology that dries your hair faster and reduces frizz. It has a lightweight, ergonomic handle and 6 heat/speed settings. Its cool shot button offers a wide range of drying and styling options. Also, it features a concentrator nozzle for easy cleaning. Multiple reviewers have attested to the product's durability and some reviews also state how quickly it does the job.
Key Features
Uses Nano Titanium Ionic Technology
Concentrator nozzle
Cool shot button
Removable filter/stand
Specifications
2000 -watt drying power
6 heat/speed settings
Pros
Lightweight
Ergonomic handle
Fast-drying formula
Less frizz
Easy to hold
Suitable for all hair types
Cons
Eliminate static and frizz with the Rusk Engineering Super Freak Hair Dryer. It has ceramic and tourmaline technology that emits negative ions keeping your hair hydrated. Additionally, the hairdryer emits far infrared that ensures quick drying at variable speeds and multiple heat settings. The cold shot button locks moisture for hair protection, and the different settings promote easy styling of your hair. The ergonomic design of the hairdryer provides a good grip for convenient use. A reviewer has mentioned that this dryer has made her thick, wavy hair look defined.
Key Features
 Tourmaline and ceramic technology
 Italian AC motor
Specifications
 2002 watt drying power
 7 heat and speed settings
Pros
 Hanging loop
 Detachable attachments
 Ergonomic design
Cons
None
The elchim Classic Blow Dryer is an ultra-light professional salon ceramic hairdryer. This high-quality ceramic dryer emits infrared heat to dry hair gently and evenly. The delivered heat can seal the hair cuticles for a smoother finish. The device has a high-performance heating element and an 1875-Watt Italian professional AC motor that increases its durability and is suitable for heavy use. The high-quality hair dryer also features a cold air button and a 9-feet long cord. A perfect hair dryer for frizz control and salon-quality results!
Key Features
Uses ceramic heating technology
High-pressure air compression technology
High-performance heating element
Concentrator nozzle
Specifications
1875-Watt drying power
2 airspeed and 3 temperature settings
9 feet long cord
Pros
Dries hair quickly
Ultra-light design
Ergonomic
Durable
Ideal for thick, coarse hair
Cons
None
The T3 – Cura Hair Dryer is a digital ionic professional hair dryer. The wide volume of air with negative ions dry hair quickly for soft, healthy-looking hair. The hair dryer fights frizz in less time and has a built-in ion generator for shiny hair. This hair dryer has 3 heat and 2 speed settings combined with a lock-in cool shot button. You also can create customized settings for any hair type and texture. Multiple reviews state that this product helps reduce frizz and also speeds up the drying process. For the best results, use it on damp hair.
Key Features
Uses T3 Digital Ion air Technology
Pure stream filter cap
Drying and styling concentrators
Long-life motor
Specifications
Digitally-controlled heating
3 heat settings
2 speed settings
Pros
Lightweight design
Quiet operation
Ergonomic handle
Smoothes the frizz
Cons
The ghd Helios Hair Dryer is an ionic portable hair dryer. This lightweight device has a longer-life brushless motor designed for speed. It also has a professionally designed contoured nozzle. It creates a highly concentrated airflow traveling at a speed of 75 mph, drastically reducing the drying time and speeding up your styling routine. It uses the Aeroprecis technology that enables styling with precise control for smooth and shiny, non-frizzy hair. Also, it is designed with the Acoustic System technology that minimizes noise.
Key Features
Aeroprecis technology
Acoustic System technology
Ultra-powerful brushless DC motor
75 mph airflow
Contoured nozzle
Specifications
1875-Watt drying power
3 temperature and 2 speed settings
Pros
Minimizes drying time
Low noise
Long-lasting
Lightweight
Cons
None
The GAMA Italy Professional Hair Dryer is the lightest IQ Perfetto pro-salon hair dryer. It has superb blowing power and dries hair 30% faster than any other dryer, making this a favorite dryer among all who have tested it. The device has a 1700-Watt brushless motor and an air outlet that multiplies the airflow dispensed by the motor. It uses the Oxy Active technology for color fixation. Also, it has an LED memory configuration system that is easily usable with an LED display, 2 nozzles, and a diffuser. These also offer easy coupling and stability.
Key Features
Uses Oxy Active Technology
Auto clean technology
LED memory configuration system
Diffuser and 2 concentrator nozzles
Specifications
1700 -Watt drying power
110000 rpm motor speed
3 speed settings and temperature control
Pros
Compact
Lightweight
Ergonomic design
Easy to clean
Durable
Silent operation
Cons
None
Panasonic New Nanoe Salon Hair Dryer has an oscillating quick-dry nozzle. It is a hydrating dryer with a unique back-and-forth moving nozzle that dries your hair quickly and provides professional results. It is easy to use and can be used every day. The innovative nozzle prevents hair damage and helps in maintaining the health of your scalp and hair shaft. This professional-grade dryer comes with a removable oscillating head, a concentrator nozzle with focused and high airflow that allows precise styling, and a full-sized diffuser that boosts the volumof textured hair and smooths frizzy hair. With its 2 speed settings and 3 heat settings, you can dry or style your hair easily according to your hair type. Several reviewers mention that this dryer works quickly and makes their hair voluminous.
Key Features
Infuses hair with moisture-rich ions
Oscillating quick-dry nozzle
Concentrator nozzle
Diffuser
Specifications
1875-watt drying power
3 heat settings and 2 speed settings
Pros
Dries hair quickly
Easy to use
Suitable for all hair types
Boosts hair volume
Cons
None 
The JINRI Hair Dryer is a quick-dry, lightweight device. This professional hair dryer uses tourmaline ionic technology that tames unruly hair, reduces frizz, and enhances hair shine. It has an 1875-Watt AC motor that dries your hair in less time. This lightweight hair dryer features 3 heat and 2 speed settings for different requirements. It also comes with a nozzle, diffuser, and hair pick attachments.
Key Features
Uses Tourmaline Ionic Technology
Cool shot button
Overheat protection
Concentrator, diffuser attachments
Cleanable filter
Anti-leakage plug
Specifications
1875-Watt drying power
3 heat and 2 speed settings
7 feet long cord
Pros
Quick-drying formula
Lightweight
Enhances shine
Reduces frizz
Low noise
Easy to hold
Cons
Attachments may not stay on
The xtava Pro Hair Dryer is a compact, salon-grade device. It is designed with a built-in cool shot button to maximize your hairstyle, enhance shine, and reduce frizz. This hair dryer maintains the health of your hair shaft and leaves you with damage-free, shiny, and manageable locks. It comes with 2 heat and 2 speed settings so that you can adjust the heat level for different styles. It uses the high heat setting for medium, thick or coarse hair, and the low heat setting for thin or damaged hair.
Key Features
Built-in quick cooling shot button
Specifications
1875-Watt drying power
2 heat and 2 speed settings
2 feet long power cord
Pros
Compact
Long-lasting hold
Controls frizz
Enhances shine
Easy to use
Travel-friendly
Cons
*The prices provided in this article are based on the latest available information. However, they may vary due to changes in pricing by the seller and/or promotional offers.
These are the several options currently available on the market. But before you pick one, you may want to check the important parameters to be considered.
What To Consider While Buying A Professional Hair Dryer
Not all hair dryers are suitable for all hair types. Look for a hair dryer that is suitable for all hair types or one that suits your hair type.
Ergonomically designed and portable, professional-grade hair dryers are worth investing in. Their handle shape and grip ensure comfort and safety while in use. The foldable handle design saves a lot of space. Ensure the material used for the dryer's design is sturdy.
A professional-grade hair dryer usually has more power and generates more heat when compared to a traditional dryer. Retail hair dryers also are much slower. Choose your pick accordingly.
The higher the wattage, the more the airflow – and this helps remove excess moisture from the hair. Thick, coarse hair may need higher power as compared to thin, fine hair. Janine Jarman, celebrity stylist, founder of Curl Cult, and owner of Hairroin Salon in Los Angeles, says, "If you travel make sure you buy a dryer with universal plugs/wattage and remember that more powerful dryers tend to dry hair faster."
Always look for a hair dryer that has at least 2 speed/2 heat settings. Different heat and speed controls allow you the flexibility to dry your hair and style it the way you want. These settings will also help you control the time spent drying. The cool shot button seals the hair cuticles and sets the hairstyle in place.
Always look for dryers that are compatible with diffusers and concentrators. A concentrator attachment is better for straight styles and creates a strong airflow that helps create sleek blowouts. A diffuser runs air over curls evenly. Make sure your hair dryer includes one of these or even both, as per your need. A smoothing nozzle helps achieve a smooth finish, and a comb helps detangle your hair easily. Furthermore, a detachable filter is a common attachment found in hair dryers. The filter is easy to clean and extends the motor life of the dryer.
There is a wide range of professional hair dryers available at different price points. If the dryer is designed with cutting-edge technology and has many features, it could be priced high. Choose a durable and reliable hair dryer that also fits your budget.
Why Trust StyleCraze?
The author, Oyendrila Kanjilal, loves dabbling in hair care. After hours of research and sifting through user testimonials, she has zeroed on the best professional hair dryers for that smooth salon-like finish. She has included a detailed buying guide with different parameters such as weight, styling time, design, wattage, frizz reduction, speed settings, and convenience to help her readers make the best choice.
Frequently Asked Questions
How do you use a professional hair dryer?
•  Take a shower.
•  Allow your hair to dry naturally to some extent.
•  Make small sections in your hair.
•  Begin blow drying your hair from the bottom sections.
•  Apply cold air to your hair to keep the shine.
•  Finally, spray your hair with hair spray.
How many watts makes a good hair dryer?
Professionals recommend 1300-1800 watts for everyday use. However, professional hair dryers can reach 3600 watts.
Does cold hair dryer damage hair?
Yes, even with cold air, blow-drying will harm your hair. However, cold drying is still much better than heat drying.
Why are expensive hair dryers better?
Premium hair dryers contain ionic and ceramic functions that dry hair more quickly and efficiently and keep hair lustrous for a longer amount of time.
Which is better – a ceramic or ionic hair dryer?
Ionic hair dryers are not ideal for long-term use since they produce an electromagnetic field that can be harmful to the hair. On the other hand, a ceramic hair dryer dries hair due to its even heat distribution and emits beneficial infrared rays without causing hair damage.
What are the side effects of hair dryers?
•  Using a hair drier at excessive temperatures can cause your hair to burn and dehydrate.
•  Frequent use of the hair dryer will reduce the sine of your hair.
•  The use of hairdryers daily can damage the texture of the hair.
•  Your hair will be more prone to damage if you use a hair dryer regularly.
•  Excessive usage of a hair dryer will cause your hair to become rough and frizzy.
Recommended Articles