10 Best Hair Dryers For Curly Hair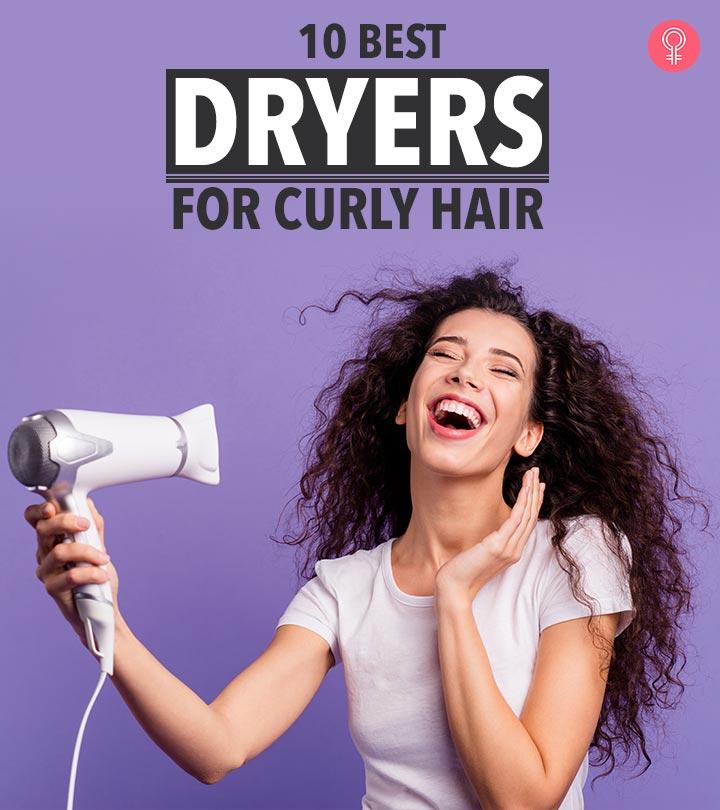 Curly hair is the prima donna of all hair types. While it has a mind of its own, it can make you look dapper, sophisticated, and classy in any outfit. If you have curly hair, it is essential to use the right hair dryer, failing which you can damage the fragile strands, making them lose their definition over time.
Curly hair is more vulnerable to damage while wet. It can easily get tangled and crimped if left without drying in the right way. Although air-drying is easier, curls need to be blow-dried with a diffuser. A diffuser minimizes frizz and gives a boost to the curls. Using a hair dryer with a diffuser changes the way your curls look and feel.
In this article, we have listed 10 best hair dryers for curly hair, along with product reviews, buying guide, and some steps to blow dry your hair in the right way. Scroll down to read more.
Top 10 Hair Dryers For Curly Hair – 2020
Want to make your blowout sessions memorable? Use Revlon Salon Infrared Hair Dryer. It is designed with infrared heat technology that traps your hair's natural moisture, prevents overdrying, and delivers long-lasting shine.
The dryer is manufactured with three layers of ceramic coating to protect your hair from possible heat damage. It is designed with tourmaline ionic technology, which boosts airflow to transfer instantly to your hair for reduced styling time.
Its volumizing finger diffuser provides maximum precision for customized hairstyles. It features large piercings that allow greater airflow. If you want outrageous volume in less time, this is the best option for you.
Key Features
2 heat and speed settings
1875 W
Cool shot button
Concentrator and diffuser attachments
Pros
Non-damaging airflow
Super affordable
Reduces frizz and dryness
Imparts shine
Comes with salon clips
Cons
None
If you are looking for the best budget-friendly hairdryer, this product is an ideal option for you as it offers great features at an affordable price. It combines advanced technologies like ionic, ceramic, and tourmaline to reduce frizz and static in your hair. It makes your hair shinier without damaging or overdrying.
The 1875-watt speed and heat settings, combined with the diffuser, dry your hair in no time. The dryer also has built-in micro-conditioners that soften your hair with every blow-dry. The device has three heat and two-speed settings to protect your curls from breaking.
It comes with a concentrator nozzle and a finger diffuser. The diffuser has long fingers that help define curls well. A removable filter on the back allows you to clean the device easily.
Key Features
Micro-conditioners
3 heat and 2 speed settings plus cool shot
875 W power
Comes with a concentrator and a diffuser
Removable air filter
Pros
Super affordable
Defines curls
Dries hair quickly
Cons
None
On busy days, the last thing we want to do is spend hours on blow-drying. Try the Kipozi Hair Dryer with advanced nano ionic technology that leaves your hair soft and silky in no time. This professional hair dryer for curly hair delivers strong and consistent airflow that can dry even the thickest wavy hair in less time.
With two speed and three heat settings, this dryer ensures to leave your hair clean and dry with no dampness.
The diffuser is ideal for focused airflow to help define curls and natural waves. It also has additional features like a 6 feet long cord, an ALCI safety plug, and a removable air filter. It is the best hair dryer with a diffuser.
This device has a handle fit to rest in your palms comfortably and make your styling experience blissful. Its ergonomic handle allows for comfortable use as it is extremely light. Whether you have super curly hair with untameable coils or soft waves, this is one of the best hair dryers out there.
Key Features
ALCL safety plug
Ergonomic handle
Cool shot button
2 speed and 3 heat settings
Removable air filter
Pros
Noise-free device
Reduces frizz
Tames flyaways
Reasonably priced
Safe to use
Cons
None
Are you looking for the best professional hair dryer at an affordable price? Try the Jinri Salon Infrared Hair Dryer. This 1875 W professional salon hair dryer is equipped with a premium-quality heavy AC motor that lasts longer than other standard hair dryers. It will dry your hair quickly without damaging or overdrying.
The ionic technology generates negative ions that smooth your hair and lock moisture. It delivers gentle and consistent heat, making your hair much smoother and shinier. Another interesting feature is the device enables your hair to endure high levels of heat without breaking. The far-infrared heat gently dries your hair from the inside out within minutes. It reduces styling time by half while protecting your hair against heat damage.
The device has three heat and two speed settings. Use lower settings to dry fine hair and higher temperature settings for powerful drying. To lock your style, use the cool shot button that provides cold air to hold your look all day.
Key Features
8.3 feet professional cord
3 heat and 2-speed settings
Includes a concentrator nozzle and a diffuser
High-quality AC motor
Ionic technology
Cable tie
Pros
Enhances natural curl pattern
Speeds up blow drying
Suitable for thick to extremely fine hair
Provides even airflow
Gentle on hair and scalp both
Reasonably priced
Cons
Inappropriate placements of buttons
Do you want massive texture and outrageous volume? Check out Bed Head Curls In Check Diffuser Hair Dryer. It is a spunky purple hair diffuser dryer that can be used both ways – without the diffuser to dry hair, or with the volume diffuser to enhance your curls.
This dryer is made with tourmaline ionic technology and combats frizz and provides illuminating shine to your hair. It boosts your natural curls and gives a definition for silky, soft, and touchable voluminous locks. It is the best hair dryer for curly hair with a diffuser.
The removable volume diffuser attachment alters the airflow so that it is gentle on your curls. It ensures that they don't lose their shape. The long fingers help define the curls, while the tourmaline technology helps to fight frizz. After styling, use the cold shot button to keep those curls in check.
Key Features
Tourmaline ionic technology
3 heat and 2 speed settings
Cool shot button
Removable diffuser
Ergonomic design
Pros
Dries larger surfaces for faster results
Adds tons of bounce and shine
Suitable for coily and 4c hair types
Lifts your hair from the roots
Reasonably priced
Cons
Nition Negative Ions Ceramic Hair Dryer has a new breakthrough technology, where the ceramic coated air outlet grill is infused with nano silver, argan oil, and tourmaline. This helps in making your hair smooth, shiny, and healthy.
The nanosilver ions repair damaged hair, while argan oil restores hair moisture. It prevents split ends, removes frizz, and protects hair from ultraviolet rays. On the other hand, tourmaline emits negative ions and reduces static in hair. The device releases far infrared heat, which helps it heat quickly and evenly to reduce heat damage to hair.
This lightweight and compact device comes with three attachments – a diffuser, a comb, and a concentrator. The removable diffuser attachment facilitates quick drying. It is 20% faster than other diffusers. The powerful airflow helps define your natural curls and waves. This device also features three heat and two speed settings and a cool shot button to set your curls.
Key Features
USA 2-pin ALCI safety plug
7.5 feet salon power cord
Removable air inlet grill for easy cleaning
Comes with 3 replaceable attachments
Pros
Noise-free
Features an ALCI safety plug
Repairs damaged cuticles
Reduces frizz and static
Easy to clean and store
Cons
The diffuser needs to be attached frequently.
This elegant and stylish hair dryer is one of the most coherent styling tools on the market. It is engineered to protect hair from extreme heat damage with its ultra fast drying and controlled styling feature. It helps increase smoothness by 75% and shine by up to 132% and decrease frizz by up to 61%.
The device disperses air evenly around each strand and stimulates drying for improved curl definition. The compact yet powerful Dyson digital motor V9 produces a high-velocity jet of controlled air for an incredibly fast drying experience. This prevents heat damage as the heat control supervises the air temperature over 40 times a second to prevent overheating.
Another interesting feature is that this dryer has its motor plugged in the handle to balance its weight. Its unique magnetic attachments allow you to adjust the heat quickly and easily. Unlike other dryers, this device comes with four heat settings (212°F fast drying and styling, 176°F regular drying, 140°F gentle drying, and constant cold) and three speed settings ( fast drying, regular drying, and styling).
Key Features
Magnetic attachments
4 heat and 3 speed settings
Air Multiplier technology
Intelligent heat control
Cold shot
Pros
Suitable for different hair textures and lengths
Helps create natural-looking curls
Reduces frizz
Noise-free
Travel-friendly
Non-damaging
Cons
This cult-favorite DevaCurl hair dryer is a go-to styling tool for curly hair. If you want to create voluminous curls with tremendous bounce, this is the tool for you.
It comes with an innovative and ergonomic hand-shaped DevaFuser, which delivers 360-degree airflow to cover your curls completely for quick drying. It targets even the most hard-to-reach areas, especially at the roots.
The patented diffuser design enhances your natural curls while creating a ton of body. By the end of each blow dry session, your curls will look more defined. Insert the end of the DevaDryer into the DevaFuser and make sure that they are firmly attached.
Key Features
3 heat and 2-speed settings
Patented DevaFuser
Professional 1600 Watt / AC motor
Easy storage cord wrap
Pros
Lightweight
Shapes your curls
Suitable for natural (kinky and coily) curls
Conditions and adds radiant shine to your hair
Lifts your hair from the roots
Cons
This travel-friendly hair dryer is one of the lightest hair dryers on the market. Its powerful AC motor makes drying and styling fast and comfortable.
It is designed with ceramic ionic technology, which protects your hair from heat damage and reduces frizz by up to 75% to make your hair smooth, silky, and shiny. The dryer features three heat and two speed settings for versatile styling. Use a combination of these settings to match your hair length and texture. It is the best blow dryer for curly hair.
You can finish styling your hair with a blast of cold air to set your curls in place. Besides its efficient function, this dryer stands out for its aesthetics.
Key Features
Lightweight professional AC motor
Ionic ceramic technology
Comes with a diffuser and a concentrator
3 heat and 2 speed custom settings
Cool shot button
Pros
Precision styling
Helps to create textured waves and curls
Lightweight and compact
Reasonably priced
Cons
Joyyum Professional Hair Dryer is designed with tourmaline ionic technology. It provides versatile styling without damaging your tresses. The negative ions help maintain a neutral charge to reduce frizz and static in your hair. This way, as you blow-dry your curls, the device gives you smooth, shiny, silky and healthy-looking hair. It is the best travel hair dryer with a diffuser.
The ceramic coating ensures to distribute heat evenly, and tourmaline helps to seal the hair cuticles to minimize heat damage. With three heat and two-speed settings and a high-powered motor, this device dries your hair incredibly fast. Whether you want a regular blowout or well-defined curls, this dryer does a great job.
Key Features
Standard US ALCI safety plug
Cool shot button
Removable filter net
125 mm large finger diffuser
Pros
Lightweight
Dries your hair quickly
Reasonably priced
Easy to store
Cons
Use the right kind of hair dryers for your curly hair and see the difference. Here are a few steps you need to follow before using a hair dryer.
How To Prepare Your Curls Before Drying
Start by towel-drying your hair after shampooing and rinsing it.
Apply any styling product and distribute it evenly across your curls.
Use a paddle brush to remove tangles.
For curly hair types, round boar-bristled brushes are the best.
Start blow drying your hair by attaching a diffuser to the device.
Here's how you should use the hairdryer in the right way.
How To Use A Hair Dryer – Step-By-Step Guidelines
Step 1 – Get The Tools Ready
Dryer: Use ceramic or tourmaline blow dryers as they prevent frizz and static in your hair and provide a shinier finish. For curly hair types, a dryer that offers a power of 1600-1800 W is enough.
Diffuser: This is the most vital styling tool in this process. It helps you to create soft, frizz-free, and defined curls. Look for a diffuser that is concave in the middle as it allows your curls to rest and take a natural shape. You can check out some of the best diffusers for curly hair.
Step 2 – Pick Your Styling Products
Conditioner: Apply a leave-in conditioner to moisturize your hair.
Gel: Use a gel to define your curls and set them in place. This is important as a gel can also prevent frizz. Try using it on wet hair for maximum effects.
Hair Serum: Finish by applying any hair serum. It makes your curls look smooth and shiny.
Step 3 – Apply Leave-In Volumizing Conditioner
After applying the conditioner, flip your hair to one side and work the gel across the strands from the roots to the tips. Hold the ends and stretch them downwards. Release the curls and allow them to spring back.
Step 4 – Diffuse The Roots
Set the dryer to low or medium heat and medium speed. Place the diffuser near the roots and hold it there until the area is dry. Massage your hair near the scalp in a circular motion to promote volume. Use the diffuser to push up your curls to get a voluminous look.
To make the most of your hairdryer, you need to own the right device with the following features. Take a look.
7 Features To Consider While Purchasing A Hair Dryer
1. Wattage/Power
The efficiency of a hair dryer is determined by its power, i.e., the wattage. The higher the wattage, the higher the efficiency of the hair dryer. Usually, the wattage of hair dryers ranges from 1000-3600 W. For curly hair type, 1000-1800 W is ideal. But if you have extremely coarse, thick, and frizzy hair, hair dryers above 1800 W are recommended.
The hair dryers above 1800 W are expensive as they provide a professional salon-grade finish. However, a high wattage provides a high temperature, which is not suitable for fine and fragile strands. Hence, if you have just started using a hair dryer, pick the one with medium wattage, i.e., 1875 W.
2. Technology
There are many types of hair dryers available on the market, and each type uses a specific technology. Ionic hair dryers use ionic technology in which negative ions are emitted. These ions react with positively charged water molecules and remove static in hair. This helps you achieve silky, shiny, and moisturized hair. The best part about ionic hair dryers is that they are suitable for all hair types.
Another newly-introduced technology called nano technology emits nano-sized charged particles that lock the cuticles to give you healthy, silky, and shiny hair.
3. Weight And Size
Since hair dryers are handheld devices, their weight and size matter. If you have long, thick, and extremely frizzy hair, heavyweight hair dryers will only add to your troubles as these hair types require more time to dry. Carrying them for a long duration can cause pain in your wrist and hand. If you travel often, look for a compact and foldable hair dryer that you can carry it in your bag.
4. Attachments
Hair dryers come with a set of attachments, like a diffuser, concentrator nozzle, and comb. The purpose of these attachments is to help you create different styles. Usually, hair dryers are used with attachments for thick and frizzy hair. The diffuser is specifically used for curly hair as it helps to dry your hair from below. Generally, these attachments are provided along with the dryer. You can also buy them separately.
5. Heat Settings
Heat control settings are very important in a hair dryer. Usually, dryers come with three levels of heat settings – high, medium, and low. If you are looking for a professional-grade hair dryer, pick one with more than three heat settings and high wattage. But if you want a hair dryer for regular use, choose one with three heat settings.
6. Cool Shot Button
This feature provides a blast of cool air after drying your hair. It helps your hair cool down, and this will help set the style in place.
7. Cord
Long cords provide maximum flexibility of movement as per your requirement.
You can now slay in your curly hair with these amazing hair dryers. Take your pick from the list, try it out, and let us know about your experience in the comments box below.
Expert's Answers For Readers' Questions
Is a hair dryer good for natural hair?
Hairdryers with multiple heat and speed settings are safe for natural hair. Using the dryer on low speed and heat allows quick drying with minimal damage.
How long should I diffuse my curls?
It depends on the length of your hair, but it may take about 10-15 minutes for long and thick hair.
Recommended Articles