10 Best Low Electromagnetic Field Hair Dryers
Prevent heat damage and hair fall caused due to advanced heat styling tools.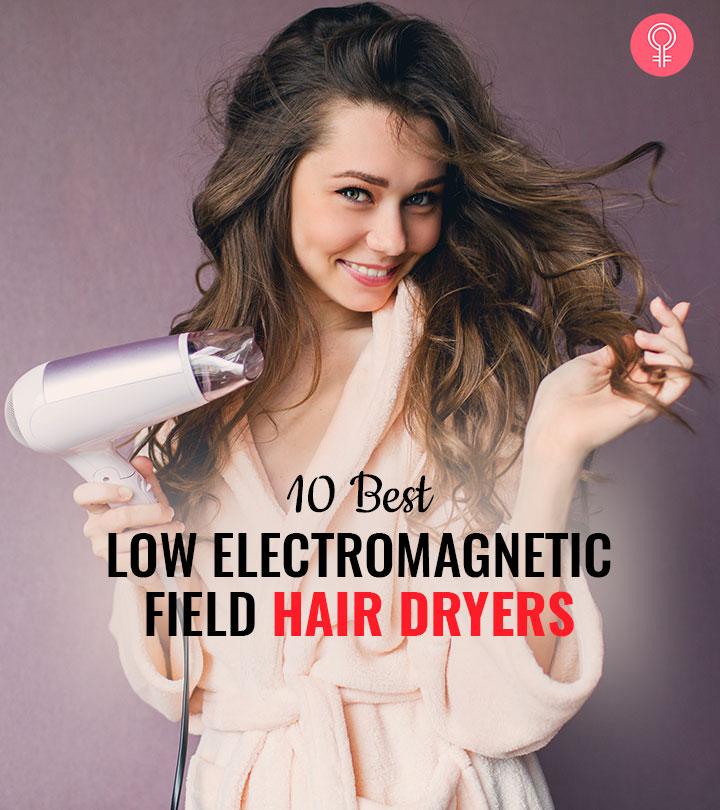 Like most electronic devices such as fridges and cell phones, hair dryers emit high electromagnetic radiation, which not only affects your immune system but also damages your hair at an alarming speed. Does that make you want to throw your hair dryer out and cry? Don't worry! There's one definite solution to this- low EMF hair dryers! And our list of 10 best low EMF hair dryers can not only reduce hair fall and damage but also dry your hair without you having to fret about those high-heat emissions.
10 Best Low Electromagnetic Field Hair Dryers
The FHI Heat Platform Nano Salon Pro 2000 is a high-performance dryer. It uses a very powerful and high-velocity AC motor. It combines endurance and power to dry hair evenly and reduce the drying time up to half. The upper switch controls the heat settings, while the lower switch is used to control the fan speed. It has two fan speed settings and three heat settings, along with a cool shot button. The hair dryer produces an increased number of negative ions to seal in moisture. These negative ions also prevent humidity and static and reduce frizz. The exclusive proprietary nano-fusion technology, gentle but far infrared head, and low electromagnetic field prevent hair damage and leave the hair deeply conditioned and shiny. These hair care devices prioritize safety by reducing hair dryer electromagnetic emissions. It comes with a curl defining diffuser, a straightening comb, a concentrator nozzle, and a storage bag. It has a cord length of 12 feet.
Pros
Lightweight
Dries the hair fast
Imparts shine to hair
Softens hair
12 feet long cord
Makes the hair bouncy
Cons
Might short circuit or burn.
Might not have a long lifespan.
Price at the time of publication: $90.01
Enjoy smooth salon-like quality with Elchim 3900 Healthy Ionic Hair Dryer that offers nourishment, shine, and glowing hair. This dryer is powered by an ionic and ceramic system that makes the hair glossy, providing balanced airflow, thereby keeping the hair hydrated. The far infrared technology protects hair from hot air blow and preserves shine level and hair integrity. They adhere to hair dryer safety standards and are part of a broader movement promoting health-conscious hair styling. The device is designed ergonomically to emit a perfect level of fast airflow, which reduces the drying time by 30 minutes. The device is equipped with 2 air-speed and 3 temperature settings.
Pros
Lightweight
Long cord
Ergonomic grip
Suit all hair types
Cons
Price at the time of publication: $195.0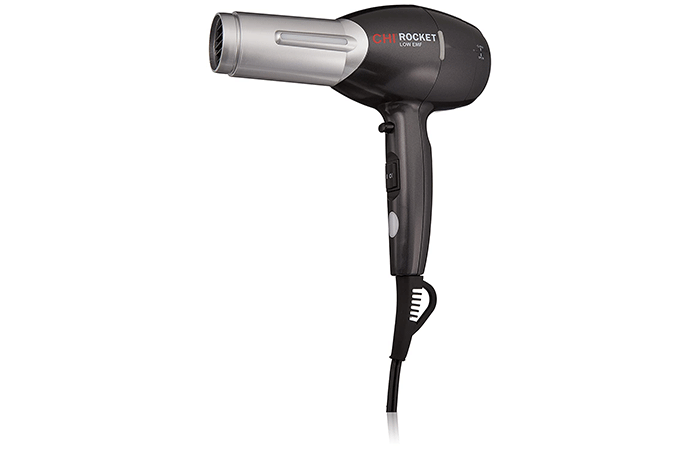 The CHI rocket hair dryer is lightweight and made of ceramic. It heats up fast and produces moist heat that dries hair 40% quicker. It produces ionic positive energy and infuses moisture into the hair shaft. The negative ions also help reduce frizziness and static electricity while leaving the hair shiny and healthy. It has an infrared light indicator that lets you know when you are producing infrared and ionic heat. It produces the lowest output of electromagnetic frequency. With the advancement of low EMF technology, these hair dryers provide a safe and convenient option for healthy hair drying while ensuring ease of use. This hair dryer is powered by a 1800-watt motor. It has a cold-shot button to set your style and comes with a detachable comb for easier air distribution.
Pros
Fast drying
Powerful
Durable
Protects hair
Reduces frizz
Tames fly-aways
Makes the hair smooth and shiny
Cons
Might not be long-lasting.
Might make the hair dry and brittle.
Price at the time of publication: $89.99
The Confu Ionic Hair Dryer comes with one concentrator and one diffuser to style straight and curly hair. It offers three temperature settings and an infinite wind speed setting to give you the perfect hairstyle at home. It features a 1600W premium DC motor that dries hair quickly. The constant temperature control provides uniform heat, preventing hair damage and frizz. This lightweight dryer is easy to carry and use as it gives you smooth, silky hair instantly when styled. By adhering to strict EMF exposure limits, these low-radiation hair dryers aim to mitigate the risks associated with high EMF levels.
Pros
Lightweight
Safe for children and pregnant women
Uniform heat distribution
Portable
Suitable for all hair types
Cons
Price at the time of publication: $39.99
The SHRATE Ionic Hair Dryer has a powerful wind motor of 1875W that distributes heat evenly, offers powerful airflow, and dries hair as fast as 5 minutes. It has 360° rotation magnetic double layer styling nozzles for easy installation and anti-scalding. It offers 2 heat and 3 speed settings to create different hairstyles for different hair types effortlessly. It reduces static electricity, tightens hair scales, increases flexibility, and retains moisture while maintaining shine. It contributes to overall hair styling tool safety by reducing electromagnetic field exposure and addressing concerns related to electromagnetic hypersensitivity.
Pros
Constant temperature control
3 magnetic nozzles
Lightweight
Folding handle design
Waterproof travel bag
Cons
None

Price at the time of publication: $27.61
The Elchim Healthy Ionic Hair Dryer is a powerful device that claims to reduce hair drying by 30%. It offers 2 airspeed settings and 3 temperature settings to meet the styling needs of various hair types. Its ionic and ceramic system hydrates the hair while adding gloss and smoothness to it. In addition, its unique combination of heat and airflow prevents overdrying of the hair cuticles, preventing damage. It is an excellent personal care device that helps minimize electromagnetic pollution efficiently.
Pros
Compact design
Lightweight
Ideal for all hair types
Cons
Price at the time of publication: $195.0
The Lumcrissy 1800W Negative Ion Salon Hair Dryer uses negative ion technology and a constant temperature function to ensure that your hair stays healthy. It produces negative ions that moisturize the hair while preventing heat damage. These ions help smoothen hair, prevent bifurcation, reduce protein damage, and retain moisture. They also help dry hair fast. The hair dryer has three temperature settings, two speed settings, and a cold air shot button. It comes with two concentrator nozzles and a diffuser. It is a low EMF appliance that is lightweight and uses a Gallop motor with high rotating speed and torque. It also has a double safety removable filter, which prevents any hair from being sucked in easily and allows for easy cleaning. The low magnetic wave structure saves energy and reduces the electromagnetic field radiation by more than half. It is a traditional hair dryer alternative that strictly adheres to electromagnetic field regulations.
Pros
Dries hair fast
Low noise
Low radiation
Overheat protection
Lightweight
Cons
The Frasun 1800 W Professional Salon Negative Ionic Hair Blow Dryer uses a Gallop AC motor that has high rotating speed and high torque. It has a U-shaped heating wire to distribute heat evenly and dry hair fast. The ionic ceramic technology releases negative ions to reduce frizz and nurture the hair. It has three temperature settings, two speed settings, and a cool shot button. It has a fuse configuration that provides overheat protection. Its low magnetic wave structure saves energy and reduces more than 50% of the electromagnetic field. It is a low EMF hair styling tool that has a removable filter that prevents hair from being sucked into the dryer while offering easy cleaning. It comes with a nozzle and a diffuser and has a cord length of 8 feet.
Pros
Dries hair fast
Compact
Powerful
Reduces frizz
Lightweight
Detachable rear filter
Overheat protection
1-year warranty
Cons
Can short circuit
The switches may be stiff.
Xpoliman Ionic Hair Dryer equipped with 1875 watts powerful motor, which provides high airflow, quick-drying, and healthy heat flow. Advanced negative ions make hair smooth, lock the moisture, protect your hair from heat damage, and reduce drying time. It is said to be one of the best low-radiation personal care products that offer noiseless operations. Its excellent technology reduces protein damage, gives healthy hair, and prevents dryness. It comes with a cool shot button that blows cold air and locks the style of your hair.
Pros
Hanging loop
ALCL safety plug
Air filter
Swivel power cord
Cons
Inefficient frizz control
Price at the time of publication: $19.99
The MooMoo Baby 3-in-1 Hair Dryer has a U-shaped heating wire to distribute heat evenly. It also keeps the temperature constant (at 57 degrees celsius) and dries hair fast. It prevents extreme heat damage and protects the hair's natural shine. It also uses negative ion technology to nourish and smooth the hair and lock in moisture. It produces a high concentration of negative ions that nurture the hair and repair any damaged scales. The 1600W built-in motor (in a nylon cylinder) produces noise below 68 dB. This motor produces consistent airflow without any hair damage. It has three speed settings and a cold air mode for customized hair styling and drying. It comes with two detachable nozzles and a concentrator. The body is made from PC material and a hammer design, which combines traditional appearance with safety and practicality. It also uses imported low wave construction technology, which reduces the electromagnetic field radiation. The incorporation of EMF shielding materials provides an opportunity for those with electromagnetic sensitivity to be more comfortable with the products they use in their hair care routine.
Pros
Dries hair very fast
Prevents static
Easy storage
Intelligent temperature control
Low noise
Lightweight
Reduces frizz
Cons
Might short circuit.
Might not have a long life span.
Price at the time of publication: $28.62
Now that you know about the top low EMF hair dryers, here are a few things to consider when buying one.
What To Look For While Buying A Low EMF Hair Dryer: Buying Guide
Ionic Technology: This technology uses negatively charged ions to break water molecules on the hair's surface. The smaller molecules are easily absorbed by the hair to hydrate it.
Tourmaline Ceramic Technology: A ceramic-coated grill produces infrared heat to dry hair but with little to no hair damage. Tourmaline technology reduces frizz and static electricity.
Diffuser: Look for models that come with a diffuser. It spreads heat evenly and helps define curls.
Heat Settings: Heat settings allow you to decide the level of heat emitted from the dryer. Most hair dryers these days have more than two or three heat settings to make it more convenient to dry your hair.
Speed Settings: Speed settings help control the airflow of the dryer.
Cool Shot Button: The cold shot button helps lock in hairstyles once you fashion them.
Material: Make sure your hair dryer is made from durable materials and ceramic coated to prevent breaking.
Wattage: It is important to know the wattage of the dryer and the plug point. If the wattage is too much, it may short circuit and overheat.
Pro Tip: Lindsay Loo, a cosmetologist, says, "If you travel a lot, make sure to pick a tool that is compatible with other electric outlets when shopping for your next favorite low electromagnetic field hair dryer."
Why Trust StyleCraze?
The author of this article, Shiboli Chakraborti, is a haircare enthusiast, and she is passionate about helping her readers buy the right haircare products. As a result, she conducted research to pick the best low electromagnetic field hair dryers. She considered factors like motor strength, performance, safety, and user reviews and ratings before curating the list. This list consists of the best-rated products available on the market right now.
Frequently Asked Questions
How do hair dryers produce EMF radiation?
Hair dryers use a voltage that produces an electromagnetic field.
Do all hair dryers emit EMF?
Yes, all hair dryers emit EMF radiation.
Do expensive hair dryers emit low EMF?
Yes. Expensive hair dryers like the FRasun 1800Watt Professional Salon Negative Ionic Hair Blow Dryer emit low EMF and prevent excessive hair damage.
Which type of hair dryer is the safest?
Ceramic hair dryers are the safest option as they distribute heat evenly to your hair and take less time to dry the hair. They minimize heat damage and are also easy to handle.
Is a higher-watt hair dryer better?
No. However, if you have thick, coarse hair, a high range of watts is better for drying your hair faster, whereas a lower range is suitable for thin hair. But a very high-watt hair dryer releases excess heat that may damage your hair. So, always try to stick by a standard watt hair dryer.
Recommended Articles