10 Best Low-Watt Hair Dryers In 2023 For Gorgeous Looks
Having a quick blowout has never been easier than with these energy-efficient dryers.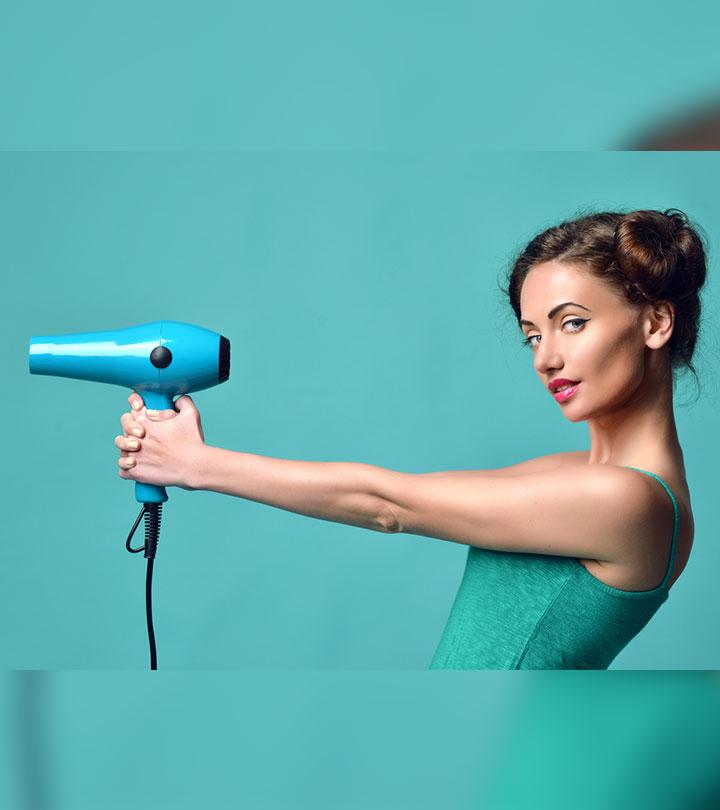 Everyone deserves to have a low-watt hair dryer that styles their hair perfectly without the need to rush to a salon now and then. We like them best because they do way more than just dry your hair. They make sure the hairstyle we have been trying to pull off for quite some time stays set on your hair without the need for expensive gadgets. With time we have been able to pull some hacks that have enabled us to experiment with hairdos that wouldn't have been possible without these little gadgets. If you have made up your mind to get yourself a low-watt hair dryer and keep your hair protected from damage, you are at the right place. The best part is, it does not pinch your pocket with heavy electricity bills each time you dry your hair out. They also emit less heat and ensure your hair does not frizz immediately after drying. Also, as a bonus, most of these are compact and fit your travel bag perfectly. It comes with dual voltage and allows worldwide usage, so using it is not a problem no matter where you go. No more relying on your hotel for having a hair drier! These lightweight machines are easy to use and consume between 1000-watts to 1800-watts. They are perfect for regular use, and you no longer have to go to work with water dripping from your hair or wait for the sun to shine to dry your hair. You can also fit it in your washroom cabinet and dry your hair out before even leaving your washroom. It makes sure your hair is dry and silky at the quickest, and you can flaunt beautiful shampooed hair every time you like. Go through the list and pick from the 10 hair dryers that keep your hair stylized with minimum waste of electricity.
Top Picks
What Is A Low Watt Hair Dryer?

Simply put, low-watt hair dryers consume less electricity when compared to traditional salon-style hair dryers and are more energy-efficient. Their wattage typically varies between 1000-watts and 1800-watts, and their design is compact and lightweight. Ideal for frequent travelers, some come with dual voltage, which allows worldwide usage and convenience. They are a must-have in every smart woman's bathroom cabinet to allow for quick drying and styling when you're in a hurry. So do your hair and the environment a favor and get yourself a low-watt hair dryer that protects your hair while reducing wastage.
10 Best Low Wattage Hair Dryers You Must Try In 2023
Pros
Convenient folding handle
Dual voltage for worldwide usage
Lightweight design
Far-infrared heat for faster drying
Cons
Some might find that this hair dryer tends to overheat a bit after extended use.
Price at the time of publication: $34.99
Pros
Compact and lightweight design
Velvet touch handle for comfortable styling
2 heat/speed settings
Dual voltage for travel
Cons
Some might find this hair dryer a bit loud when used.
Price at the time of publication: $22.99
Combine practicality and style with this 1000 watts hair dryer that is perfect for adding volume and minimizing frizz to your lovely mane. This lightweight hairdryer features multiple heat and speed combinations and has a convenient cool shot button to deliver a blast of cold air to set your hair once you're done styling it. Easy to use and clean with a low noise function, this compact device has a double safety net to prevent hair from getting stuck in the dryer and a removable lint filter to ensure timely maintenance. So, what are you waiting for? Pack this mini hair dryer for your next vacation, and we know you'll thank us later. If you want to know more about this product, check out this video on YouTube.
Pros
Lightweight build
Multiple heat and speed combinations
Designed for travel
Removable lint filter for easy cleaning
Comes with a mini diffuser attachment
Cons
Some might find this hair dryer a bit noisy when used.
Price at the time of publication: $16.96
Creating the hairstyles of your dreams was never this easy, until now! This hair dryer has the option of 2 different ceramic-coated spin brush attachments with rotating barrels which makes styling a breeze. Tame flyaways and banish frizz with this versatile hair dryer which delivers even heat with the help of tourmaline ceramic coating and has soft nylon bristles to reduce hair breakage. The 1000-watts motor provides efficient and powerful results to help create voluminous waves and enviable curls. Save on space and time by investing in this convenient device which does the work of a hairdryer, stylish brush, and curling iron, all in one compact package.
Pros
3 heat/speed settings
Tourmaline ceramic coating to eliminate hotspots
Soft nylon bristles
Powerful and efficient motor
Cons
This hair dryer can only be used in towel-dried hair.
Price at the time of publication: $34.99
Save precious minutes in your morning routine by trying this great 1-step low wattage blow dryer that provides a hair dryer's power and the luscious volume of a styler. The hot air brush features a nylon pin and tufted bristles, which helps detangle hair for a smooth, healthy-looking finish. The ceramic coating helps protect hair from damage by ensuring even heat distribution to create gorgeous salon-style hair-dos instantly and effortlessly. This unique device works beautifully with thick, curly hair, making it a hot favorite for managing their wiry mane. Go ahead and check out this YouTuber's video for more details about the product.
Pros
Multiple temperature settings
Ceramic coating to protect against damage
Oval brush design
Cons
This hair dryer can only be used with USA 120V power outlets and might not be suitable for international travel.
Price at the time of publication: $55
Get beautiful, blow-dried hair and enhance your appearance in as little as 10 minutes with this unique low-wattage travel hair dryer that promises efficient results. Extremely portable and lightweight, this tiny hairdryer weighs as little as your smartphone and can easily be tucked into your handbag or carry-on for gorgeous hair on the go. This hair dryer also features smart heat control to prevent overheating and hair damage and a long power cord for convenience and ease of use.
Pros
High airflow volume
Lightweight and compact design
Ideal for short-to-medium length hair
Smart heat control to prevent damage
Cons
Might not be best suited for those with very long hair.
Price at the time of publication: $59.97
Pros
Lightweight and compact design
Easy to maneuver
Ergonomic design
Low noise
Travel-friendly
LED ring temperature mode
Cons
Price at the time of publication: $199.99
Pros
Magnetic attachments
Ultra-fast drying
Lightweight and balanced design
Silent, powerful motor
Cons
Some might find the size of this hair dryer a bit large for travel.
Price at the time of publication: $416.87
Pros
Ergonomic, lightweight design
2 pro-quality concentrator nozzles for precise styling
Multiple speed and temperature settings
Removable air filter
Cons
Some might find that this hair dryer takes a bit long to heat up.
Price at the time of publication: $80.0
Here's an excellent hair dryer that helps you save space and keep your bathroom counter clutter-free with a unique wall-mounted design. Offering multiple speed and heat settings, this hairdryer is easy to use and provides fast-drying when you're in a hurry to get places. The energy-saving LED night light and removable lint screen are additional features that make this low-watt hairdryer the perfect addition to your guest bathroom. Lightweight, ergonomic, and easy to maintain, this is the ideal choice for those looking for a fuss-free and effective hairdryer.
Pros
Convenient wall-mounted design
Energy-saving LED night light
Multiple speed and heat settings
Removable lint screen and disposable lint filter
Cons
Some might find the power cord of this hair dryer a bit short.
Price at the time of publication: $52.89
Now that we've had a look at our pick of the 10 best low watt hair dryers in 2023, let us look at some things to consider when picking the right device to style your hair.
How To Choose The Best Low-Wattage Hair Dryer
One of the best features of a low-watt hair dryer is that they are generally compact and ergonomic. Especially important for travel, pick a space-saving hair dryer with a folding handle if you intend to pack it into your carry-on for work trips and vacations. Size is also important when you have a small bathroom space and want to store all your hair styling tools neatly in the tiny space available. While a bulky salon-style hair dryer might cramp up your countertop, a conveniently sized low-watt hair dryer might be the perfect fit.
It is essential to pick a hair dryer that will help you style your hair quickly and efficiently, and the length of your hair plays a vital role in helping you decide. While a 1000-watt hair dryer might be sufficient for someone with short-to-medium hair, a stronger hair dryer might be better suited for someone with longer hair. Don't hesitate to try a few hair dryers before deciding on one that perfectly suits your requirements.
Whether your hair is sleek and straight, curly and thick, or wiry and fine, there's a low-watt hair dryer designed just for your unique requirements. Pick a hair dryer with a ceramic coating if your hair is prone to frizz to help prevent heat damage and keep flyaways at bay. While straight hair can be dried quickly with a 1200-watt hair dryer, curly and thick hair might require a stronger hair dryer to do the job efficiently.
How To Use A Hair Dryer
Step 1 – Wash your hair with a gentle shampoo and conditioner. Use a towel or an old t-shirt to absorb excess water when you're done.
Step 2 – Apply an appropriate heat protectant to your hair, focussing on the ends.
Step 3 – Untangle your hair and divide it into small sections using hair clips.
Step 4 – Use your hair dryer and a round brush to dry each section of your hair, starting from the lower sections and working your way up. Make sure to keep the hair dryer at least 6-8 inches away from your head.
Step 5 – Finish with a blast of cold air to set your style and add shine. Use your fingers to apply an anti-frizz serum or hair spray.
And voila! In a few simple steps, you are ready to start your day with gorgeous, bouncy hair and a spring in your step.
Why Trust StyleCraze?
Kirtana Divakar is passionate about hair care and enjoys researching new products. She conducted extensive research and read many customer reviews before compiling this list of the finest low-watt hair dryers that are easy to use, affordable, and efficient. She has included the details of each device, including the benefits and drawbacks, and a user guide for hairdryers. She has also provided a shopping guide and answers to some common questions to assist you in making your decision.
Frequently Asked Questions
When should one use a low watt hair dryer?
A low watt hair dryer is ideal for daily use when you're looking for a quick, energy-efficient way to dry your hair. They are also perfectly suited for travel as their space-saving and lightweight design makes them easy to be packed into your carry-on.
How many watts should a good hair dryer be?
This depends on the length and thickness of your hair. Generally, a 1000W-1200W hair dryer works well for those with short-to-medium hair, whereas a stronger hair dryer with a rating of 1500W-1800W is better suited for those with long, thick hair.
Does wattage matter in hair dryers?
Yes, wattage plays an essential role in hair dryers. If the wattage is high, the hair dryer will generate more heat and blow faster.
Is a 1500-watt hair dryer good?
Yes, any hair dryer between 1000-1800 watts is a good pick and works seemingly fine on every type of hair. You can style your hair easily and quickly with these hair dryers.
Are low-watt hair dryers good for thick hair?
No. Thick hair requires a powerful hair dryer with high wattage. Although some uniquely designed low-watt hair dryers also work great on thick hair.
Are low-watt hair dryers good for curly hair?
Yes, low-watt hair dryers work fine on curly hairs and help you quickly style your hair and remove stubborn frizzes within a few minutes.