11 Best Compact Mirrors Of 2023 With Buying Guide
Stay fresh and groomed all day with a small, handheld mirror that are durable.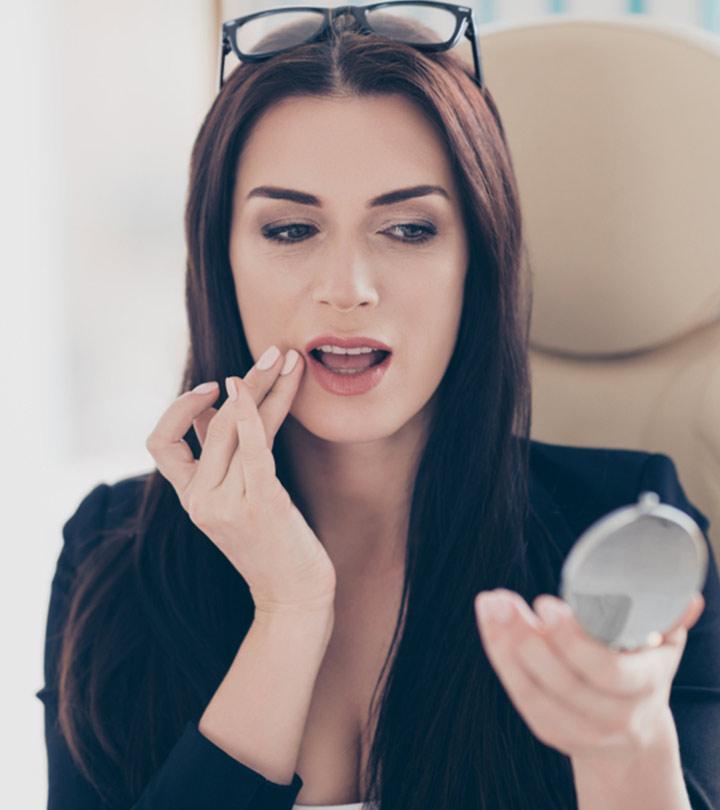 A small mirror is a useful item to have in your makeup bag or handbag at all times. The best compact mirror is small and elegant, and it easily fits into any bag. If you have ever thought about how someone can stay dewy, fresh, and groomed all through the day, it is just because they keep a trustworthy handheld mirror by their side. It allows them to swiftly tidy up their makeup, pluck out stray brow hairs, adjust their hair in a flash, and inspect their teeth for makeup stains, among a slew of other things.
If you have been searching up and down for the ideal compact mirror but can't seem to find one, let us help you out. We have here our carefully curated list of the top 11 compact mirrors that you can check out and take your pick from. Keep scrolling!
Top 11 Compact Mirrors To Keep In Your Makeup Pouch
As the name suggests, this compact mirror is as fancy as fancy can get. Perfect for everyday use, this compact mirror measures 5 inches in size and offers a clear, distortion-free view. It features an LED light that imitates natural sunlight to provide you color-correct details while applying makeup. As it is a two-sided mirror, you can use the 1x mirror to check minor things and the 10x side for the finer details like tweezing out an ingrown hair. The LED light bulbs are ultra-durable and offer up to 20,000 hours. As the cover features a glossy black finish, it also makes for an excellent gift.
Pros
Long-lasting light bulb
Dual-sided mirror
Large compact mirror
1x and 10x magnification
Slim and lightweight
Built-in lights last for 20,000 hours
Cons
Price at the time of publication: $24.99
If you can't resist all things cute and adorable, you should take a look at this practical yet elegant pocket mirror. Coated with a rose gold finish, this portable mirror is slim, sleek, and durable. Touch up your makeup with its true-view mirror, or use the 10x magnified side for a better view of that stubborn blackhead that you've been trying to get rid of. It is 4 inches in diameter and made of built-to-last plastic. Its sturdy base lets you perch it up on a tabletop and features a snap closure design, making it the perfect vanity mirror.
Pros
Lightweight
2 sided-mirror
1x and 10x magnifying compact mirror
Foldable little mirror
Affordable
Cons
It doesn't feature lights.
Price at the time of publication: $9.99
Do you want a compact mirror that can perform magic tricks? Are you sometimes annoyed that your compact mirror can't stand at a certain height or angle to deliver the most flattering view? If you answered yes to both of those questions, you must get your hands on this one. This travel mirror is foldable to be handheld and can be raised to stand on tabletops. It offers a regular view on one side and a magnified view on the other. It is equipped with 8 long-lasting LEDs that illuminate your face for a better view. You can use it with the lights turned off, with just 1 light on, or both lights on.
Pros
Cordless
10x magnification
Runs on 3 AAA batteries
Batteries are included
Can be raised with the help of brackets
On/Off light button
Cons
Due to the brackets in the mirror, it can be a little bulky.
Price at the time of publication: $32.99
An ode to the 60s, this vintage mirror screams of opulence and all things classy. It features a beautiful and intricate floral design on the lid and its compact size makes it easy to hold and fits in any purse comfortably. This palm-sized folding compact mirror is dual-sided so that you can use the regular side for quick makeup fixes and the magnified size to look at problematic areas on the face. As it comes encased in a red jewelry box, you can also gift it to your family and friends.
Pros
Exquisite design
Dual-sided
Palm-sized
Packaged in a jewelry box
Cons
It offers only 3x magnification.
There's something about pastel shades that immediately makes one think of beautiful and graceful things, isn't it? This magnified compact mirror in millennial pink offers distortion-free viewing and 10x magnification. It claims to be of the perfect size that's bigger than your regular compact mirror, but petite enough to fit into your purse. It also features a hinge that opens flat to 180°, so you can use the mirror any way you want, completely hands-free. It is lightweight, sleek, and only weighs 3.5 oz.
Pros
Folds flat to 180°
4 inches
Lightweight
Hands-free hinge
Includes a carrying pouch
Affordable
Cons
Some may find it uncomfortable to hold in their palms due to the size.
Price at the time of publication: $9.99
This lighted compact mirror has everything one could need or ask for. It is lightweight and sleek and the ideal size for both palm and purse. It is equipped with double LEDs that come with a flexible switch to adjust brightness. You can increase the brightness to 100% or dim it down to 10% too. As the LEDs are designed to imitate natural light, it will not harm your eyes even after extended periods of use. You can forget about batteries, too, as this high-end glass mirror is rechargeable and can run for 2 weeks on a full charge.
Pros
USB chargeable
Dual-sided mirror
Adjustable brightness
LEDs on both sides
Elegant design
Cons
Slightly expensive
The magnification is only 5x.
Price at the time of publication: $32.99
If small, tiny, palm-sized mirrors don't cut it for you, this jumbo compact mirror will do the trick. If the size doesn't impress you, perhaps the chic rose gold finish will. This LED travel mirror has 2 sides, one with a real view and the other with 7x magnification. It is equipped with 10 LED lights that form a ring to illuminate even the darkest of rooms to help you apply makeup flawlessly. It runs on 4 CR2032 button batteries and is surprisingly lightweight.
Pros
5-inch LED light compact mirror
Batteries are included
Two-sided
1x and 7x magnification
Features 10 LED lights
Cons
The batteries may need to be replaced often.
Price at the time of publication: $12.99
If you've always used round compact mirrors, it's time to switch it up and get your hands on square compact mirrors such as this one. The rounded corners give it a soft yet chic edge, and it fits in your palm or your pocket effortlessly. This compact mirror may be small, but it offers magnification like no other. With 15x magnification, you can get to the root of the smallest ingrown hair and pluck it out like a professional. This double-sided distortion-free square mirror opens wide to a 180° and lays flat for easy viewing.
Pros
Square-shaped mirror
15x magnification
Opens 180°
Magnetic opening and closure
Dual-sided
Cons
Some may find the size of the mirror too small.
Price at the time of publication: $11.95
If you are looking for a compact mirror with lights, you should take a look at this one. With one touch of a button, it can illuminate the whole room. The LED white light copies natural light to allow better viewing. You can also dim the brightness if you feel like it's hitting your eyes. The mirror is equipped with a built-in 500 mAh battery that offers up to 30 hours of lamp life on a single charge. You can trust this mirror for distortion-free viewing and a crystal clear reflection, even when magnified by 7 times.
Pros
7x magnification mirror
Adjustable LED lights
Touch-sensitive switch
Includes a micro USB cable
Includes a fiber organizer bag
Portable charger mirror
Available in other colors
Cons
Slightly expensive
Recharging can take 2 to 4 hours.
Price at the time of publication: $18.98
Now here's something we don't see every day in a compact mirror. It uses a smart switch, human body induction to turn on. When you touch the main body of the mirror, the lamp automatically turns on. But that's not the only impressive thing about this mirror. The brightness is adjustable, it offers a night light function, it's USB rechargeable, and energy-efficient too. On a single charge, it can last up to 5 weeks. Its lightweight and sophisticated rose gold body adds to the impressiveness.
Pros
Touch-sensor mirror
Rechargeable
Lasts 5 weeks on a single charge
Dual-sided
Available in other colors
Dimmable light
USB cable included
Cons
It offers only 3x magnification.
Price at the time of publication: $15.99
Are you tired of always running out of phone juice? If yes, this rose gold compact mirror can be your savior. Not only is it great for your face, but it can also charge your phone at an incredible speed. But besides the phone charge prowess, this auto LED light makeup mirror features 2 mirrors for a clear, regular view and a magnified one. It is also equipped with a powerful 3000 mAh lithium-polymer battery. The built-in magnet ensures that it stays closed at all times, even when inside your purse. If you can't seem to wrap your head around how this mirror works, don't worry, the detailed user guide has everything you need to know. If you want to know more about the results, take a look at this review on YouTube.
Pros
Bright LED light
Double-sided
Built-in rechargeable battery
Can charge your phone
Magnetic clasp
Includes a power bank and USB cable
Comes with a carry pouch
Cons
Offers 3x magnification.
Slightly high-cost.
Price at the time of publication: $21.99
Did you like any of these compact mirrors, or do you think you still need some information before buying one? Here are a few tips to help you make the right choice.
Important Features To Consider When Buying Compact Mirrors
When buying a compact mirror, look for one that is made of glass. Compact mirrors are usually made of either glass or plastic, and plastic is generally cheaper and more durable. However, plastic doesn't always assure a distortion-free view.
The main objective of having a compact mirror is to keep it handy at all times, especially in our handbags and purses. This is why it is essential to look for one that isn't exceptionally large. However, on the other hand, it shouldn't be frustratingly small too. If you can't decide what the right size is, choose a 4-inch mirror as it is considered to be the best option.
Most lighted compact mirrors are equipped with LED lights. Look for one that mimics natural daylight as it will offer a true-view of color. Also, look for one with adjustable lights as the brightness could hurt your eyes in the long run.
Choose a double-sided mirror, which offers a distortion-free normal view and a magnified view. A mirror with a magnifier helps cover blemishes flawlessly and remove unwanted hairs.
Why Trust StyleCraze?
Chaitra Krishnan, the author, loves all things makeup. She shares her list of the best compact mirrors to add to your beauty regimen and tips for choosing them in her buying guide. She compiled this list after conducting extensive research on the product details like material, size, and lighting and analyzing numerous online reviews. The shortlisted mirrors are lightweight and slim, making them easy to carry in your purse.
Frequently Asked Questions
What is a compact mirror?
A compact mirror is a foldable cosmetic product that contains 2 mirrors, 1 on each flap. While 1 mirror reveals a regular view, the other offers a magnified one. Some compact mirrors are also equipped with LED lights for better viewing. Compact mirrors are designed to fit into a small handbag.
How much magnification should a compact magnifying mirror have?
It depends on you and the close-up you require. However, 7x and 10x magnification is common in the best-selling compact mirrors.
Is LED lighting good for applying makeup?
If the LED light mimics natural light, it is good for applying makeup. However, if it is too bright, you may not get a good sense of how much makeup to apply.
Recommended Articles