11 Best Pizza Pans (2023) – Reviews And Buying Guide
Get these cooking essentials for the perfectly-shaped pizzas at the comfort of your home.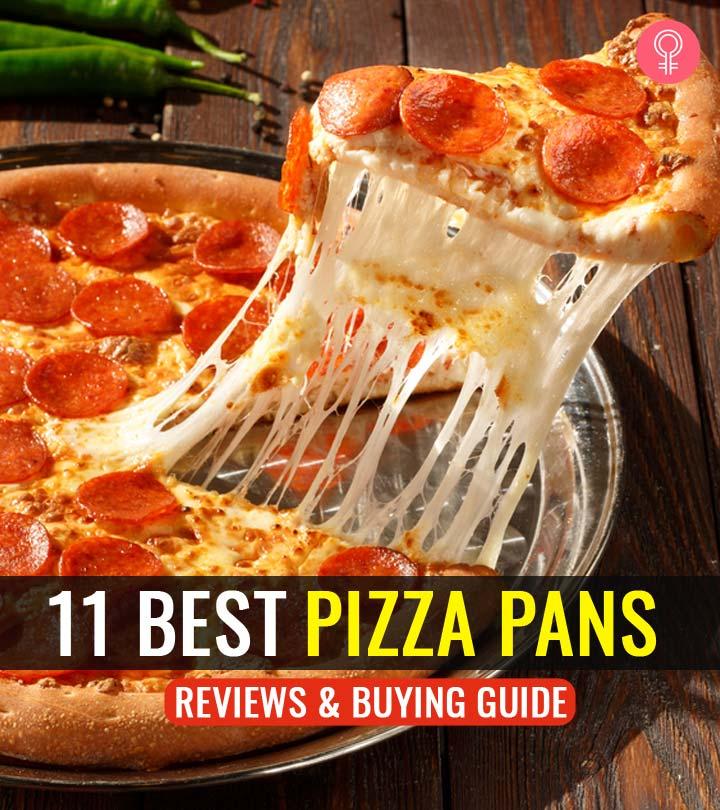 Sometimes the cheesiest, most delicious, and greasiest pizza is all you need to uplift your mood. However, your local pizza place might not always be open when you get pizza cravings. On such days, you need the best pizza pan to make this exquisite Italian dish and an American favorite at home. A pizza pan helps you make a perfectly shaped and yummy-looking dish. There are many options available based on the thickness, surface style, and material of the pan. All the above factors determine the longevity of the utensil. Let us have a look at some of the best pizza-baking pans. Keep scrolling!
11 Best Pizza Pans – Reviews
Cuisinart Chef's Classic 14-Inch Pizza Pan is the perfect choice for home chefs. This round pizza pan is made of heavy-gauge aluminized steel to provide even heat distribution and consistent baking results. The extra-thick rolled edges prevent warping. Cuisinart promises you a lifetime of great performance with this pizza pan.
Features
Dimensions: 15 x 14.4 x 1 inches
Weight: 1.14 pounds
Heavy gauge (1.0 mm)
Holes for even heat flow
Aluminized steel construction for even heating
Whit ford Xylan non-stick interior and exterior
Limited lifetime warranty
Pros
Dishwasher-safe
Easy to clean
Non-stick
Durable
Cons
The Wilton Premium Non-Stick Pizza Pan is the perfect pan to get nice, crisp results each time you prepare pizzas, thanks to it being a powerful conductor of heat. This also pan cuts down on your cooking time. This 14-inch flat pan has a smooth and even surface and a very thin lip, which allows your pizzas to slide off very easily once they are ready to be served.
Features
Dimensions: 14.1 x 0.36 x 14.1 inches
Weight: 1.15 pounds
Silicone polyester coating
Flat, even surface
Limited 5-year warranty
Pros
Non-stick surface
Easy to clean
Produces a crispy crust
Multipurpose
Pizza slides off easily
Cons
May warp at high temperatures
Price at the time of publication: $40.87
The pizza industry has trusted American Metalcraft since 1947. Their signature TP6 pizza pan is very reliable and durable because of its heavy-duty 18-gauge aluminum construction. With 70 years of service, American Metalcraft is a leader in the food service industry for trend-focused and unique products.
Features
Dimensions: 6 x 6 x 0.38 inches
Weight: 1.6 ounces
Heavy-duty 18-gauge aluminum
Hand-wash only
Pros
Affordable
Cooks evenly
Comes in a variety of sizes
Easy to clean
Cons
Not non-stick
Not dishwasher-safe
Price at the time of publication: $4.9
Whether you like your pizza frozen, fresh, or reheated from the night before, the ProBake Non-Stick 16" Pizza Pan has got your back. It does the job of baking or reheating your thin-crust pizza evenly while giving it the most scrumptiously crunchy crust.
Features
Dimensions: 16 x 16 x 1 inches
Weight: 3.34 pounds
Teflon Xtra non-stick finish
10-year limited warranty
Pros
Value for money
Easy-release surface
Dishwasher-safe
Creates a crunchy pizza crust
Multipurpose
Cons
Might stain/rust around the edges
Price at the time of publication: $29.89
The Chicago Metallic Deep Dish Pizza Pan is great for cooking Chicago-style deep dish pizzas. It is also a great pan for preparing a cookie pie, stuffed pizzas, or any other kind of pies at home. It is durable and strong due to its heavy-duty carbon steel surface. Though it is dishwasher-safe, it is recommended to wash this pan by hand to extend its life.
Features
Dimensions: 14 x 14 x 1.5 inches
Weight: 1.85 pounds
Silicone-based non-stick surface
Smooth, flat surface
Made from heavy-duty carbon steel
Dishwasher-friendly
Pros
Conducts heat evenly
Easy-release surface
Does not warp easily
Easy to clean
Multipurpose
Cons
Price at the time of publication: $17.09
Pizza pans are very helpful in preparing restaurant-grade pizzas at home. With the New Star Restaurant-Grade Pizza Pan, you can bake and serve pizzas in the same pan. Thus, you can cut down on a number of steps and save time. This pan allows you to bake both mini and large pizzas faster so you can serve your guests fresh pizzas in no time.
Features
Dimensions: 8 x 8 x 1 inches
Weight: 0.8 ounces
Made of commercial-grade aluminum
Gently sloped edge
Pros
Affordable
Easy to clean
Sloped edges keep toppings from spilling
Can use metal tools on this pan
Does not warp easily
Cons
May stain and leave scratch marks
Not non-stick
Price at the time of publication: $17.97
LloydPans Kitchenware Detroit Style Pizza Pan provides easy release from the pan after baking. It is metal utensil-safe and easy to clean. This Detroit-style pizza pan does not require any pre-seasoning before use. It has the exclusive Dura-Kote finish that is permanent, non-toxic, and stick-resistant. It eliminates the hassle of maintaining seasoned pans.
This commercial-quality pan is the same that is used in Detroit-style pizza restaurants. It is made of heavy-duty anodized aluminum and manufactured in the USA. It does not rust and lasts for years. It is made at a nesting 76° angle that allows nesting when empty, thus saving storage space
Features
Dimensions: 8 x 10 x 2.25 inches
Weight: 1.42 pound
Non-stick coating
Ready to use
Heat-safe up to 700° F
Pros
Multipurpose
Durable
Easy to clean
Warp-resistant
Easily releases the pizza
Cons
Expensive
Not dishwasher-safe
Price at the time of publication: $33.93
The USA Pan 12-inch Pizza Pan provides an easy baking experience. It is coated with AMERICOAT Plus, a patented non-stick silicone that allows you to release the pizza easily from the pan and gives you an easy clean-up experience. This non-stick coating is PTFE-, PFOA-, and BPA-free.
Every USA Pan is made with aluminized steel and heavy-gauge steel construction that provides even heat distribution and maximum service life. This product's unique fluted surface design facilitates air circulation and maximizes pan strength, which aids the resistance to warping.
Features
Dimensions: 12.5 x 12.5 x 0.2 inches
Weight: 1.55 pounds
AMERICOAT Plus non-stick coating
Unique fluted design
Aluminized steel construction
Limited lifetime warranty
Pros
Easy to clean
Creates a crispy crust
Easily releases the pizza
Durable
Warp-resistant
Cons
Price at the time of publication: $20.84
Get delectable results with the Calphalon Non-Stick Pizza Pan. Its toffee-colored non-stick surface releases baked goods easily for flawless results. Its heavyweight construction facilitates even heating and long life. This 16-inch pizza pan has perforations all over its surface that circulate air to give your homemade or store-bought frozen pizzas a perfectly baked base. This product is dishwasher-safe, which makes it easy to clean. It is oven-safe up to 450° F.
Features
Dimensions: 16 x 16 x 0.5 inches
Weight: 1.45 pounds
Perforated surface
Non-stick coating
Dishwasher-safe
10-year limited warranty
Pros
Easy to clean
Cooks crust evenly
Easily releases the pizza
Durable
Warp-resistant
Cons
Not scratch-resistant
Expensive
Price at the time of publication: $24.99
The CROWN Cookware Solid Pizza Pan is designed with a smooth finish with high-quality virgin aluminum. The set includes two 16-inches pizza pans that you can use for home and professional baking. You can conveniently bake thin or thick-crust pizza and enjoy it with your friends and family. These pans don't crack or chip and are easy to clean.
Features
Dimensions: 16 x 16 x 0.4 inches
Weight: 1.34 pounds
Designed for multiple uses
Made of food-grade virgin aluminium
Good heat conductivity for even baking
Pros
Rust-free
Non-toxic
Versatile
Easy to clean
Does not warp
Cons
Price at the time of publication: $18.95
Deedro 12-Inch Pizza Pan is made of pure stainless steel and does not have any toxic substances or chemical coating, thus bringing you a healthier baking experience. Its heavy-gauge steel makes it stable, rust-resistant, and durable. Its gently sloped edge allows you to completely cover your pizza's crust with toppings and prevents them from falling out. You can just prepare, bake, slice, and serve the pizza all in one go!
Features
Dimensions: 12 x 12 x 0.7 inches
Weight: 13.4 ounces
Mirror finish for less sticking
Made of pure stainless steel
Gently sloped edges
Pros
l Value for money
l Prevents toppings from falling off
l Durable
l Cooks evenly
l Easy to clean
Cons
Price at the time of publication: $19.99
Now that you know all about the pizza pans available right now, let's check out all the things you need to consider before buying one in the buying guide below.
Pizza Pans – Buying Guide
Pizza-making is an art that needs to be perfected in order to enjoy this scrumptious delicacy. So when you are looking for a pizza pan, always look for one that best suits your taste and preferences. Here are a few factors that you need to answer to make a well-informed decision.
Different Types Of Pizza Pans
You must consider what type of pizzas you want to make before zeroing in on a pizza pan. Some main types of pizza pans include:
Deep Dish Pizza Pan: They have high side walls and are used to make Chicago-style pizzas. They may come in a round or a square shape.
Pizza Screen/Disk: These pans have a mesh bottom for easy heat transfer. They are great for making crispy thin-crust pizzas.
Pizza Stone: It is made of ceramic or cordierite and has a porous surface that absorbs excess moisture from the crust to make it crispy.
Wide Rim Pizza Pan: It makes handling, slicing, and serving a pizza super easy.
Cast Iron Pizza Pan: It can be used on any cooking surface – grill, oven, broiler, stovetop.
Cutter/CAR Pizza Pan: It has a curved edge that is suitable for baking rolled pizza dough.
Regular (Coupe) Pizza Pan: It is very durable and easy for baking and serving pizza.
Surface Of The Pan

Perforated Surface: This kind of pizza pan has several holes all over the surface. These holes are supposed to help cook the crust evenly by letting heat directly come in contact with the crust through the holes.
Solid Surface: A pizza pan that has a smooth, even surface is called a non-perforated or solid surface pan. The metal with which such pans are constructed plays an important role in creatinga crispy, crunchy, and evenly cooked crusts. These pizza pans should be constructed with heavy-gauge metals that are powerful conductors of heat. Such pans are usually constructed with steel, aluminum, or cast iron.
Fluted Surface: A pizza pan that has a fluted or ridged surface helps in the even distribution of heat. It also makes it easy to release the pizza from the pan once it is baked to perfection. One downside of such pans could be that they can be hard to clean if any small pieces of food get stuck in between the grooves of the pan.
Material

Stainless Steel Pans: Stainless steel pizza pans usually do not have any kind of non-stick coating on them. They have a mirror finish that makes it easy to clean and easily release the pizza from the pan when it is greased properly with oil, shortening, butter, or flour.
Aluminum Pans: Aluminum pans may or may not have a non-stick coating on them. Since aluminum is a weak metal, it is known to get scratched and stained easily. Apart from that, it is also not safe for the dishwasher. If you are looking for a cheap alternate for a pizza pan, go for an aluminum pan.
Cast Iron Pans: Cast iron pans are supposed to be the most durable of the lot. They are heavy-duty pans that need to be seasoned from time to time. Linseed oil is very commonly used to season cast iron surfaces. Though these pans do not have any non-stick coating on them, their grooved surface makes it easy to lift off the pizza without any sticking.
Shape Of The Pan

Flat Edge Pan: A pizza pan that has a completely flat edge with little to no lip can be used as a pizza pan itself or even a pizza peel to slid off your pizza from a hot surface. Flat edge pans effortlessly release your pizza when you first get it out of the oven. Though this can be convenient for some people, others may find this dangerous as the pizza can slide off and onto the floor if you are not careful.
Sloped Edge Pizza Pans: A pizza pan that has a sloped edge is perfect for people who like their pizza base to be entirely covered with cheese and other toppings. The sloped edge keeps the toppings in place and does not let them fall out.
Deep Dish Pizza Pans: Deep dish pizza pans are perfect for anyone who enjoys a hearty amount of toppings and cheese on their pizzas. It is important to check that such deep dish pizza pans are made of great-quality metals that are good conductors of heat in order to cook the crust completely throughout, while not burning the edges. What is great about these pans is that they can also be used to make a variety of savory as well as sweet dishes, such as lasagna and pies.
Non-Stick Coating

Teflon Coating: This kind of non-stick coating is made from a chemical called PTFE, which is also known as Teflon. It makes cooking and washing up fast and easy. However, Teflon has become quite infamous in recent times for releasing harmful gases when exposed to very high temperatures. Needless to say, the Teflon cookware being manufactured today is completely safe for normal home cooking as long as the temperature does not exceed 570° F (300° C).
PTFE-Free Non-Stick Coating: There are many different kinds of non-stick coatings, such as silicone-based coating, Dura-Kote finish, etc. Many people prefer these coatings as they are PTFE-free. Thus, they are safer and easier to maintain. These permanently coated pans also do not require any seasoning of linseed or any other oil.
Mirror Finish: This kind of finish is usually done on stainless steel pans. It makes it easy to clean and helps release the pizza easily once it is baked. It should be kept in mind, however, that these pans should always be greased with some kind of oil, butter, shortening, or a dusting of flour before setting the pizza base on it to prevent it from sticking to the pan.
Size: You should check the measurements of your oven before buying a pizza pan to make sure that the pan will fit in it. There is a wide range of sizes to choose from, so make sure you do not order a pan that is too big for your oven. If you prefer smaller pizzas, you can also check if you can fit two pans side by side in your oven.
Here are a couple of questions that you also need to answer before you buy a pizza pan.
Why Do You Need The Best Pizza Pan In Your Kitchen?
The answer to this question is simple – when you invest in a superior-quality pizza pan, you not only get evenly cooked pizza crusts every single time, but the pan itself lasts for years, thus adding value to the money you spent on it.
How Do You Clean A Pizza Pan?
The best way to clean a pizza pan is to understand what it is made of and to follow its cleaning instructions.
Pizza pans that have a non-stick coating should never be washed in a dishwasher as it may corrode the coating and ruin your pan. They should also not be scrubbed harshly. Use a sponge and some soapy water to clean these pans as they are supposed to be "easy to clean."
Stainless steel pizza pans can usually be washed in the dishwasher. However, it is best to read the instructions of the product beforehand to be on the safer side.
Cast iron and pre-seasoned pans should never be washed with lots of water. They should only be cleaned lightly with a damp washcloth. This is the only way to protect its seasoning and prevent it from staining.
The Bottom Line
Although selecting a pizza pan may seem like a difficult task, it mostly boils down to one question – What kind of pizza do you enjoy? Once you know the answer to this question, it is fairly easy to choose between a perforated pan that makes crispy crusts or a deep dish pizza pan to make Chicago-style pizzas. All you have to do then is select the one that best suits your needs. The Cuisinart AMB-14PP Chef's Classic Nonstick Bakeware 14-Inch Pizza Pan has a perforated base, making it perfect for a crispy crust. For easy release without pre-seasoning, go for the LloydPans Kitchenware Detroit Style Pizza Pan, while the Wilton Premium Non-Stick Bakeware 14-Inch Pizza Pan is durable, dishwasher safe, and offers even heat distribution. Grab a pan from the ones listed above to get cooking right away!
Why Trust StyleCraze?
The author, Pratyasha Ray, is enthusiastic about all things related to home and the kitchen. She loves to explore various products and appliances. After thorough research and reading many customer feedbacks on various trusted platforms online, she has compiled the list of best pizza pans. These pans are non-stick, easy to clean, and durable.
Frequently Asked Questions
Are aluminum pizza pans safe?
Aluminum cookware poses no health risks. However, it can be fragile and using metal cutting tools on it may possibly wear off minuscule pieces of aluminum that might get onto your food. Therefore, proper precautions should be taken to not scratch the surface of aluminum bakeware.
Can pizza pans be stored easily?
Most pizza pans can easily be tucked away into your kitchen cabinet. However, the kind of non-stick coating of your pizza pan should be kept in mind. Be sure that your pizza pan does not come in direct contact with any sharp objects or anything that can scratch its non-stick surface.
Another important point to keep in mind before storing your pizza pan is that it should be completely dry. Any moisture on the pan can damage its surface and make it rust or stain.
Is a cast iron pizza pan as good as a stone?
Yes. A cast iron pizza pan is pre-seasoned with vegetable oil. So, it is easier to clean than stone ones as sticky elements and oil do not seep in. They can be scrubbed with steel chain cleaners or salt and brush.
What do you put on pizza pans to keep them from sticking?
Sprinkle flour or cornmeal on the pan to keep your dough from sticking.
Is there a pizza pan designed for the maximum crust?
Yes. The Wilton Premium Non-Stick Bakeware 14-Inch Pizza Pan is an excellent choice for the maximum crust.
Recommended Articles: