15 Best Drugstore Lip Liners
Give your lips the smudge-proof definition you always desired without breaking the bank. A lip liner helps fill the uneven outer edges of your lips before you apply lipstick. The best drugstore lip liners make your lipstick stay long without smudging or feathering. You can also use lip liners to get a fuller look, make the lips appear brighter, and provide a matte finish.
In this article, we bring you a list of the best drugstore lip liners that will enhance the look of your lip makeup. Check them out below!
15 Best Drugstore Lip Liners
Also Recommended By:
Byrdie and Who What Wear have also listed NYX Professional Makeup Slim Lip Pencil in their top 10.
[1]
The Best Drugstore Lip Liners for a Well-defined Look. Byrdie. https://www.byrdie.com/best-drugstore-lip-liner
[2]
The 15 Best Drugstore Lip Liners for Fuller-Looking Lips. Who What Wear.https://www.whowhatwear.com/best-drugstore-lip-liners/
Pros
Creamy yet matte texture that works well for normal to dry lips.
Defines lips well.
Easy application without the need for tugging or pulling.
Does not give your lips a cakey appearance.
Good staying power.
Cons
If you have very dry lips, this may highlight the dryness and flakiness.
NYX Professional Makeup Slim Lip Pencil Review
The NYX Slim Lip pencil comes in a simple wooden pencil packaging with a cap. It is fragrance-free and has no taste, which is a plus. This pencil has a creamy formula that settles into a matte finish. It does a great job of concealing and camouflaging minor lip flaws, particularly when you want to go for a sheer lip color. Sold in a wide range of 50 shades, the NYX lip liner is a top-notch yet budget-friendly option for your lips.
Price at the time of publication: $4.0
Pros
Soft, creamy texture.
It does not dry out your lips.
Color-coded packaging.
Long-staying.
Highly pigmented.
Cons
It's difficult to properly sharpen this pencil, which results in wastage.
Milani Color Statement Lip Liner Review
This lip liner range has a total of 8 colors available, and the color of the pencil denotes the shade. These are sleek and handy and come with a golden cap. One major drawback concerning its packaging is that this pencil refuses to become pointed despite sharpening. You end up wasting a lot of it in the process. Moving on to its consistency, it's nice and creamy and is easy to work with. It glides smoothly on your lips without any pulling or tugging. It does not dry out your lips too much and feels very light on the lips. For $5, you ought to try these!
Price at the time of publication: $21.99
Pros
Pigmented.
Long-lasting.
Fragrance-free.
It does not budge or bleed.
Thick and smooth consistency.
Cons
It's slightly drying.
Accentuates lines after a few hours of application.
Rimmel London Lasting Finish 1000 Kisses Stay On Lip Liner Review
This liner comes in a wooden pencil packaging with a plastic cap to shield the product. The color of the pencil denotes its shade. It needs to be sharpened before application, and this tends to cause wastage. Its color is intense, and you can get a full-fledged lip color with this liner alone. It has a thick consistency and goes opaque in one swipe. The staying power is great, and it has a range of 12 colors that you can choose from.
Price at the time of publication: $0.52
[ Read – Top Rated Rimmel London Beauty Products ]
Pros
Long-lasting
Creamy formula
Easy to use
Available in various colors
Cons
NARS Precision Lip Liner Review
This lip liner contains silk powder and mango seed oil to keep your lips hydrated and soft. Vitamin E, with antioxidant properties, moisturizes your lips. This precision lip liner is available in 16 vibrant shades. It is highly pigmented for a deep, neutral color that lasts all day. This lip liner with impressive features will surely be your go-to product for precise application.
Price at the time of publication: $5.7
Pros
Long-lasting formula.
Convenient packaging.
Good color selection.
It creates smooth and defined lips.
Even application.
Cons
Sharpening leads to wastage.
Transfers when used as a filler.
Maybelline New York Color Sensational Shaping Lip Liner Review
This pencil comes in simple wooden packaging with a transparent cap, and it needs to be sharpened every now and again. It has a smooth texture and glides on your lips without having to tug or pull. A single swipe gives you a great color payoff. It can be used as a lip filler by itself or as a base under your gloss. The staying power is decent with an average of 4-5 hours, and it fades evenly. That said, it does increase the longevity of your lipstick and keeps it from bleeding into fine lines.
Price at the time of publication: $6.63
Pros
Good packaging.
Glides effortlessly on lips.
Extremely comfortable to wear.
Increases the longevity of your lipstick.
Very affordable.
Cons
Can't sharpen so once you use this liner a few times, it's hard to get a precise line.
Wet N' Wild Perfect Pout Gel Liner Review
The Wet N' Wild lip liner comes in black twist-up packaging. The cap displays the color of the liner, which is a useful feature. It has a smooth, creamy, and almost gel-like texture. It's highly pigmented, and one swipe is all it takes to achieve a pigmented finish. The staying power is decent, and it stays put for a good 5-6 hours. For a $2 lip liner, this one is an excellent value for money, and we highly recommend you to try these.
Price at the time of publication: $3.18
Pros
Vegan
Paraben-free
Cruelty-free
Highly pigmented
Cons
None
Mented Cosmetics Dark Brown Lip Liner Pencil Review
Mented Cosmetics Lip Liner has a stylish, high-end appeal. It is a dark brown color that looks good on all skin tones. This liner is also waterproof and smudge-proof. However, it may dry up your lips. Apply a lip balm first to solve this issue. This product has incredible staying power and lasts until you wipe it off with an oil-based makeup remover.
Price at the time of publication: $12
Pros
Soft and creamy texture.
It does not dry out lips.
It contains anti-aging ingredients.
It does not bleed.
Transfer proof.
Cons
Average staying power.
Price is slightly higher when compared to some more affordable and efficient drugstore lip liners.
L'Oreal Paris Color Riche Lip Liner Review
This gorgeous lip liner comes in a retractable pen packaging, and the color of its cap coordinates with the shade of the liner. In terms of packaging, this one's super convenient and hassle-free. It has a creamy texture that settles into a matte finish and can be used as a lip liner as well as a filler. It does not bleed or transfer when applied and smells heavenly. You also have a dozen shades to choose from. But for the price, its staying power is quite average.
Price at the time of publication: $5.99
Pros
Waterproof
Non-splintering
Unique square shape for ultimate grip and control
Long-lasting
Nourishing formula
Cons
None
Sorme Waterproof Lip Liner Review
Wonderfully pigmented, the Sorme Waterproof Lip Liner is a great pick. You only need one stroke to keep your lips appearing defined all day. It enhances the longevity of your lipstick by staying put for 7-8 hours without fading or smudging. Despite this, removing the product can be a little challenging.
Price at the time of publication: $11.99
Pros
Gorgeous shades.
Great packaging.
It comes with a built-in sharpener.
Long staying.
Fragrance-free.
Cons
Slightly drying.
Some of the shades in the range aren't true to their color.
Revlon Colorstay Lip Liner Review
This lip liner is packed in a retractable pencil case. The base and the cap of the pencil represent the shade of the color, and it also has a built-in sharpener at the end of the pencil, which is convenient. It has a fine, smooth texture and it's very pigmented. It stays on your lips for 6-7 hours which is very impressive. It's not super moisturizing so if you have really dry lips, applying a lip balm under it would suffice. If you're looking for something long staying and pigmented, your search ends here.
Price at the time of publication: $7.98
Pros
Long-lasting
Non-drying formula
Cruelty-free
Budget-friendly
Cons
None
SEPHORA COLLECTION Rouge Gel Lip Liner Review
This gel lip liner has a creamy consistency that applies smoothly without straining and provides superb color payoff. The brush is effective and fulfills its role as a lip brush. Although a lip liner doesn't require a brush, having one is just an extra. This product remains intact for 24 hours easily and lengthens the life of your lipstick. This is a pricey choice for a $13 product, but it is still worthwhile.
Price at the time of publication: $15.41
Palladio Retractable Pencil has a nourishing formula with chamomile, safflower, jojoba seed oil, and aloe. The long-lasting formula is highly pigmented and settles into a waterproof, creamy finish. It is available in 9 gorgeous shades to give you the perfect pout.
Pros
Smudge-free
Waterproof
Cruelty-free
Gluten-free
Paraben-free
Cons
The texture may feel too soft
Palladio Retractable Pencil Review
This lip liner comes in a retractable twist-up pencil design. It is hassle-free as it requires no sharpening. Made with nourishing ingredients, it glides smoothly onto the lips for an even application. It offers true color pay-off and stays on all day long. It is a smudge-free formula that doesn't feather or transfer. It is an excellent catch for the natural-looking vibrant colors.
Price at the time of publication: $7.99
Define lips with long-lasting color! The extremely soft formula is smudge-proof, anti-feathering, and sets to a matte finish. Ergonomic gel grip allows comfort and ease of application in a quick twist. Dermatologist tested and free of preservatives. Available in 8 shades.
Pros
Anti-feathering.
Good pigmentation.
Soft and smooth texture.
Long-lasting.
Cruelty-free.
Cons
Slightly drying.
Limited shade options.
L.A Girl Ultimate Intense Stay Auto Lip Liner Review
This lip liner can be used to line the lips as well as to fill them in. The packaging looks classy – it comes in a black retractable pencil with a colored end that denotes the shade of the liner. It's easy to use and glides smoothly on the lips without any tugging or pulling. The shades are pigmented and stay on the lips for 6-7 hours without budging. It defines the lips well and makes your lipstick stay longer.
Price at the time of publication: $4.99
The Prestige Lipliner is a classic wooden sharpenable lip pencil. The pencil imparts a smudge-proof, rich plum color to your lips. It glides on your lips smoothly and without tugging. The dermatologically tested lipliner consists of a blend of natural ingredients such as vegetable oil, castor oil, fruit wax, mineral oil, etc. It nourishes your lips and effectively prevents your lipstick from bleeding.
Pros
Smudge-proof
Organic
Long-lasting
Matte finish
Dermatologically tested
Vegan
Cruelty-free
Cons
None
Price at the time of publication: $13.5
The COVERGIRL Exhibitionist Lip Liner is the perfect tool to give your lips the definition they deserve! Enjoy intense pigmentation and natural-looking definition that lasts for over 24 hours. This self-sharpening pencil makes application stress-free, easy, and fast, whether for a subtle contouring effect or a bold look. Achieve long-lasting colors that do not fade, smudge, or transfer. You can trust it to stay in place all day and night.
Pros
Hydrating formula
Intense pigmentation
Cruelty-free
Easy removal
Cons
COVERGIRL Exhibitionist Lip Liner Review
This lovely lip liner is reasonably priced and comes in ten great colors, and may be used alone or with lipstick. It is simple to apply and has a smooth finish. It is lightweight and feels comfortable on the lips. Unfortunately, it exhibits minor color leakage, which can be inconvenient, especially if you favor seamless makeup.
Price at the time of publication: $7.99
(* Product prices may vary)
*Subject to Availability
Infographic: Things To Consider Before Buying A Lip Liner
The infographic below lists some factors to keep in mind before investing in a lip liner. It will help you pick an easy-to-use product that moisturizes your lips for long hours. The infographic will also assist you in choosing a versatile lip liner that can be used along with other lip products to get a flawless look.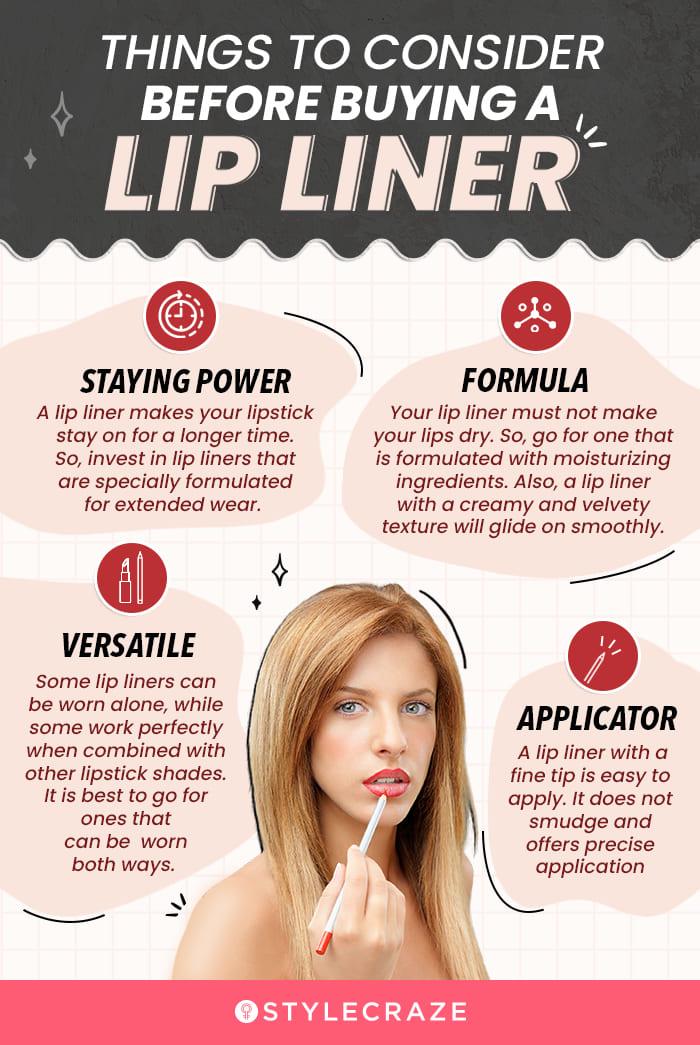 We often do not consider this, but wearing a lip liner can truly make a big difference. Using a lip liner correctly will help you achieve more fuller-looking and defined lips and prevent your lipstick from smudging and feathering. They are the Holy Grail product for your lips, according to many celebrity makeup artists. You do not have to splurge on expensive lip liners to get the full benefit from them because there are plenty of drugstore ones available in various textures, colors, and shades. The products reviewed above have a good staying power. They are highly pigmented and have a soft and creamy texture. These lip liners will allow your lipstick to blend seamlessly and accentuate your lips perfectly.
Why Trust Stylecraze?
Esha Saxena, the author of this article, is a keen makeup enthusiast. She loves to explore various makeup products and continuously checks out the latest makeup trends to bring the best for readers. The list of best drugstore lip liners is curated after extensive research and reading many customer feedback on trusted online forums. These are smudge-proof and give your lips a fuller look. They are also long-lasting and easy to apply
Frequently Asked Questions
Is lip liner good for the lips?
Yes. Lip liners feature precise tips that help you enhance the lip structure. They usually have heavy formulas that prevent your lipstick from bleeding outside the lips.
Should lip liner be lighter or darker than lipstick?
Choose a lip liner, one or two shades darker than your lipstick, to accentuate the shape of your lips.
How do I keep my lip liner on all day?
Exfoliate your lips and apply lip balm. Once the balm gets completely absorbed, apply the liner following your natural lip line. Pat some translucent powder on your lips to keep the liner stay throughout the day.
What is the point of an invisible lip liner?
Invisible lip liners line your lip with a colorless formula that prevents your glosses or lipstick from feathering. They are easy to apply and feel non-sticky.
How do I stop my lip liner from bleeding?
Apply a moisturizing lip primer to your lips. Then, apply the lip liner to the lip outline. Next, blot your lips with a clean tissue and pat some translucent powder to prevent them from smudging.
Do you apply lip liner before lipstick?
Yes. Apply lip liner to your lips to achieve your desired lip shape. Then, fill them with lipstick.
Recommended Articles
The following two tabs change content below.