15 Best Drugstore Foundations For Mature Skin Over 50 – 2023 Update
Achieve an enviable supple finish without breaking the bank with these foundations!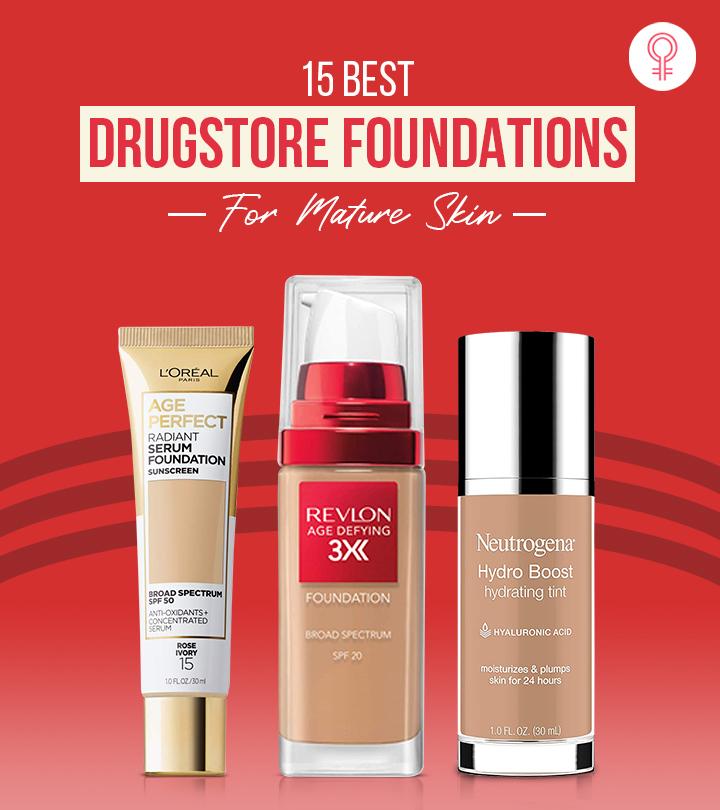 As we grow older, our skin starts becoming more mature and calls for good quality foundations that will suit the fragile skin conveniently. Not sure where to find one? Well, in our list, we have included some of the best drugstore foundations for mature skin for you to check out.
Always remember, after 50, since the skin starts becoming more elastic, many wrinkles, spots, and other unwanted marks start to appear. Investing in a good expert-recommended foundation that is budget-friendly is the easiest solution to fix these skin issues and provide a flawless base for the rest of the makeup routine. Camouflaging is not a crime and even after 50, you can look beautiful. So run through our list and pick the one that suits you well.
15 Best Drugstore Foundations For Mature Skin – 2023 Update
This revolutionary lightweight foundation formula by Covergirl + Olay instantly blurs fine lines and wrinkles for a seamless finish. This anti-aging foundation is infused with vitamin C and hyaluronic acid, creating a hydrated, healthy, and youthful-looking appearance, creating a clean canvas for the rest of the makeup routine. It is also formulated with SPF 28, which protects your skin from the harsh UVA and UVB rays of the sun. Watch this YouTuber's honest review to get a better idea about the foundation.
Shades: 205 Ivory, 215 Natural Ivory, 220 Creamy Natural, 225 Buff Beige, 230 Classic Beige, 235 medium light, 240 Natural Beige, 245 warm beige, 220 Creamy Beige, Soft Honey, Classic Tan
Also Recommended By: Byrdie and Goodhousekeeping have also listed Covergirl + Olay Simply Ageless Foundation in their top 10.[1] The 12 Best Drugstore Foundations for Mature Skin of 2023. Byrdie https://www.byrdie.com/best-drugstore-foundations-for-mature-skin-5080576
If you are looking for a long-lasting, buildable foundation that gives you an airbrush finish, this liquid foundation by Maybelline New York is a perfect choice. The formula is breathable and lightweight and offers you a smooth and pore-minimizing look. This must-have beauty product dries into a soft satin finish that lasts for up to 16 hours, offering a picture-perfect look. Check out this tester's experience of using this drugstore foundation in this video to help you get a better understanding.
Shades: Caramel, Classic Ivory, Cocoa, Creamy Natural, Honey Beige, Ivory Beige, Natural Beige, Nude, Nude Beige, Porcelain Ivory, Pure Beige, and Sandy Beige
This plumping foundation from the Neutrogena Hydro Boost line is perfect for flaky and patchy skin. The gel-like lightweight foundation formula is enriched with clinically proven ingredients like hyaluronic acid that deeply hydrates and plumps up your skin. This non-comedogenic foundation from this dermatologist-recommended brand does not contain any oils or harsh ingredients. It delivers a natural-looking tint with a youthful glow while evening out your complexion. The foundation instantly quenches your skin and locks in moisture for a refreshing 24-hour wear. This tinted moisturizer helps you experience supple skin with frequent use while also providing you with enhanced features.
Shades: Classic Ivory 10, Natural Ivory 20, Buff 30, Nude 40, Soft Beige 50, Natural Beige 60, Honey 85, Caramel 105, Cocoa 115, and Chestnut 135
Also Recommended By: Neutrogena has also listed Neutrogena Hydro Boost Hydrating Tint in their top 10.[1] Makeup Artists Love to Use These Inexpensive Foundations on Mature Skin. Neutrogena https://www.whowhatwear.com/best-drugstore-foundations-for-mature-skin/slide11
This vitamin-rich foundation by L'Oréal Paris is formulated with SPF 50. It gives you lightweight coverage while evening out your skin tone and giving a natural-looking finish. The formula does not settle into fine lines or wrinkles. This medium-coverage foundation also contains vitamin B3 and hydrating serum, which nourish and fortify your skin. This expertly-crafted product hides aging signs and offers timeless beauty. Check out this video to better understand the functions of this product and the tester's experience.
Shades: Available in 30 different shades, ranging from Light Ivory to Dark Espresso
This ultimate anti-aging foundation by Revlon is formulated with Tri-Shield technology and works as a primer, serum, and moisturizer. The lightweight foundation formula hydrates and firms the skin and covers imperfections like fine lines, wrinkles, and pigmentation. It offers medium to full coverage and smooths your skin for a flawless makeup look with a youthful glow. This firming foundation is also infused with SPF 30, which protects your skin against the harmful rays of the sun. Thousands of happy, unbiased reviewers on online platforms highlight the efficacy of this product.
Shades: 05 Fresh Ivory, 10 Bare Buff, Tender Beige, 30 Soft Beige, 35 Natural Beige, 40 Medium Beige, 45 Warm Beige, 50 Honey Beige, 55 Cool Beige, 60 Golden Beige, 65 True Beige, and 70 Early Tan
It is no secret that retinol does wonders for mature skin. This clinically proven, skin-perfecting formula by Neutrogena is fortified with retinol as the key ingredient that smooths your skin texture and reduces the appearance of fine lines. The retinol combines with vitamins and antioxidants to deliver a younger-looking skin with a dewy radiant finish. It blends seamlessly into your skin and offers sheer coverage. The formula also features broad-spectrum SPF 20, making it perfect for everyday use. This moisturizing foundation is lightweight and does not clog your pores or feel cakey on your skin, giving you a natural look.
Shades: Ivory to Fair 10, Fair to Light 20, Light to Neutral 30, Neutral to Tan 40, Tan to Medium 50, and Medium to Deep 60
This liquid foundation by L'Oréal Paris helps address the various signs of aging and claims to give visible results in just four weeks. The formula is infused with pro retinol A and vitamin C, which help fight the signs of aging while instantly smoothing your skin. The foundation gives you lightweight coverage that smoothens out your uneven skin tone and offers a natural-looking finish. The liquid formula does not settle into fine lines or wrinkles and gives you a smooth look with a youthful glow. The clinical testing of the foundation yielded exceptional results. Reports of testers' experience showed a reduction in skin imperfections and boost in skin radiance.
Shades: Buff Beige, Classic Ivory, Classic Tan, Creamy Natural, Honey Beige, Light Ivory, Natural Beige, Natural Buff, Nude Beige, Sand Beige, Soft Ivory, and Sun Beige
If your face tends to get oily, this foundation by Maybelline New York is your holy grail! It is formulated with clay to absorb excess sebum instantly and give your face a radiant finish but with a matte appearance. The Fit Me Matte Foundation has a creamy texture and provides buildable coverage for a natural look and healthy glow. It also helps refine the pores, fine lines, and wrinkles to provide a seamless finish. The foundation has SPF 18 and is perfect for everyday wear.
Shades: Available in 40 different shades, ranging from Fair Porcelain to Espresso
The Fit Me Dewy+Smooth Foundation is ideal for drier skin. This foundation has a gliding texture and instantly hydrates and smoothes your skin, giving you a natural-looking and luminous finish. It also protects your skin from the harsh UV rays of the sun as it is formulated with SPF 18. This foundation with buildable coverage dries to a dewy finish. It is infused with vitamin E that nourishes your skin and protects it from free radical damage. According to various reviews, people even experience smoother skin texture with regular use of this professional-grade foundation.
Shades: Available in 24 different shades, ranging from Fair Porcelain to Jawa
This three-in-one foundation by CoverGirl Gives you all-day protection from the sun as it is infused with SPF 20. The long-wearing foundation acts as a concealer, primer, and foundation and gives you a smooth, and natural-looking matte finish without feeling heavy or cracking. This advanced technology luminous foundation has illuminating properties and adds a dewy glow to your skin with a radiant finish and blurs all imperfections. Many positive feedbacks online show that it is a favorite of the mass!
Shades: Classic Ivory, Ivory, Soft Honey, Buff Beige, Tawny, and Warm Beige
The silky formula by Neutrogena is non-greasy and super lightweight and provides flawless coverage. It has broad-spectrum SPF 20 to protect your skin from the UVA and UVB rays of the sun. The foundation is blended with essential antioxidants and natural extracts like vitamin E and soy, which soothe and fortify your skin. It is available in a wide shade range and you can easily find one to suit your skin tone. The nourishing properties of this liquid formula ensure flawless and healthy-looking skin even when you are not wearing makeup. It also improves the skin texture and tone and imparts a natural-looking healthy glow. Use this makeup foundation for enhanced beauty and a statement-making look.
Shades: Available in 13 different shades, ranging from Classic Ivory to Warm Beige
Add a boost of hydration with this affordable foundation by Maybelline New York. This lightweight and radiance-enhancing foundation is infused with collagen and hyaluronic acid and delivers up to 12 hours of hydration. It provides medium coverage to conceal fine lines and wrinkles to perfection. This long-wearing foundation is non-oily and non-greasy and does not clog your pores. It leaves your skin looking plump, healthy, and radiant from within.
Shades: Available in 20 different shades, ranging from Alabaster to Jawa
This all-natural foundation by Burt's Bees is infused with 98.9% natural ingredients and is perfect for those with sensitive skin. The dermatologist-tested buildable formula does not look greasy, cakey, or heavy on your skin. This fragrance-free foundation contains meadowfoam seed oil, which deeply moisturizes and nourishes your skin while reversing imperfections like wrinkles and fine lines.
Shades: Available in 18 shades, ranging from Classic Ivory to Cocoa
This super lightweight liquid foundation by Covergirl is oil-free and provides a flawless and natural-looking finish. It blurs any imperfections and evens out your uneven skin tone without clogging the pores. The Trueblend line is specifically formulated to match 99% of all skin tones. This tried-and-tested, natural-finish foundation dries into a dewy finish and stays put all day.
Shades: Available in 21 different shades, ranging from Buff Beige to Soft Sable
If you are looking for organic or vegan makeup, this mineral foundation by Shimarz is a must-have! Unlike regular natural foundations, it gives you an oil-free and crease-free look, which lasts all day. It is infused with 90% organic ingredients, like aloe vera juice and shea butter, that deeply moisturize your skin and keep it nourished. The rosemary and calendula extracts in this foundation soothe any irritation and reverse skin damage. The cruelty-free foundation formula gives you full coverage by effectively blurring spots, dark circles, acne, blemishes, wrinkles, and pimples with ease.
Shades: Almond, Bisque, Cork, Nude, and Porcelain
*The prices provided in this article are based on the latest available information. However, they may vary due to changes in pricing by the seller and/or promotional offers.
Here are the step-by-step procedures and few tips to apply a scientifically formulated drugstore foundation on mature skin. The foundation is an essential part of the makeup routine and plays a vital role for those over 40 years of age.
How To Apply A Drugstore Foundation On Mature Skin
 Step 1: It is always best to start your makeup with a good clinically tested moisturizer to ensure a flawless finish. You can also use a bit of face oil if you want to add a dewy glow to your skin.
 Step 2: The hot scorching sun can damage and tan your skin. Hence, never forget to put on a dermatologically approved lightweight and oil-free sunscreen.
 Step 3: Once your sunscreen is fully absorbed into your skin, apply a good primer. A primer helps blur the lines, so you would not need to use much foundation. This ensures a non-cakey and natural-looking finish.
 Step 4: Take the required amount of foundation in your hands or a foundation palette. Wet your makeup sponge and gently dab a bit of foundation (using a makeup sponge instead of your fingers will ensure a natural and even looking finish) for an expert application.
 Step 5: Apply the foundation all over your face evenly while dabbing it gently and blending it out.
 Step 6: In case you have oily skin, use a pressed powder compact over your foundation.
 Step 7: Follow up with a concealer to hide the fine lines and wrinkles.
 Step 8: Finish off with a highlighter and blush to accentuate your facial features.
Here's what you need to keep in mind while choosing the best drugstore foundation brands that are perfect for mature skin.
How To Choose The Best Drugstore Foundation For Mature Skin?
To make sure that your skin tone is matching the shade you have chosen is the most important factor while buying a foundation. In case you choose a foundation that is a few shades lighter than your original skin tone, your face might turn ashy or grayish after some time. If you do not know your shade, go through the guides online that give you a wide description of the shades in different brands for every skin tone.
Do not forget to match the undertone. If you have a lighter skin tone, choose a foundation with a pink undertone. If you have a deeper skin tone, choose a foundation with orange or yellow undertones.
If you have oily skin, look for a matte foundation that has oil-control properties with proven efficacy. Also, avoid foundations with shiny or shimmery features as it may make your face seem greasy. It is best to go for a sweatproof and waterproof foundation.
For dry skin, don't choose a matte finish foundation as it will make your skin look cracked and dry. Opt for a translucent foundation to ensure a non-flaky finish.
For sensitive skin, choose mineral-based foundations. Also, look out for non-comedogenic and hypoallergenic options or allergy-tested foundations for better results.
Hot and humid weather can melt your foundation and ruin your entire look. That is why it's best to invest in a professional-grade foundation that is waterproof, sweat-proof, transfer-resistant, and smear-proof.
If you have fewer fine lines, dark spots, hyperpigmentation, or blemishes, choose a powder foundation with minimal coverage. But if you have scars or blemishes that are visible, choose a foundation with higher coverage. However, a sheer foundation will give you a more natural look. You can also use a creamy stick foundation to conceal blemishes. Lorrie Pearson, a professional makeup artist, says, "Having mature skin does not mean you need more foundation coverage. I suggest a good moisturizer, a foundation that hydrates and offers buildable coverage. This way you will use a lightweight formula that will help you achieve beautiful and natural-looking results."
Some brands offer foundations that are infused with SPF. This protects your skin against the harsh UV rays of the sun and makes sure that your makeup stays intact.
Your foundation should have conditioning agents and humectants like glycerin and hyaluronic acid. These ingredients help moisturize and treat your dry and mature skin.
Ingredients like beeswax, ceramides, shea butter, jojoba oil, and coconut oil nourish your skin and help lock in moisture.
Why Trust StyleCraze?
Baishali Bhattacharya, the author of this article, is a certified makeup expert and loves to review and suggest the best makeup products to her readers. She has compiled this list of the best drugstore foundations for mature skin after browsing through hundreds of user reviews and feedback online. These products are great for hiding wrinkles, spots, and marks on mature skin, and suit almost all skin types.
Frequently Asked Questions
Is matte or dewy foundation better for mature skin?
Matte foundations have a thick consistency and are packed with concentrated pigments, which can look cakey and settle into fine lines and wrinkles. So, opt for a dewy foundation for aging skin to make it look fresh.
Why do my wrinkles look worse with foundation?
Foundations often strip the natural moisture of your skin. As a result, this leads to highlighting the wrinkles and fine lines. Therefore, it is recommended to moisturize your skin thoroughly before applying foundation to achieve dewy skin.
Is powder or liquid foundation better for aging skin?
Liquid foundations are better for aging skin as the liquid fills the wrinkles and fine lines, whereas a powder foundation will settle in between the fine lines and look cakey.
How do mature skin foundations differ from ordinary ones?
Mature skin foundations are lightweight and not too thick. They usually come with SPF as an added benefit. On the other hand, regular foundations have a thicker consistency that provides full coverage.
What foundation will not settle in wrinkles?
L'Oréal Paris Age Perfect Radiant Serum Foundation is tested to be suitable for mature skin and is formulated specifically not to settle into fine lines and wrinkles. This wrinkle reduction foundation is gentle and lightweight that keeps your skin hydrated and looks more even.
How do you keep the foundation from making wrinkles worse?
Apply a good moisturizer and hydrating primer before applying a full coverage foundation to prevent your wrinkles from looking worse.
Recommended Articles