13 Best Scrunch Butt Leggings Your Booty Will Love!
Stylish and functional leggings that support and shape your hips at the right places.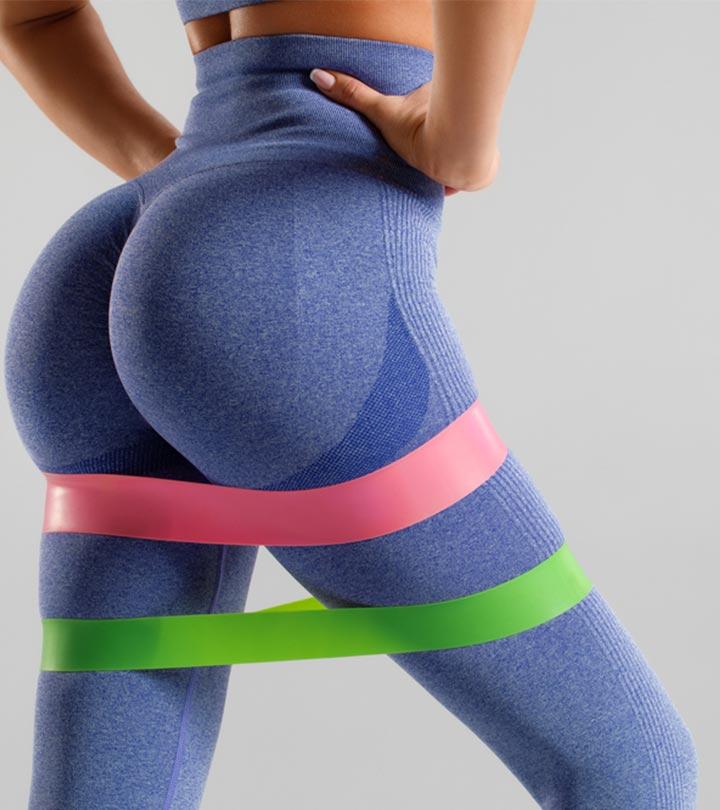 We all want booties similar to that peach emoji, don't we? Well, the best scrunch butt leggings ensure that you get that perfectly sculpted derriere without the need to spend months in the gym. The viral power of Tiktoks has quickly made these high-wasited, butt-sculpting leggings a huge hit! These leggings cinch right at the start of your tailbones and enhance your buttcheeks with a natural lift. Not only are these leggings extremely functional, but they also are perfect for adding a little spice to your wardrobe. These versatile pieces of clothing can be used for multiple purposes.
All you #belfie (butt selfie) enthusiasts looking to add that extra bit of oomph to your feed – here's your quick solution! Well, not just them alone; we urge everyone to give these leggings a try (at least once). Who knows, just like us, you too might become a fan! Here, we have compiled a quick list of the best scrunch butt leggings that are tried and tested by users all over the Internet. Scroll down to read more about them.
Give Your Booty A Natural Lift With These 13 Best Scrunch Butt Leggings
Made of an anticellulite textured polyester and spandex blend, these Slimming Booty Leggings are engineered to enhance your assets. They give you a Brazilian booty-like enhancement without the extra time spent squatting at the gym! The high waist design provides optimum tummy control, while the scrunchie butt gives some very cheeky oomph to your tush. Super stretchy, moisture-wicking and quick-drying, they make the perfect gym shapewear bottoms or pilates companion, but also serve as simply derrière-flattering bottoms for everyday chores. Available in several colors and intriguing textures such as ribbed, net, zebra, bubble, and geometric diamond, they are bound to grab eyeballs wherever you go!
Pros
Textured leggings
Multiple colors and style
Make your legs look thinner
Machine washable
Cons
May have to go down a size as they run big
Price at the time of publication: $14.99
This scrunched leggings design is one to tone your thighs and glutes to belfie perfection! They are sure to give you the most natural peach-emoji booty of your dreams. Made with 92% polyester and 8% spandex, KIWI RATA's Scrunch Butt Yoga Pants aren't only engineered to give your booty the peachiest of lifts, but the high waist also provides amazing tummy control and compression, thus improving your performance during any gym sesh. Additionally, these trendy fitness apparel items are not only are these butt-astic bottoms available in beautiful bold colors (blacks, greys, blues, reds, and greens) and pretty pastel colors (rose, lilac, grey pink, and baby blue), they also come in a range of exciting prints like Tye Dye, Leopard, White Python, Zebra, Tiger, and Camo. Consider yourself sorted for every mood!
Pros
4-way stretch
Amazing booty push-up effect
Lightweight comfort
Side pockets
Cons
Sizing is unique, need to refer to their size chart
Price at the time of publication: $21.99
If it's super soft and ultra-stretchy comfort you're looking for at the gym or on the go, TSUTAYA is your new booty bestie. These capris, full-length athletic leggings are made of a wonderful blend of nylon (65%), polyester (25%) and spandex (10%), which provide lightweight comfort and a breathable design. The seamless compression and squat-proof nature of these scrunch pants flatter your glutes, hamstrings, and quads, and make for the perfect strength training companion. This perfect combo of chic and comfort comes in a range of alluring colors like Blue-Teal Marl, Carbon Black, Distressed Green, Slimming Carmine, and the crowd favorite Coral Red. What's more, they are available in sets of matching colored tops to boot!
Pros
Skin-friendly soft fabric
Capri-length and full-length styles
Fit true to size
Seamless design
Cons
Not 100% squat-proof in bright colors
Price at the time of publication: $19.99
Designed with a non-see-through and 4-way stretch fabric that contours and slims your booty and thighs with each movement and pose, these sizzling scrunch bottom leggings from Varuwy are perfect for those searching for a bootylicious fit in their activewear. You don't have to worry about your muffin top photobombing your gym selfies either, thanks to their tummy control-ensuring high and wide waistband design that gives a smooth, secure fit and flatters one's physique to perfection. This fashionable workout wear is made with the highest quality of polyester (90%) and spandex (10%), the material is stretchy, breathable, quick to dry, moisture wicking, and provides a snug and slimming fit. The bubble texture enhances your booty and prevents any chafing or irritation to the inner thighs.
Pros
Anti-cellulite design
Non-fading material
Tons of compression
Cons
Not enough "scrunch" at the butt
Price at the time of publication: $13.99
This zero-flaw bubble textured material is super stretchy, doesn't limit your movements, is reassuringly non-fading, and is squat-proof enough for your sweatiest of leg days! These leggings are made with premium quality polyamide (92%) and spandex (8%) blend that provides luxuriously lightweight comfort with tons of compression to hug your curves and keep everything smoothly tucked. We especially love the right amount of scrunch designed at the posterior, which gives one's tush a natural and oh-so-juicy butt-lift. Available in a range of bold colors (green, gray, red, black, blue, and pink), FITTOO's leggings feel just like a snug second skin. This snug and sculpting shapewear makes an ideal gym shapewear or an everyday skinny jeans replacement – they're as versatile as you need them to be!
Pros
Non-see-through
Versatile style
High-waisted tummy control
4-way stretch fabric
Cons
May not be a great fit for short girls
Price at the time of publication: $16.99
If you are looking for leggings that provide maximum lift and coverage, check out the Women Scrunch Leggings by SUUKSESS. They are made of a nylon and spandex blend that provides a silky soft feeling. The leggings include a sturdy ribbed wide waistband that doesn't slip. These non-slip scrunch butt leggings have a four-way stretch construction to maintain your belly in good shape. The leggings' lightweight design and ability to wick away sweat make them an ideal companion for hot summer days. These pants are perfect for maintenance, post-workout care, exercising, going on a hike, or just lounging. They can also help you tackle complicated yoga poses that make you feel like an extra from Cirque du Soleil!
Pros
No see-through
Lightweight
Moisture wicking
Breathable
No Pilling
No camel toe
Cons
Fabric might bite some people
Price at the time of publication: $23.95
The Sunzel Scrunch Butt Lifting Leggings are ideal for anyone looking for good support and comfort. The leggings enhance your natural shape and contour. They are made of high-quality nylon, polyester, and spandex, making them ideal for extra support and flexibility. The high waistband provides a wonderful tummy tuck that gives the illusion of a gorgeous hourglass waistline These leggings will let you customize how you look. You can squat or lift weights while wearing these elastic leggings because of their 4-way stretch fabric that is not see-through and squat proof. Additionally, the three-tiered compression waistband is sufficiently wide to support your core muscles effortlessly.
Pros
Ultimate stretching range
Soft and comfortably
Squat-friendly
Various colors available
Amazing pattern
Cons
None
Price at the time of publication: $25.99
With these butt scrunch leggings from YEOREO, you can expect cozy comfort akin to your favorite old pair of yoga pants, but with a perky derrière. Made with premium polyester, the fit is soft yet gloriously stretchy to effortlessly accommodate your movements. The seamless waistband is wide enough to give support to your abdominal muscles without rolling up or digging into your skin, while the compression delivers a flattering contour to your figure. Suitable for soul cycle classes, running, gymming, yoga or even everyday streetwear, these booty-lifting tights come in a range of fun bright colors (orange, light green, hot pink), neutral shades (blacks, khaki greens, grays), and summery tie-dye styles and prints.
Pros
Pass the squat test
True to size
Soft and stretchy
Cons
Price at the time of publication: $22.39
These TikTok-famous Scrunch Butt Lifting Leggings are capable of effortlessly enhancing your bottom, giving you the illusion of a perkier tush. The cinching design at the cheeks will sensually hug your curves to give you a rounder and more luscious silhouette. Made of a breathable, lightweight fabric that is supremely soft, quick-to-dry, moisture-wicking, and wonderfully stretchy, these bottom-sculpting leggings are a comfortable fit for workouts or lazy Sundays. The textured material is anti-cellulite in nature and will help camouflage most of your skin imperfections. Additionally, the tight and thick waistband provides an amazing tummy tuck plus extra support during high-impact workouts when you need your leggings to simply stay put.
Pros
Wide waistband
Moisture-wicking fabric
Super stretchy and comfortable leggings
Available in a range of colors and prints
Cons
Price at the time of publication: $15.99
Made with premium quality professional sports fabric designed to decrease friction, dry quickly and feel luxuriously soft and buttery against your skin, the Scrunch Butt Lifting Seamless Leggings from Penioca are a belfie staple for any gym lover. Its high waist design with its thick compression material can tuck in your abdominal fat, shape your body, and grant you a beautiful hourglass waistline to rock your Insta selfies. The streamlined fit and the scrunch design are also anti-cellulite and squat-proof, so you can indulge in the deepest of stretches without worrying about flashing underwear. Suitable for all high-impact activities, these chic and booty-flaunting bottoms are available in a range of alluring bright colors (orange, yellow, light blue, pink, and red) to sizzle up your summer.
Antonina Ambre, a fashion consultant, says, "Dark line under the butt is extra support, plus it creates a visual effect that makes your hips skinnier and butt bigger."
Pros
Passes the squat test
Seamless and slimming design
Extra high-waisted leggings
Breathable and sweat-wicking fabric
Cons
Price at the time of publication: $20.98
These ombre patterns of bootylicious goodness are made with a high-quality blend of polyester and spandex. The material is luxuriously thick, non-see-through, isn't prone to pilling, and is supremely moisture-wicking, making it a wonderful OOTD for all your sweat-inducing activities. The seamless, ribbed design has good compression that sculpts your curves and slims your glutes. Meanwhile, the anti-cellulite fabric hides flaws or any skin imperfections. The scrunch butt design is wildly flattering to the booty and the wide waistband gives secure support to your core muscles. Available in different shades of black and gray; besides being full-length these cellulite-hiding pants also come in a scrunch bum shorts style.
Pros
4-way stretch material
High-waisted tummy control
No camel toe design
Passes the squat test
Cons
Tends to ride up the butt crack
Price at the time of publication: $19.88
These contouring and textured booty scrunch leggings are scandalously hot! The intensely ruched design helps to highlight the curves of your buttocks and gives your tush a generous push. The wide, high-rise waistband provides great compression, allowing you to tuck away any pesky muffin tops and shape your waistline to curvalicious goodness. Made with a high-quality, buttery blend of stretchy and lightweight knitted fabrics, these booty-popping leggings feel just like a weightless and breathable second skin, ideal to perform pilates in or tackle any leisurely sports. Available in a scrumptious array of bold (blacks, blues, browns, grays) and bright (orange, yellow, green, red, and pink) shades, these butt-enhancing leggings are the perfect pop of perkiness to up your gym OOTD game.
Pros
Button closure
Slimming design
Tons of scrunch
Wide assortment of colors
Cons
Price at the time of publication: $15.99
We love the effortless elastic closure and high-waisted fit of these booty-enhancing leggings from Aoxjox! The scrunch butt design deliciously clings to every curve of your glutes, and is insanely flattering on any derrière. Providing optimum compression for mid to high-impact gym sessions as well as a strong yet breathable tummy tuck support, lifting weights or stretching into yoga poses just got a whole lot sexier! Available in a range of stunning colors like Mint, Bright Yellow, Sage Green, Beige, Electric Blue and the likes, the fit runs true to size and is an uber gorgeous addition to any athlete or homebody's closet.
Pros
Passes the squat test
Swat-wicking fabric
Ribbed waistband gives great support
Cons
Price at the time of publication: $23.99
With booty-flaunting bottoms like these, expect all eyes to follow your derrière, including your own (hello, gorgeous belfies – er, butt selfies)! But before you treat your tush, take a look at our handy buying guide to gear yourself up for the best scrunch butt leggings investment you can make. Read on!
A Belfie Lover's Guide To Buying Scrunch Butt Leggings
Scrunch booty leggings come in all sorts of styles, textures, specs, and fabrics— an overwhelming buffet of options for any gal. Thankfully, we've listed down some cardinal tips to help you find the perfect bootylicious match for your bottom.
How To Choose The Best Scrunch Leggings?
We recommend you assess the following parameters in your scrunch butt leggings in order to ensure you're making a good quality purchase that suits your needs:
1. Fabric Quality
The best way to assess whether your leggings are made of good quality material is through the "squat test." If you squat and find your scrunch butt leggings have turned see-through around your cheeks, consider them a no-go. However, if you don't expect to be doing any active work in the leggings, and find them comfortable and cozy enough for some lazy loungewear, feel free to forego the squat test.
2. Waistband Comfort & Fit
The waistband can make or break the overall comfort of your scrunch butt leggings during a gym sesh. Avoid low-rise options as these tend to be rather impractical for any workout sessions since they tend to move and allow parts of you that you'd rather not bulge out. So, high-rise waistbands or wide mid-rise waistbands are always a better bet; not only are they more secure, but they are also less likely to have a flat seam that rolls up or digs into your skin as you move. You can also look for leggings with double-layered design waistbands that can hide away cellulite and provide extra tummy control.
3. Length
If possible, always attempt to try on your scrunch butt leggings beforehand so that you can gauge where they actually fall on your body. Depending on how tall you are, certain lengths of leggings, such as capris, may end at wholly different spots than the advertised picture, which may be uncomfortable. Or, full-lengths may be a tad too long but a 7/8th length cut might be an ideal "full length." The best way to deduce your height-appropriate length is usually through trial, but as an alternative during online shopping, you may also refer to size charts or opt for easy to return items.
4. Overall Fit
The crucial test here is to assess whether your scrunch butt leggings keep put during high-impact gym sessions. The last thing you need is for your booty-lifting leggings to give up on you and fall down in the middle of a burpee. If you find yourself constantly adjusting or pulling up your scrunch butt leggings in the middle of working out, they aren't a good fit for activewear (no pun intended).
5. Moisture Management
Steer clear from fabrics and colors, especially electric neon colors that put all your sweat on full display. Now, while we can't really test this feature without a sweat-inducing workout, you can always follow the thumb rule that lighter colors are more prone to expose sweat. Fabrics also play a huge role here. When you're working out, you need your scrunch butt leggings to dry fast sans any odor so you can transition from gym to the rest of your day fresh as a daisy. Test this by taking a note of what moisture-wicking material your go-to gym wear is made of and look for scrunch butt leggings of the same ilk. Along with opting for moisture-wicking materials, choose dark colors, such as black, olive green, heather gray, and navy blue.
6. Activity-specific Needs
Certain types of activities may warrant additional specifications:
If you're a runner, you may prefer a nifty pocket in your scrunch butt leggings design to help you carry keys or money during your run. You may also prefer a fabric that provides more compression and a tighter fit.
If you attend yoga classes, you may prefer a fabric that is extra stretchy and has a 4 way-stretch for zero limitations.
If you're used to high-impact workouts, opt for scrunch butt leggings with some built-in drawstring to doubly secure your leggings and ensure they remain in place.
Why Trust StyleCraze?
The author, Srijani Roy Chowdhury, is a fashion enthusiast and has the experience of reviewing hundreds of apparel products. She has curated this list of best scrunch-butt leggings after reviewing a wide range of products and skimming through hundreds of reviews on the internet. These leggings have made it to the list owing to their durability, comfort, seamless design, and skin-friendly fabric.
Frequently Asked Questions
Are scrunch bum leggings good?
If you're looking to enhance the size of your bum, the tight-fitting nature of scrunch bum leggings will give your booty a natural lift while the ruching design clings to your cheeks and provides the illusion of a bigger derrière.
Are scrunch bum leggings comfortable?
Provided you select one with a breathable and stretchy fabric, scrunch bum leggings can fit like a lightweight second skin that is sufficiently comfortable for athletic as well as everyday activities.
What is the point of scrunch butt leggings?
Scrunch butt leggings are meant to (gloriously) flatter your derrière by snugly hugging the contours of your glutes whilst simultaneously giving a natural lift for a perkier and juicer bottom. A textured scrunch butt legging can not only flatter your shape but also camouflages skin imperfections, such as cellulite.
Why are scrunch butt leggings popular?
After going viral in TikTok video challenges, scrunch butt leggings attained popularity due to their textured fabric that accentuates the curves of one's bottom and a ruched seam along the tailbone that earned these tush-flaunting pants the nickname of "butt crack leggings."
Do scrunch butt leggings work?
The ruched cut along the cheeks is designed to enhance the curvy silhouette of any bottom. However, scrunch butt leggings are only as good as their foundation. If you're more of a pancake rather than a peach, you are less likely to see as dramatic a transformation.
Why are scrunch bum leggings so popular?
Scrunch bum leggings are popular because they provide a flattering look, and narrow waistline, and ensure the glutes look fuller. They are comfortable to wear and can securely tuck in any belly fat and fat around the butt.
When wearing scrunch butt leggings, should you wear the correct size or a size smaller or larger to keep the scrunch look?
Wear scrunch butt leggings that are correct to your size to keep the scrunched look. Because smaller leggings might be tight and may not be comfortable for a long-time.
Should you wear underwear with scrunched butt leggings?
Scrunched butt leggings can be worn with or without underwear.
Recommended Articles